If you asked my toddler, I'm pretty sure she'd say that pool days are her favorite days. She can splash around for hours, especially when she has her favorite pool toys in tow. And after a little trial and error, we've narrowed down the best of the best….from watering cans to beach balls to goggles made for little faces, these are the best pool toys for toddlers.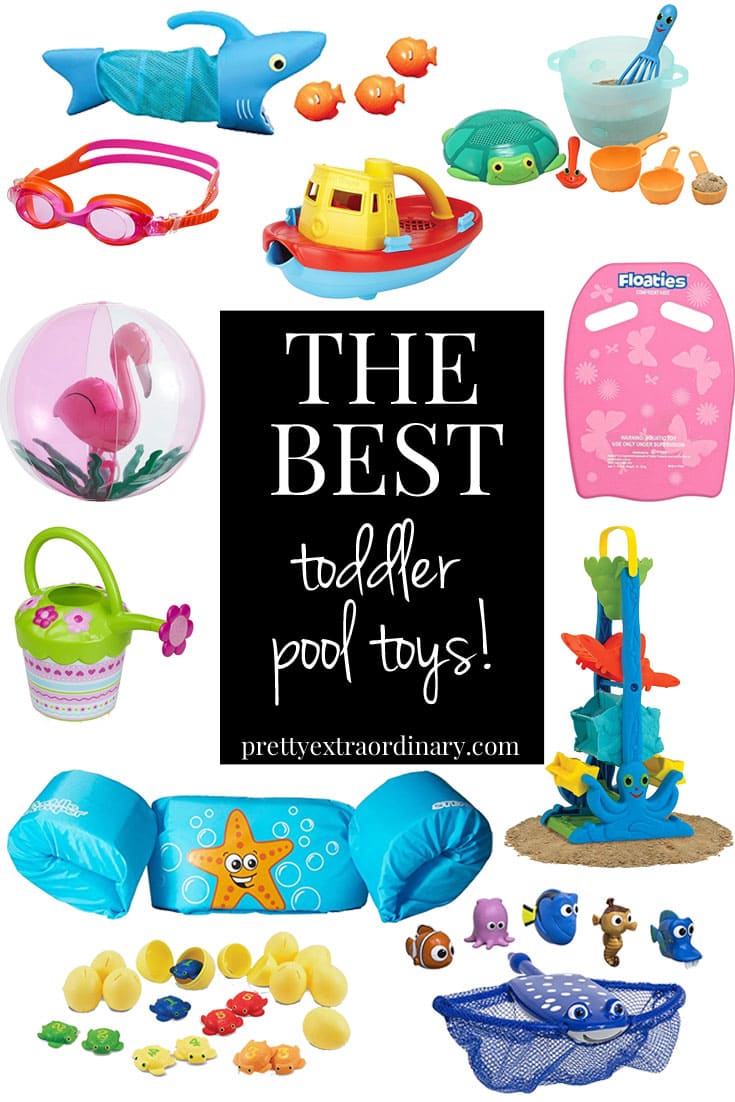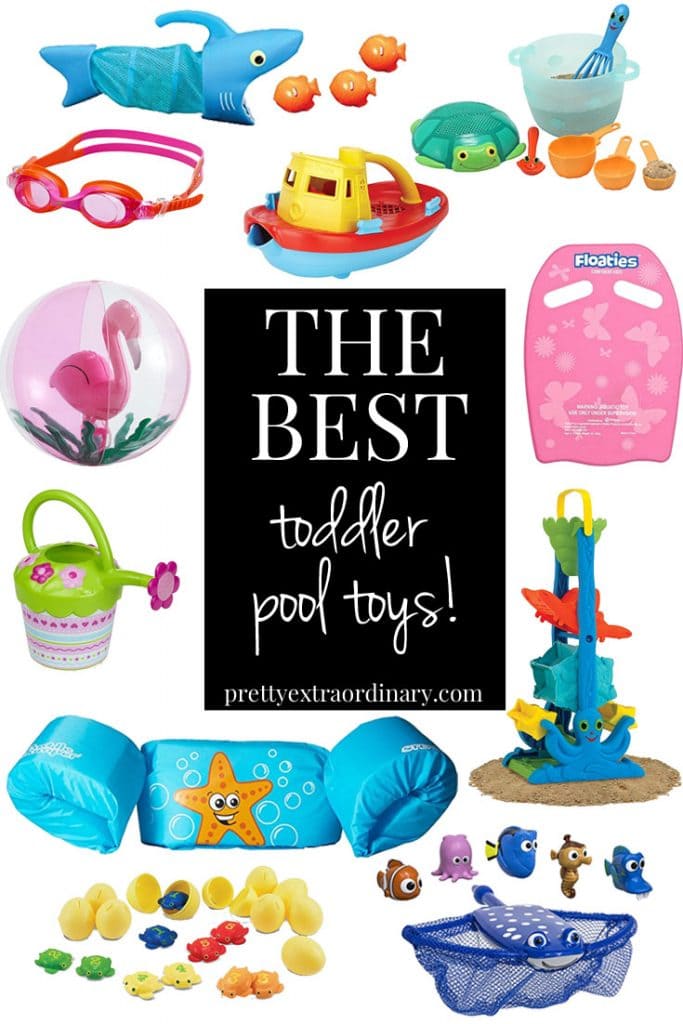 Shark + Fish | Sand Baking Set | Goggles | Tugboat | Beach ball | Kickboard | Watering Can | Filter Toy | Puddle Jumper | Eggs | Dory Catcher
Swim Necessities
For little ones first learning how to swim, there are a few necessities we've been loving. These goggles are perfect for little ones. They fit my three-year old like a dream. She also loves her Puddle Jumper. She's been using it since she was two and has helped with her confidence in the water. Just make sure your little one is between 30 and 50 lbs. This kickboard is another great option for learning swimmers. It has handles for added comfort and security.
Dive and Catch Toys
Toddlers might not be full-on diving yet, but these toys are still perfect for the baby pool. This Dory Mr. Ray net and toy set is adorable. Throw the toys in the water and scoop them up with the net. This shark set from Melissa and Doug is similar, but it comes with two nets and six fish. It's perfect if you have more than one child. I also love these hatch and catch eggs. The turtles are numbered, which make them great for sorting and matching games.
Sand and Water Toys
Although these might be perfect for the pool, you can also take them on your beach trips. This Green Toys Tugboat can float but can also be filled up with water for pouring. And speaking of pouring, one of my daughter's all-time favorite water toys has to be a toy watering can. This sifting tunnel is so fun whether your little ones are pouring water or sand. And this baking set is made for the beach but still a winner poolside. My daughter loves pouring water in and out of the different cups. And if you're on the hunt for a fun beach ball, we love these! There are fun animals inside like sharks, unicorns, and seahorses!
Tell me: what are your favorite toddler pool toys? What do we need to add into our rotation?
Disclosure: Some of the links on this site are affiliate links – in simple terms, that means at no additional cost to you, Pretty Extraordinary may earn a small commission if you click through and make a purchase. Thank you, as always, for supporting us.