When did candy and Easter become synonymous? I was never against my littles one having a few pieces in their baskets, but I didn't love the thought of filling them up on chocolates and candy (never mind that I could eat my body weight in StarBurst Jelly Beans if left alone). Between treats in their baskets, the trail the Easter Bunny leaves outside their door and treats stuffed in Easter eggs, they certainly add up. So, if you're on the hunt for a few alternatives, or are cutting out the candy all together, then today's post is for you. You can go sweets-free with these non-candy Easter Egg filler ideas for toddlers. Of course, not all of these ideas will work for toddlers of all ages. You might have to adjust for littler ones, but they are a great place to start.
And now that we are all home and doing our shopping online – these are all easy to find and order.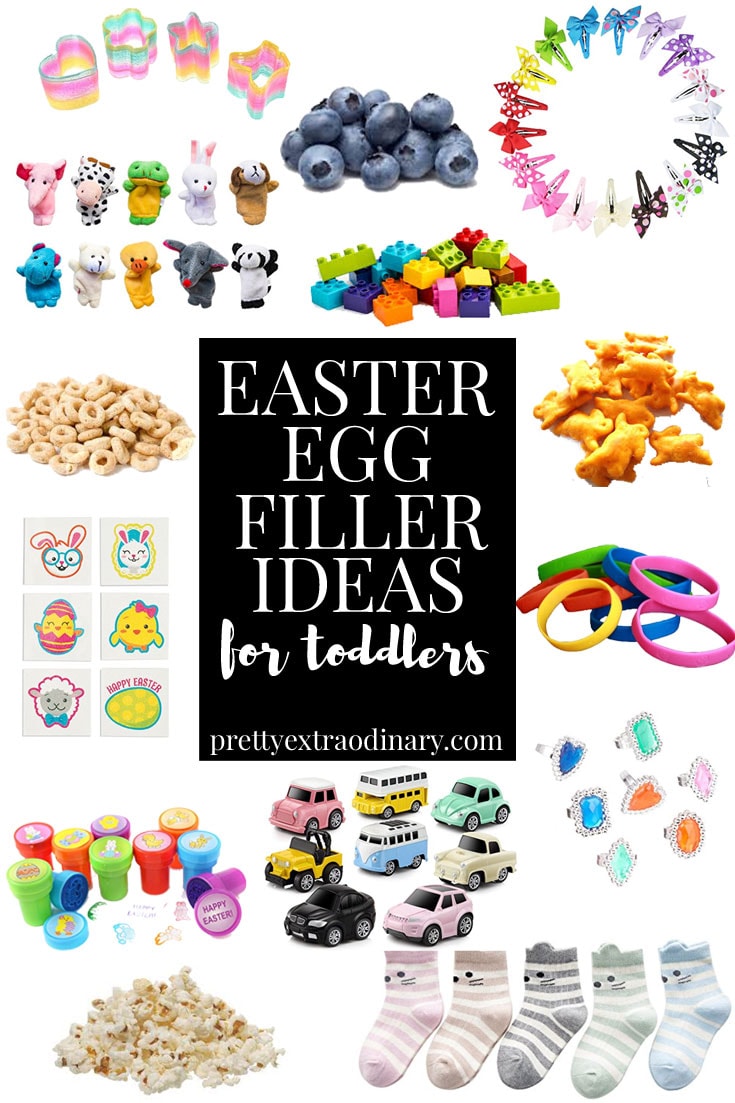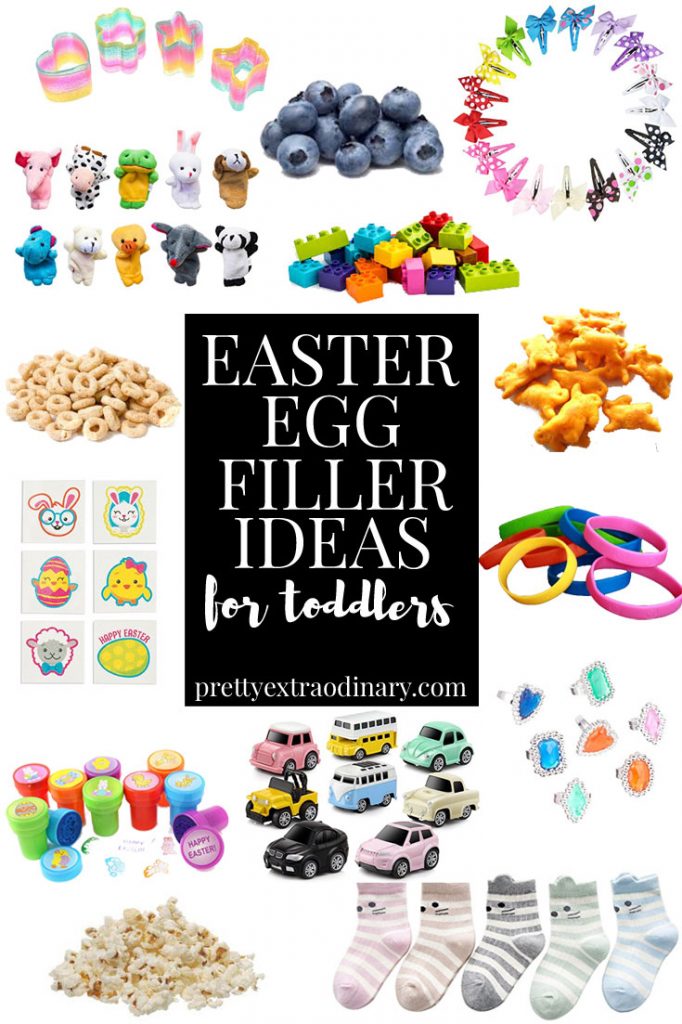 Snacks
Going candy-free, doesn't mean food-free, right? I love the idea of adding a few snacks in the Easter eggs. For the healthiest options, try fruit like strawberries, blueberries, or grapes. But if you're actually hiding the eggs, you might want items that won't get moldy if they're forgotten or lost.)
fruit
goldfish crackers (or go theme-y with Annie's cheddar bunnies)
pretzels
Cherrios
Teddy Grahams (or Annie's Bunny Grahams)
Popcorn
Accessories
What I love about the idea of accessories is that they might actually get a little more use than a small toy. From mini barrettes for little girls to fun, funky socks, there are lots of fun options. Be sure to check the dollar area at Target (hey had the cutest spring socks there earlier this week) or the dollar store. I came up with more girl-related items for this category, but if you have any more suggestions, I'd love to hear them in the comments.
hair clips (These are so cute!)
small hair bows
plastic toy rings (like these!)
play bracelets (these are unisex!)
socks
beaded necklaces (think Mardi Gras style in spring-y colors)
TOYS
The options for small toys seem endless. For these, I'd definitely recommend the dollar store or dollar area at Target again. Amazon is also another great option. You can often find mini packs of toys similar to what you might see in a party favor goodie bag.
small puzzle pieces (You could put all of them together in a larger egg, or put one puzzle piece into each egg)
finger puppets (We own these and love them)
small self-inking stamps (Here's a great Easter-themed option)
mini slinky
stickers
mini cars (this set is adorable)
legos
temporary tattoos (These are cute Easter ones)
I'd love to hear more suggestions if you have them. Leave them in the comments for me. And if you are looking for a treat they will LOVE: Rice Krispie Surprise Easter Eggs.