When it comes to hitting the pool and the beach come Summertime, I'm a big advocate of keeping my skin as au naturale as possible. But that doesn't mean I don't reach for my makeup bag for a few products to help me feel my best. With sweat, humidity, and chlorinated water to deal with, your typical, everyday makeup routine can fail you, but with these tips you can feel confident that your makeup will make it through those long Summer pool days.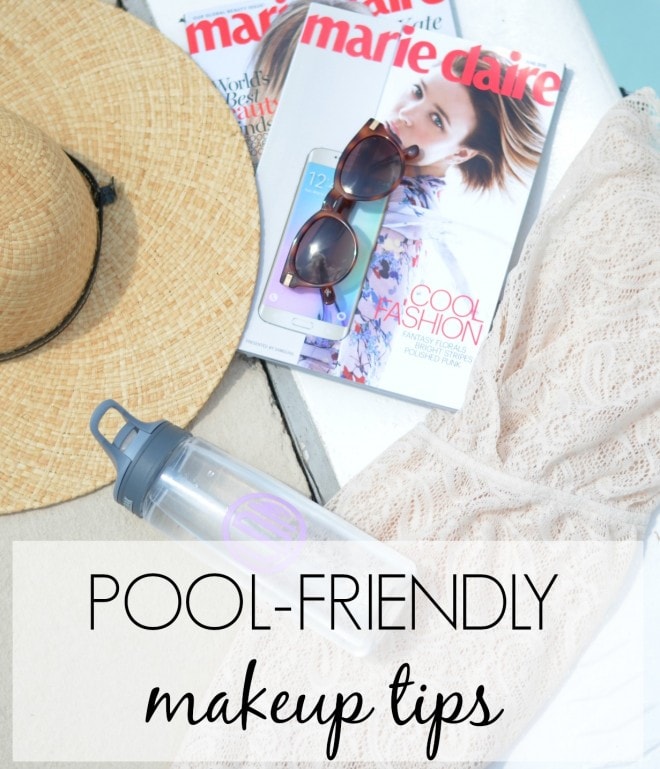 1. Keep it light!
A full face of makeup will never look natural at the pool (and will most likely melt off with hours in the sun), so try to keep it as minimal as possible. For me this means ditching heavy foundations, eye makeup, and blush. Stick to your essentials!
2. Always, always incorporate sunscreen
And don't just rely on the one in your makeup! Most are SPF 25 or under, and that's just not going to cut it for an afternoon outside. I always use Neutrogena Clear Face Sunscreen in SPF 55 under my makeup in place of my typical moisturizer. It's not greasy and, since it's formulated for your face, won't cause break outs.
3. Go for a liquid
Although it may be counterintuitive, liquids are often better at staying put in the heat than powder formulas. Be sure to start with a good primer (I love Smashbox's!), and try a water-resistant formula like MAC's Studio Face, Makeup Forever's Mat Velvet+, or Dior Airflash. Remember to apply lightly to prevent melt.
4. Stain it.
If adding a little color to your cheeks or lips is a non-negotiable, be sure to try a stain. They're long-wear and not at all goop-y. Benefit's Benetint is a favorite, but they also offer several different shades.
5. Waterproof your lashes.
Waterproof mascara is my Summer must-have, but not all are created equally. Maybelline's Great Lash Waterproof consistently receives top reviews, but if you're unwilling to part with your favorite mascara, try Anastasia's waterproof topcoat to make any mascara smudge-proof and water resistant!
What are your top tips for Summer-proof makeup?