I went cave tubing in Belize. Yes, I did. While visiting the country as a stop on my latest trip on the Carnival Magic, this was the excursion I chose.
Just saying it out loud sounds exotic. And fancy, though I was anything but fancy in my bathing suit, water shoes, life jacket and helmet.  Here's the proof.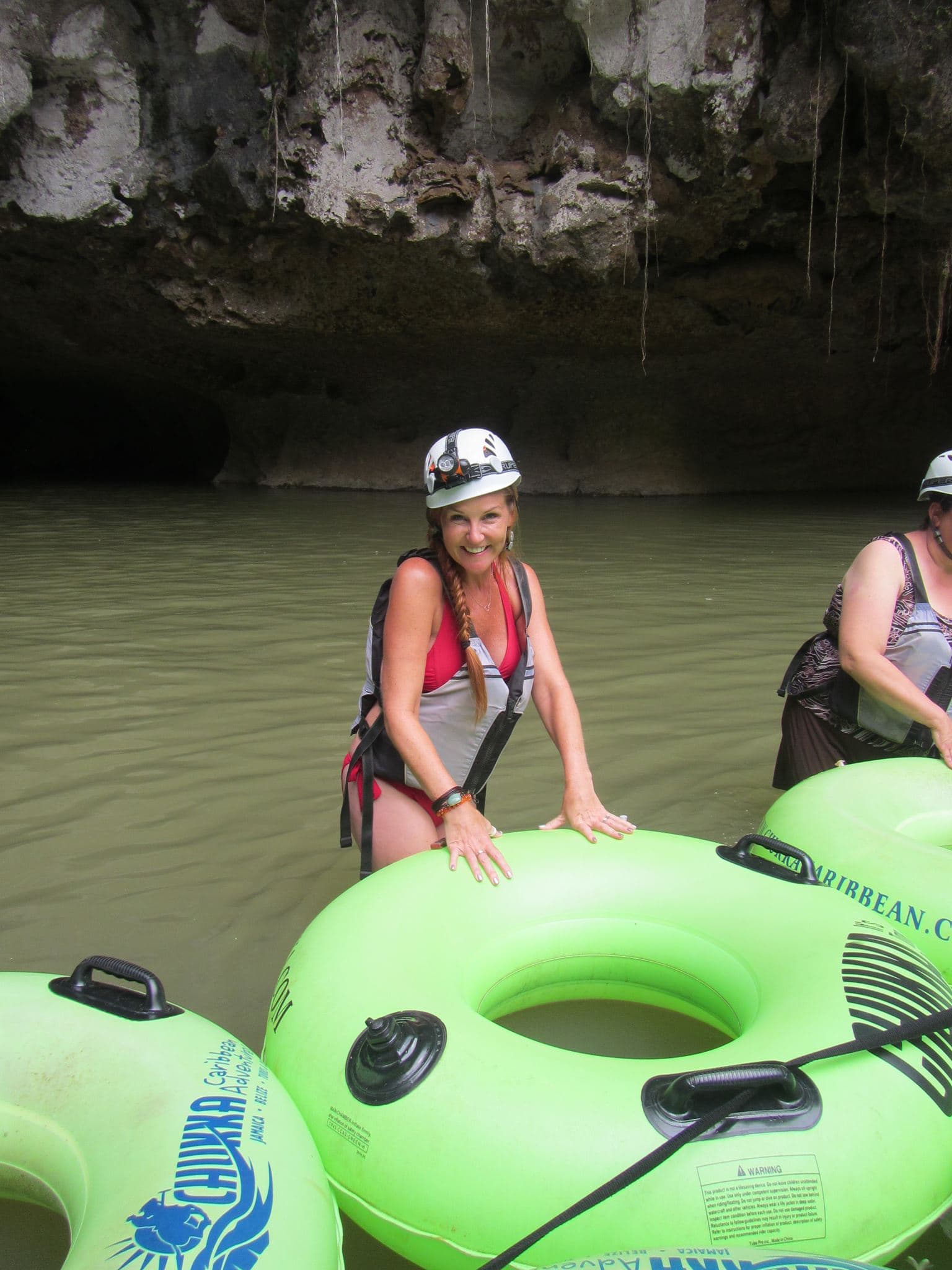 I read dozens of reviews before I decided to go – so many of them describing the scenery, the beauty of being in the cave and also mentioning the 90 minute drive to get to the actual cave tubing location.
All true.
Here's what to expect:
The Experience
In order to disembark from your ship in Belize, you will board a tender (small boat) to take you to shore. It took about 15 minutes to get to shore. From there, we boarded an air-conditioned bus and settled in for the journey.  Our guide was wonderful, sharing the history of Belize, fun facts about the country, talking about the people, pointing out landmarks as we drove and even passing around local currency.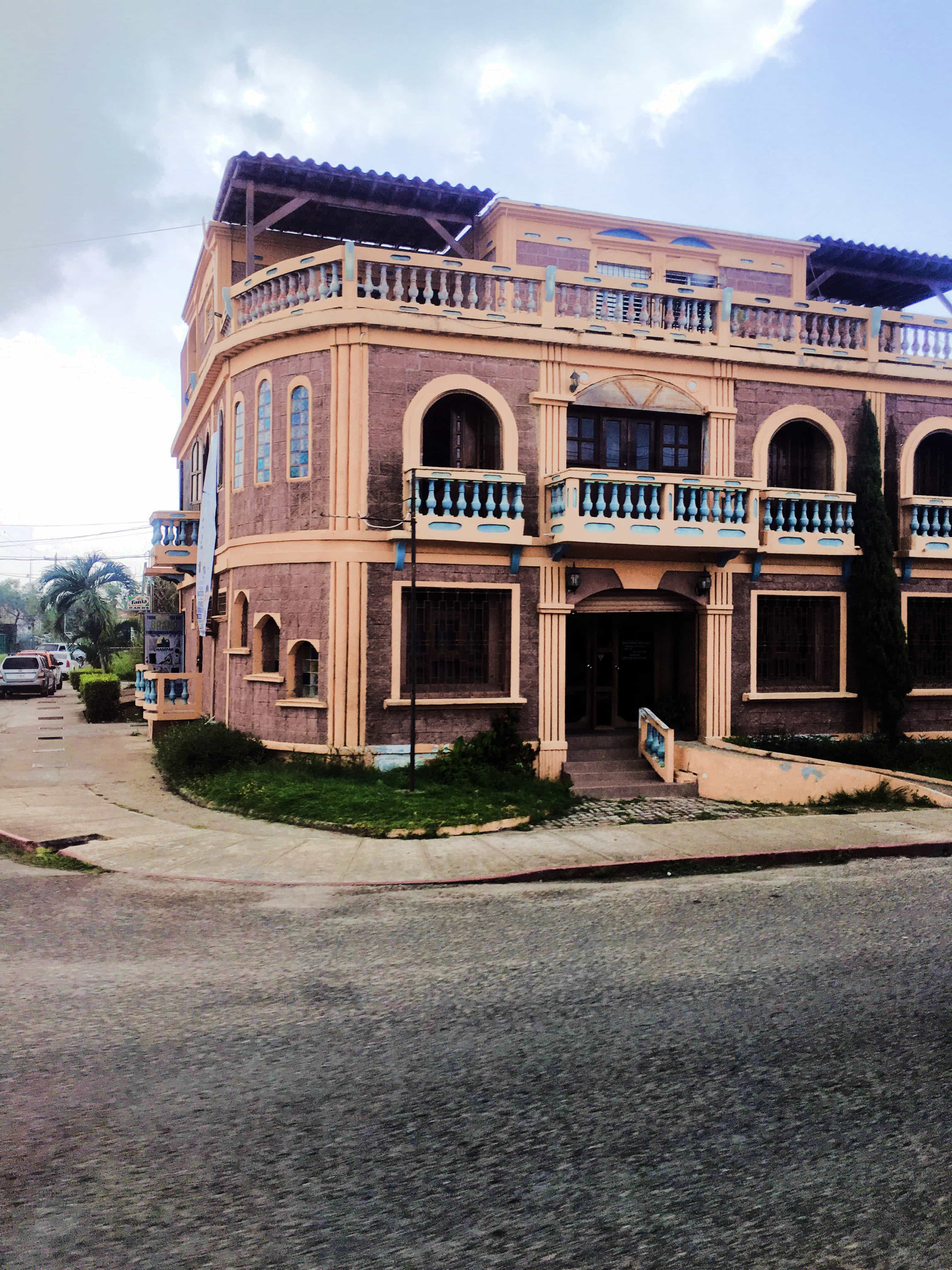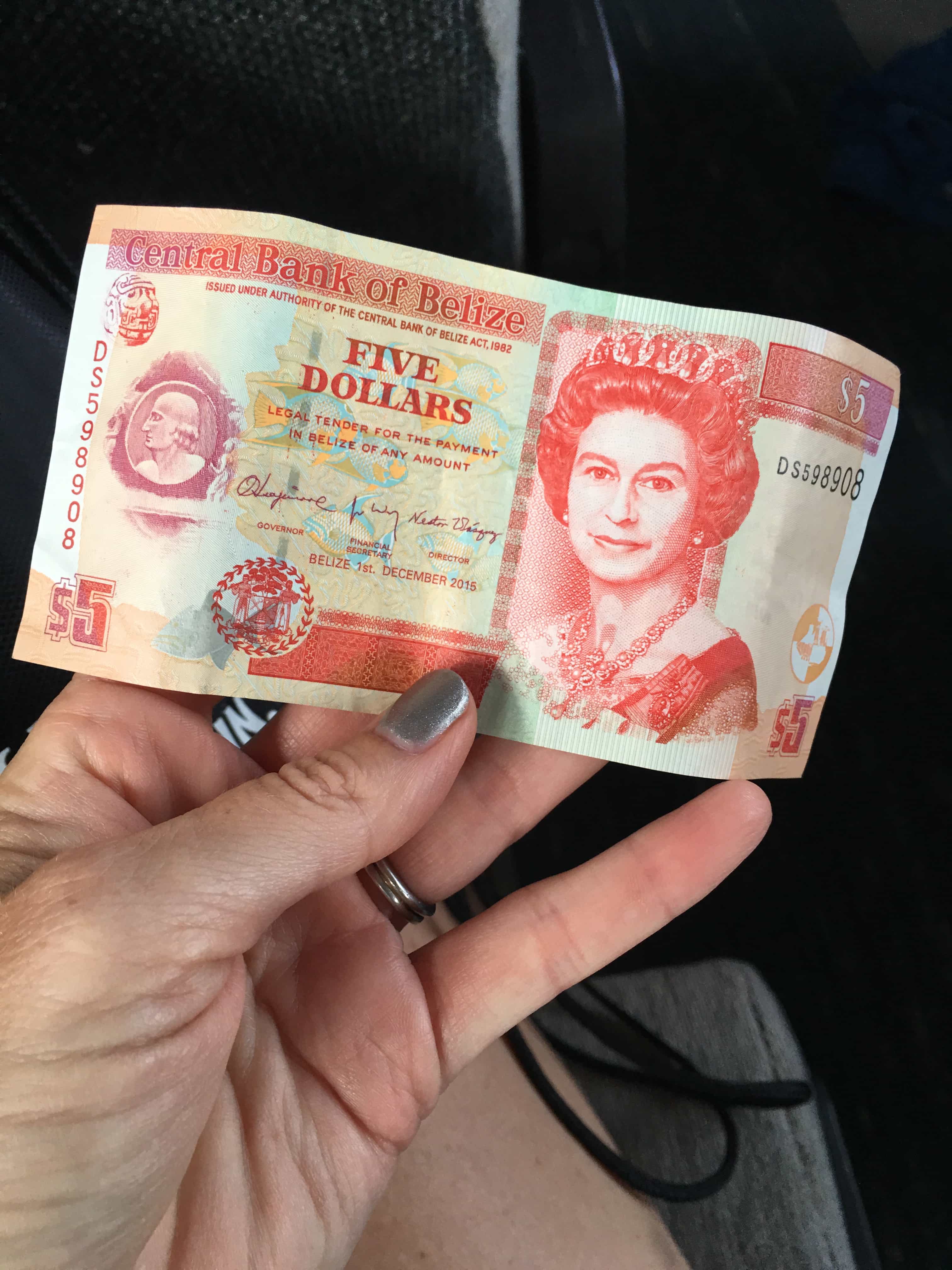 Once we arrived at the site, we hopped off our bus and boarded a school bus for a three minute drive up and down a steep hill. I recommend being in a seat vs. standing as it is a jostling trip. (I almost fell on the people around me.)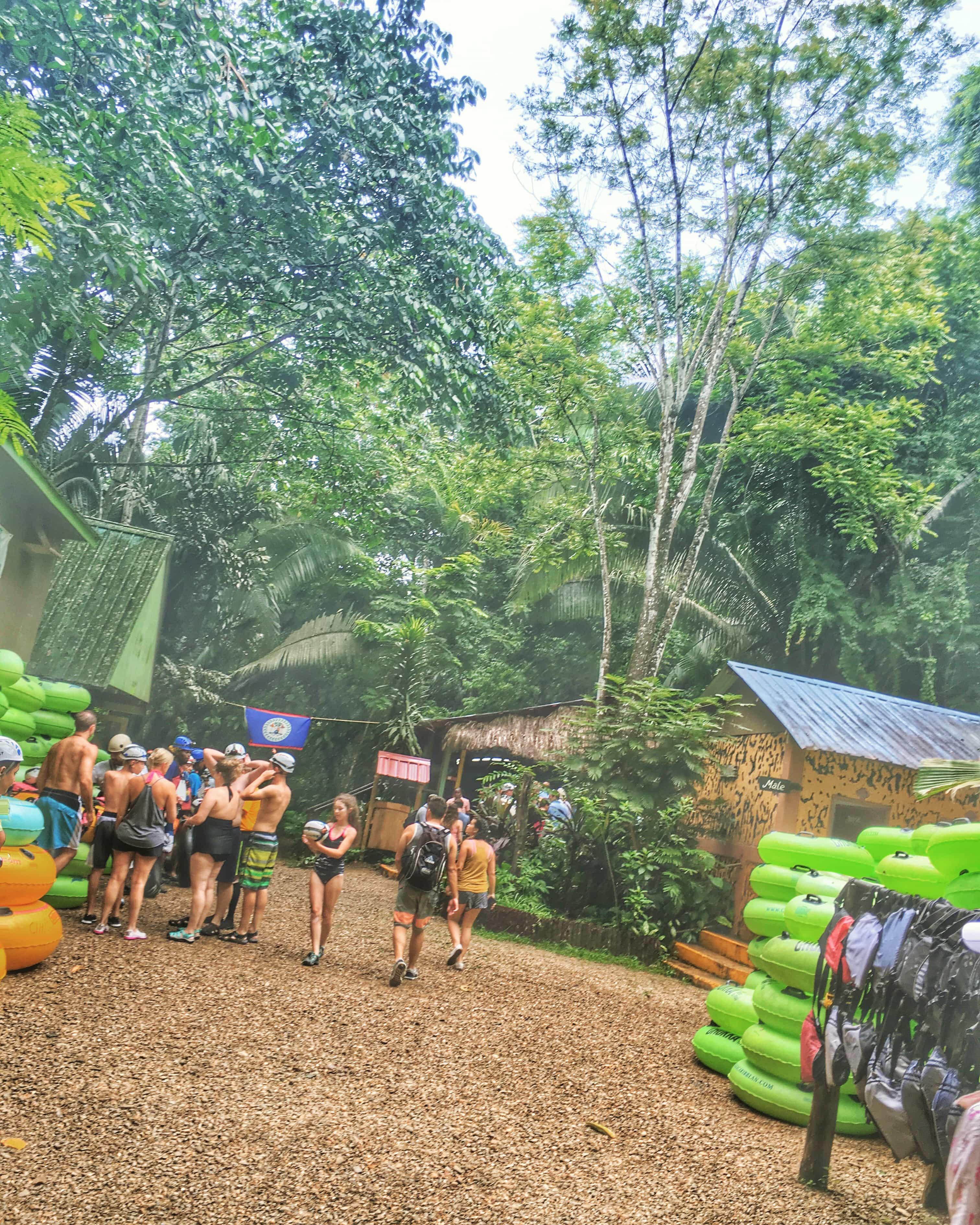 From here, we headed to lockers – $8 to rent – slipped off our coverups and slipped our water shoes on. You can rent water shoes, but I preferred to bring my own. You cannot do this adventure in flip flops.
You'll be placed in a group of eight, (that's how many of you will eventually be tied together on your tubes as you move through the cave) and you'll add a life jacket and helmet with a head lamp to your ensemble. You'll meet your guide and get going. Most people wear only their bathing suits, though you can opt to wear shorts as well. You will get wet.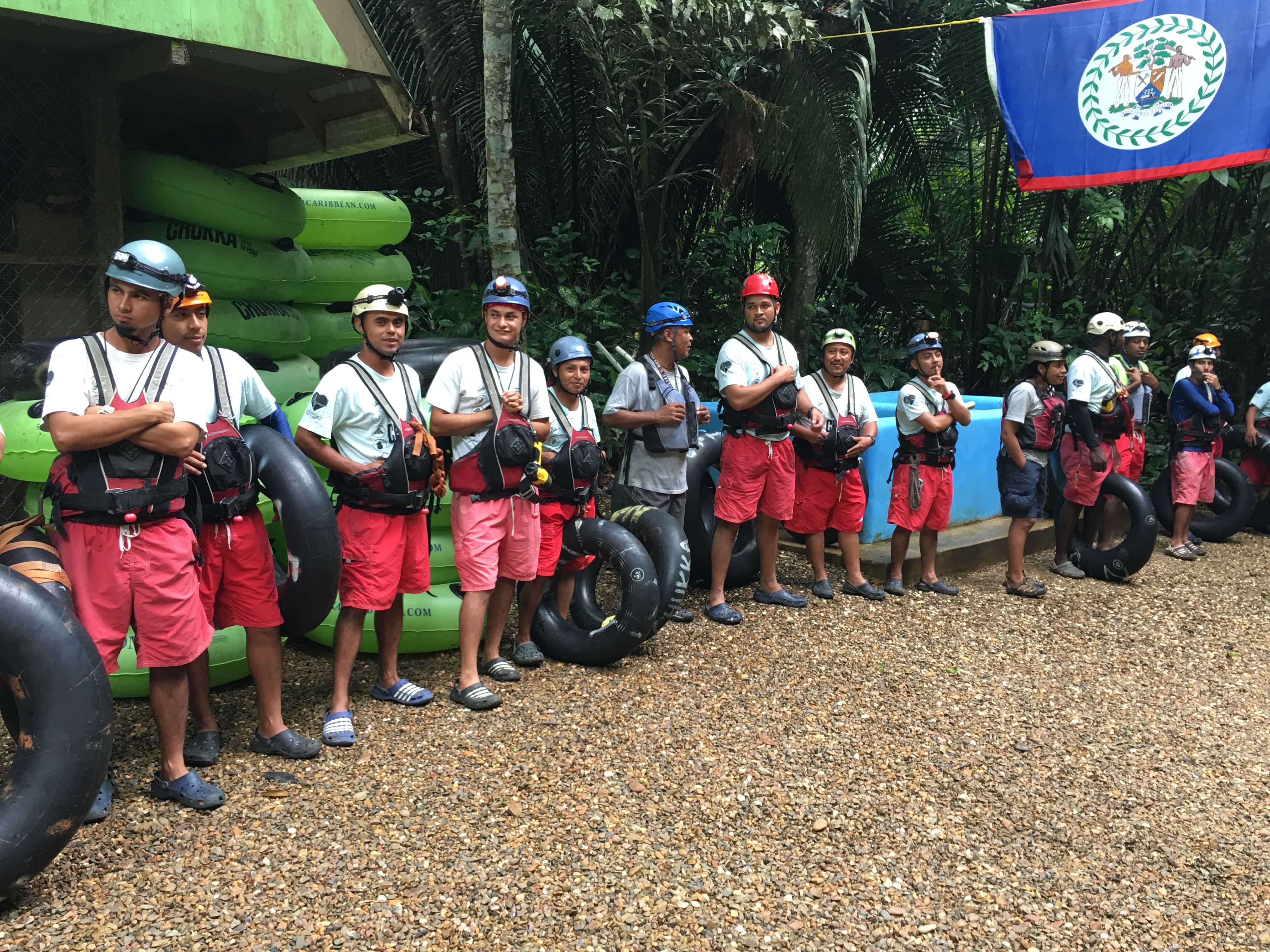 We picked up our tubes and began our hike to the mouth of the cave.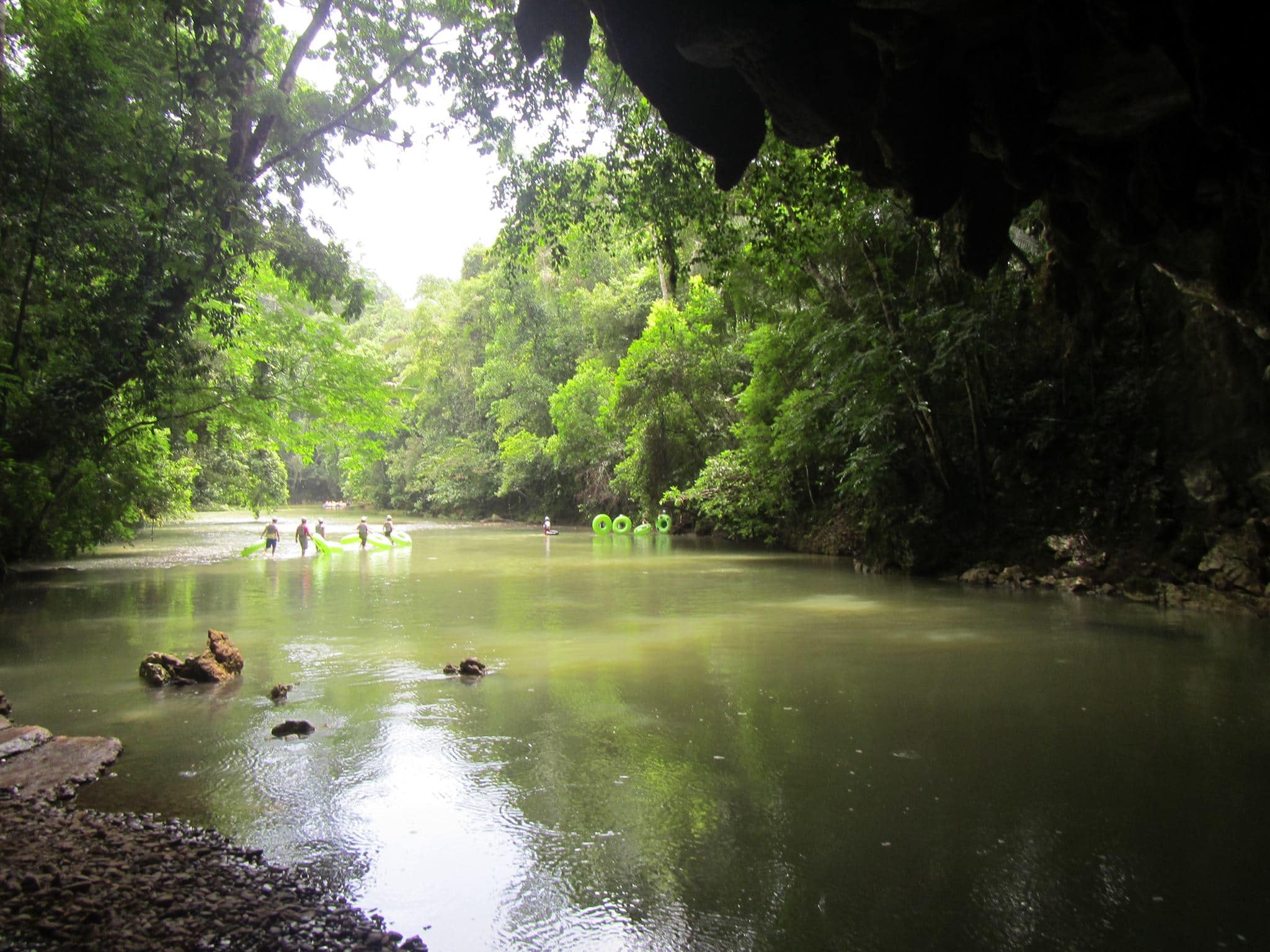 We had only walked for a few minutes when we first reached water. I thought all of the reviews I'd read about the 'hike' to the cave were exaggerated, but they weren't. We waded through that first section of water – at least thigh deep on me and I'm 5'8 – climbed a series of stairs on the other side and completed a roughly 20 minutes hike to the cave. The hike itself is not challenging, but do remember you will be carrying your raft.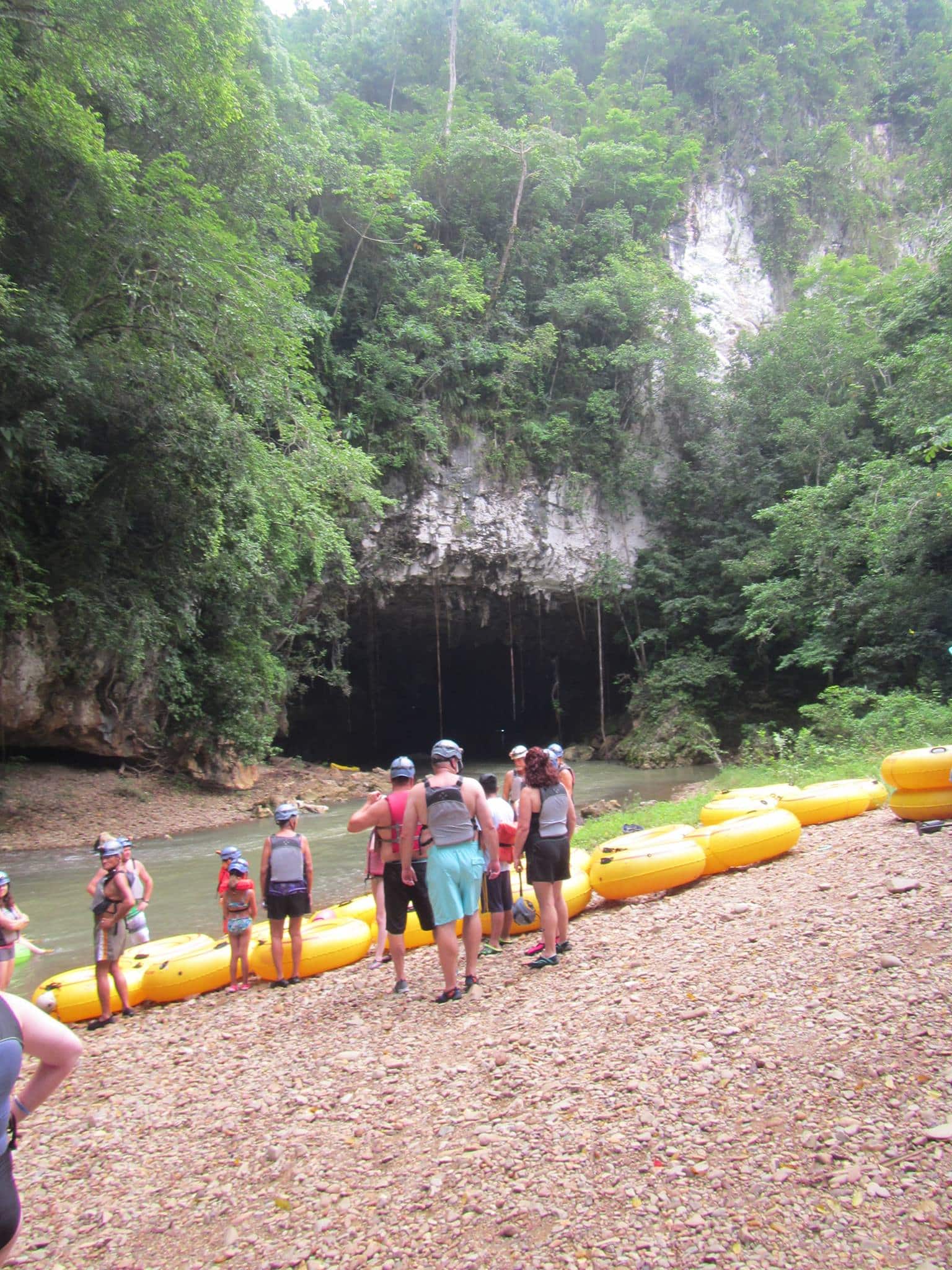 At the entrance to the cave, our guide tied our rafts together and helped us float in. Make sure to turn your headlamps on so that you can see. You will be surrounded by other groups doing the same float.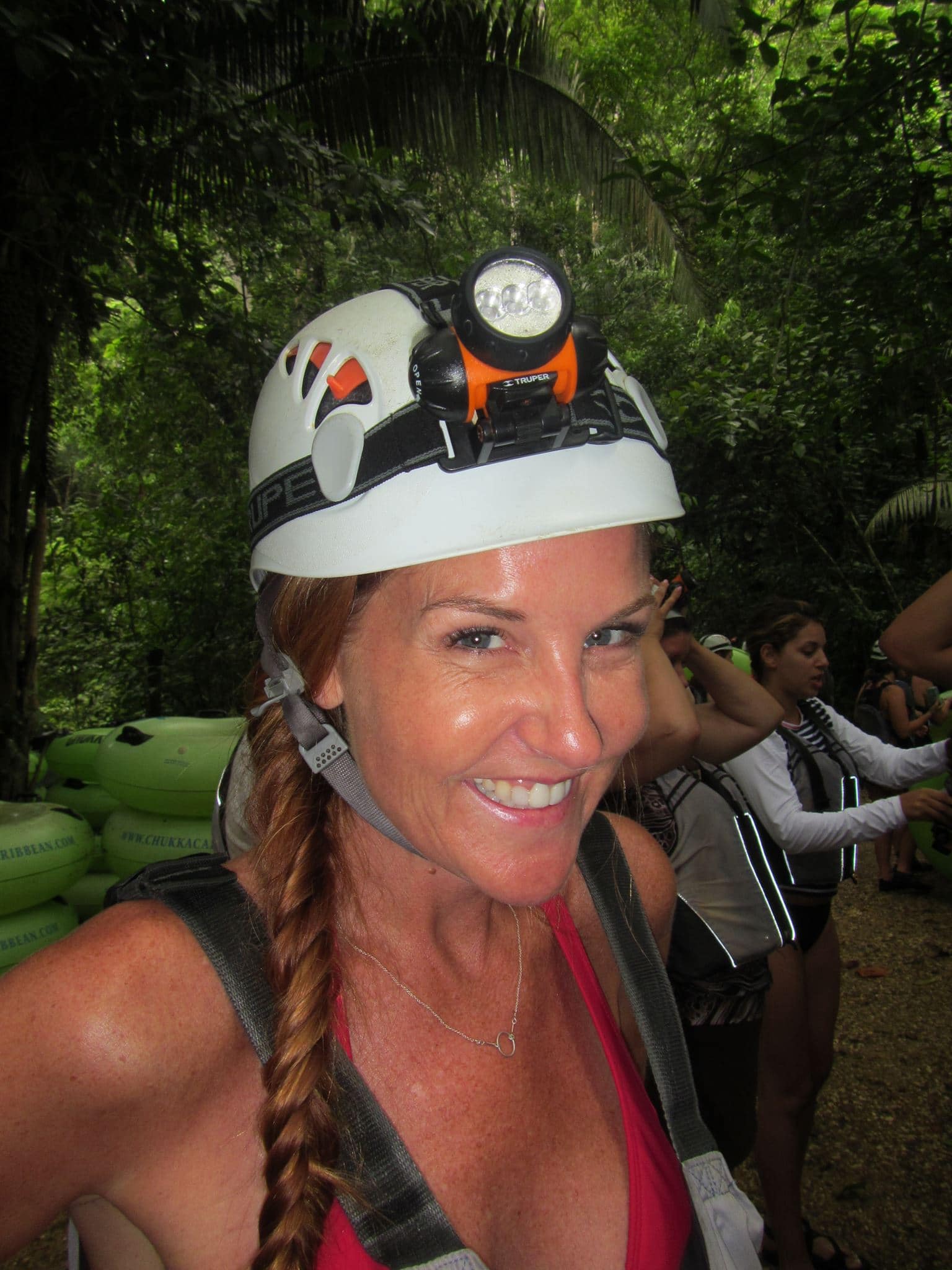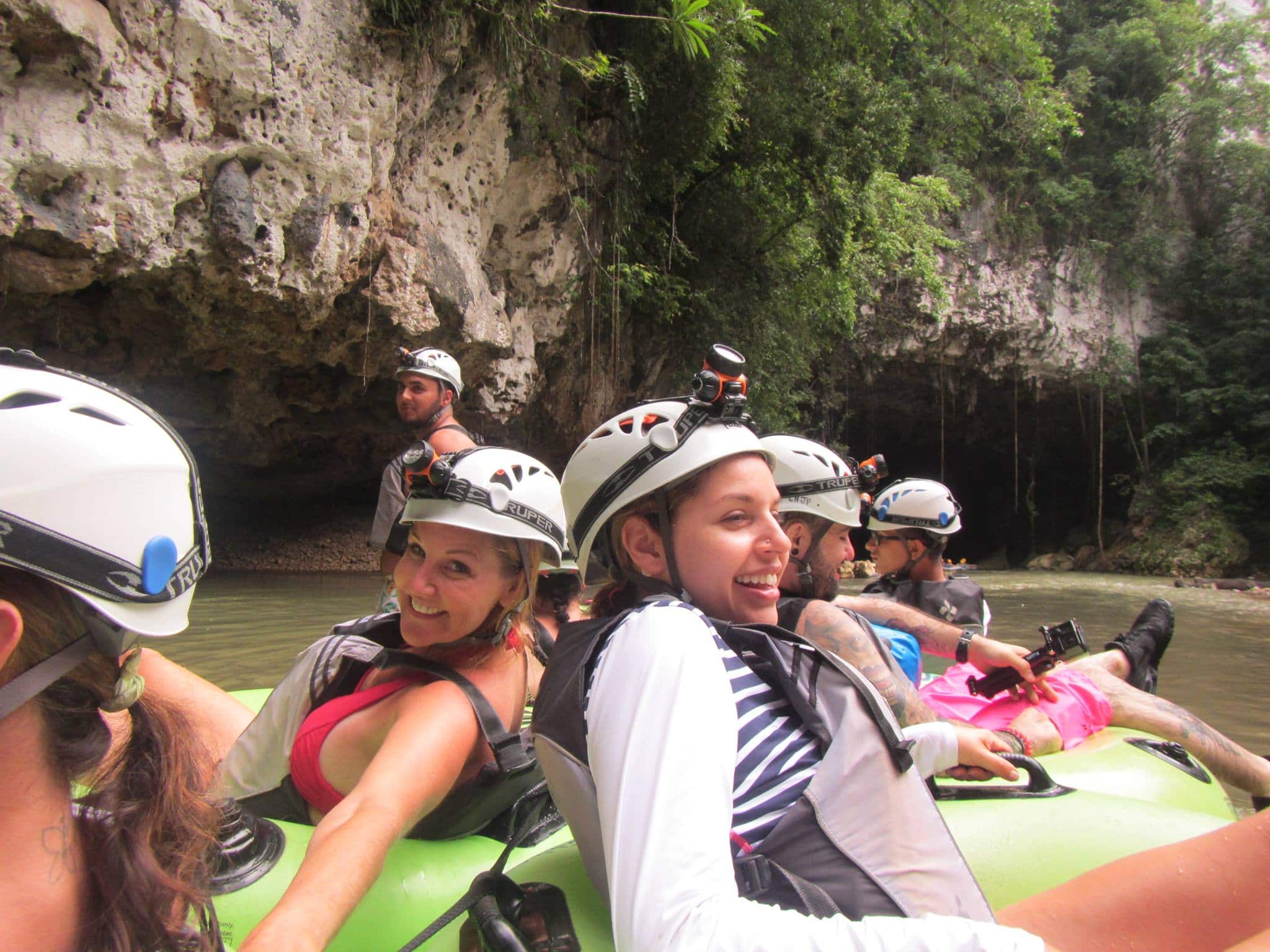 All of the guides ensure your float is smooth and offer history and perspective as you float. I did, however, have a hard time both understanding and hearing our guide, so I spent the better part of the time in the cave observing, eavesdropping on other guides and absorbing the fact that I was sitting in a tube inside a cave that ancient Mayans considered to be a sacred underworld, as well as the home to many gods.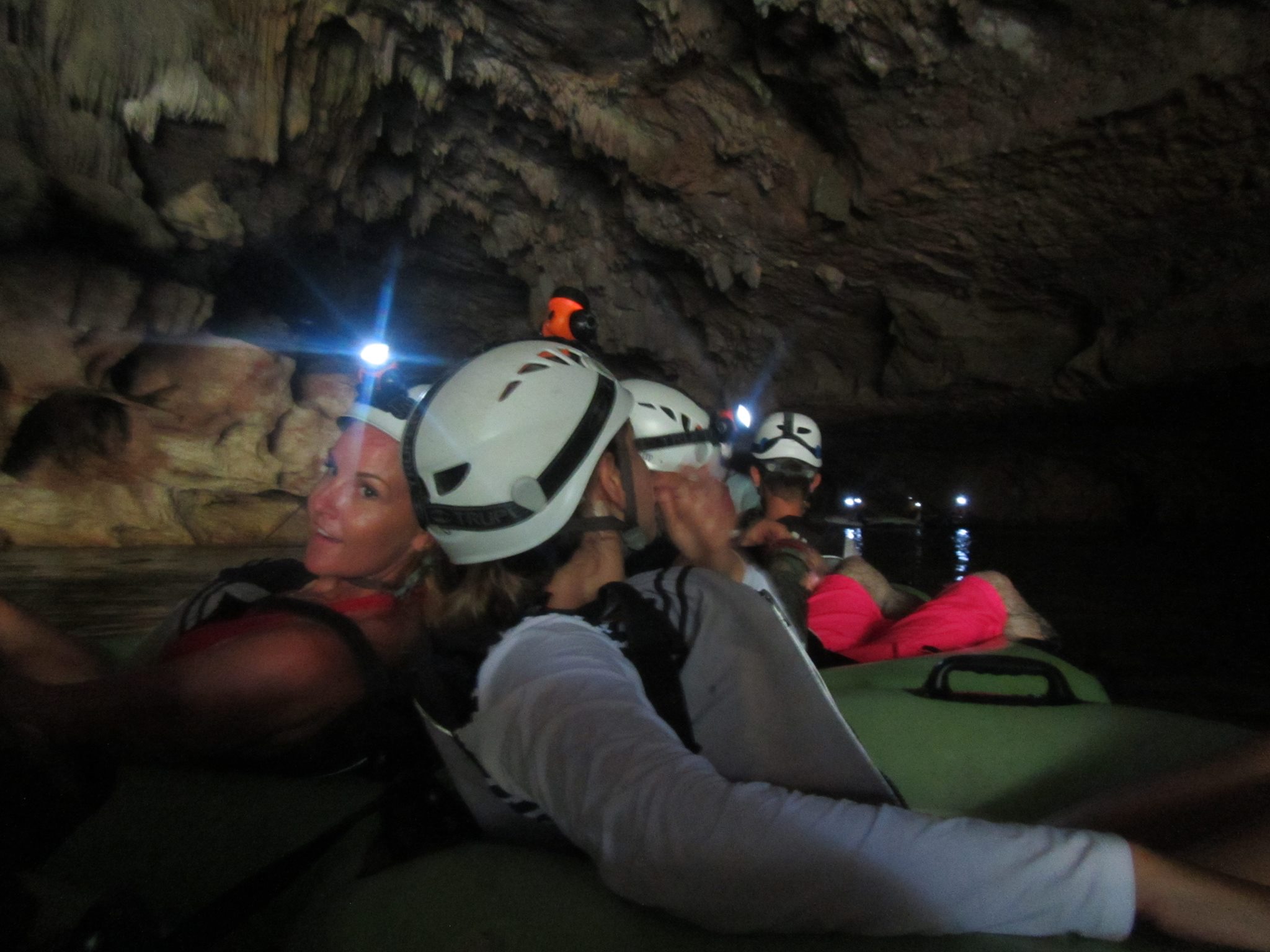 The float lasts roughly thirty minutes and is a peaceful experience. It is not fast paced or happening in rough waters, so you can relax and enjoy.
When you exit the cave, you will be within three minutes of your start location. You have the option to do 'Cave Tubing with Lunch' ($69.99/adults and $64.99/child) or just 'Cave Tubing' ($59.99/person), however, even if you choose not to include lunch, you will still be waiting with your group until they are finished. You won't board your bus for the return trip until all of the lunch folks are done.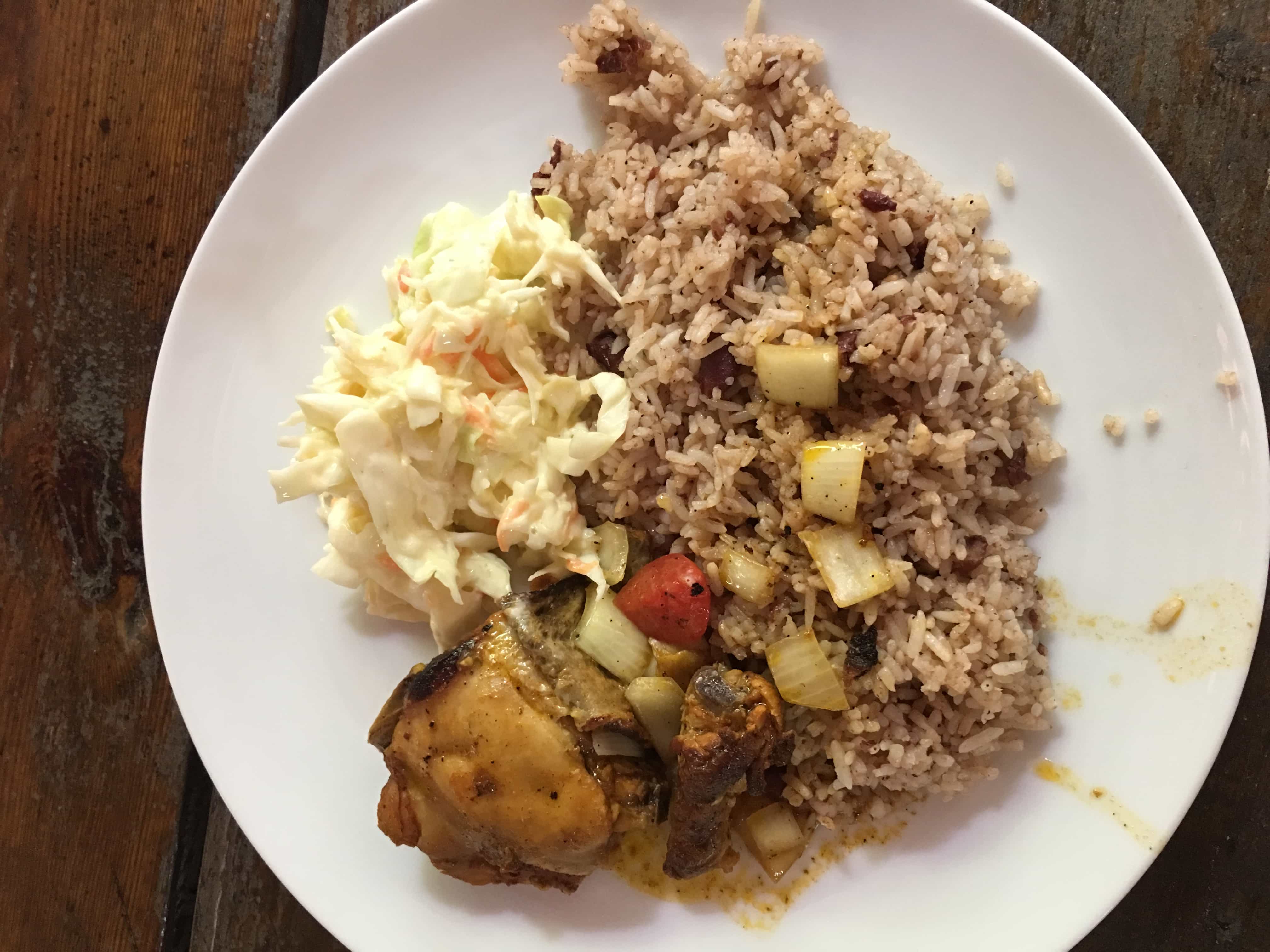 The meal is the same for everyone. We were given chicken, rice and coleslaw. There is a bar where you can purchase sodas, water, a few cocktails and local beer.
And then it will be time to head back – adventure complete.
Suggestions and Reminders:
Wear a bathing suit and bring water shoes….that way you know the shoes fit comfortably.
Be prepared for a long journey to and from the site…. three hours of your excursion day will be spent on your bus.
Share a locker with a friend/family member if you aren't bringing a lot of items with you – they are good sized.
Bring a change of clothes with you so you can change and avoid sitting in a wet suit for the trip back
This excursion is open to kids 8 and up, but I have a 10 and 12 year old, and carrying their tubes for the hike would have been a challenge.
Naturally, there are many other excursion options in Belize, so take a little time to read up on your options. Whatever  you choose, HAVE A GREAT TIME!
Disclosure: I was thrilled to experience Belize Cave Tubing as a part of my time on the Carnival Magic. As always, all thoughts and opinions are mine and mine alone.