Of the many words I typically use to describe Christmas, quiet is typically not one of them – but this year – with a houseful of sick ones, that is JUST what is was….
Jeff was non-functioning for the days leading up to the 25th and for most of Christmas Day – and poor Coop was flushed with fever for all of Christmas Eve….  however, the bounce-back on Christmas day was remarkable.
But within the quiet, there was joy.  Pure-unadulterated-oh-my-gosh-it-is-Christmas-morning-joy.  This is what is looked like.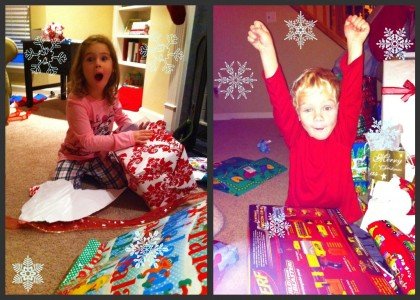 My small people are only 4 and 6 – which, I have decided, might be the PERFECT age for experiencing the magic that is this particular holiday.  They love everything about it – gingerbread houses, stockings, cookies for Santa, our Elf on a Shelf (Freddie), putting Baby Jesus in his manger on Christmas morning, wrapping presents, opening presents and naturally – the belief that Santa actually delivers on his promises….
That's the joy you see above.
We've changed the way we celebrate with gifts….  I (raising my hand as the guilty party) used to spoil them – I loved the idea of watching them unwrap treasures and seeing those expressions you see in the pictures above.  But two years ago, something happened.  They opened half of their gifts and decided they were bored.  BORED. Quite simply they had TOO MUCH.  And with my husband's I-told-you-so's ringing in my ears, I set about to make a change.
Last year we implemented a new tradition.  Each of my small people is given THREE gifts from us for Christmas.  We explained to them (and truly – they understood beautifully) Jesus was given three gifts, so they would receive the same.
And you know what is a treasure for me?  With fewer gifts…  Delaney and Coop can actually TELL YOU what they were given for Christmas – there isn't so much stuff that things are lost in the shuffle.  And for the past two days, they have moved from one gift to another, giving equal time to the gifts they were given. And they have been playing together.
And that is pure-unadulterated-joy for me.