You know what I'm doing? Planning New Year's DAY. That's right….many of you are entirely focused on New Year's EVE…but me? I love the day.
Allowing myself (and my family) to relax and BE as the New Year begins is such a beautiful way to set the tone for the year. Yes, my resolutions are already set. Yes, I have big plans and am beyond motivated.
But on this day – we relax. We rest. We laugh.
And we watch football. And we eat. It is all kinds of magic.
In the interest of inspiring you to possibly do the same, here is a magical appetizer recipe – whether it is just you and your crew, or you are having a few people over to enjoy all of those Bowl Games. They will SWEAR you spent the day in the kitchen preparing for their arrival.


Avocado Egg Rolls
Let's get started, shall we? Here's what you need:
Ingredients:
1 cup canola oil

3 medium avocados

1 large roma tomato, diced

1/4 cup red onion, diced

1 tablespoon fresh lime juice

1 teaspoon garlic powder

Kosher salt, to taste

Cracked black pepper, to taste

8 egg roll wrappers
Dipping Sauce:
1/3 cup sour cream

2 tablespoons mayonnaise

1/2 cup fresh cilantro leaves, loosely packed

1/2 jalapeno, seeded and deveined

1 teaspoon garlic powder

2 teaspoons fresh lime juice

Kosher salt, to taste

Cracked black pepper, to taste
On to the creating….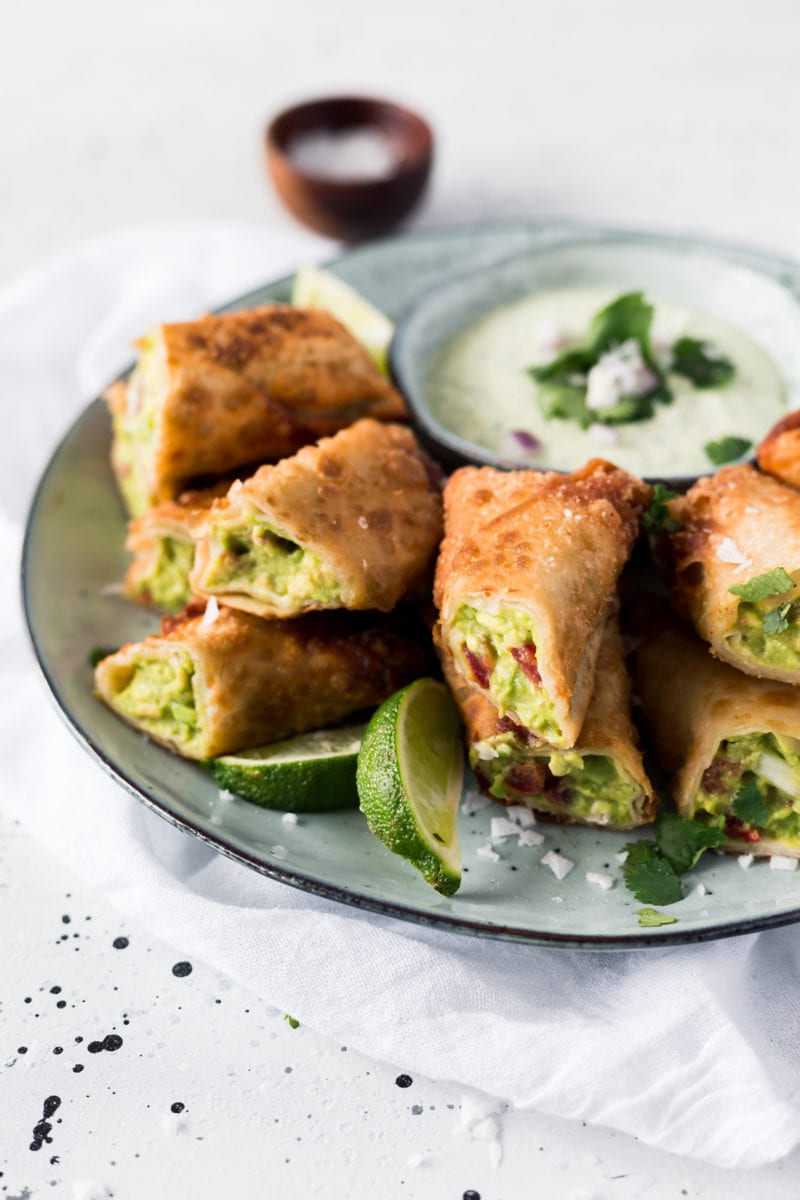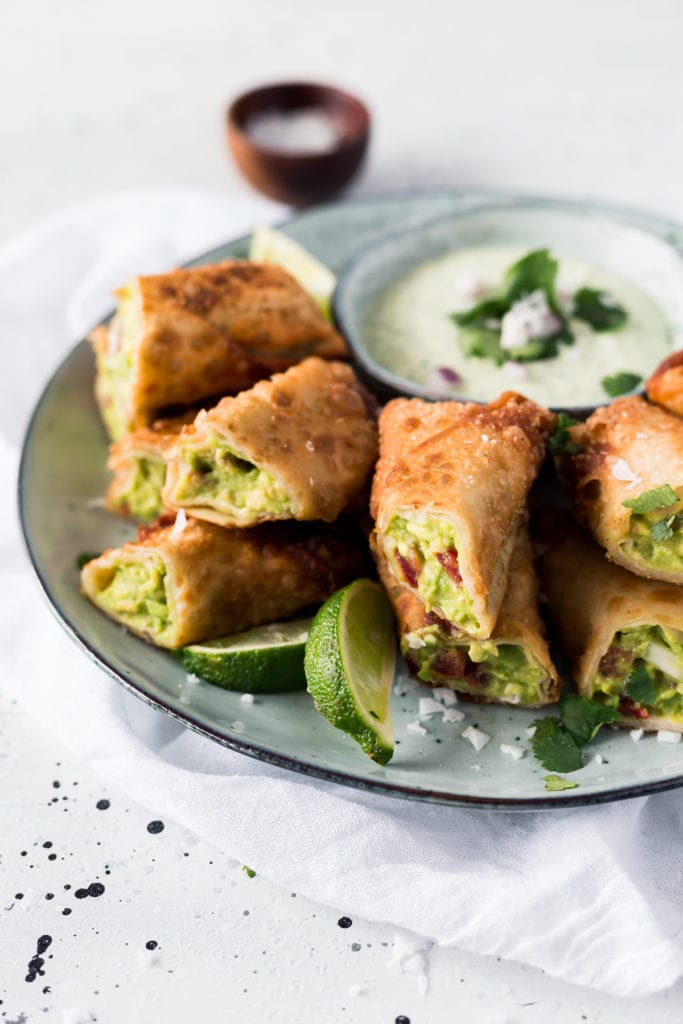 Directions:
In the bowl of a small food processor, add all the dipping sauce ingredients and pulse until combined. Adjust seasoning if needed, then set aside.

Heat the canola oil in a large skillet over medium high heat.

In a medium-sized bowl, gently mash the avocados using a potato masher or fork. Add the tomato, red onion, lime juice, garlic powder, salt and pepper, and gently stir to combine. Adjust seasoning as needed.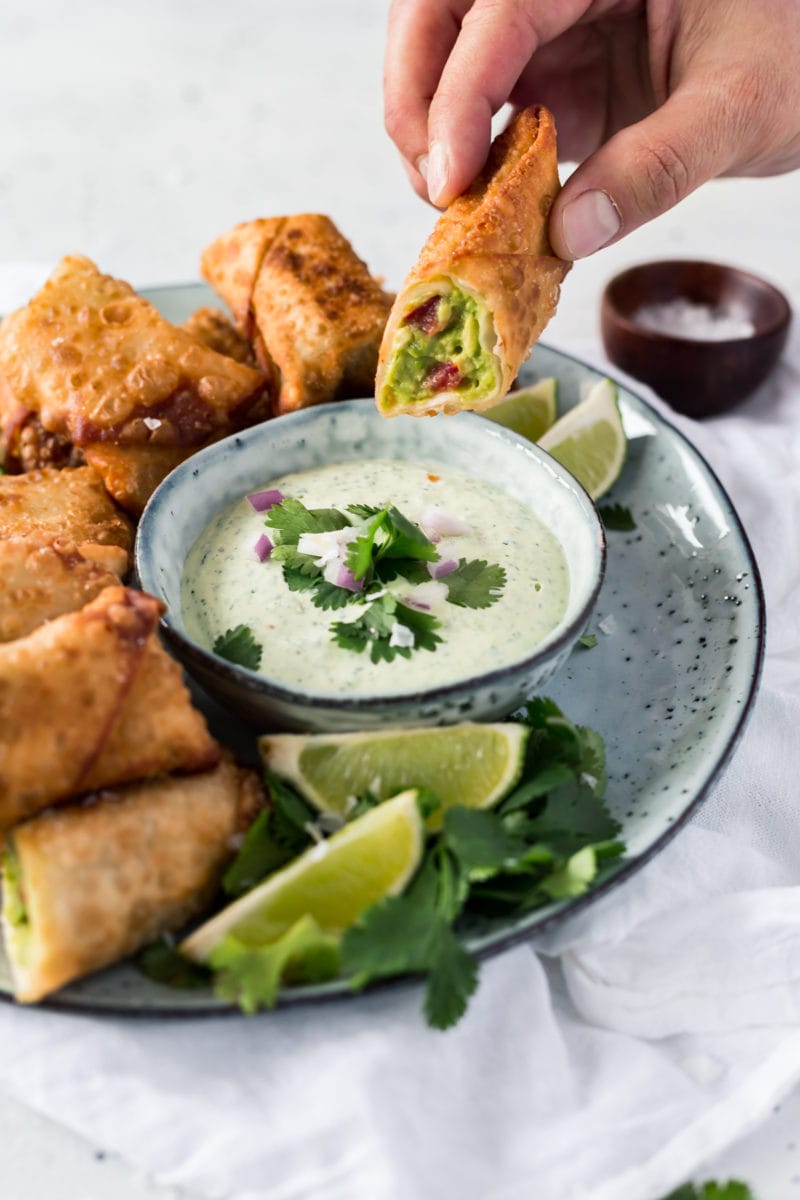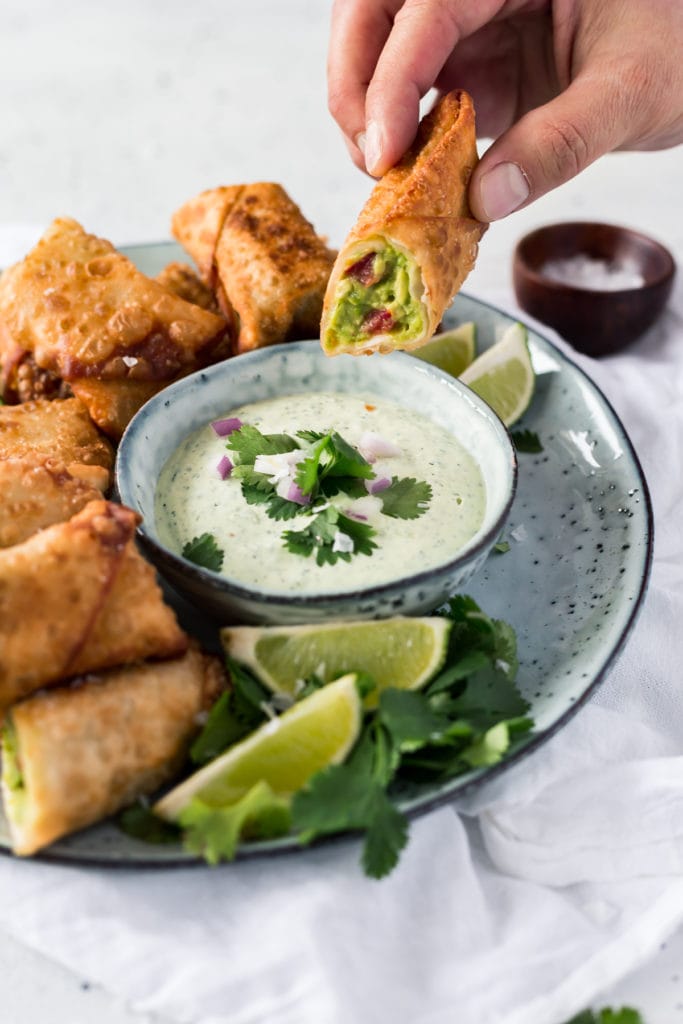 Working one at a time, place the avocado mixture in the center of each wrapper, and spread it diagonally. Fold the short corners over the mixture, then begin rolling from one long corner to another. Using your finger, rub the edges of the wrapper with water, pressing to seal. Repeat with remaining wrappers and avocado mixture.

Working in batches, add egg rolls to the skillet and fry until evenly golden brown and crispy, about 2-3 minutes. Transfer to a paper towel-lined plate, and serve immediately with cilantro dipping sauce.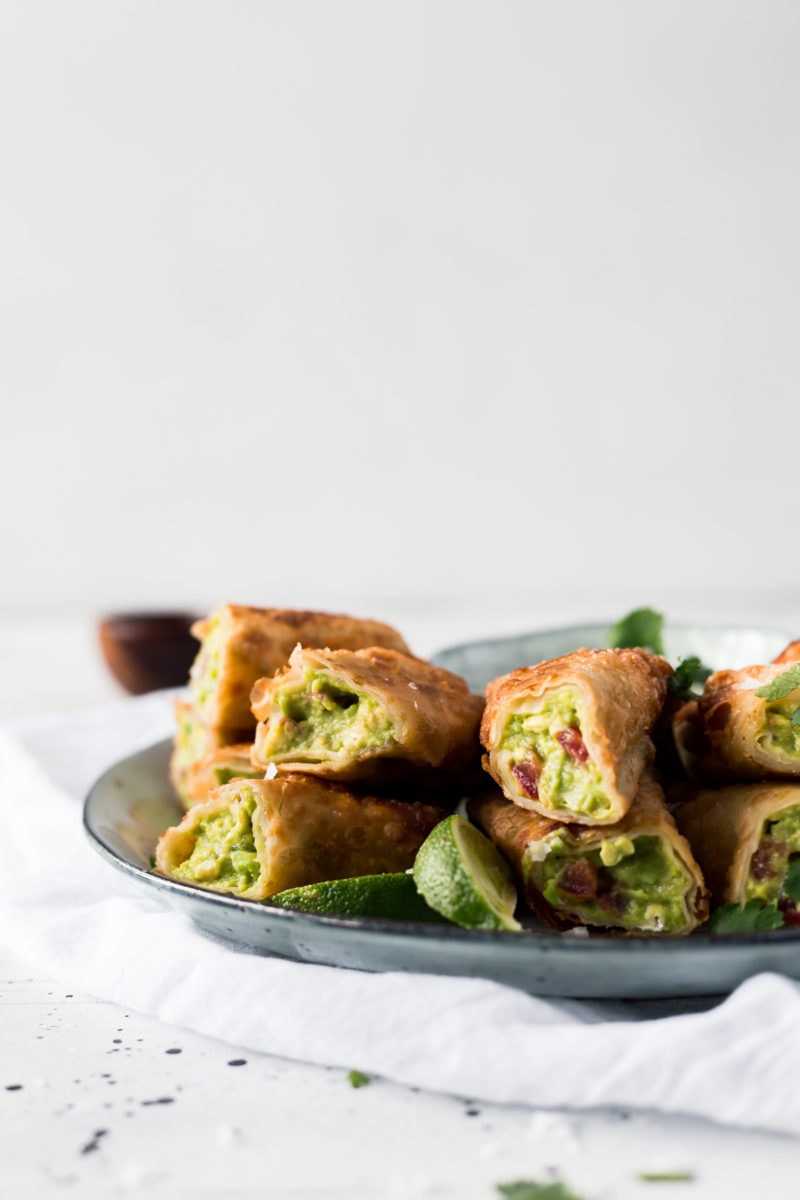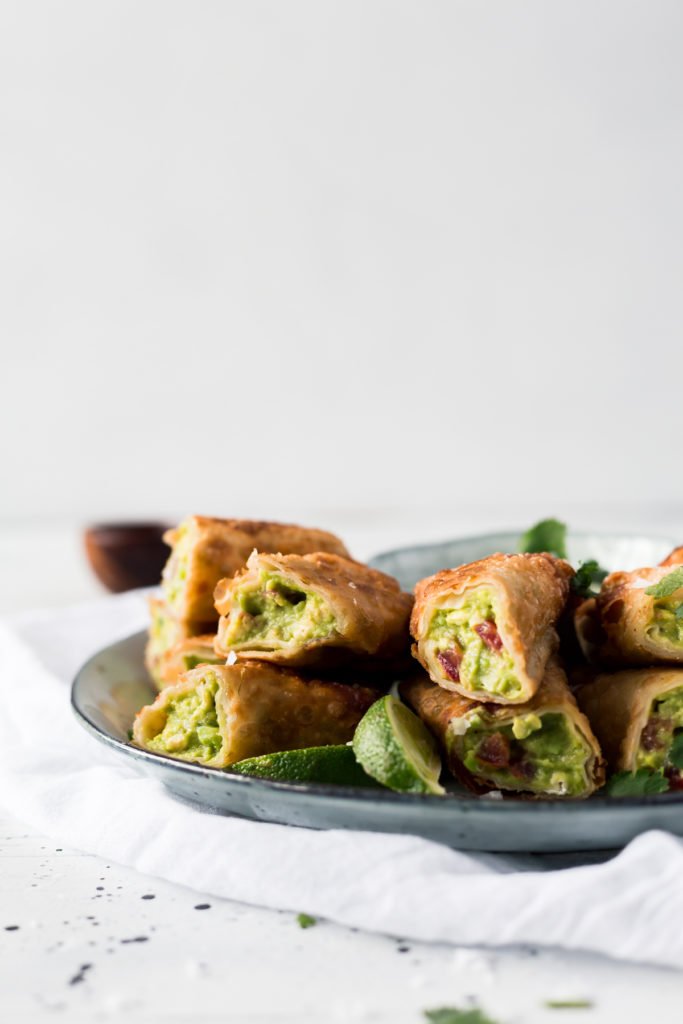 That's it. Easy, right?
Now serious…go enjoy! And take some time to appreciate the peace of the day before we kick it in to HIGH GEAR for 2018.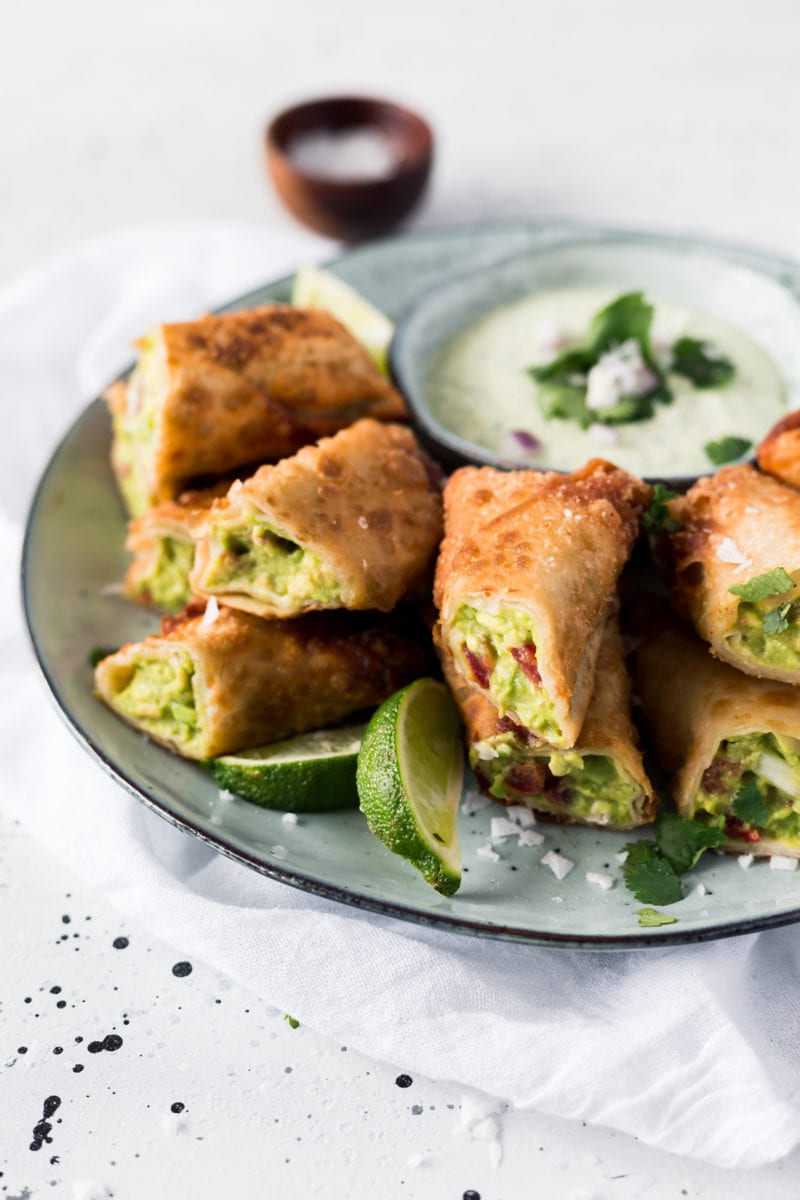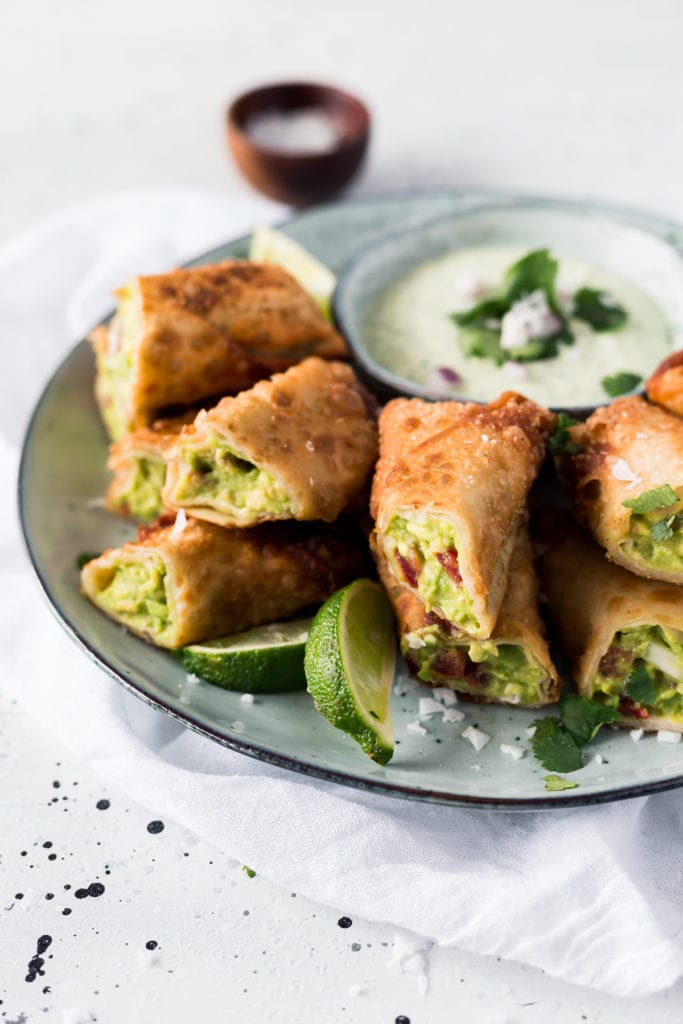 Prep Time: 15 mins

Cook Time: 5 mins

Total Time: 20 mins

Serves: 8 egg rolls, or 16 halves
Oh – and if you are looking a beautiful breakfast option for New Year's Day morning, think Caprese Quiche…or a dessert that everyone will love – Pumpkin Pie Cheesecake.