Ok…who is ready for Fall? College Football. Ahhhh …..Boots. Comfy and stylish sweaters.
And comfort food.
This is the time of year when I salivate at nearly every recipe as we entertain for game day, prep for the holidays and hibernate as the temperatures drop (you know how I feel about the cold!)
You know what this means? I have the perfect soup recipe to feed your family or to take to a group gathering. This one will have family and friends begging for the recipe – it is such a perfect combination of flavor and comfort –  and hoping there are leftovers. (Just ask my husband – he's happy to bring his own tupperware just in case!)
Feast your eyes and tastebuds on this one:


Spicy White Bean Soup with Parmesan and Spinach
Ingredients:
1 tablespoon olive oil

1 yellow onion, diced

6 cloves garlic, minced

1 lb spicy italian sausage

6 cups chicken broth

1 (15-ounce) can diced tomatoes, drained

1 cup freshly grated Parmesan cheese

1 tablespoon Italian seasoning

2 teaspoon kosher salt

1 teaspoon cracked black pepper

3 (15-ounce) cans cannellini beans, drained and rinsed

4 cups baby spinach, loosely packed

1/2 cup fresh grated Parmesan cheese, for serving

1/4 cup chopped fresh flat-leaf parsley, for serving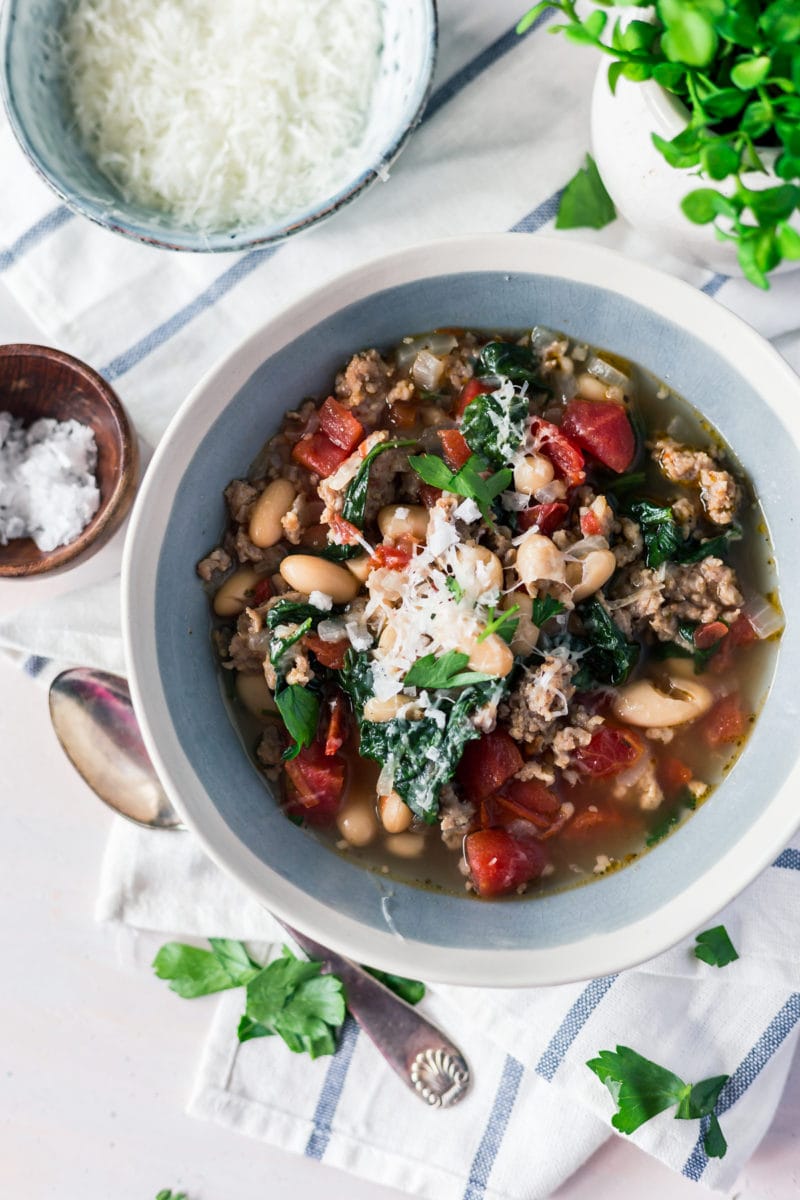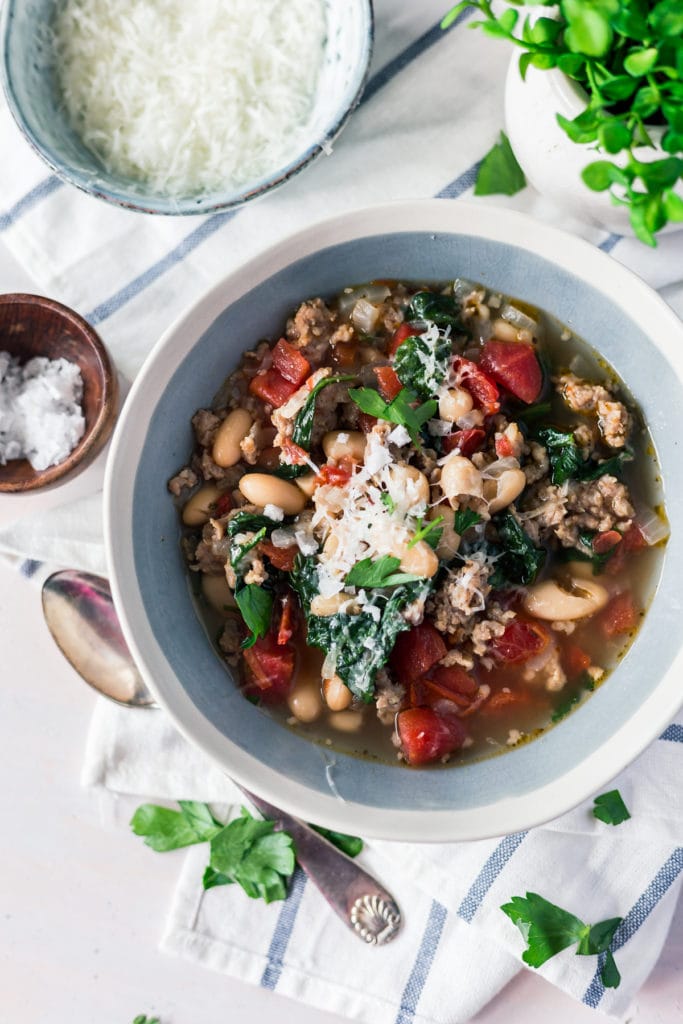 Directions:
In a large pot, heat olive over medium high heat. Add onion and garlic and cook until onions are translucent and garlic is fragrant, about 2-3 minutes. Add the spicy Italian sausage and cook, breaking it into crumbles, until no longer pink….around 5 minutes.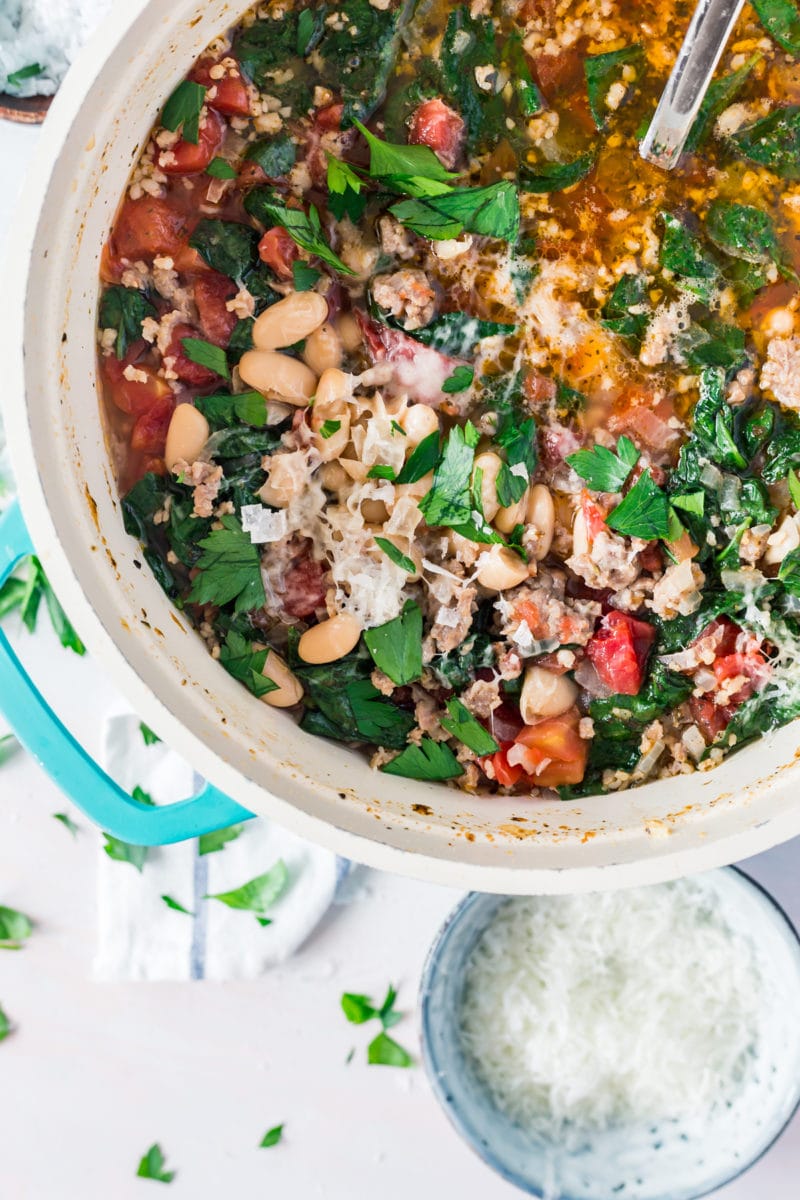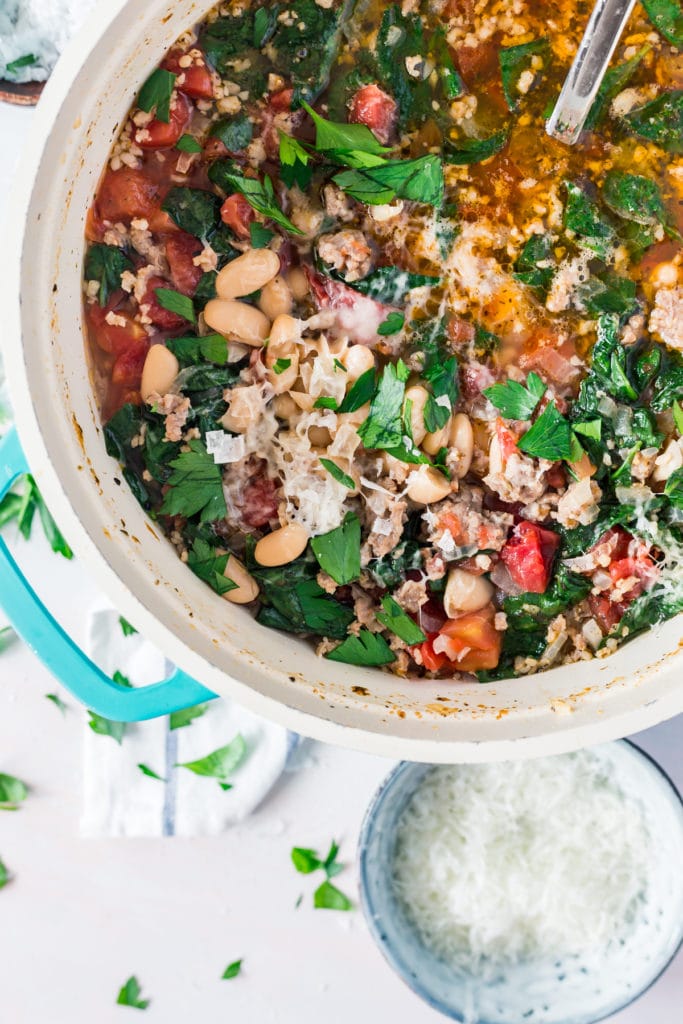 Add the chicken broth, tomatoes, 1 cup of parmesan cheese, Italian seasoning, salt and pepper.
Bring to a boil, reduce heat and simmer for 10 minutes. Stir in the cannellini beans and spinach, and continue to simmer gently until the spinach has wilted, about 2 minutes. Adjust seasoning if desired and serve with remaining Parmesan cheese and parsley.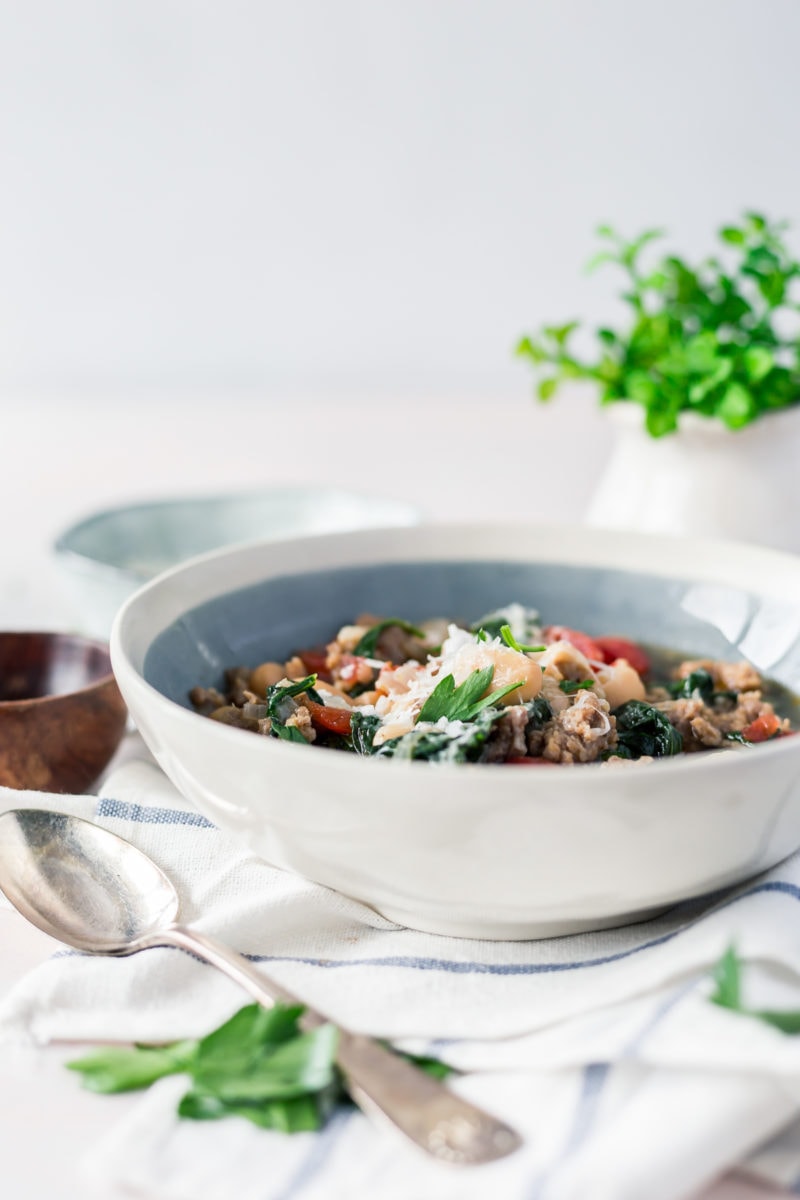 Prep Time: 5 Minutes
Cook Time: 20 Minutes
Serves: 10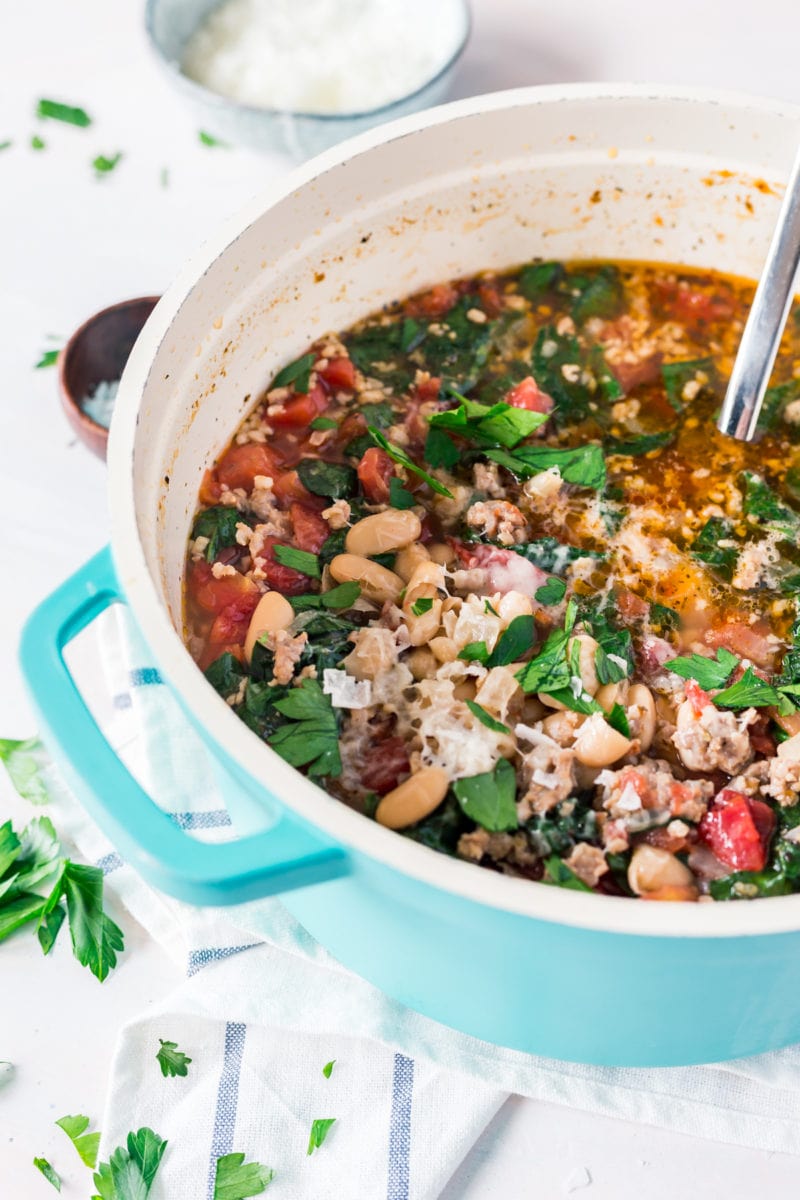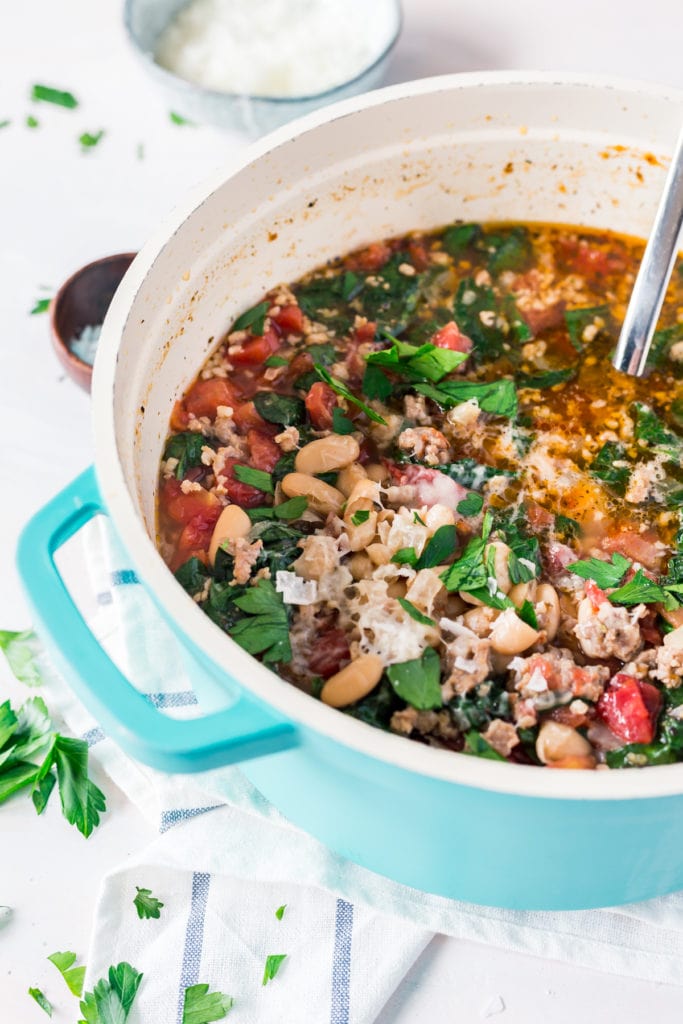 Enjoy!
Now, I cannot wait for you to come back and tell me what you think. I'm so hoping you love it as much as we do.