I don't know about you, but football is my jam. It is pretty darn clear that my team is not playing for the Vince Lombardi trophy. Well, it is pretty darn clear that I won't have a team in my city to watch and cheer on next year, or for years to come now that my Rams have left for Los Angeles, but that doesn't mean I don't love still the game (and of course that team) or that I won't be celebrating on February 7th.
While I'm not one of the many who tunes in strictly for the commercials, I DO think there is a need for great food while we watch the game. It is still up in the air if I am hosting, or visiting, but as I know many of you are already making plans, I wanted to offer a few easy and delicious appetizer options that can please both the sweet and salty fan in all of us.
I'm happy to say I have once again partnered with Libby's to put these recipes together for you. And, you know I had to include a video to show you a) how the recipes work b) how easy they all come together and c) the joy of the finished products. (My fabulous video crew was excited when we were done shooting so they could dig in!) In addition to the video, you will find the recipes below.
And….here are the recipes. Which is your favorite?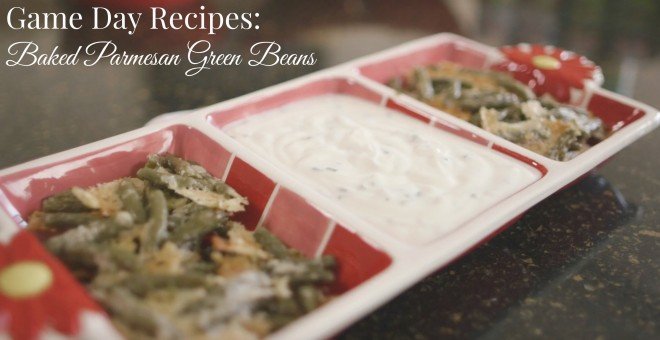 Baked Parmesan Green Beans with Dipping Sauce
2 Cans Libby's Cut Green Beans
1/2 cup Parmesan cheese, grated
1/2 tsp Garlic powder
1/4 tsp Sea Salt
1/8 tsp Cracked Pepper
Sour Cream and Chive Dipping Sauce:
1 cup sour cream
1/2 cup buttermilk
1 tsp garlic salt
Dash of pepper
2-3 tbsp finely chopped chives
Preheat oven to 425 degrees.
Line a baking sheet with foil and spray with non-stick cooking spray. Place your green beans on the baking pan and spread them out evenly.
Sprinkle your seasonings and parmesan cheese evenly over the green beans.
Place the pan with the green beans in your pre-heated oven and bake for 10-15 minutes – or until golden brown.
Enjoy immediately with your dipping sauce.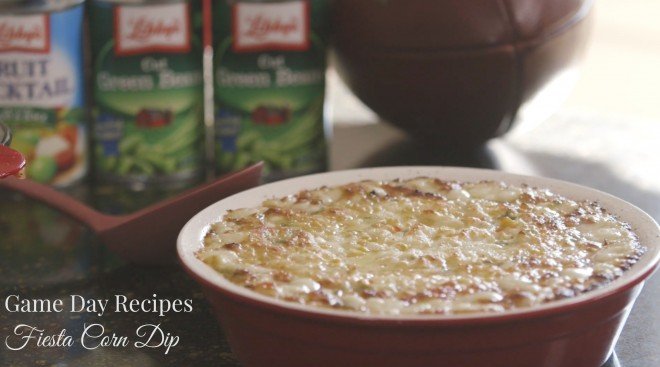 Fiesta Corn Dip
8 ounces of shredded Monterey Jack Cheese (or a white cheese of your preference)
2 cans of Libby's Whole Kernel Sweet Corn
2 cups of mayonnaise
1/4 cup drained, chopped green chilies (this is the equivalent of a small can)
1/2 cup minced roasted red bell pepper
1 cup grated parmesan cheese
Preheat oven to 375 degrees.
Mix all ingredients together.
Spread the mixture evenly in your favorite casserole dish and bake for 45-60 minutes until the top is a golden brown. Dig in with tortilla chips.
(Be careful, it is hot!)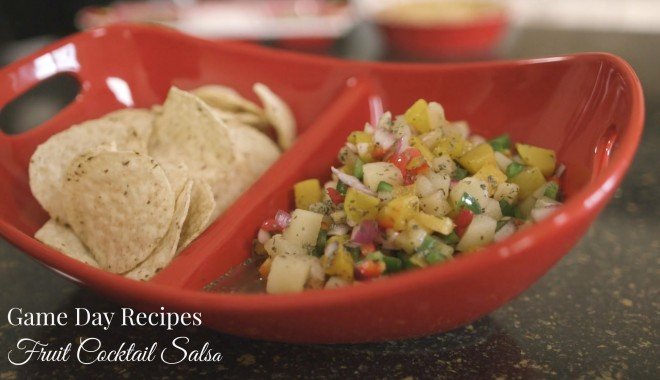 Fruit Cocktail Salsa
2 cans Libby's Fruit Cocktail in Pear Juice
1 medium red onion, diced
1 green pepper diced
1 red pepper diced
4 tbsp honey
1/8 cup cilantro
1/8 cup basil
4 tbsp lime juice
salt/pepper
Dice your onion, red and green peppers. Combine the Fruit Cocktail with the peppers and onion mixture.
Whisk together honey, lime juice, cilantro and basil. Pour this over your fruit mixture. Salt and pepper to taste.
Refrigerate for one hour before serving with your favorite tortilla or pita chips.
I almost forgot to ask…. CAROLINA PANTHERS? Or DENVER BRONCOS? I've long thought Peyton Manning was dynamite – as both a quarterback and human being…but I admit to thinking I might be a touch drawn to Cam Newton….he's articulate, stellar on the field and yes, adorable. Do tell, Friends….who gets your energy on February 7th?