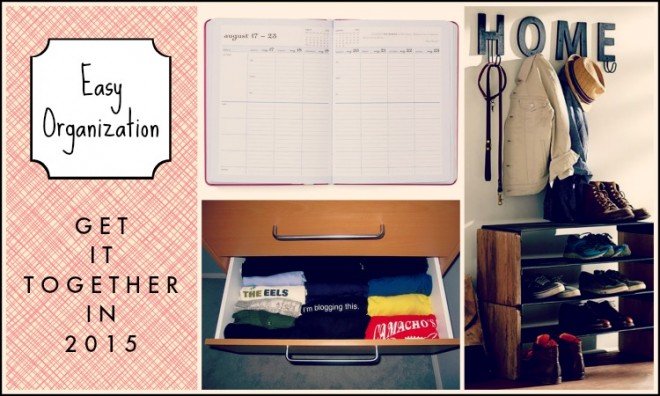 2015. This is our year.
It is the year we finally figure out how to keep a household, a family, a job and our dreams organized,  beautiful and running like well-oiled machines.
Really.
This gorgeous year is stretching before us all freshly-pressed and clean, free of mistakes and frustrations, full of possibility.
To make our goals of glorious synchronicity happen, all we have to do is make a few easy changes each month. Here are three easy projects or changes we can implement in month of January that will make a huge difference all year long!

Keep an agenda and use it daily
Maintaining an old-fashioned paper agenda has overhauled my family, personal and work scheduling.
We have commitments coming at all members of our family from eighty zillion different directions. Flyers from the school, notes from teachers, messages from teachers in the children's school planners, e-mails from activity leaders, Evites, Paperless Posts, Sign Up Geniuses, PTA bulletins…you feel me, I know.
Additionally as a freelance worker I have deadlines, conference calls, and meetings I must cross-reference with my mom duties and kids' activities. Therefore, writing absolutely everything all in one place is saving my sanity and saving my schedule.
A paper agenda never needs to be recharged or fails to sync. It does not care that I am constantly switching from Apple to PC products, back and forth between Google and Outlook calendars. I have learned through mess ups and overwrought scheduling that a hard copy master calendar for the family and myself is a major necessity.
I use a momAgenda Desktop [disclosure: I am a compensated member of the momAgenda Council of Media Moms, however, I was a purchaser of this product for years before joining the council] because I like the daily areas for me and other members of my family and the week at a glance format. However, any paper agenda that you have handy will work better than no master agenda at all!
Keep your agenda with your computer and write down absolutely everything in it. You will also cut down on the paper piles because once the details from a flyer or invitation or have been transferred to your agenda, off into the recycling bin they go.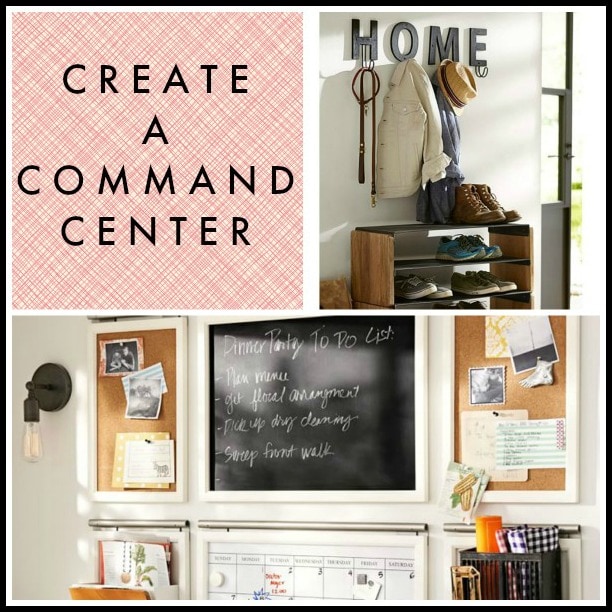 Create a command center
Professional organizer Rachel Strisik Rosenthal of Rachel and Company recommends creating a family command center for easy access and simplifying of the kid chaos. In her command zone she designates three main areas:
Drop zone for backpacks, shoes and coats so items can be easily found in the morning. After homework is completed kids should pack it up in the backpack and place in the drop zone.
Homework bins containing all the necessary supplies for completing work for school.
Family calendar on the wall that details family commitments and activities.
Designate an area in your house that is already functioning as a catch-all for the kids' stuff — the corner of the kitchen, the entry way, the mudroom off of the garage. Most likely this area's organization and new "command center" status will be an easy transition.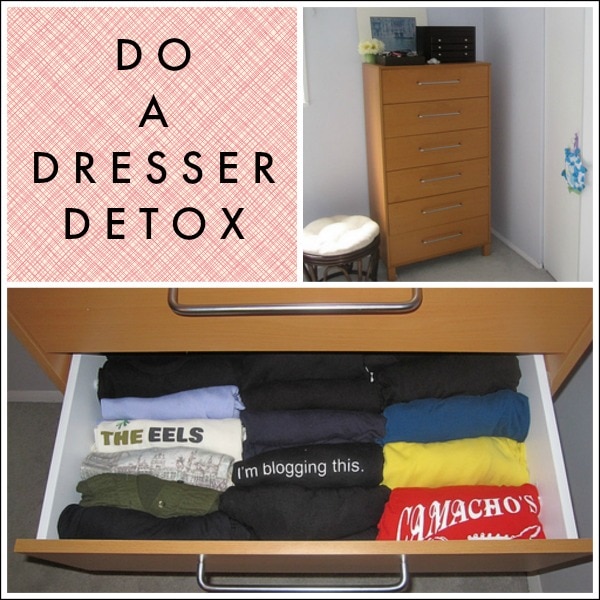 Do a dresser drawer detox
Rather than take on decluttering house-wide, why not start with one manageable area: your dresser drawers?
Grab a laundry basket and a few of cardboard boxes and tackle your dresser with a very critical eye. Your laundry basket is your "keep" bin, and then label your cardboard boxes "donate," "recycle" and "trash." Completely clear out every single drawer and be ruthless. Be especially brutal on whether to keep t-shirts (do they have stains? holes? were they freebies that you never wear?), undies and socks, which can be frugally replaced if necessary.
Repack your keepers carefully and even change up your drawer placement (e.g. if you kept gym clothes in the bottom drawer, switch them to the second one and put your pjs in the bottom) to get your brain accustomed to a fresh start. Any items crammed in the drawers that looked too wrinkled to wear but are keepers you should launder and then hang in the closet.
This one simple project will feel so good it may inspire you to go through your closet, or your kids' dressers when you are done!
Happy 2015, and happy organizing!