I don't know about you, but when it gets really cold outside, all I want to do is wrap myself up in a blanket. I'm not alone here, right?! Unfortunately with a job and a baby at home, staying snuggled on the couch 24/7 is not a possibility. But a great alternative for those times when you actually have to leave the comfort of your home? The blanket scarf! Yes, they are actually big enough to double as a blanket, and there are so many different ways you can style them!
1. Triangle Wrap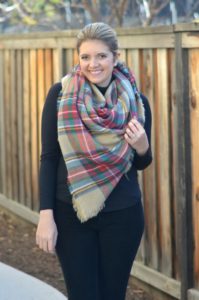 Fold diagonally into a triangle. Center the triangle at your chest and wrap the two ends around your neck.
2. Rectangle Drape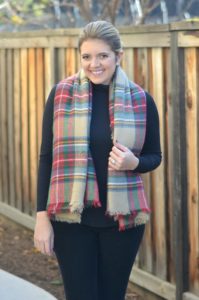 Fold in half into a rectangle. Continue to fold until you have the thickness you desire. Drape around your shoulders!
3. Belted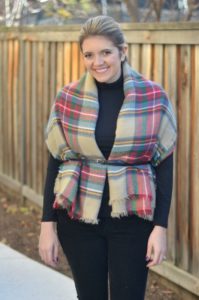 You can belt the scarf in many different ways. Here I did the rectangle drape a bit thicker, but try it folded smaller as well!
4. Twisted and Looped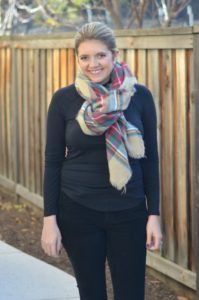 If you feel completely swallowed by your scarf, then this is the best way to eliminate some volume. After folding into a triangle, twist your scarf. Then half it and pull the ends throw the loop!
5. Shawl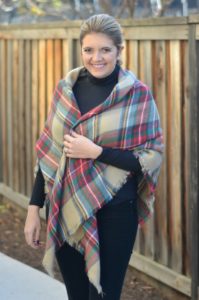 Do a triangle fold, but put the triangle at your back. Loosely tie the ends for a shawl look!
Looking to snap up a blanket scarf of your own? You can get a look-alike version of mine from Amazon! There are also cute, inexpensive options from Target and ASOS. Happy blanket scarf wearing!