As a little girl, friendship is filled with giggles and inside jokes, skinned knees and passed notes (ha! texts!), broken hearts and fierce loyalty. It is supported by sleepovers and softball teams, by a shared love of summertime and hatred for homework, by a pull to test parental limits and journal dreams for the future.
As adults, our dreams and the need for that 'girlfriend time' are often buried under laundry and the need to help with homework, behind the demands of clients and spouses, deep below emails and messy desks, trailing carpools, sporting events and school lunches.
But if you listen, that need for friendship is calling. There is a chamber in your soul that adult friendship fills in a way that the younger you was satisfied by those inside jokes and passing of notes. You feel heard. And supported. And blessed with the ability to both give and receive. It was just a week ago that I traveled to Blue Heaven and returned a better wife, mother, friend and business owner. I urge you to consider making the time to get away.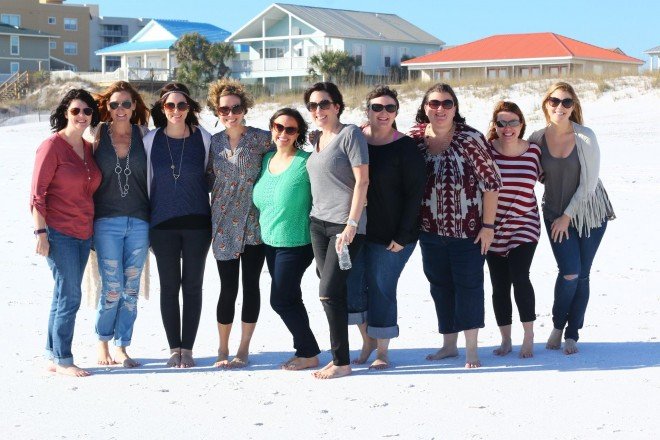 Maria, Me, Amy, Amy, Jessica, Jo-Lynne, Sara, Tammilee, Jodi and Corinne
Here are 5 Reasons to Prioritize Time with Your Girlfriends
You can be you: Choosing to 'get away' for a few days instead of simply out to dinner allows you and your girlfriends time to settle in, relax and let your guard down. Staying in Blue Heaven, a seven bedroom, six 1/2  bath home in Fort Walton, Florida – just outside of Destin, allowed us each to have our own space and enjoy shared experiences.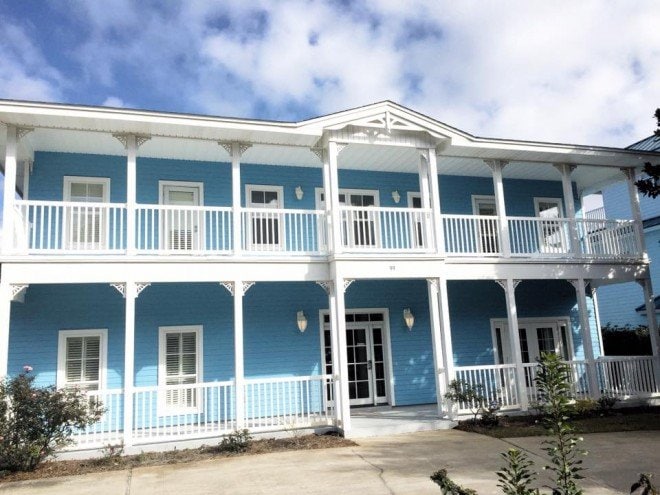 Blue Heaven, a Newman Dailey property (thank you, Newman Dailey, for hosting us for the weekend) true to its name, is a glorious blue home, set on a private road just a short three to five minute walk to the beach.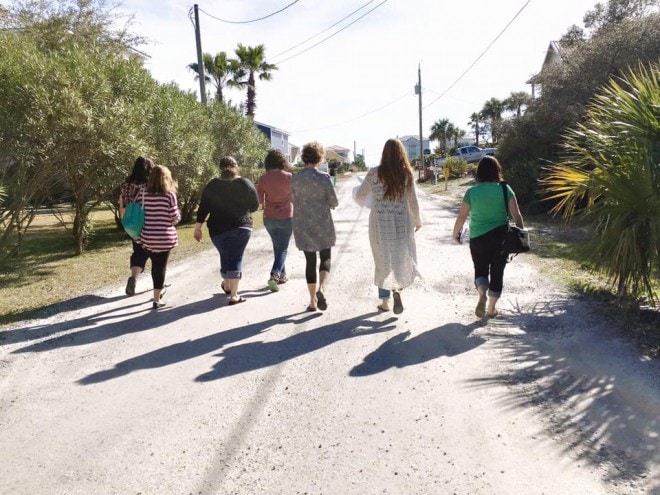 With both a pool and bbq in the backyard, as well as a full kitchen, we didn't NEED to every leave the property as everything we could possibly want as right there. (though naturally we did – more on that shortly).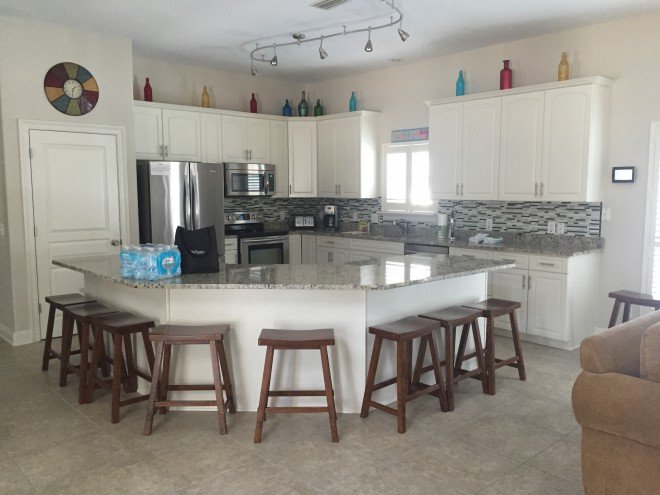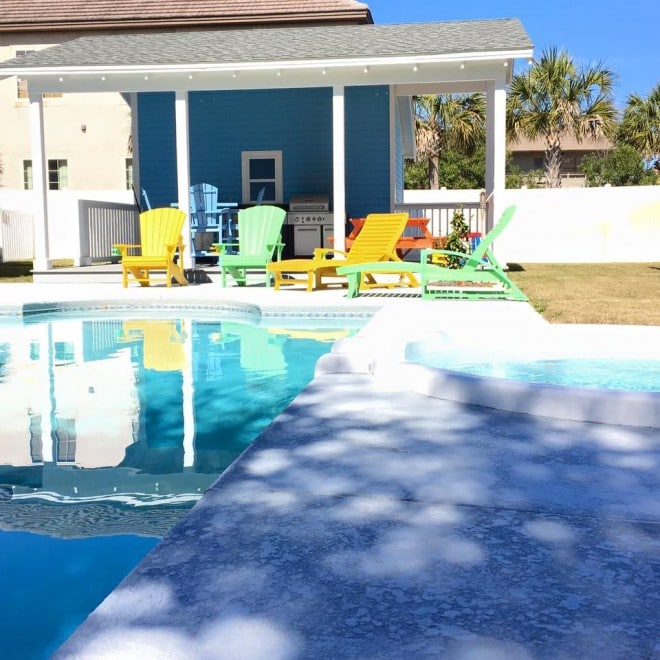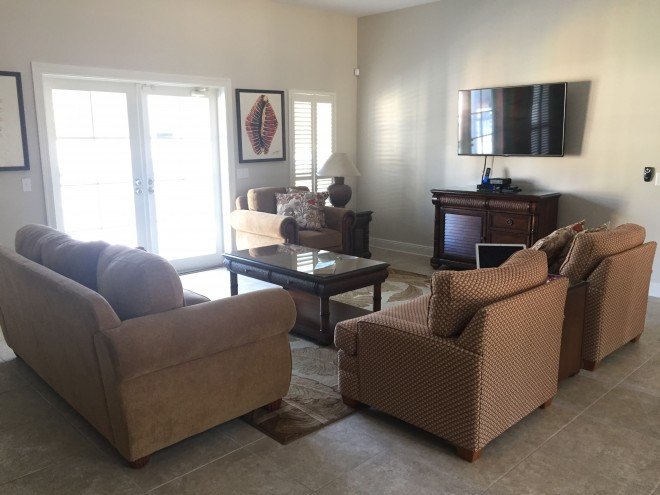 The main floor was open with both dining and sitting areas – enough to accommodate all of us whether we were eating or sitting and chatting. Each bedroom was darling (we each had our own bed)…keeping with the blue and beachy theme.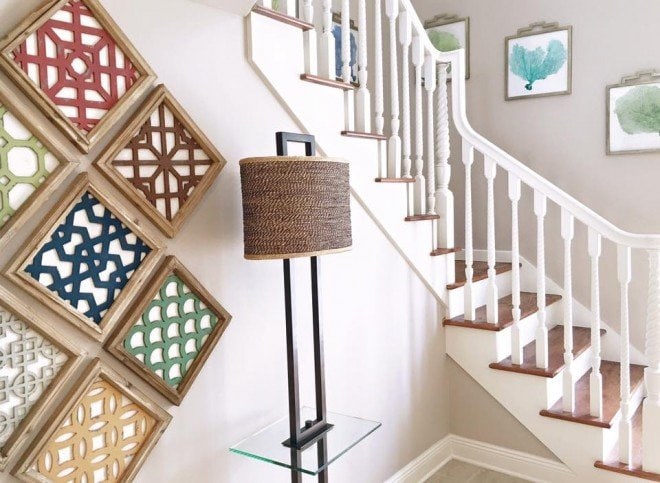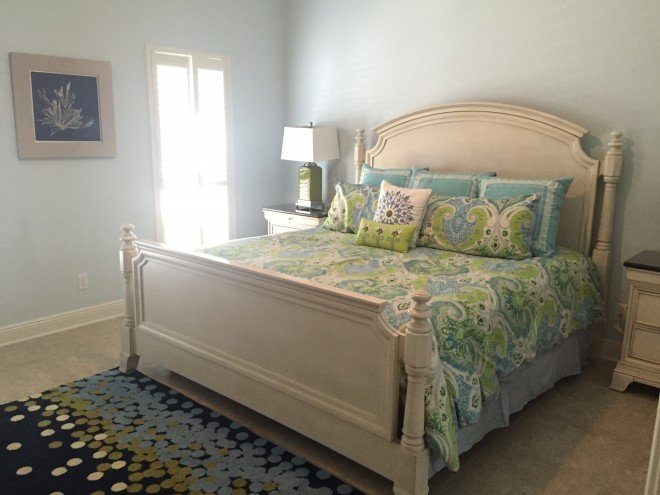 We were able to buy groceries, wake at our leisure, eat in and out. We could dress up or down and spend plenty of time sitting around and enjoying each other's company and getting down to work (there was a LOT of that, too – we were a motivated bunch!)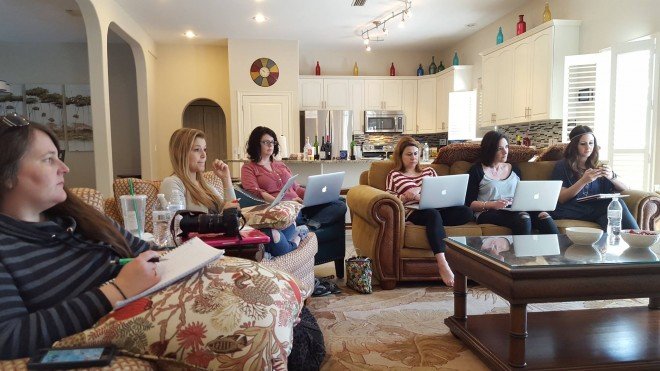 But amidst the work – there was so much laughter – trust me. This is the adult version of inside joking.
A common bond:  There is something so beautiful and extraordinary about spending time with women, with girlfriends who constantly say, 'I understand', who listen and nod as you speak. Find women who do this for you. Spend time with them – away from home if you can, so that the opportunity to listen and be heard is strong.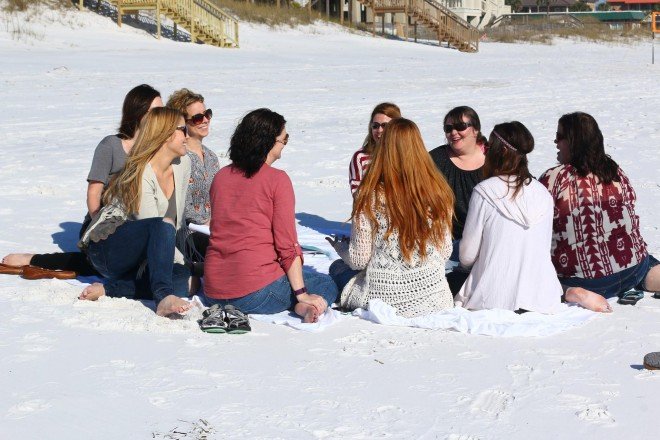 This collection of women did just that with each other. We did it in the living room. We did it on the beach. (my favorite). We did it on the docks, the restaurants and on the edge of the pool. Our life experiences are varied – we come from different areas of the country, are different ages, have different parenting philosophies (if we have kids at all), but share a true common bond in our work and that is something special. Our work is sometimes described as unusual, but we love it….it is our collective passion.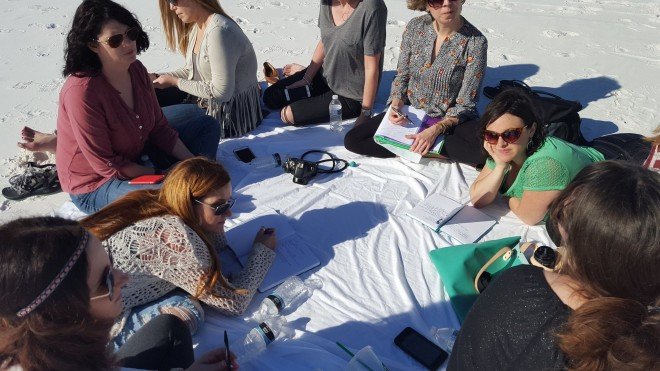 Support and inspiration are unparalleled: Adult girlfriends know how to walk beside each other in support, to lift each other up, to ask the tough questions and to push when you need it. When you get away and spend this type of time together, you have the opportunity to both ask for the help you need and offer the expertise you carry with you. In our case, so much professional advice was given and taken, we walked away feeling motivated and inspired AND with a crew of nine girlfriends determined to hold us accountable for the goals we set for ourselves.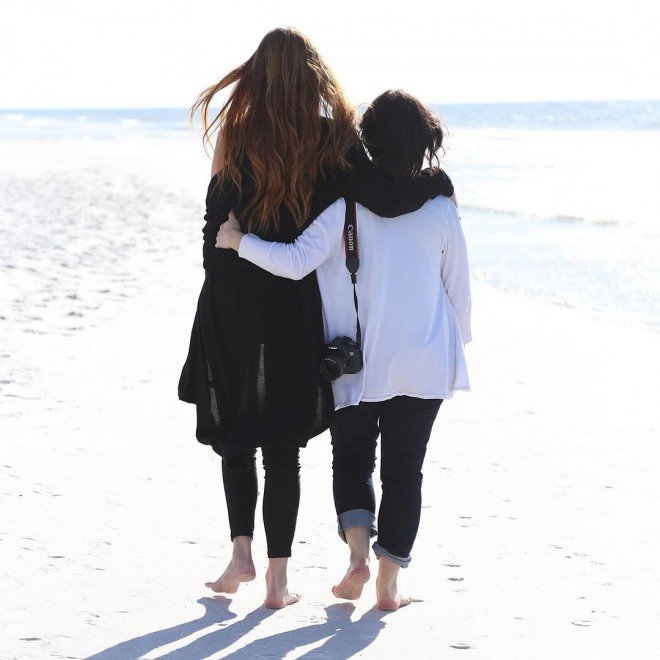 The lessons you learned in childhood: to prioritze sharing, exploring, and gererosity – still ring true: It would have been easy (and lovely) for us to hole up in Blue Heaven for the entire weekend, but naturally we were excited to explore Fort Walton and Destin. I mentioned the beach was just moments away, so we took walks and moved some of our daily sharing sessions to blankets on the sand to absorb the goodness that is the sunshine and white powder.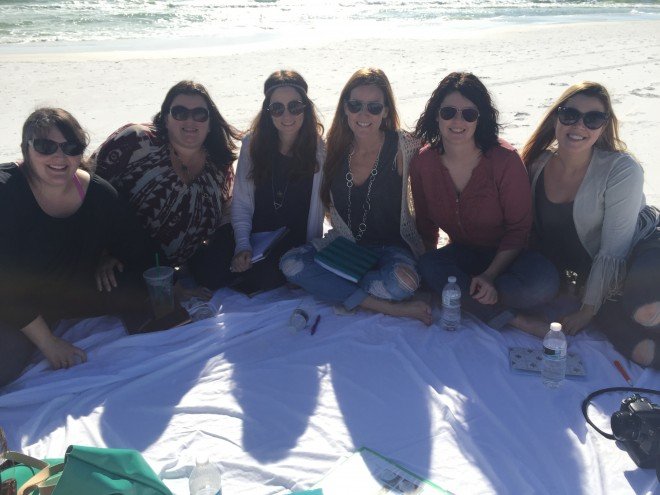 My soul is happiest when on the water, so walking the Destin BoardWalk at sunset while snapping photos with these girls allowed me to capture one of my favorite times of day and some of my most treasured moments with these girls.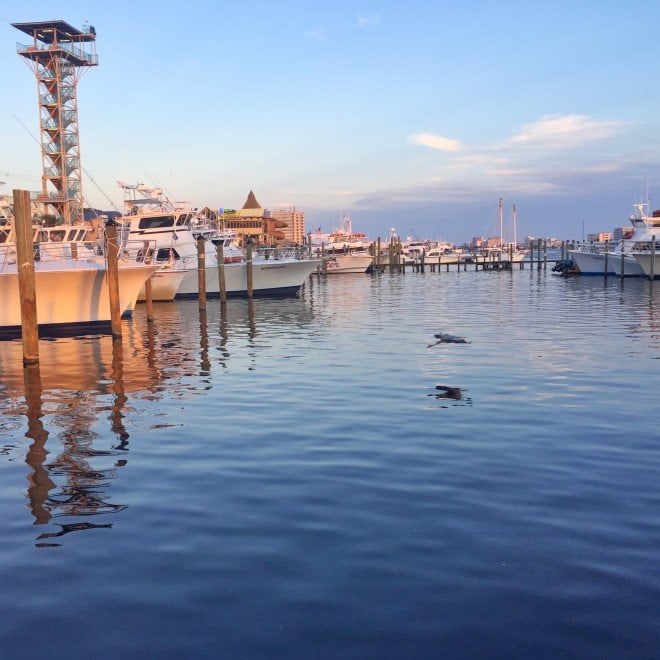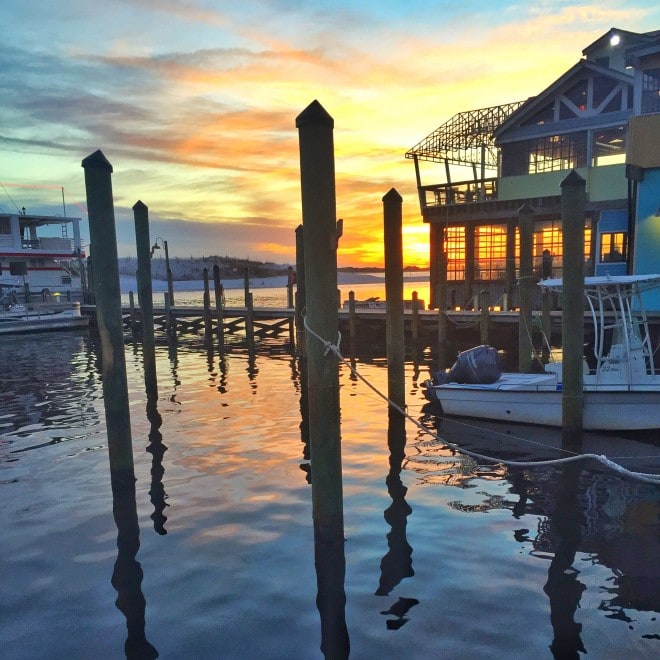 Their hearts are so very generous.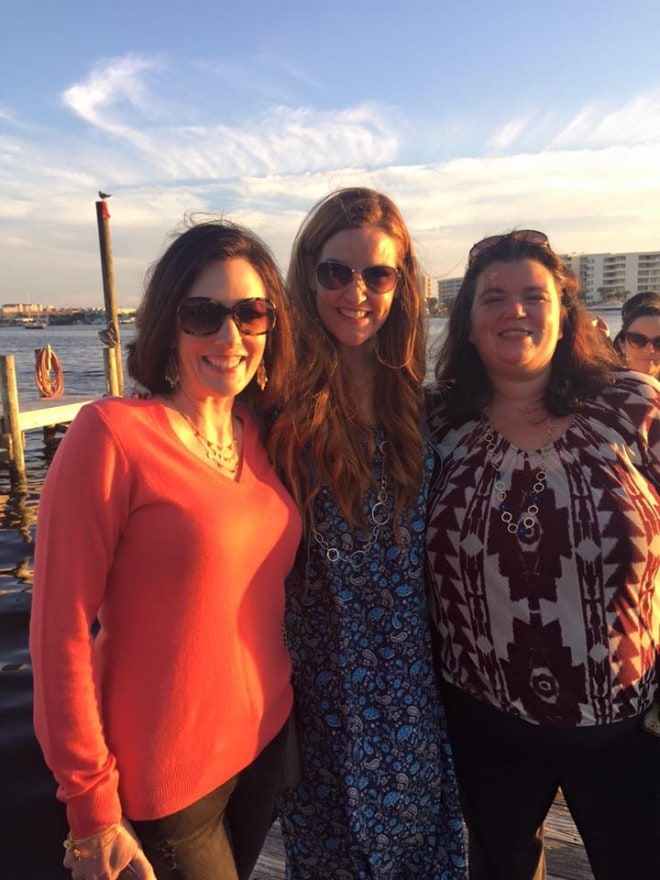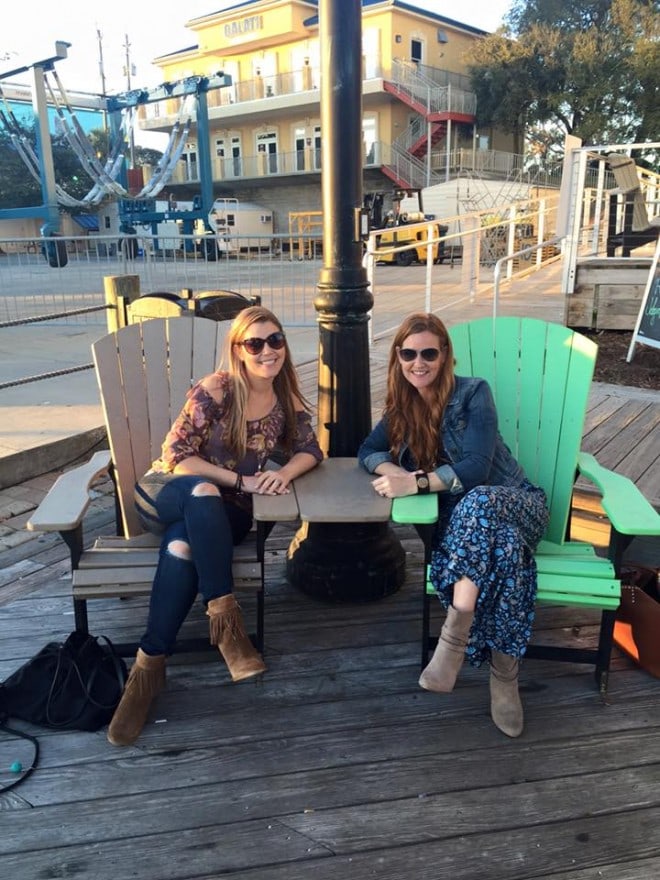 They made sure my heart was so very full.
Dinner at one of Destin's newest (and most delicious) restaurants, Brotula's was also perfection. From the service, to the view, to the food – we most definitely couldn't have asked for any more.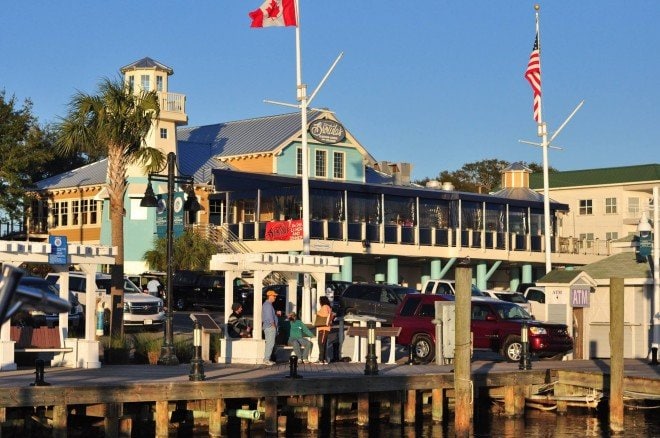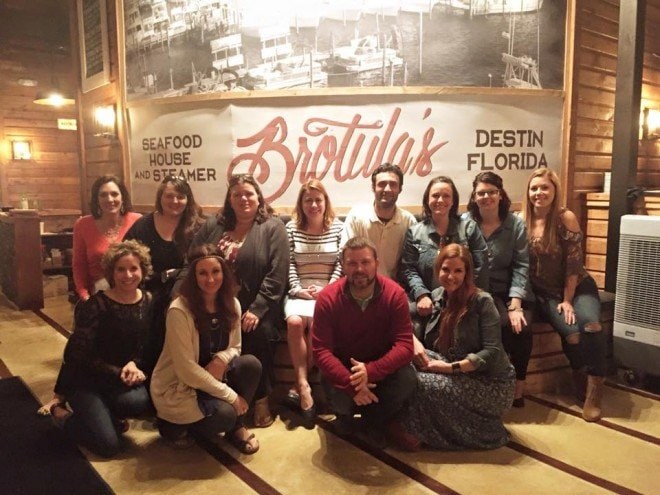 The final meal we enjoyed on our trip was in a darling wine shop called Vin'tij….more seafood, more cheers to friendship and continued success and support.
You are a better version of you when you say goodbye: I've vacationed in both Destin and Fort Walton before, but never with girlfriends. I'm not sure I've stopped smiling – or working my tail off – since I returned home. I travel enough to know that I frequently arrive home depleted, exhausted, in need of a 'vacation' from my time away. But time with truly good girlfriends is rejuvenating. It motivates you – it brings out the best in you and reminds you that you are capable of so much more. I am a better mother, wife, business owner and, yes, even friend when I am surrounded by people who support, inspire, listen and challenge me. And this is what good girlfriends do.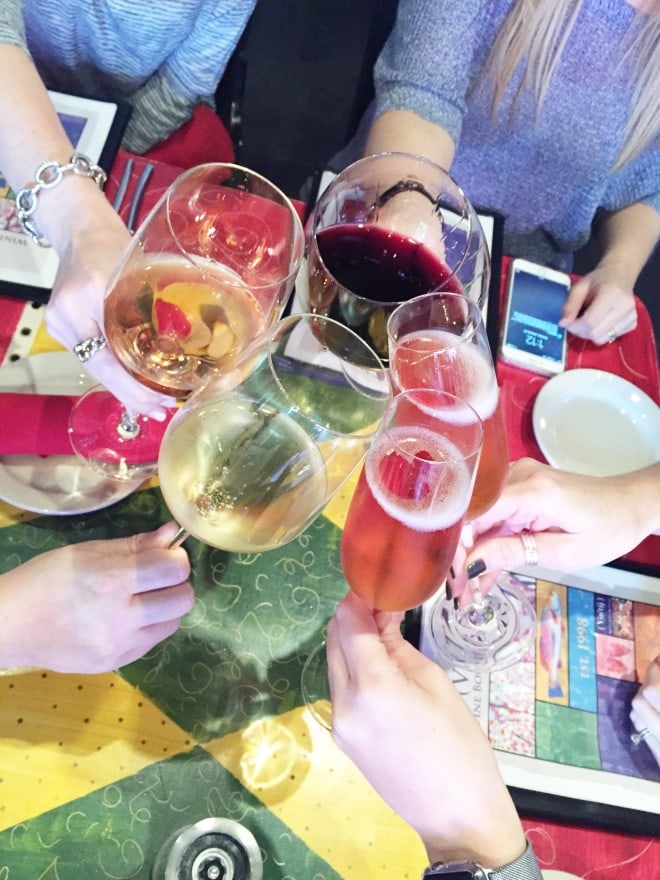 Thank you, thank you, my friends. Until next time.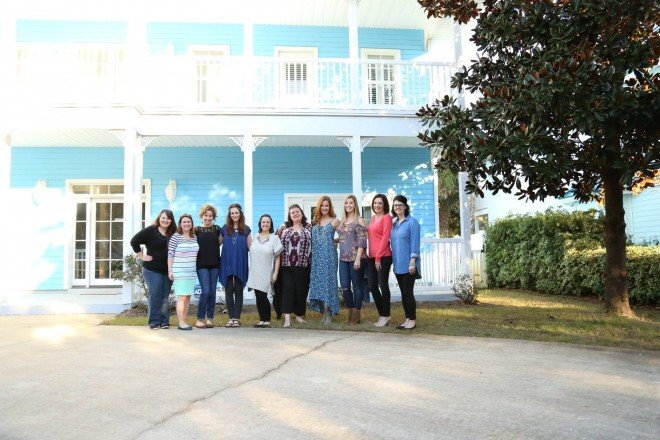 Can you tell I had a wonderful time?
Disclosure: Thank you so very much to Newman Dailey for allowing us the gift of a stay in Blue Heaven and for the recommendations you offered while we visited. It was a treasure. And thank you, Jessica, for pushing us to FINALLY take this trip. It was divine.