Good news – Valentine's Day does not need to be the pressurized version of puffy hearts, candles, a dozen roses and expensive gourmet dinners that require reservations two weeks in advance. You know…the kind of day that has, for years, given many a man an ulcer?
While I'm the first to tell you I love to head out for a fancy night every now and then (spoiler alert – I kinda like to dress up) I think February 14th is a night you may want to consider staying in and going low key.
Why? It is much easier to enjoy the night without placing unreasonable expectations for New Year's Eve worthy greatness (yet another night that can easily fall flat). I can honestly tell you it has taken me a few years (and a bit of experience) to arrive at this conclusion. There is something so beautifully peaceful about dedicating the evening to time with the person you love rather than putting your energy into aiming for romantic perfection – whatever that may be (another spoiler alert – I'm not sure perfection exists).
So, here are a few suggestions to make your Valentine's Day a sweet, low-key one.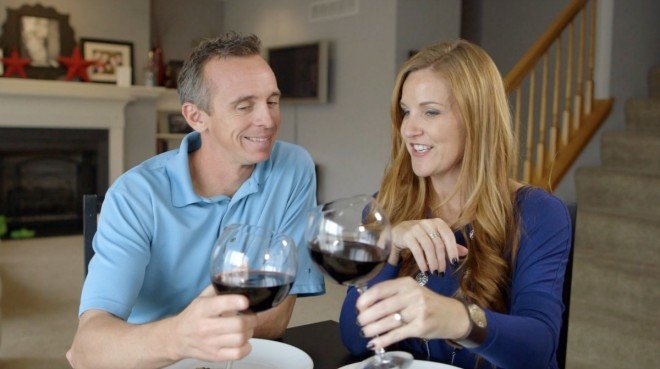 Skip the stress
 – Rather than worrying about finding the perfect restaurant (what? They are already booked?) or panicking about locating the ideal gift for the person 'who has everything' – aim to do what you love – spend time together. Sit on the couch, make a meal you enjoy, pour a glass of wine. TALK. I don't know about you, but many of the conversations in our home are punctuated by the interjections of small people – so the idea of a little time alone is special all by itself.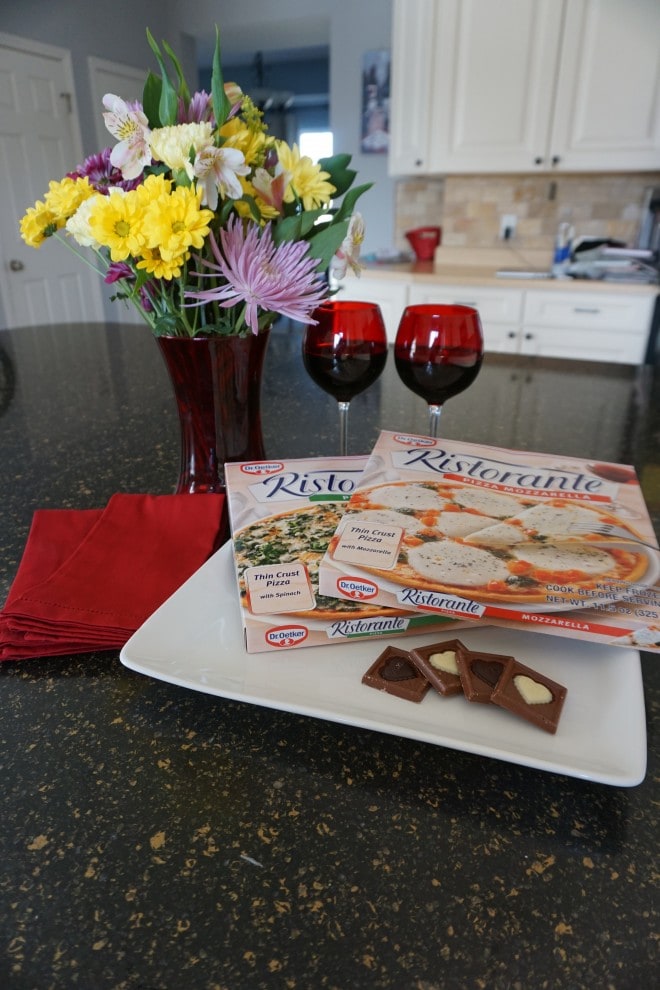 Creativity (and favorite foods) always win
– While I love to cook, on a night like this, my goal is twofold: have a gourmet style meal without a ton of time in the kitchen and dedicate my free time to the company of my husband. A favorite go-to for us is
Dr. Oetker Ristorante Pizza
. I've shared our love of Ristorante before, not only because there are
so many flavors and options
 (nine to be exact), but because it pairs so beautifully with our favorite wines and makes us feel as though we HAVE gone out for dinner.
With a mere 10 minutes of extra effort, I turned our typical
Ristorante
meal into a His-and-Hers Valentine's theme event. Traditionally, this frozen pizza goes from freezer, to 425 °F oven to plate in about 15 minutes.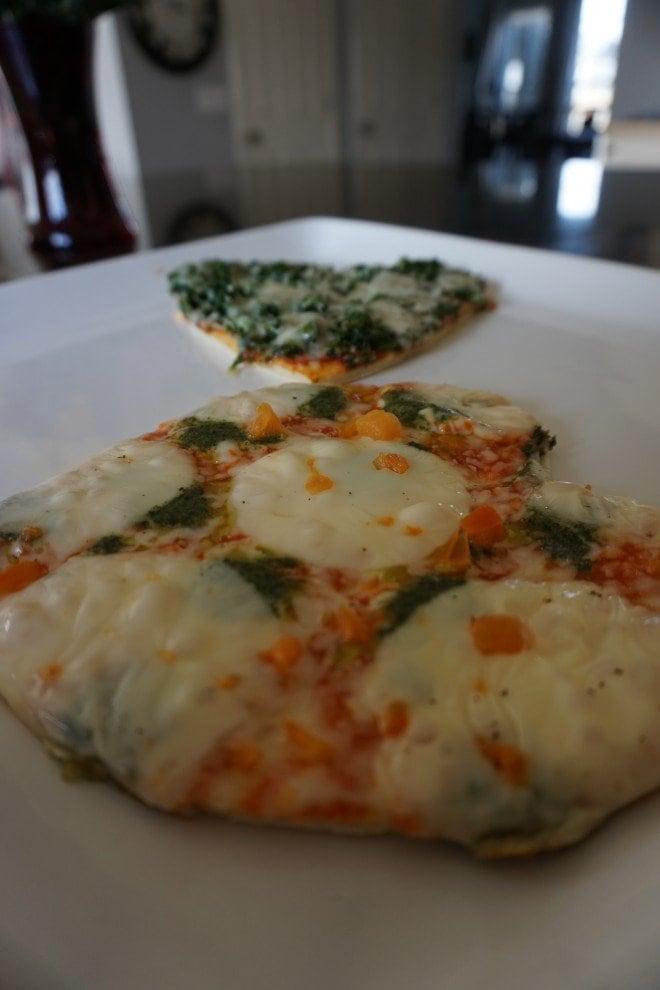 In order to create these simple, yet darling personal Ristorante heart-shaped pizzas, I allowed them to defrost for five minutes and then used kitchen shears to cut the shapes, baking for only ten minutes.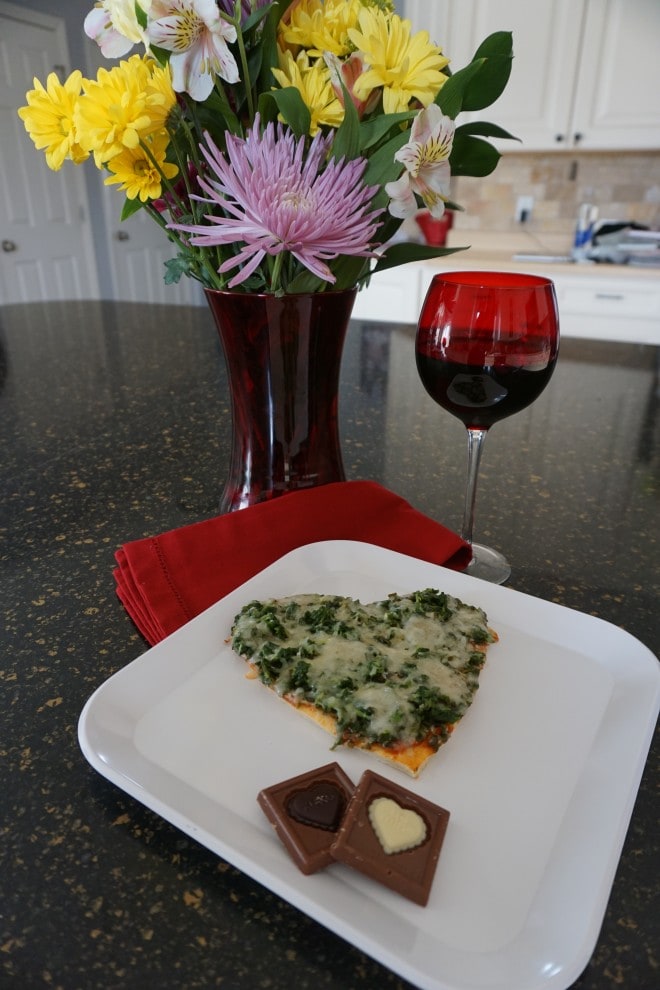 Voila!
Romance is more than roses – I love flowers. I do. But I know many women who will tell you, they'd much prefer you hold their hand, surprise them by taking the time to fill their car with gas, empty the dishwasher, take the kids so they can have a quiet Saturday to themselves, offer to watch the movie they've been dying to see or simply ask about their day. Not fancy. Romantic in a perfectly beautiful I-care-about-you kind of way.
Enjoy, my friends. I hope, more than anything, your day is filled with the people who matter most to you.
Disclosure: I'm happy to be continuing a long-term partnership with Dr. Oetker and Ristorante Pizza. As always, all thoughts and opinions are mine and mine alone. To find Ristorante near you, check out the store locator—you can always put in a request with the store manager if your store doesn't currently carry Ristorante. For more yummy goodness, follow Ristorante on Facebook, Twitter and Pinterest.