This past weekend, I was a fly on the wall while my 7th grade daughter enjoyed her very first Girlfriends' Gift Exchange Holiday Party. Admittedly, the volume was a touch on the loud side, but it was pure joy watching her experience the laughter, that holiday time with friends, and the full kick-off to the season.
My girlfriend (the mom) decorates like an interior designer and seemed to think of everything – from the games to the snacks to the wine for the few moms who stayed to eavesdrop with love on the festivities.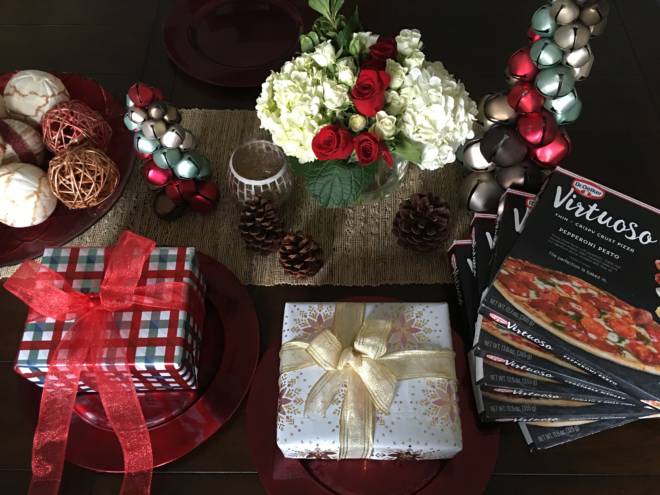 Since I am certain you, like me, don't want to leave all of the fun and belly laughs to the young girls, I wanted to share a few of my favorite tips for hosting an easy and fun girlfriends' holiday gift exchange – one that allows you to spend more time enjoying your company than worrying about the details.
Make appetizers easy – and feel free to ask guests to bring their favorite: As the host – and the one who will provide the bulk of the main food (we'll get to that in a minute) and drinks, allow yourself to opt for easy-to-assemble appetizers like your favorite cheese, crackers and fruit. You can also let your guests know they are welcome to bring a favorite to share – along with the recipe. That way, everyone walks away with the extra bonus of a potential new favorite to make for their next event.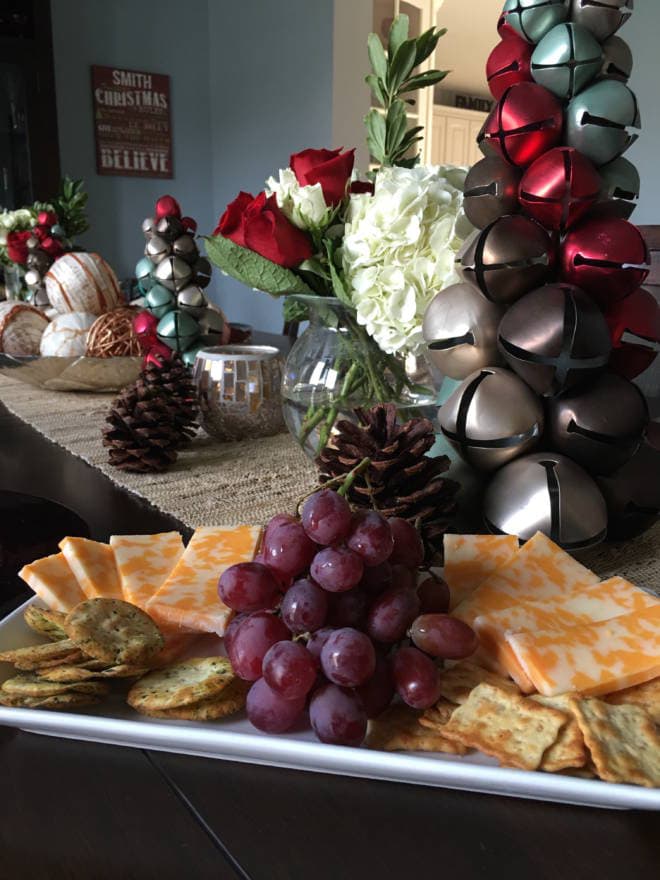 Decorate with flowers – from the grocery store: Yes, you can arrange flowers, I promise. For less than $25, I bought hydrangeas, a dozen red roses, white spray roses and used a little of the greenery that came with those I purchased. Start by choosing a color theme – I went with red and white for the holidays. Trim your flowers to the height of the vase you have chosen, place your largest flowers in first to set the stage and add the remaining for color and texture around. For example, I started with the hydrangeas, added the red roses, then the white spray roses and added the greenery for effect. I saved money by doing them on my own and ended up with JUST what I wanted.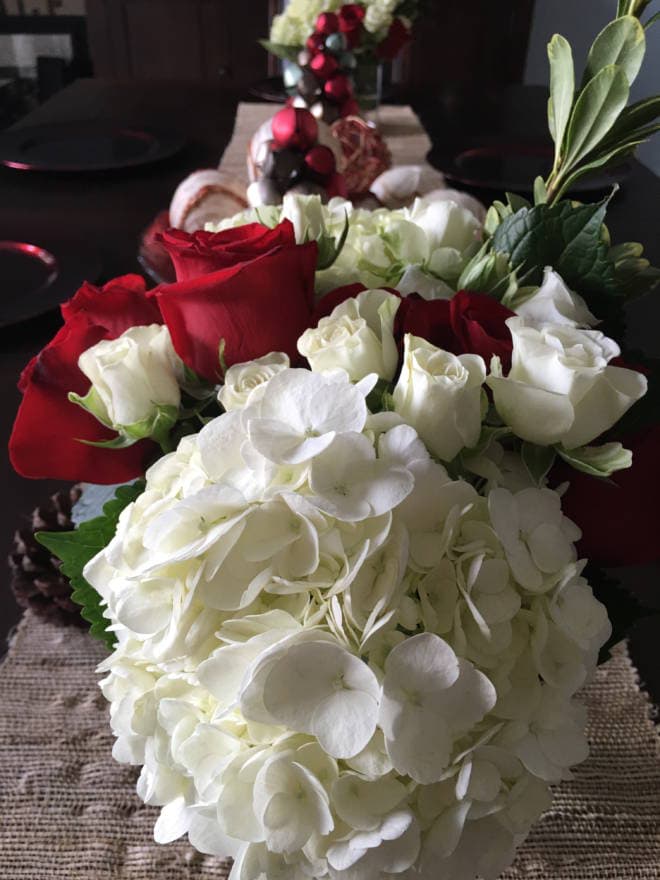 Go Simple, but delicious for your main food: You have long heard me talk about my love for Dr. Oetker Virtuoso Pizza. I'm proud to have partnered with them for a few years now. It is hard to beat a pizza that tastes this fresh and disappears within minutes of being placed on the table. I have a hard time keeping them stocked in my home…..and when I entertain – this goodness is the first to go.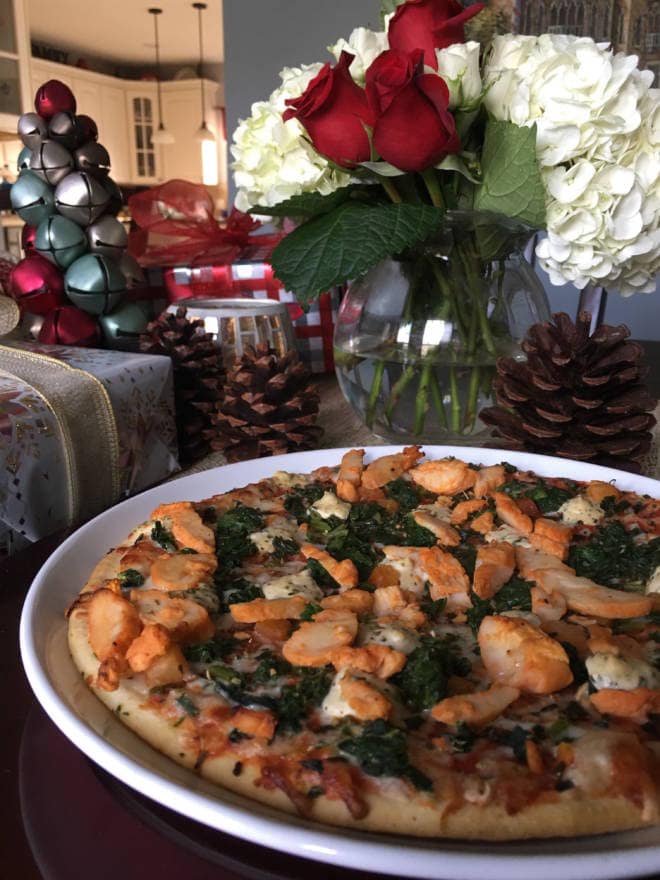 As you likely know, there are nine different varieties – which makes it easy to please every palate. I always choose to make a few different options, so I'm sure to find one that everyone loves.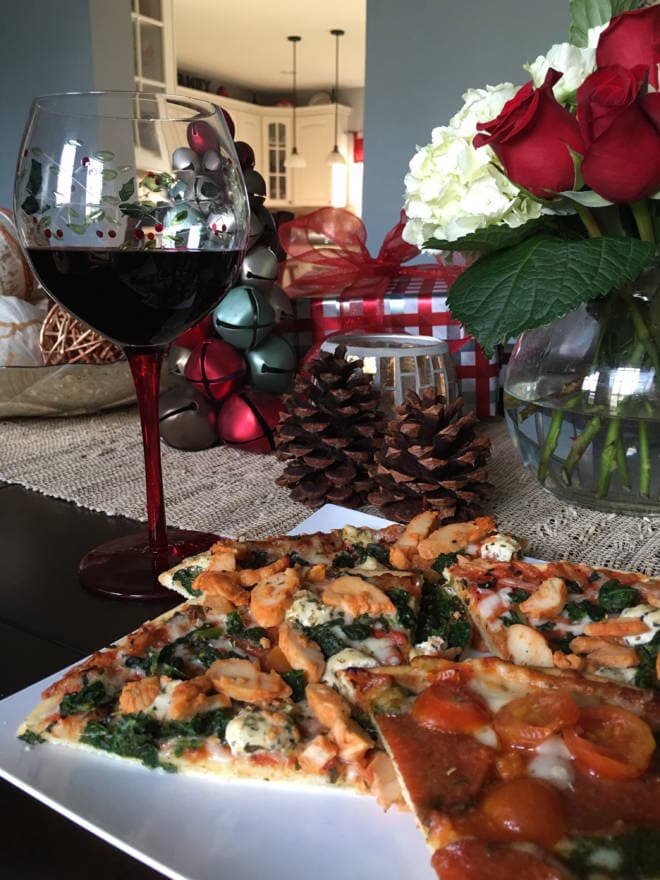 You can choose from everything from Signature Spinach to Seasoned Chicken, from Pepperoni Pesto to Tomato & Goat Cheese. Every single pizza uses the freshest ingredients from the crust up.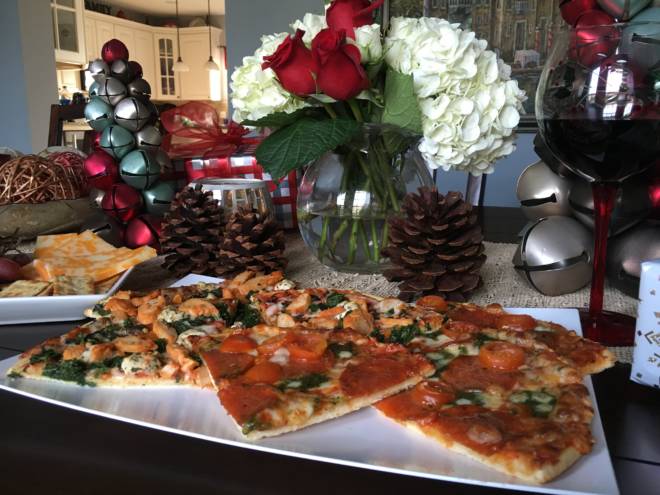 Theme your gifts: When asking guests to bring a gift, create a theme. Not only is it easier for guests to shop for scarves or ornaments or bracelets (or in our daughters' case – headbands!), but your guests know what they are getting. If you are feeling charitable, instead of gifting to each other, designate a cause and ask everyone to donate one item to a family in need, to a food pantry or local shelter.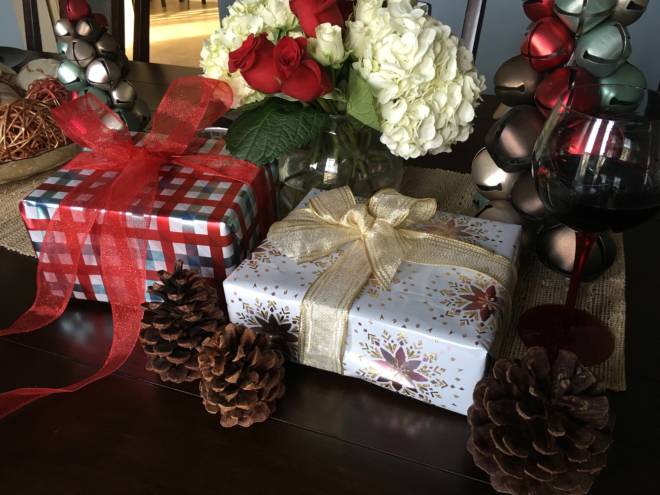 The holidays are easily one of my favorite times of the year – an excuse to spend time with some of the people I love the most and spoil them with food, drink and goodness. Gift giving has always been my love language – so bringing people in to my home JUST to show them I care? Nothing but good.
Happy holidays, my friends.
To find where Virtuoso is available near you…head to their store locator – and don't forget to connect with them on Facebook.
DISCLOSURE: THIS IS A SPONSORED POST ON BEHALF OF DR. OETKER USA LLC. I RECEIVED COMPENSATION FOR THIS POST; HOWEVER, ALL OPINIONS STATED ARE MY OWN.