Holiday cookie exchanges on your calendar? I have you covered.
If you are on the hunt for the perfect sugar cookie to cut-out, this is the recipe for you. These sugar cookies are so soft and light, they truly melt in your mouth. They stay soft for days and freeze perfectly for using later.  So grab your favorite cookie cutters and start baking! 
Cut-out sugar cookies can be a little temperamental, but this recipe is tried and true for me. I have been making these easy sugar cookies for years and never struggled with getting them to work. You get a perfectly soft center, that is so flaky and light, and the edges get a little crisp to them. They keep their shape in the oven, and the dough is easy to work with…this is why I never stray from this recipe.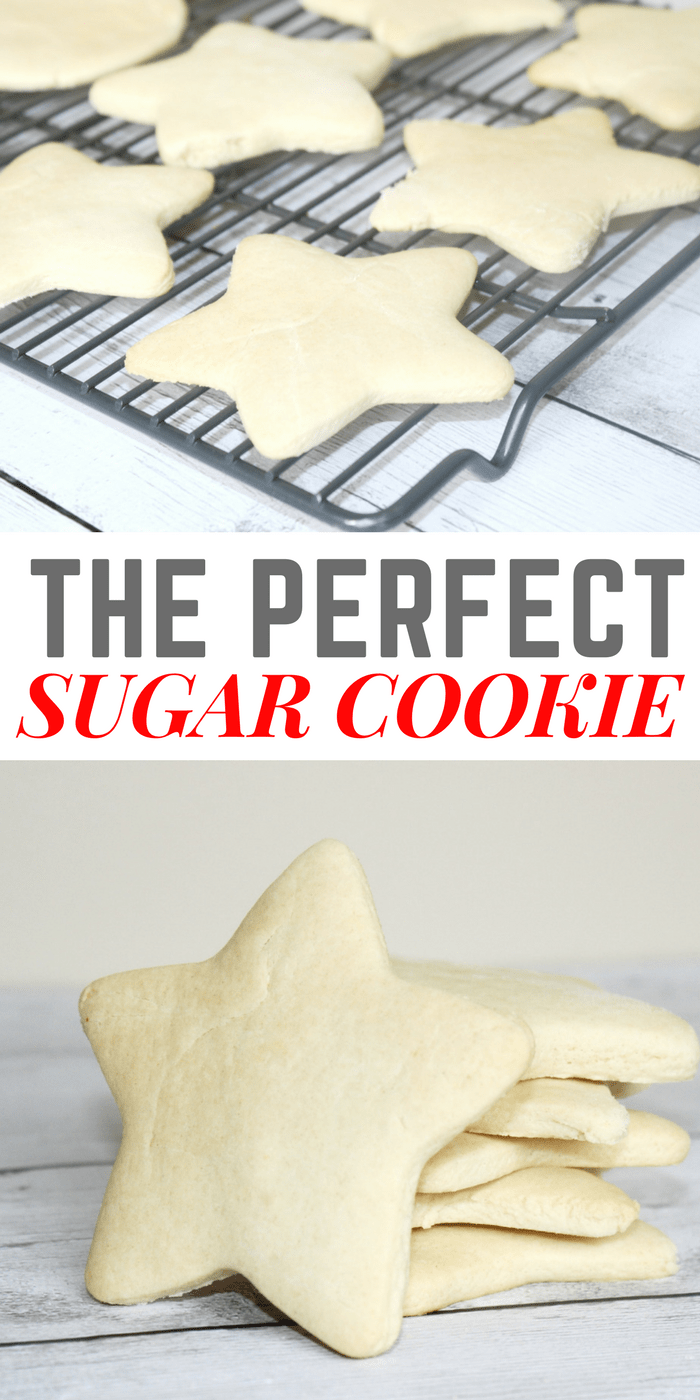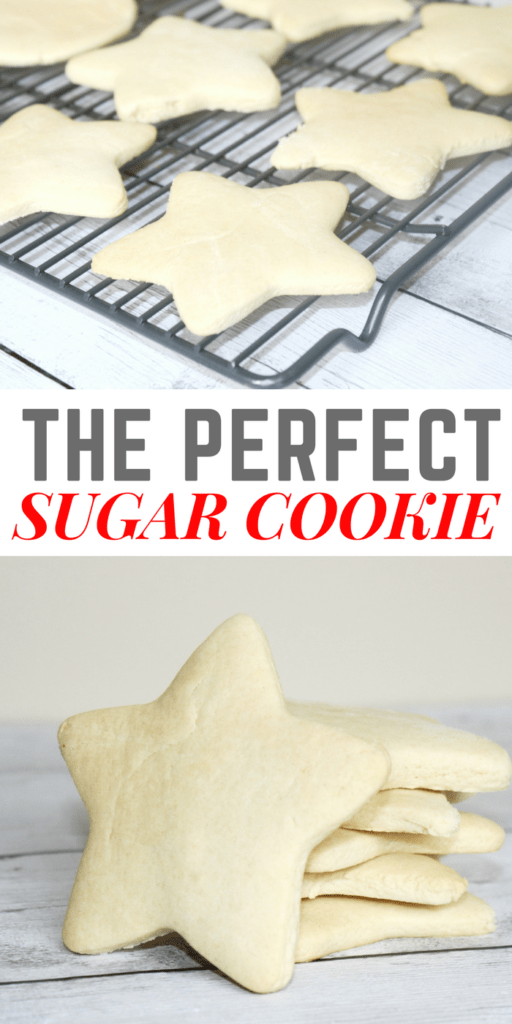 Now you can eat these cookies plain, add some sprinkles or colored sugar, or grab that icing and decorate until your heart is content! We make these each year around the holidays and let the kids decorate them how they want. I have begun to get quite a few cookie cutter designs over the years. Some of my favorites are the star, gingerbread man, and the stocking.
Even though is holiday time, I chose simple shapes so that you could see you can make them any time of year. I didn't want to frost these beautiful cookies, so you can see for yourself how perfectly they came out.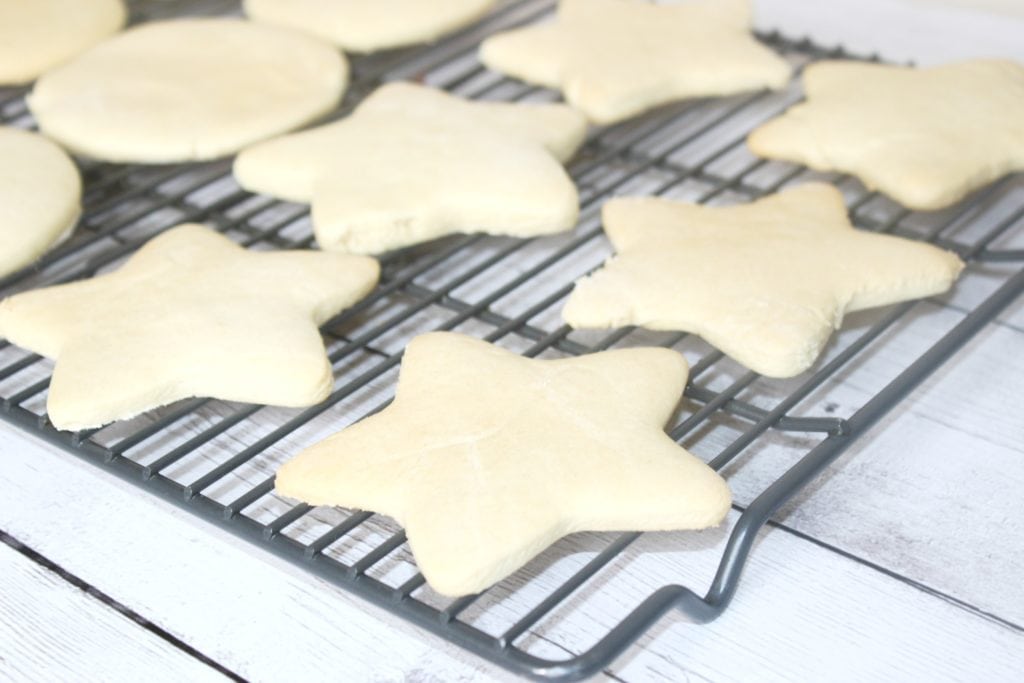 Tips For Perfecting Your Sugar Cookie 
My tip for you is to make sure you chill the dough. This is crucial in making cut-out sugar cookies. By chilling the dough it sets well. When you go to roll it out, it will hold the shape. The other tip is use half the dough at a time.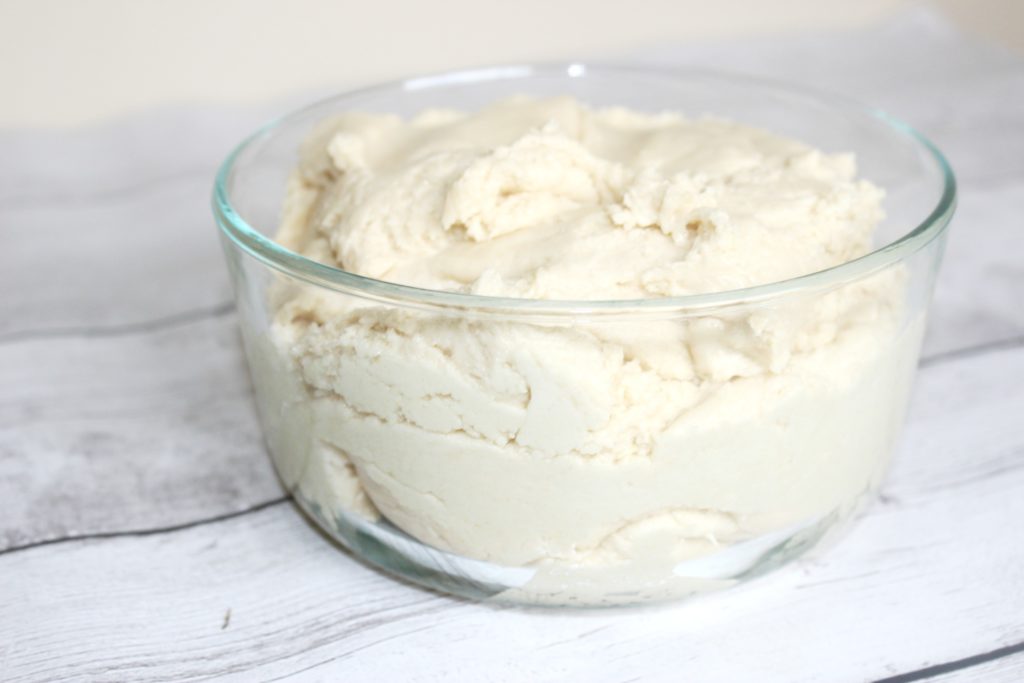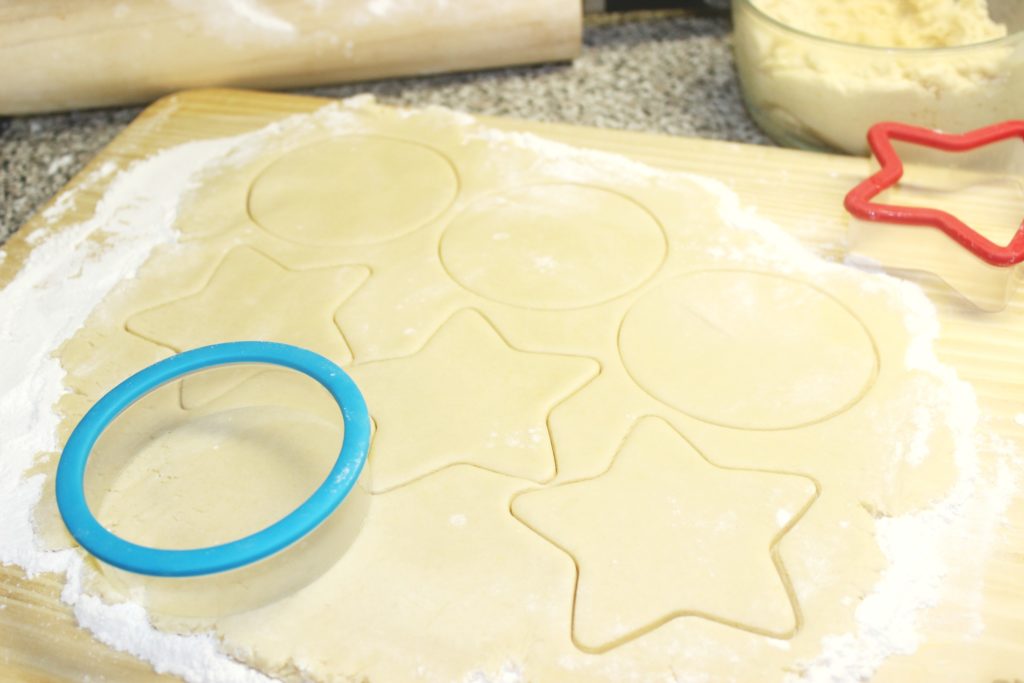 Refrigerate what you are not using so it stays chilled. That way it won't warm up and become hard to work with.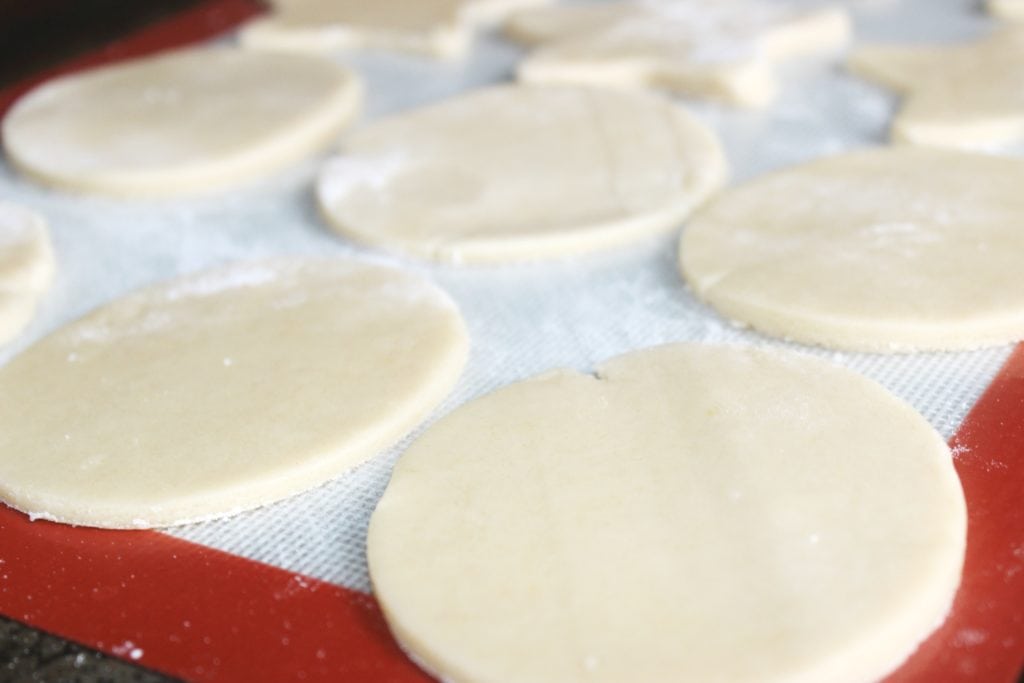 Lastly, pull those cookies out when they are still pale for a soft cookie.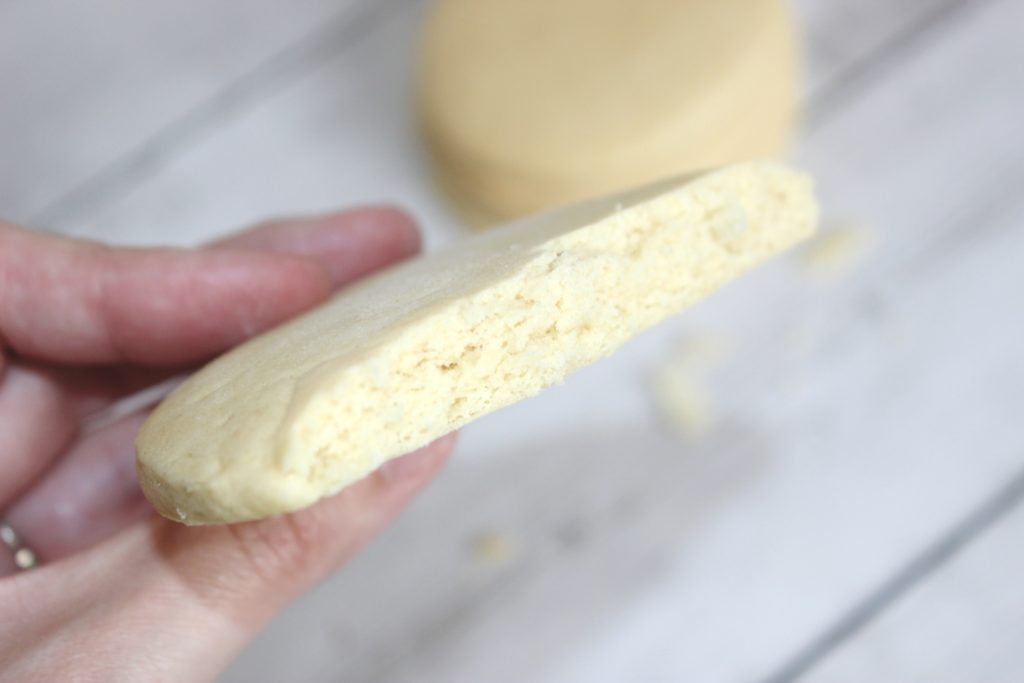 Don't wait for them to turn golden brown, or that will give you a more crunchy cookie. Just make sure the center of the cookies are cooked through, by sticking a toothpick in and it comes out clean. In my oven, they cook perfectly within 8-9 minutes. I put them on a cooling rack, and they bake just a little more as they cool down. 
Recipe 
Ingredients 
1 Cup Softened Butter or Margarine (For more flaky cookies use butter) 

1 1/2 Cups Powdered Sugar 

2 1/2 Cups All-Purpose Flour 

1 Large Egg at room temperature 

1 tsp Vanilla 

1/2 tsp Almond extract

1 tsp Cream of Tartar

1 tsp Baking Soda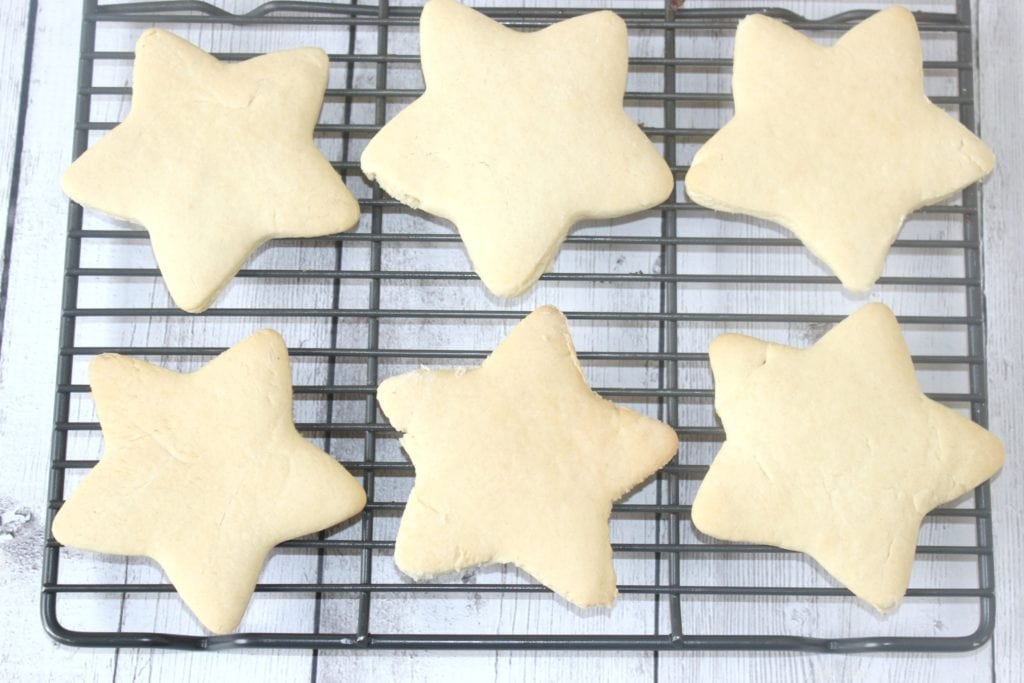 How to Make 
Beat your powdered sugar, butter, vanilla, almond extract, and egg in a large bowl or use your stand mixer (this mixer is my favorite). 

Then add in your flour, cream of tartar, and baking soda. Mix until well combined. 

Store the dough in the fridge for at least 2 hours. 

Preheat the oven to 375 degrees, and then begin to roll out your dough. Flour the surface and your rolling pin to prevent the dough from sticking. I aim for the dough to be about 1/4 inch thick. 

Cut out your shapes, and bake for 8-9 minutes, or until pale in color. Leave about a 2-inch space in between cookies on cookie sheet, as they will puff up a bit.

Put on a cooling rack (these are the ones I've had for years) and allow to cool. Then you can decorate or eat plain. 
Enjoy every last bite!
If you are looking for other holiday desserts….we have you covered No bake cookies for Santa are a favorite. So are these Caramel Apple Cupcakes.