I love the holidays, not just for the family togetherness (and I DO love that), but for the food. I adore the time spent in the kitchen – either alone or with my small people. I enjoy experimenting, spoiling my family with delicious meals and desserts. And yes, admittedly, I'm pretty darn good at sampling my creations.
Who wouldn't when they come out looking like this?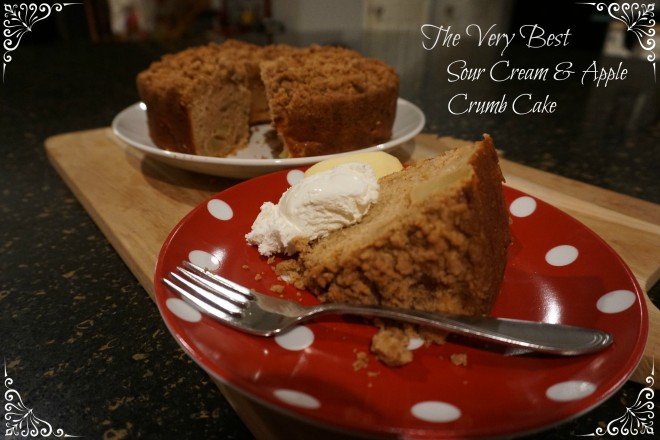 My husband is easy to please: all things apple and dessert fall in to his 'favorites' category. The challenge is keeping him out of the kitchen while I'm baking. He is apt to be stealing as I go.
This Sour Cream and Apple Crumb Cake is both easy and delicious. I have partnered with Horizon to share it with you – and show how easy it is to include your favorite products in your holiday baking. We rarely have any left over after two days….as it can double as a breakfast treat AND a dessert – which makes it perfect for having relatives visiting for the holidays. Biting in to it is much like taking a taste of the very holiday itself…with just enough brown sugar, apples, and cinnamon to fill your home with the very best aromas, just enough sour cream to keep the texture of the cake soft and keep your kids (and in my case, my husband) begging for seconds.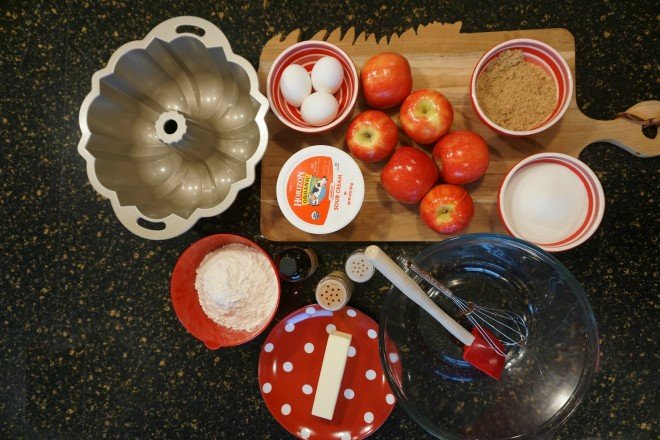 Collect your ingredients – including your apples, spices, sugar and sour cream. We always choose
Horizon
for our dairy products – in this case the sour cream, as we love the flavor and the extra creaminess. For the apples, I chose my favorite apple – Pink Lady – as I love their sweetness.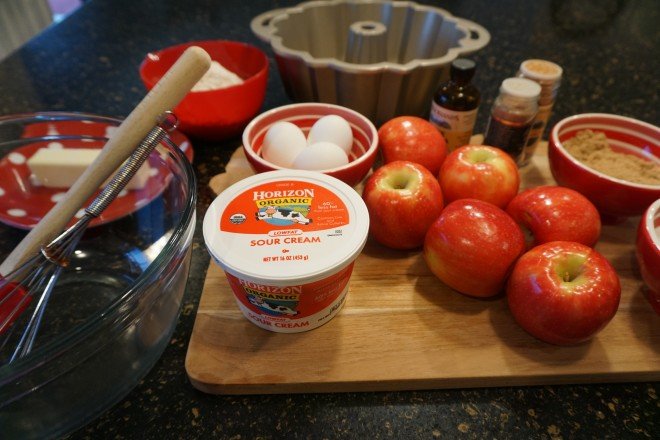 Start by peeling and cutting your apples. Then focus on making the brown sugar topping. You'll combine flour, sugar, some cinnamon and melted butter, stirring with a fork until it is beautifully crumbled.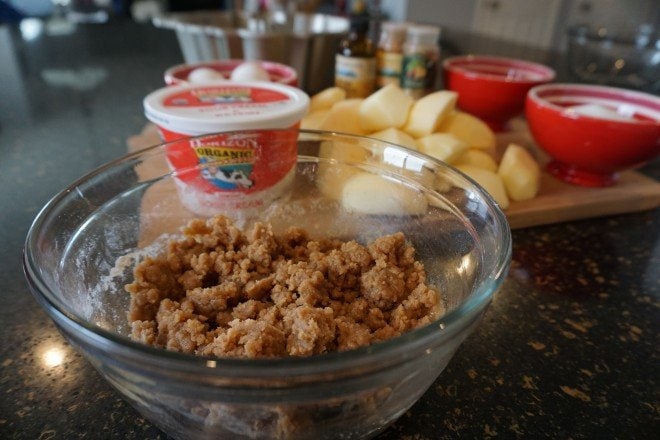 Combine all of your dry ingredients – the spices, flour, sugar and baking powder.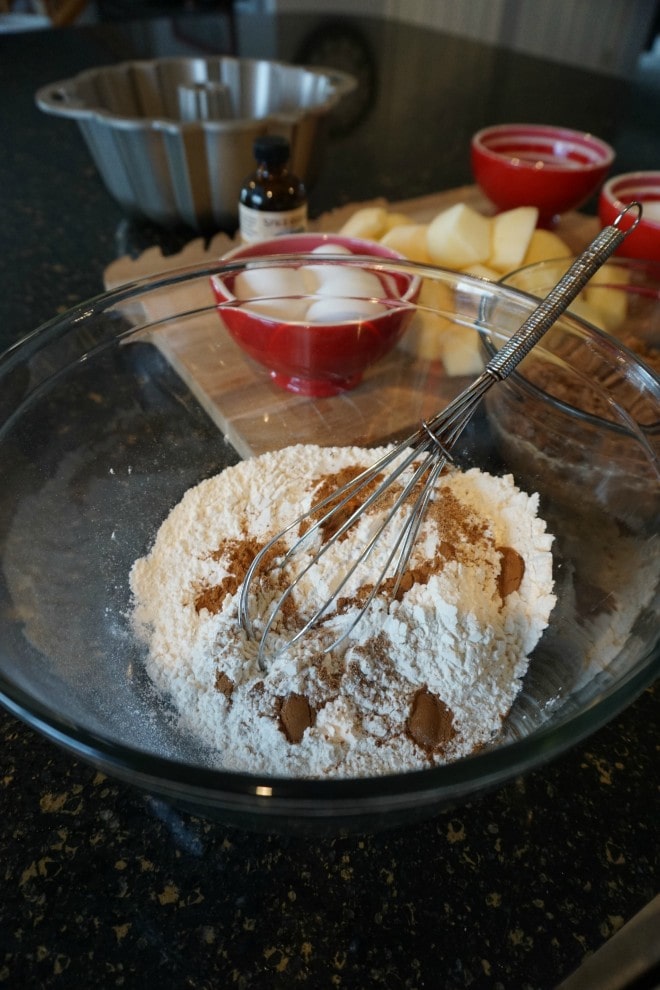 Then move on to all others – the eggs, the sour cream, the vanilla and butter. Fold the wet ingredients in to the dry, stir to add the peeled and quartered apples and scoop the mixture in to a greased pan.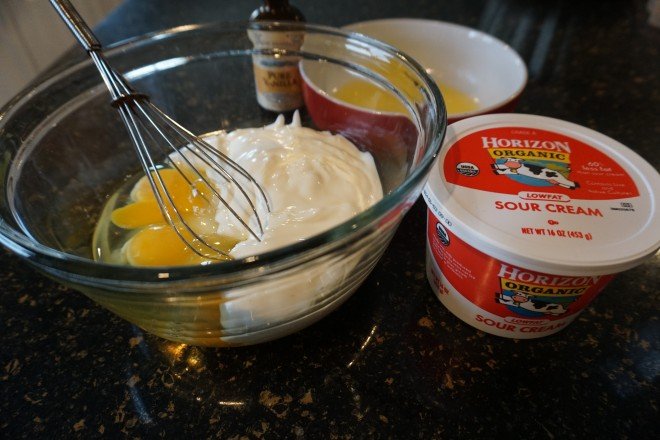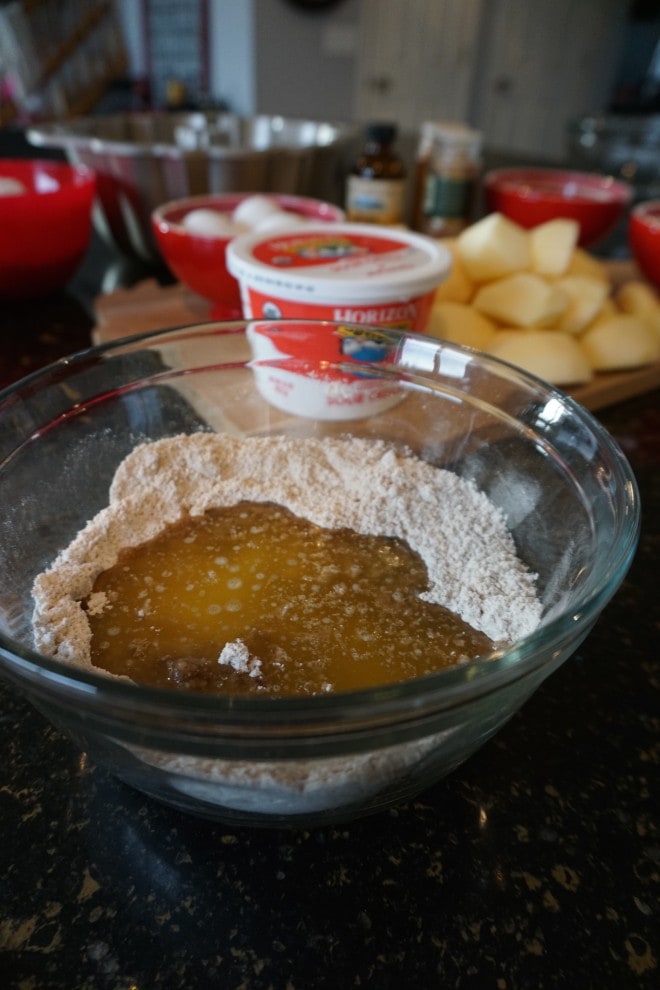 Bake at 350 for an hour and PERFECTION. You are done.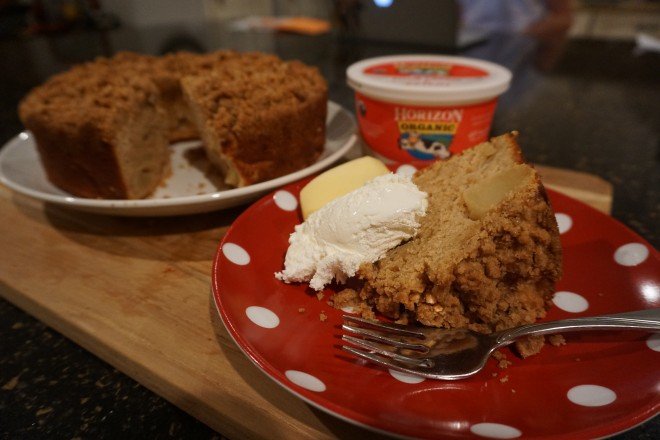 Let me break down the ingredient measurements and full process so you can make this at home. I promise you AND your family won't be disappointed.
Sour Cream and Apple Crumb Cake
Ingredients
 Crumble Topping First
1 1/4 cup of Flour
3/4 cup of Brown Sugar
1 1/4 tsp. of Cinnamon
1/4 tsp. Kosher Salt
1 stick Unsalted Butter, melted  (Horizon is a great option here too!)
Sour Cream and Apple Crumb Cake
2 cups of Flour
2 tsp. Cinnamon
3/4 tsp. Nutmeg
1 1/2 tsp. Baking Powder
1/4 tsp. Salt
3 Large Eggs
1 cup of Horizon Sour Cream
1 tsp. Vanilla Extract
1 cup of Sugar
1 stick of Unsalted Butter, melted (though don't add it piping hot – give it a minute to settle)
4 large Apples peeled and cut in to one-to-two inch bites
How to:
Peel and cut apples
Prepare the topping – combine flour, brown sugar, salt and cinnamon. Add butter, stir with a fork until it crumbles.
Combine your dry ingredients and spices – flour, cinnamon, nutmeg, salt and baking powder. Set aside. Whisk your wet ingredients – eggs, sour cream, vanilla, sugar and melted butter.
Fold your wet ingredients in to your dry. Stir to combine – until 'lumps' have dissolved.
Add apples – stirring until they are coated. Spoon the mixture in to a greased pan.
Bake at 350 degrees for 60 minutes – until a knife inserted in to the center of the cake can be removed cleanly.
Enjoy. Every. Last. Bite.
Thank you so much for spending some time with me. You will have to let me know what you think when you try it.
This is a sponsored conversation written by me on behalf of Horizon Organic. The opinions and text are all mine.