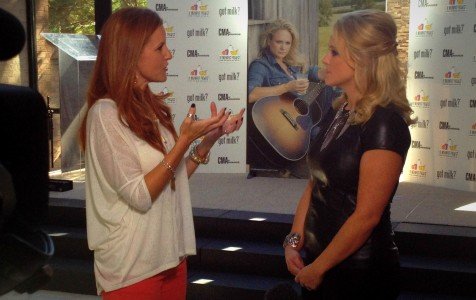 By now, you know I had the pleasure of meeting Miranda Lambert this past week in Nashville when her brand new Got Milk, Milk Mustache ad was unveiled at the CMA Headquarters, but now, I can share the official interview I did with her.
Since the moment I shared that I had met Miranda, I have been inundated with comments, "she is my favorite!", "she seems so down-to-earth", "she is someone I would love to meet". Yes, and all of the above.  Miranda is as down-to-earth and delightful as you would imagine.  Having had the privilege to meet 'celebrities' in the past who have working relationships with brands, I can honestly say Miranda wasn't working the day I met her, she was living.
As you will see in the interview, milk is a natural part of the way Miranda starts her day, so developing a partnership with Got Milk/Milk Mustache and The Breakfast Project wasn't a stretch.  This is a girl who grew up with milk on her breakfast table and honestly believes your day (and your family's day) would be off to a better, healthier, stronger start if you did the same. Listen.
Not to mention, she is just fun… oh, and did I mention, I had the pleasure of watching her take home awards for Female Vocalist of the Year and Song of the Year (with her husband, Blake Shelton) the very next night at the CMA Awards?
I do have a working relationship with Got Milk/Milk Mustache, though all thoughts and opinions, as always, are mine.