I've long believed in the power of teaching my children to be good citizens of the world, to help others, to find a way to make our world a better place.
With a motto of 'Give Good, Get Good' here on ExtraordinaryMommy established when the site began, I've tried to help my small people to live that by showing them how to lead with kindness. I recognize that they don't always do as I say, but rather, they do as I do. This means it is imperative I lead by example, that I SHOW them how to help, how to be kind, how to give. As a family, we have made charitable giving a priority since Cooper and Delaney were tiny (and long before that) and have tried to get them as involved as impossible.
This weekend I was invited by Latism and Johnson & Johnson to add my voice to the social good conversation, sharing the stage with extraordinary women – Susan Can, the Director of Corporate Equity for J&J, Jill Sharp, a Corporate Trainer, Performance Coach and Keynote Speaker, Melissa Hillebrenner, the Director of GirlUp and my good friend Jeannette Kaplun who, is, in addition to being an amazing human being, a TV personality, a former journalist and the founder of Hispana Global.
Our panel discussion was titled, "Raising Caring Kids: How to Make Social Good A Family Value" and gave us all the opportunity to talk about how that works for us individually in our families, how we prioritize giving, and in so many ways how phenomenal it is for organizations like GirlUp to partner with families and teenage girls who do so and how they affect beautiful positive change. We recognized the strength in the spirit of kindness, how families can continue to encourage that trait and for J&J, how giving back is at the core of who they are as a company.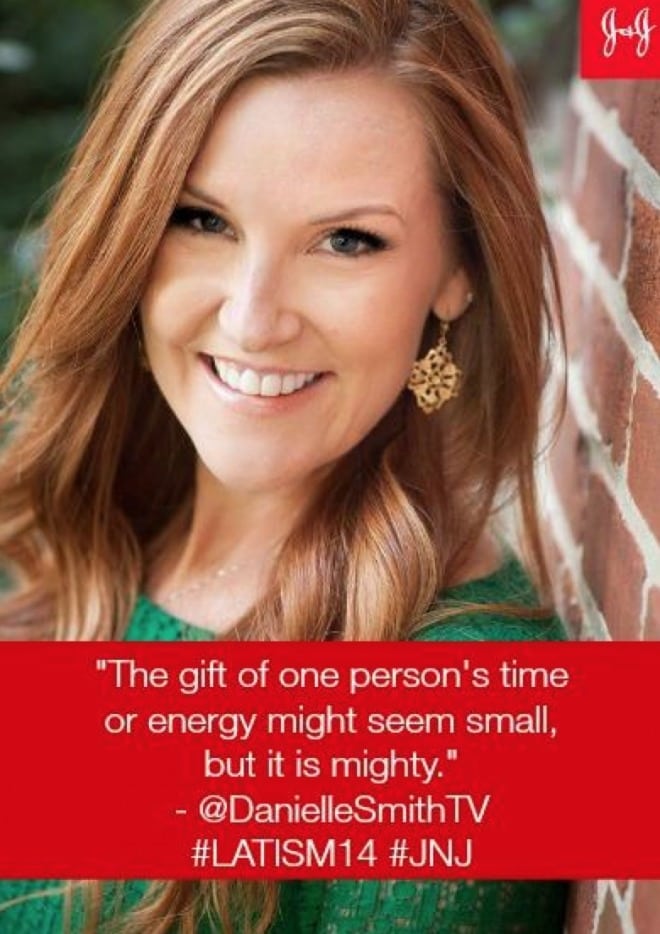 There are so many ways that J&J makes an impact as their company philosophy has always been to make the world a better and healthier place. They have tremendous social programs – partnering with and supporting organizations like Save the Children and  USO, but this weekend at Latism we focused on one simple way they,  AND YOU – AND US – all of US, can make a big impact.
It's called Donate a Photo. I've written about it before. My favorite thing about it? The simplicity – you don't have to have money to donate or hours of time to volunteer. You need less than two minutes a day and a heart for helping others.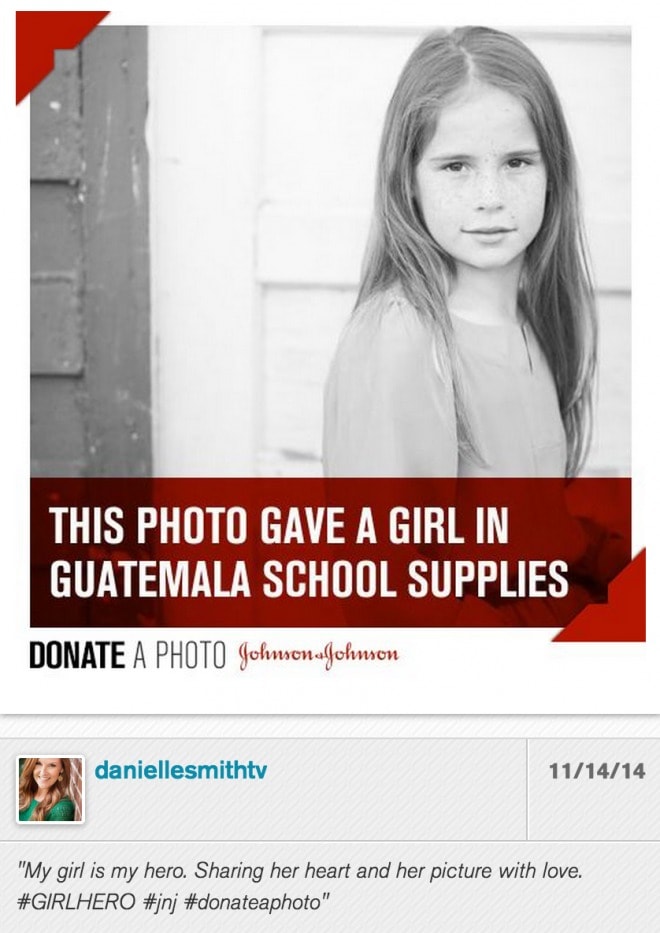 It truly is a easy as it sounds. J&J's Donate A Photo App (once you take the less than 5 minutes it requires to download the free app) allows you to donate one photo a day to a cause that touches you – giving a young girl in Guatemala school supplies (this is through GirlUp – the organization Melissa spoke about on our panel), help a deployed service member call home (the USO), help a child who has fled to the U.S (this is through the American Academy of Pediatrics), helping a newborn breath (through Save the Children) or more. Every time you donate a photo, J&J donates one dollar. One photo = $1…even if you don't have that $1 in YOUR POCKET. The picture above is the one I donated just yesterday. As you can see, I chose to donate to give a young girl school supplies – that's GirlUp, but today is a new day and I can choose a different cause or the same one if I'm so moved.
You know what I love? So often my heart is pulled in so many directions…I would love to help EVERYONE, but recognize the impossibility in that statement and yet Donate A Photo lets me do a slice of just that. I can help multiple causes that matter to me every week – or I can dedicate all of my photos to the ONE cause that I think needs my help the most. It is up to me. And to you.
At Latism – J&J made it easy for everyone to understand the app, the simplicity, the GIVING. They even took some pictures for us.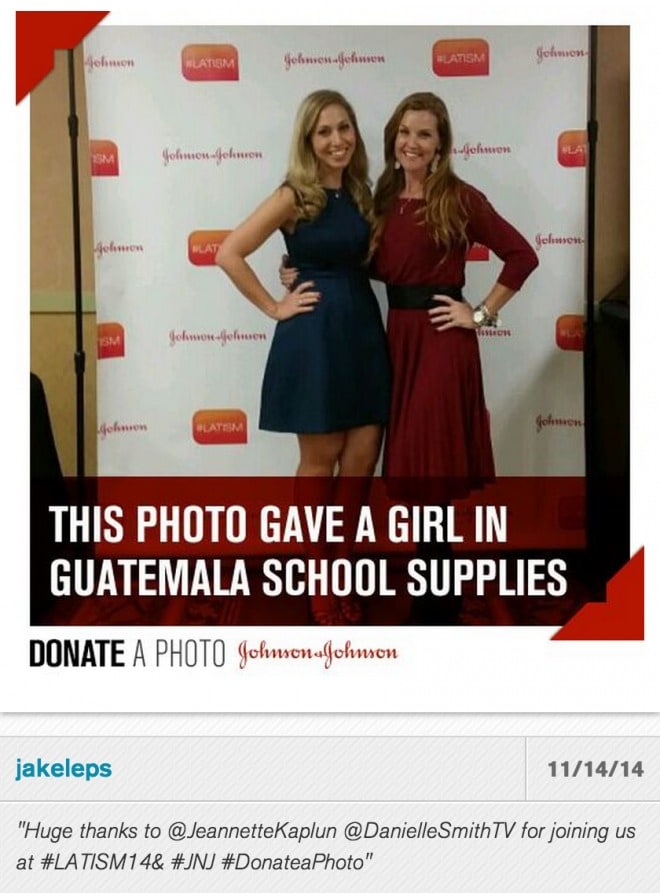 Here's what I noticed…. often times when I speak at events, especially events that have social media at their core, the audience spends much of their time with their heads down, alternating time on their phones, computers and tablets with the time they engage with the speakers – in this case Jeannette, Susan, Jill, Melissa and me. But is this case, this Latism audience was with us – they were looking up, paying attention, listening.
While I've never minded the balance of social media and audience engagement, in this case, I was beautifully aware of the power of my co-presenters and the topic we were discussing.
Giving is good. Teaching our kids to give? It is both powerful and extraordinary.
Let's keep it going.
Disclosure:  I am proud to be an Ambassador for Social Good for Johnson and Johnson and thrilled to have the opportunity to have spoken to the amazing people at the
Latism conference.
Thank you for having me. As always, all thoughts and opinions shared on this site are mine and mine alone.