Just last week I was checking my phone for the 'feels like' temperature because the heat was high and the humidity was even higher.
Fast forward to this week and it feels like Fall has arrived. I'm scrambling to pull out my boots, look for football on my television, find a light jacket and, naturally, I'm craving all things pumpkin. Yes, I'm one of THEM. I look for news ways to decorate with these lovely orange globes and 'pumpkin  spice' is a regular part of my vocabulary.
I'm a coffee-kind of girl.
Fitting, then, that I would be celebrating today, on National Coffee Day and sharing a little trick/recipe/I-promise-you-can-do-it-too….assuming you are both a coffee and pumpkin spice lover like me.
I decided I wanted to be able to brighten my mornings all by myself, to be able to enjoy a little PSL love right here under my own roof – and with the coffee I love, rather than relying on someone else to do it for me.
As a long-time fan and partner of Folgers (it just makes you think of home and growing up, doesn't it), I was excited to first try their newest product, Perfect Measures, as it simplifies the coffee making process and allows for the PERFECT cup of coffee every single time – no matter who is making it for you.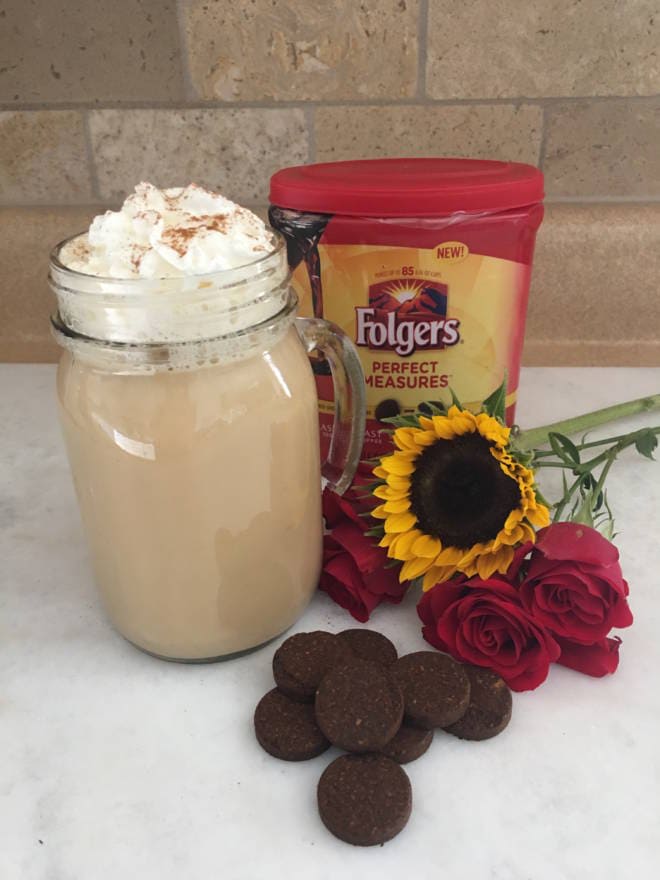 The product is simple – one tab = one scoop of coffee. If you normally like eight scoops (teaspoons), you use eight tabs – with a minimum of six fluid ounces of water. If your scoops are overflowing, maybe toss in a few extra to see if that stronger brew suits you. Whatever number of tabs you settle on for your perfect brew, you can stick with it every day for the good cup of joe to pick you up and get you going.
So clearly, when making my favorite fall coffee concoction, I start with Folgers Perfect Measures. (My favorite is Black Silk and I use between 10-12 tabs depending on how strong I'm wanting to brew my coffee that morning.)
And then I make my own creamer.
Make-at-Home Pumpkin Spice Latte
1 1/4 cup of Milk 
1/4 cup pumpkin puree
1/4 cup brown sugar
1 tsp pumpkin pie spice
1 tsp vanilla
1/8 tsp of nutmeg
dash of cinnamon (two)
Whisk all ingredients in a small sauce pan. Cook over medium heat (stirring occasionally) until it reaches a low boil. Turn heat down and simmer for two minutes. Stir occasionally as creamer thickens.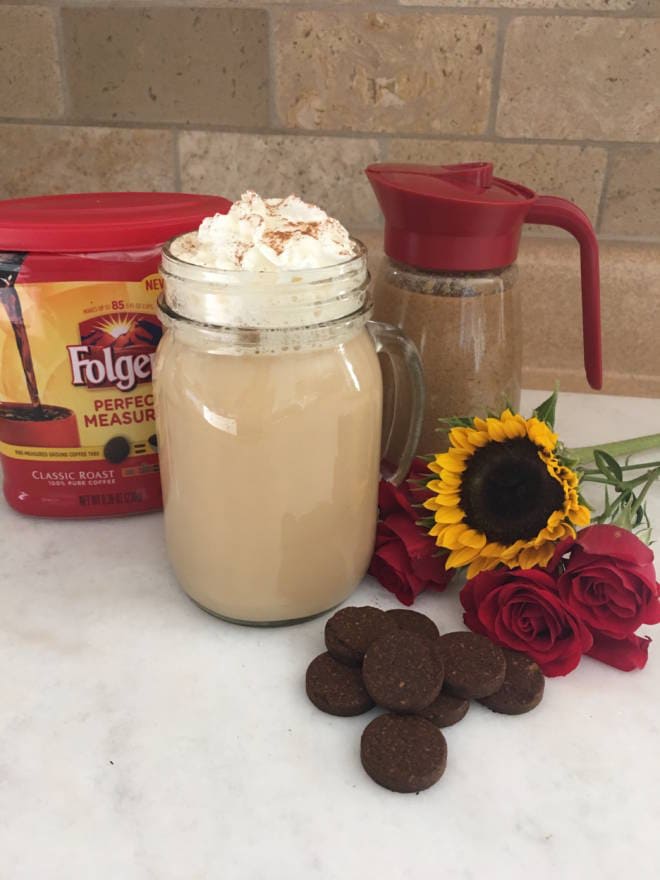 Brew your favorite Folgers Coffee.
(Choose from these five favorites)

Add your homemade Pumpkin Spice Creamer. Top with whip cream and a dash of cinnamon.
Enjoy.
Refrigerate remaining creamer for up to 5-6 days. (Enjoy again and again).
As a side note – you know how I love ALL THINGS GOOD, right?  In celebration of National Coffee Day, Folgers honored Local Heroes in my neighborhood – the O'Fallon Fire Protection District by brightening their morning with Folgers Perfect Measures coffee, some amazing treats…. AND A $10,000 donation!! The money is going to the O'Fallon Firefighters Community Outreach program and will be used to do even MORE good in our community. I nominated these amazing men and women because they are often 'unsung heroes'. We trust they will be there when we need them, and I know for a fact, they are. THANK YOU to the gracious people I met today, and to Folgers for allowing me to be a part of something so heartwarming.
Disclosure: I am happy (and today – especially honored) to partner with Folgers to share a little about brightening your morning and, most definitely, to have had a hand in helping them to honor local heroes. As always, all thoughts and opinions shared are mine and mine alone.