I feel compelled to share a Smith Family Holiday Tradition with you…..
This is such a hit, my husband asked if I would make it on Christmas Eve too. Notsomuch.
I make it for Christmas Breakfast. It is sweet and rich, filling and brimming with tradition. (And ABSURDLY simple!)
I bring you: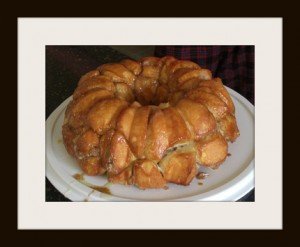 Monkey Bread.
Ingredients:
4 Cans of biscuits (Grands)
1 2/3 cup sugar
3 tsp of cinnamon
1 1/2 sticks of butter
Open cans of biscuits, cut each one into quarters
In a Gallon bag, place 2/3 cup sugar and 2 tsp of cinnamon
Shake quartered biscuits in mixture
Drop into a greased bundt pan
Sauce:
Melt 1 1/2 sticks of butter with
1 cup sugar
1 tsp cinnamon
Pour over the top of the biscuits
Bake for 35-45 minutes at 350 degrees, until Golden on top.
Take out of oven and let it set for 10 minutes.
Put a plate over the top of the bundt pan and flip over.
Pick apart and eat.
Enjoy.