Jodi Schlosser Photography
They had been trying for quite some time to have a baby. Early attempts had been unsuccessful. And hard. She had suffered three losses.
Three.
But now, this young mom can't stop smiling. She is soon expecting a baby girl.
However, there is one catch.
Her husband, normally stationed at Scott Air Force Base in Illinois, has been deployed. She will be having her first child, her little girl, on her own. But, on one day this past week, at least, she wasn't alone. Surrounded by dozens of other moms-to-be just like her, she was loved, celebrated, and spoiled by the amazing people who run Operation Shower.
Do yourself a favor and start with this extraordinary video created by my friends at Pounds Media.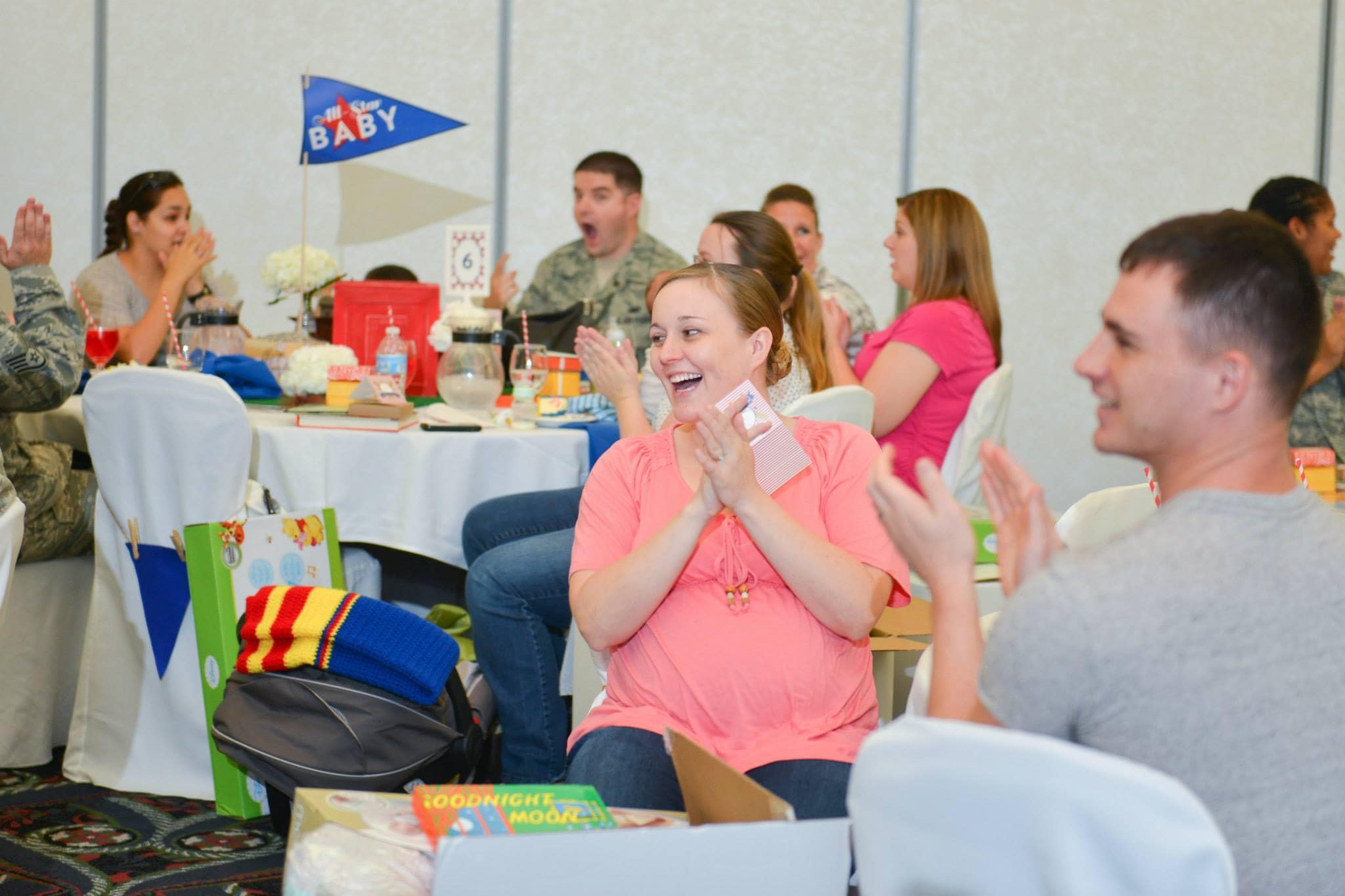 This grand-scale baby shower surprised all who entered the room from the moment it started.  From tables decked in a vintage 'All Star Baby' theme, to gorgeous baseball cakes to shower-themed raffles and games, the goal was clearly to make sure these women (and the few men who attended – home for a brief time from deployment) were sure to feel honored and thanked.
Gifted super-sized 'baby-showers-in-a box' that included clothing, St. Louis Cardinals gear (of course!), blankets, diapers and so much more,  the surprises and fun kept coming for more than two hours. Every mom was given diaper bags from Petunia Pickle Bottom, Winnie the Pooh Bouncer Seats from Disney Baby, a stroller-carseat combo and a letter from First Lady Michelle Obama and Dr. Jill Biden. Just amazing stuff.
This event was Operation Shower's 40th baby shower and their 13th just this year.
Think about that.
All of those sweet, beautiful moms-to-be celebrated.  All loved and cherished and THANKED for the support, love and sacrifices they are providing here at home while their spouses are deployed, serving our country. But consider this as well… the number of those moms – and there were more than half a dozen at Scott Air Force Base – who, in addition to having a deployed spouse and readying to be a new mom, were also ACTIVE DUTY themselves.
A treasure.
(You see all of those women in uniform? Pregnant or JUST had a baby. Awesome.)
This is the second time I've been privileged enough to host this event. The first time was at Camp Lejeune in North Carolina nearly two years ago. I'd do it every month if I could. Maybe by the 5th or 6th time I'd be able to do it without feeling the heat in my chest and the catch in my throat – sure indications that I'm about to fight back tears. It's an honor to celebrate these families.  It's a joy to share their joy as we spoil them. It is incredibly special to be a part of something that is so much bigger than me.
I could go on and on about the extraordinary work that is done by founder and Chief Shower Officer, LeAnn Morissey, her partner and Chief Event Planner, Amy Belle Isle and their entire team….because they certainly deserve so much love for dedicating their time and hearts to such a beautiful cause.  You simply must visit their Facebook page to see the pure heart-bursting-lovely that happens when these moms share with Operation Shower, the first time reunion photos of newborn babies and dads returning from deployment.
These photos go beyond the showers themselves to capture the magic that IS Operation Shower and the effect they have on these families.
Amazing to know that the boxes the moms receive are filled with donations from so many different companies and individuals.  A million thank you's to Pepsi Co and Birdies for the Brave for sponsoring this shower and to my wonderful friend Melissa from LittlePnuts for donating her special delivery, subscription toys as raffle prizes.

I do know Operation Shower is still in need of pajamas for some of their final 'Showers in a Box' of the year.  If you'd like to help, you can contact them to donate or head to their Babies R Us Registry to purchase.  (they also need some diapers and receiving blankets, but say their true need is pajamas).

So grateful to Jodi Schlosser Photography for the amazing pictures you see here.

And thank you to Operation Shower and to the moms and dads who allowed me to be part of your family for this special afternoon. I'm in awe of all that you are and all that you do.

Photo credit to