"Promise me you'll always remember: You're braver than you believe, and stronger than you seem, and smarter than you think." Christopher Robin to Winnie the Pooh
I was just a little girl when I first fell in love with the magic and simplicity of Winnie the Pooh. He seemed, at once, to be surrounded by friends who understood him, he had a special way of making the mundane magical, and the little bits of wisdom he and his motley crew imparted were ones that have continued to resonate with me as I grew up. They spoke of friendship, of gratitude, of stepping outside your comfort zone, embracing the stillness and seeing the beauty in self.
In fact, my very first best friend – way back in kindergarten – shared the name of my beloved Christopher Robin. In my imagination, he and I explored the Hundred Acre Woods, while the reality was our school sandbox and playground.
So, as you might speculate, it was with great interest that I immersed myself in
Goodbye, Christopher Robin
, a new release promising to share the story behind the stories we love.
I don't know if I ever realized that A.A. Milne plucked Winnie and Kanga, Piglet and Rabbit, Tigger and Owl…not so much from his own imagination, but that of his son, Christopher Robin.
"We didn't realize we were making memories, we were just having fun." Christopher Robin
Young Christopher has always been real to me, but not REAL. And, in fact, without spoiling the plot, I must share that he is, in some ways beautifully real and in others a treasure of whatever direction your imagination takes.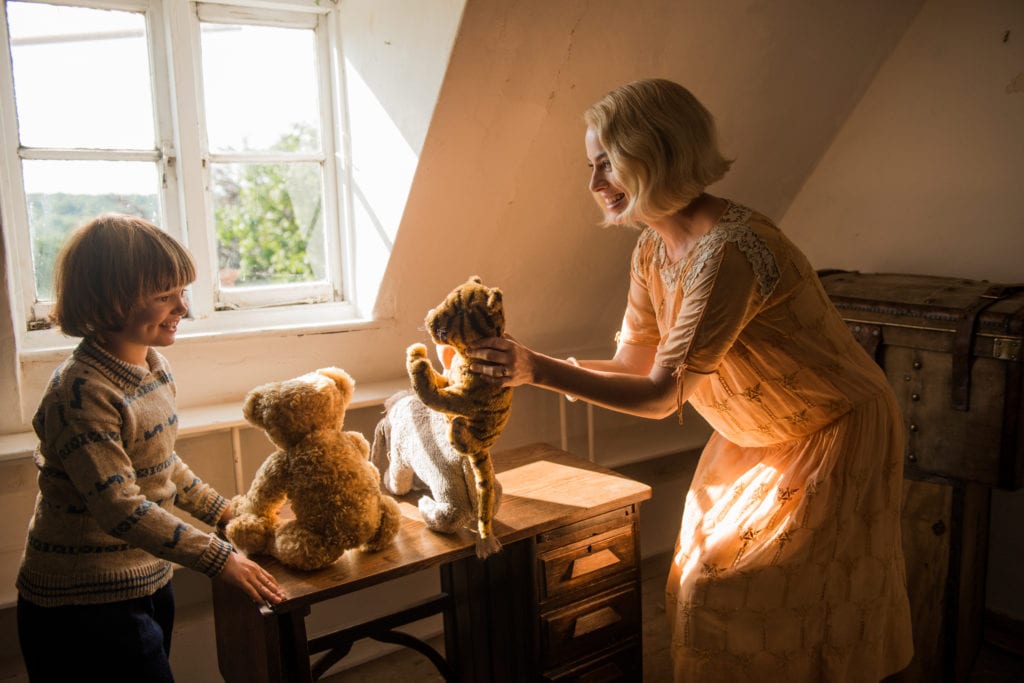 The truth behind the Hundred Acre Woods and A.A. Milne's authorship of our favorite bear is not as cuddly as you may hope. (or honestly, as I hoped.) A.A. Milne, portrayed by Domnhall Gleeson, is a traumatized veteran of World War I…unable to cope with the post traumatic stress that comes with the experience he both lived and witnessed. His wife, Daphne (Margot Robbie) admits to having a child to make her husband happy, wishes her fancy London life had not been interrupted and struggles to play the family role. She is clearly a detached mother, but also the one who brings the many Hundred Acre Woods characters to life for her toddler son. Piglet, Eyeore and Kanga are all gifts and tea-time companions that Daphne helped to voice, create and bring to life.
Piglet: "How do you spell love?" Pooh: "You don't spell it, you feel it."
There is a disheartening and painful disconnect between parent and child…a reminder, to me at least, to stop, play and appreciate their youth and heart before it is gone.
Unlike the whimsical world that finds Pooh and Piglet hand-in-hand, this version, set in the beautiful, but isolated, true Hundred Acre Woods, has moments of darkness, of heartbreak and loss. At its core,
Goodbye Christopher Robin
allows us to see how a child, ultimately raised by a nanny he adored (Kelly Macdonald), was exploited by his parents during and after the process of creating the series.
But, much like you and I always count on Pooh to be, it is honest.
I was honored to be a guest at the premiere and red carpet gala of Goodbye Christopher Robin in New York City this past week.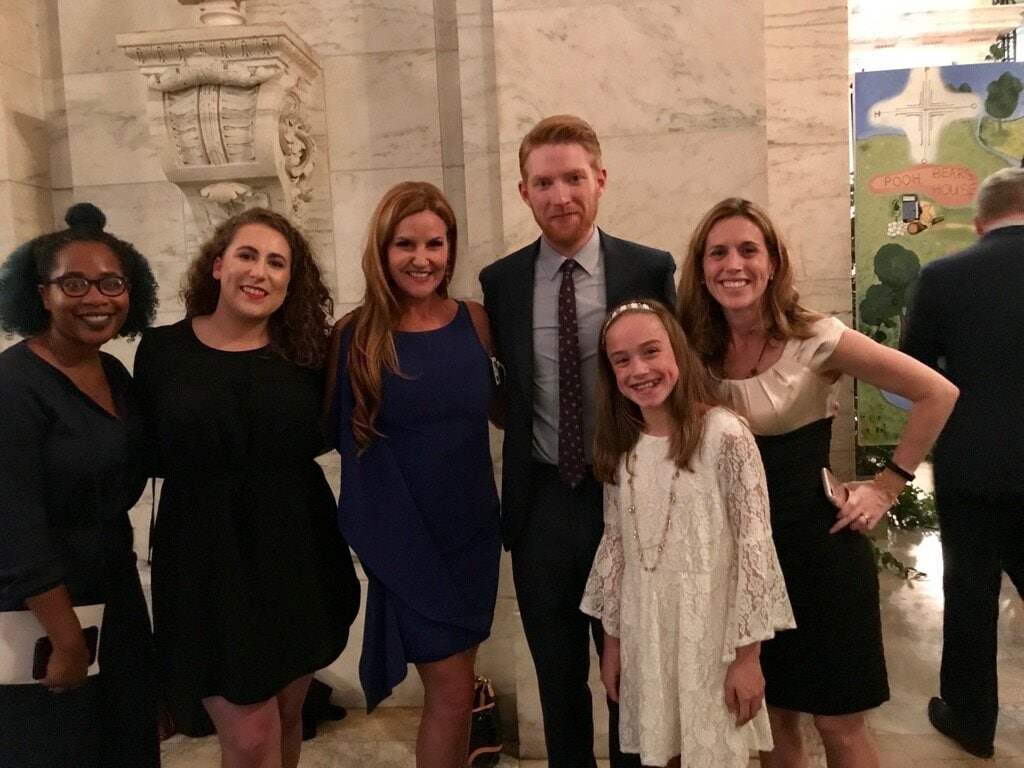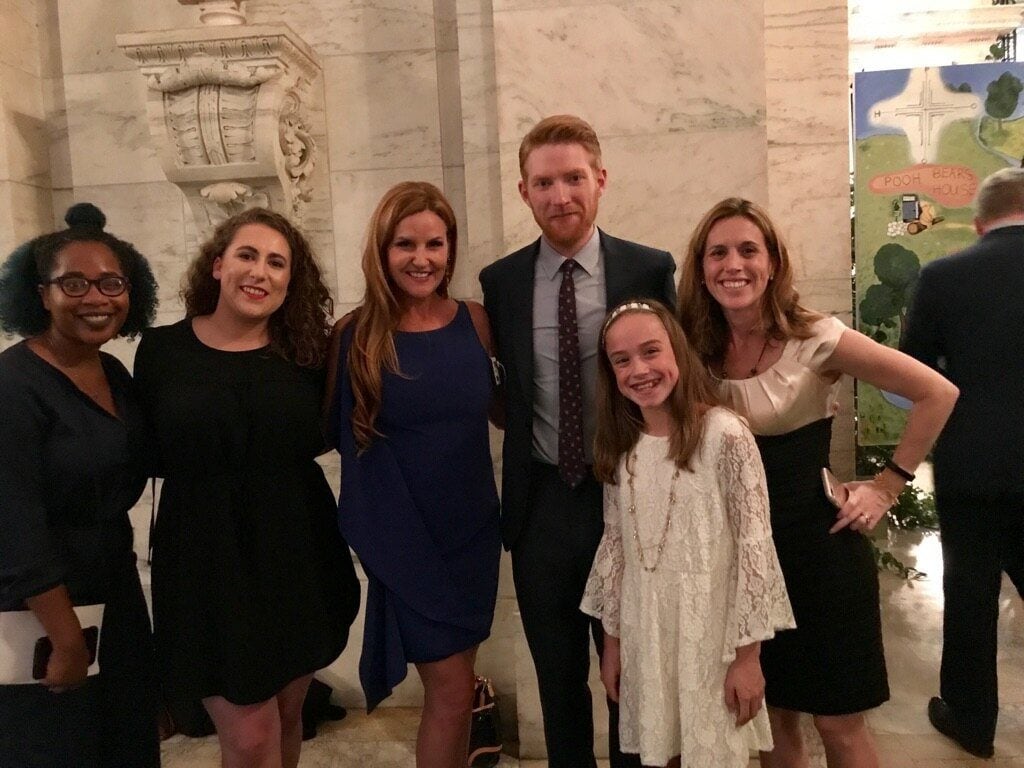 I spoke with composer, Carter Burwell, with Domhnall Gleeson (A.A. Milne) and with the ever-dimpled and charming Will Tilston (Christopher Robin). You can see my interview with Will below…but a quick preview – prepare to be awed by his grasp of the movie, his role and its effect on all people –  big and small.
In young Tillston's words….the movie shares a window in to the world of Winnie the Pooh that many of us have never seen or heard, that one child's childhood was sacrificed to bring joy to many children.
If for nothing else, watch to hear him tell me how he enjoyed the filming process, ("Oh my god…on a scale of 1 to 10? An eleven!")
"How lucky am I to have something that makes saying goodbye so hard?"
Goodbye Christopher Robin opened in a few select cities on October 13th, but will open in many more on October 20th.
Put Goodbye Christopher Robin on your Must-See list.