This week something more than the weather of this year's Polar Vortex-enriched midwestern winter made my face hurt. I laughed, out loud, at a new digital campaign.
The storyline goes something like this: Kenny Mayne, who's best known for being on ESPN but also appeared as a contestant in "Dancing With the Stars," was apparently a hipster. You know, skinny jeans, scarf, non-prescriptive glasses, loses their passport at Cochella, and the list goes on.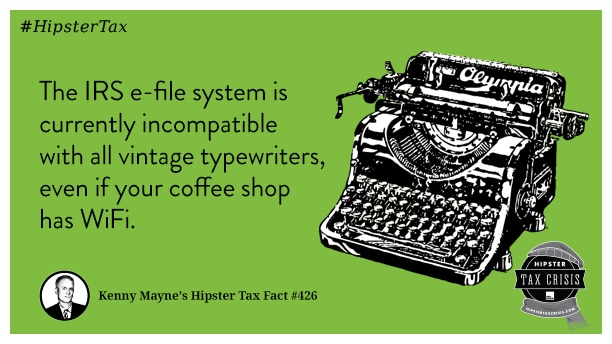 And apparently, unbeknownst to we mortals, hipsters are in trouble – deep trouble – because they don't know how to do their taxes correctly. Some 81 percent of American Hipsters believe paying taxes has become "too mainstream" and more than half of Hipsters think scarves should be counted as deductible expenses. This is serious business people.
"Hipsters are in trouble – there's a tax crisis and they need our help," said Mayne, who told me his music taste that is so obscure that a term has not yet been developed to describe it. "Clearly, growing organic arugula on a fire escape does not enable you to take a farm tax credit. But Hipsters also need recognition for the contributions we've made to the fabric of this great nation."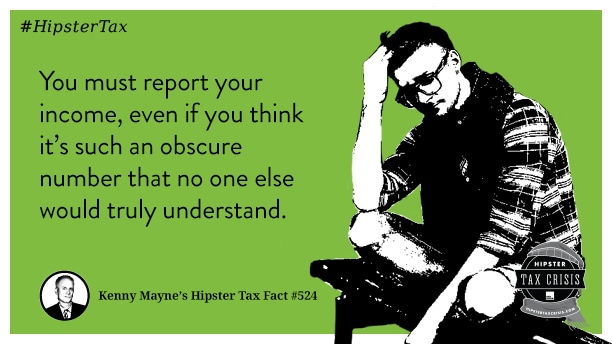 So Mayne, with the support of tax giant H&R Block, has launched an initiative to educate Hipsters about taxes at HipsterTaxCrisis.com, with more than a dozen videos of Kenny educating hipsters (in actuality actors from the Upright Citizens Brigade), the 54-year-old Kenny talking to 12-year-old Kenny, and aHipster Tax Rap from "The Flavor Savers," some hilarious "Tax Facts," and a "Hipsterize Me" photo upload app.
A look at one of my favorite videos from the campaign:
(Updated September 26, 2018 – Video no longer available)
Finally, on April 1 in Seattle the campaign will hold The Irony Games – with awards for "Best In Scarf" and "Best in Skinny Jeans" — where the first ever "Hipster Of The Year" will be named in an effort to elevate Hipsters to what Mayne believes is their proper place in American society.
And while this fun little ruse has a lot to laugh at, what really made me smile was its heart – each time an element at HipsterTaxCrisis.com is shared through social media with the hashtag #HipsterTax, H&R Block to make a charitable contribution to Covenant House, which serves homeless youth nationally. You know how I love the giving.
So while I can't help but applaud this hipster tax spoof from H&R Block featuring Kenny Mayne, what I really love about it is it's heart – a big company using a humorous, high visibility campaign to ensure there's some social benefit to people in need.
Take a look. Laugh. And share. It is GOOD.
(and tell me what you think!)