Amazing women, wives, mothers, cheerleaders, former and current mascots….  just a few of the incredibles making up the crew fighting for votes for their University Mascots in this year's Capital One Mascot Challenge.
To help you get to know the women behind the Mascots….the women driving the voting for their Universities, I will be highlighting them here….a few at a time.  I've asked them a variety of questions….here's hoping their answers help you to understand them, their passion for football, their schools, and their mascots.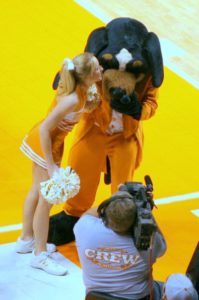 Amanda Starkey for the University of Tennessee
Why did you apply to represent the University of Tennessee? II thought that I could represent Smokey well being that I am around him all the time! Also I wanted to have the opportunity to blog about a topic I love and to get people excited about football season!
How do you show your school spirit? I cheer for Tennessee!! I have been a cheerleader at UT since I was a freshman and attend football, men's & women's basketball, and volleyball games. I have tons of orange in my closest too!
Any unique ways you plan to get votes for Smokey? We have made "Vote for Smokey" t-shirts that we wear at sporting events, I have been posting on Facebook & Twitter telling people to vote as well. Every football game we make an announcement on the loud speaker to try and help Smokey get more support.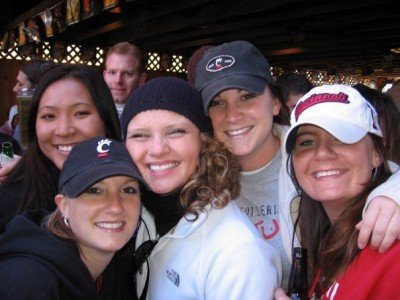 Meghan Eyerman – for the University of Cinncinati
Why did you apply to represent the University of Cincinnati? I think my initial essay said it best, "…when it comes down to it I bleed Bearcat! They're green and under rated in the NCAA still, but we're getting better every year!" Moving away (to a different country none-the-less) will make a person miss things. Family, friends, places… but I didn't think about missing College Game Day when I moved to Toronto. I can't get the games on television. It's torture, eh? 😉 You know you're a true fan when you start following games play-by-play via twitter when it can't be found streaming online.
Share one memorable experience about your time at a game? There is no better feeling than rushing the field. Cincinnati upset undefeated #7 Rutgers 30–11 in 2006 when Coach Dantonio was coaching (my heart flutters just thinking about this story!) It was a HUGE upset. The entire game was incredible and the win brought cemented our bowl appearance that year. As the final seconds ticked down, the police got in place to protect the goal post and we rushed! Everyone was cheering. The youtube videos don't do it justice!
Any unique ways you plan to get votes for your mascot? So far I've been blogging, tweeting and facebooking my heart out. I emailed all friends and family to beg for votes. This week I'm planning on trying to contact anything Cincy affiliated via twitter and asking them to campaign as well. We'll see what more creative ventures I can think up!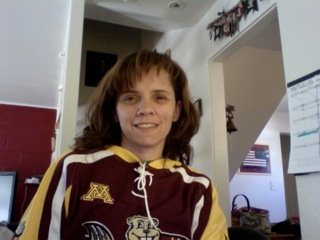 Tammy Munson for the University of Minnesota
Why are you blogging for the University of Minnesota? Simply put, I just love the U of MN! I saw the post about it and thought wow that includes two of my loves — blogging and the Gophers!
Share one memorable experience about your time at your University/time at a game/watching a gameThe very first game I ever attended was a U of MN hockey playoff championship game with Dan and his family. I fell in love that night with hockey and the U of MN. (was already in love with Dan LOL ) I loved the sport and the teamwork that you need to have with hockey. Although watching the fans and how loyal there were to their team, really got me. These people really loved the team and the players. The Gophers went on to win the NCAA Frozen Four(hockey) championship that night. It was magical!
How do you show your school spirit? We show school sprit in a variety of ways — we watch the Gophers on TV as much as possible, attend games here in CO whenever they play CO College (next game is 10/25 WOOOHOO), fly our U of MN in front of our house, we all wear gopher attire on game day (even our dogs have gopher jerseys) . School spirit is much more than that though — we support the various fundraisers,etc that the school has as much as we can.

Allison Squires for the University of Montana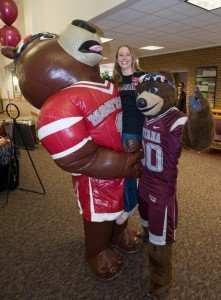 Why are you blogging for the University of Montana?I'm more about the camaraderie that comes with experiencing a game at Washington-Grizzly Stadium on UM's campus. Sure, Wa-Griz only holds about 25,000 people ― small beans compared to the 100,000-plus some big-name college stadiums accommodate ― but you wouldn't guess that the first time you heard the deafening roar following a Grizzlies touchdown.And what I lack in football knowledge, I make up for with my expertise in mascotology. That's right, I just made up a word, but there's really no other way to explain my obsession with UM's mascot team, which includes Mo and Rocky, along with the indefatigable Monte, of course.
How do you show your school spirit?I once tackled a fan from our rival school to the ground because he tried to swipe a stuffed Griz paw off my hand. He was twice the size of my 5-foot-2, 110-pound frame. Poor sap never even saw it coming.
Any unique ways you plan to get votes for your mascot? To know Monte is to love him, so all I have to do is introduce him to the rest of America.  Plus, I work in the public relations department at the U, so I've got a few tricks up my sleeve. 🙂

How do girls compare to guys when it comes to being 'fans' of their teams/schools/mascots? Many people have the stereotype in their mind, that men are the only ones that are able to be a fan of sports. But that's where most people are wrong. It is not hard to find a woman who has a strong passion for a team/school/mascot. Whether the influence would be from family, alumni status, or regional location, many people would be surprised on the amount of women who are more than passionate for a particular sport related field. Because of that stereotype, you would find that some women that are fans just aren't as vocal when it comes to their team as a man would be. In the case of myself and the women around me, each of us have a particular team or school that we are super fans of and we are not scared to show our team colors.
How do you show your school spirit?There are quite a few ways that I like to show my school spirit. First off, I have Old Dominion license plates for my car, and I have had those since I was accepted to the University. For football games, our car is decked out with flags and window paint, and even a set of custom painted (by me) cornhole boards. Another way that I show my school spirit is that everything in my wardrobe is navy blue and silver (gray). I love representing ODU and what a better way than to wear the colors 24/7, I also sport a Monarch cheek tattoo at every sporting event just to put icing on the cake, if I had the chance to get an ODU logo permanent tattoo, I would.
Any unique ways you plan to get votes for your mascot? Though I shouldn't share my voting secrets, but I plan on getting the fans of Big Blue to change their text message signature's to 'bigblue' so that each time they open a text there will be no need to type in the body of the text, they can just hit send. Also, if Big Blue's fans download google chrome, each time they vote online, you simply hit the back button, and only have to add the code in again to keep the votes coming in.

As you can see….Old Dominion is STILL in first, but these girls are serious with their tweets, and their blog posts and more blog posts and more blog posts, oh and their tweets.  Did I mention their tweets? And this one? Remember to be voting for your team at Capital One Bowl. Once you have voted….you can always 'write in' a school you would like to see in contention next year.