I will be the first to admit it, I always have the very best of intentions, but the hours and then days slip away from me.  I swear we will do dozens of fun crafts for each fabulous kid-centered holiday and then suddenly it is upon me and I'm scrambling to keep us in the spirit.  In January, I was fully committed to my Valentine's Day Pinterest board, coming up with what I was certain would be a series of amazing fun and crafty activities the small people and I would do together over the coming weeks.
And yet, here I am… days away and still, there is very little of the celebratory red and pink variety decorating our home.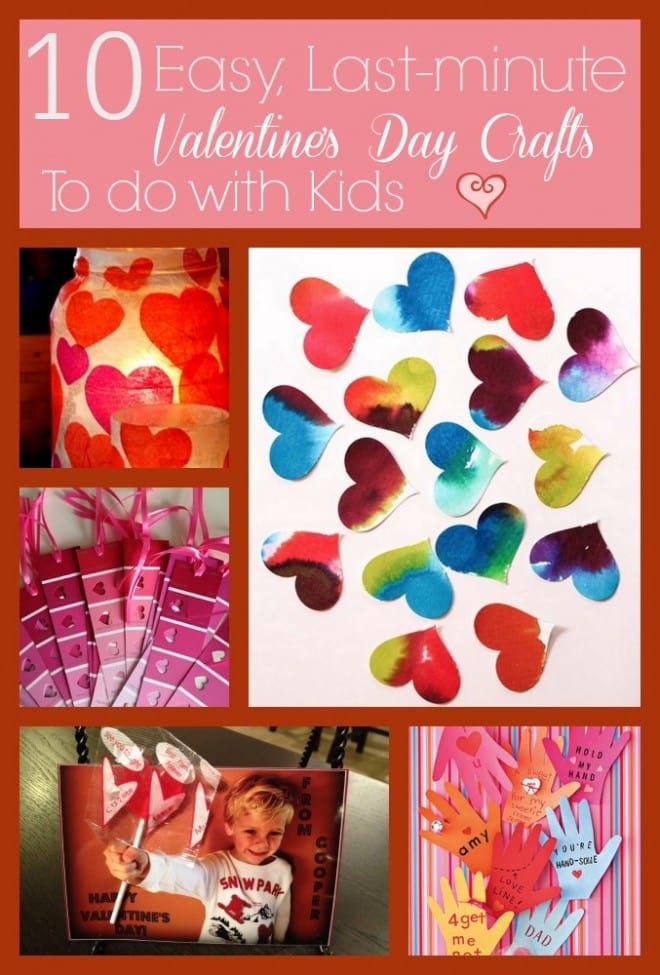 But this is our week, people… this is OUR week. Since we don't have a lot of time, and I trust there are a few of you just like me – who love the spirit of the celebrations and how much your small people love it…. but don't quite have hours to dedicate between school and sports and life… So, these easy, last minute Valentine's Day crafts are for you.
10 Last Minute Valentine's Day Crafts for kids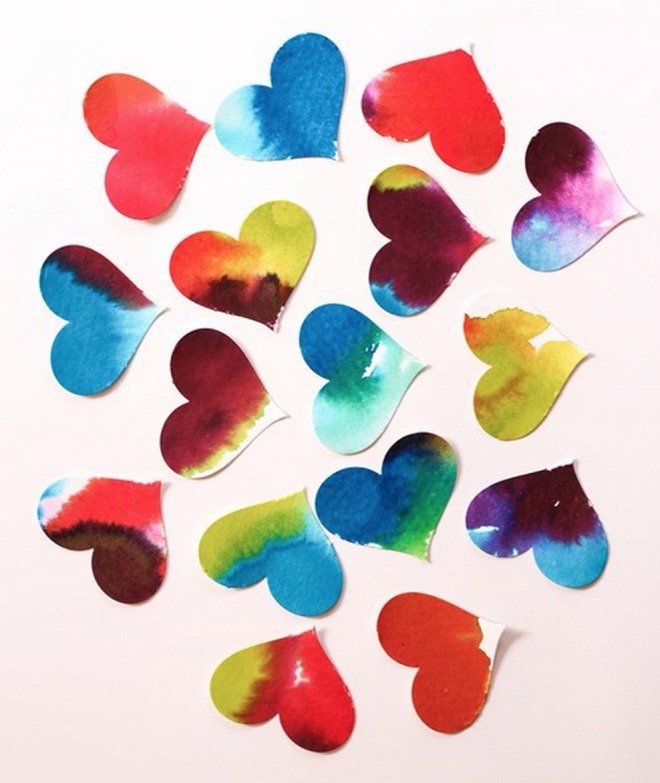 Simple heart garland you can make with paint and water color paper.  I love this.  From the 52WeeksProject.  This is definitely on our list for this week.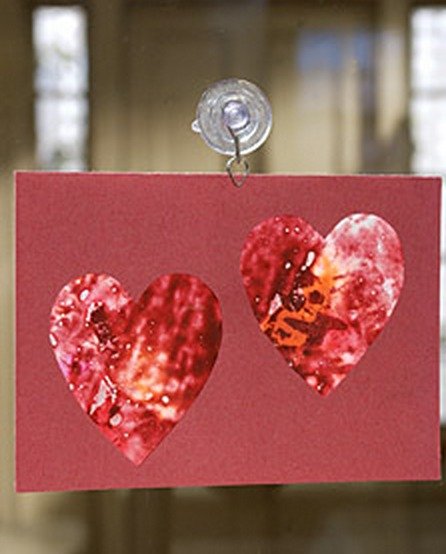 Crayon Stained-Glass Heart Cards.  When I was a little girl – anything to do with stained glass and melting crayons was divine.  Hoping my small people feel the same way.  From Martha Stewart.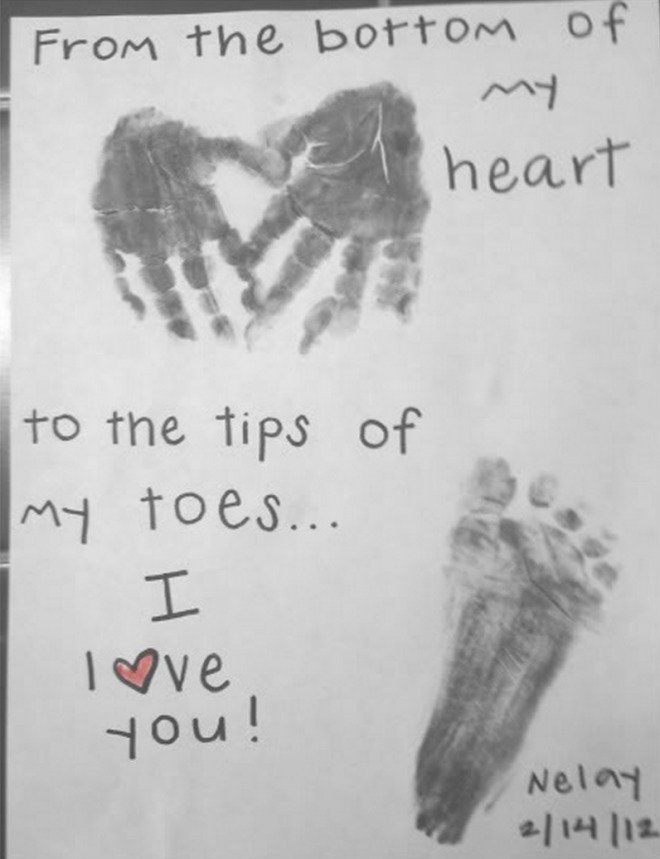 I cannot even begin to tell you how much this warms my heart.  All crafts that involved small people and their fingers and toes make me weepy.  It is the mom in me.  I just love to document their size and how much they are growing.  Not to mention… how EASY is this?  From MomsShoppingEngine.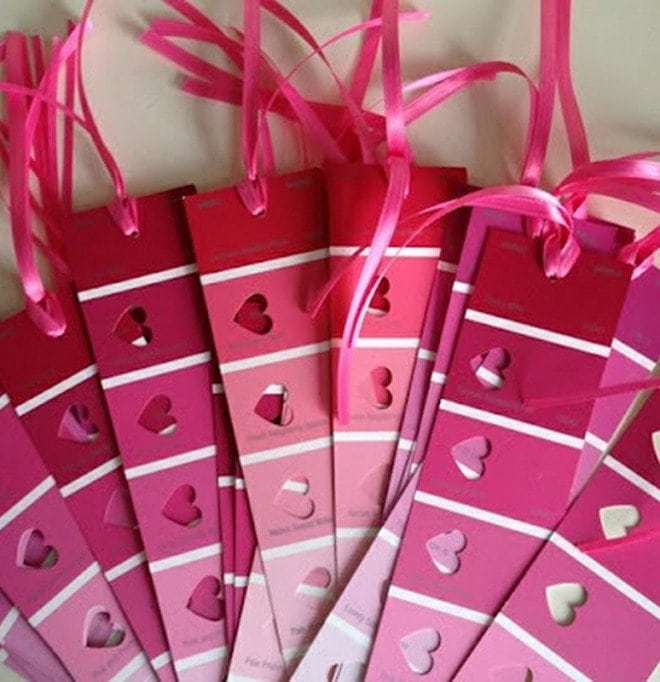 This might very well be one of the easiest options I have listed…if you have some paint swatches left over from prior projects you can turn them in to lovely bookmarks and decorations in no time at all – great as gifts too, yes? From Fern Smith's Classroom Ideas.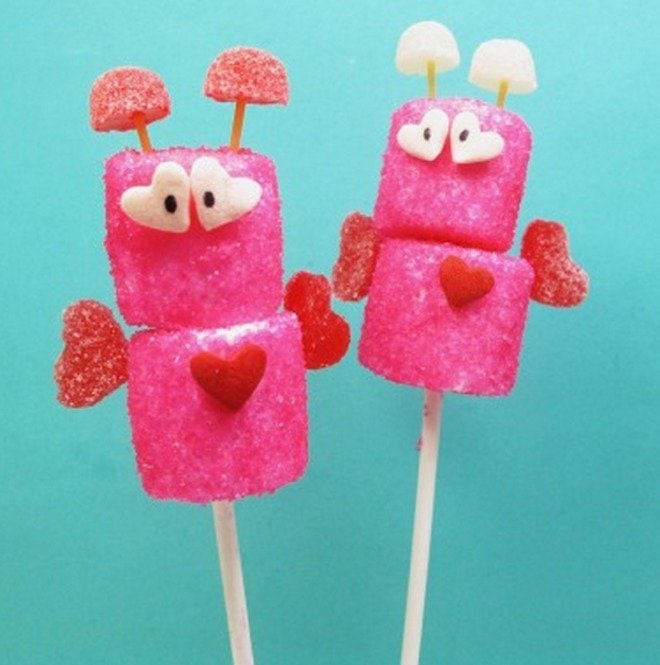 I love these purely because few things make my small people happier than marshmallows and candy.  And getting to make them as a treat for Valentine's Day is a double win.  Not to mention… they are cute, yes? These Marshmallow Love Bugs are from The Decorated Cookie.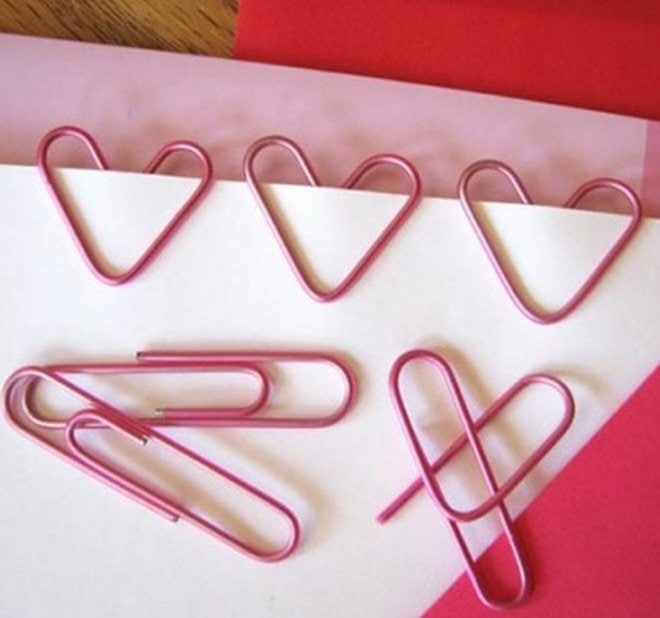 You knew I had to include something that would take virtually no time at all, but yet would be ADORABLE in the correct context, right?  These heart-shaped paper clips are it.  And I'm still wondering, 'why didn't I think of that?'??  From How About Orange.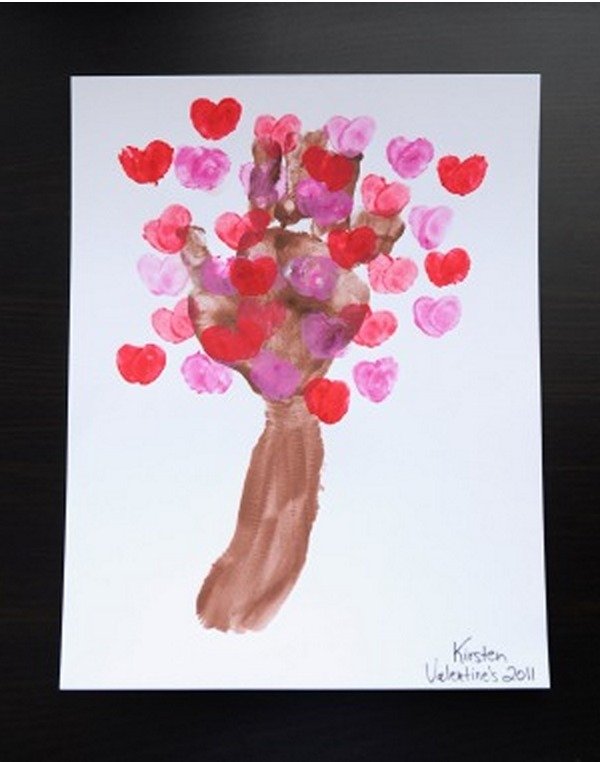 Here is another ridiculously easy option – requiring paper, paint, and your small person's hands, arms and fingers.  Such a good options because they are so involved and yet you need so few items to accomplish the craft.  This Love Blossom Tree is from Meet the Dubiens.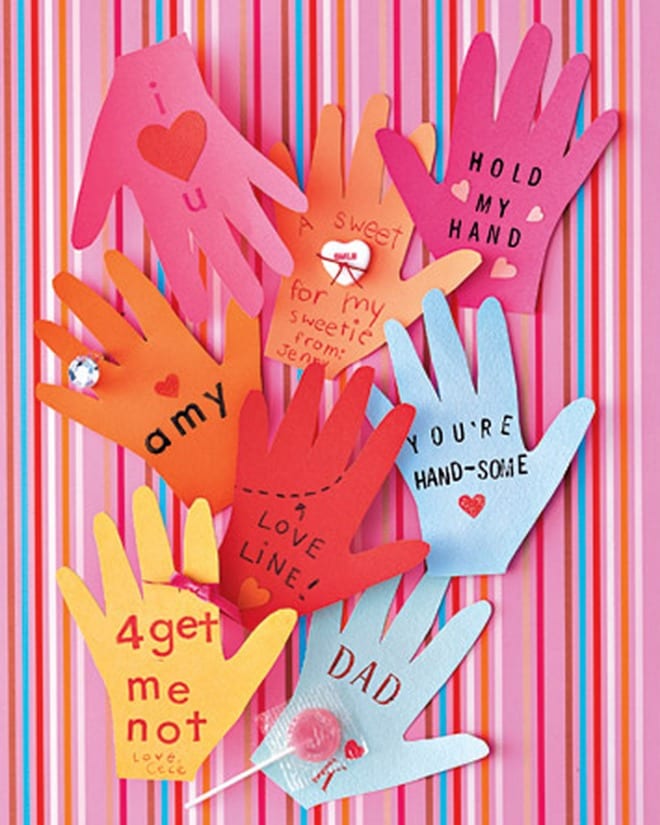 What is most fun about this is how easily it can entertain both small children and kids who are a little bit older.  Tracing the hands is just the first portion… you can be creative about what you put on each hand.  Leave a note or make them a conversation piece (like the conversation hearts we know so well) Seen here on Cafe Mom.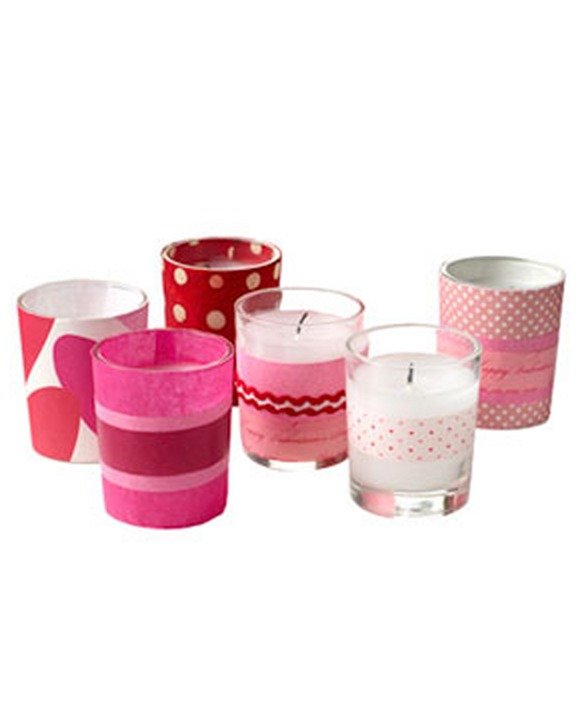 A fun (and easy) way to create a festive environment around the house. These would be perfect for your Valentine's Day dinner decor. From Real Simple.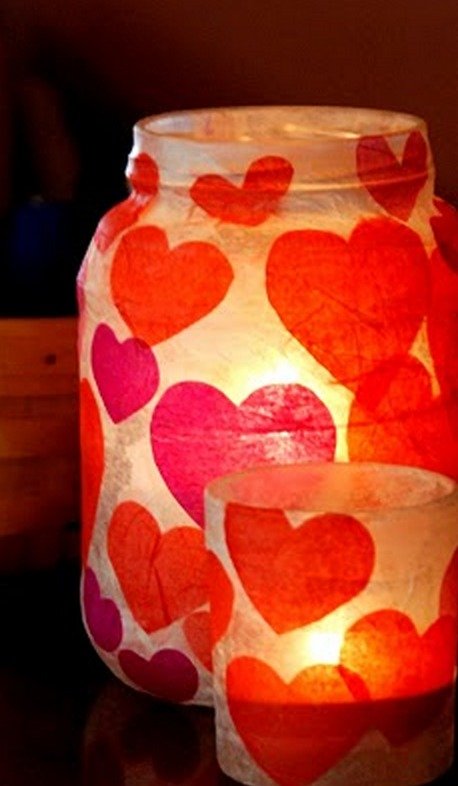 And here… it looks complicated, but it isn't at ALL.  And you can use recycled jars from around the house to help create these pieces.  From FabulesslyFrugal.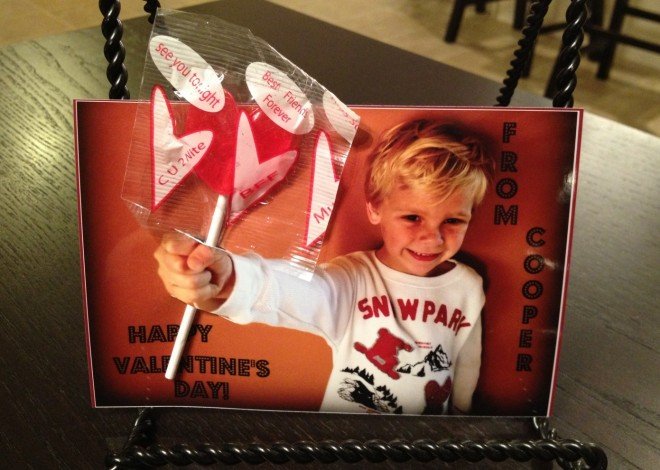 Moving beyond 10, An extra bonus: A personalized Valentine staring my small dude. (He's requesting these again this year!)
I hope these have given you some good last minute crafty options.  I would love to know if you try any of them (or if there are others you love!)
For more of my favorites, check out my Valentine's Day Pinterest Board:
Follow Danielle Smith ExtraordinaryMommy.com's board Valentine's Day on Pinterest.

And because I think about YOU and your small people….don't forget to check out this easy DIY Romantic Valentine's Day Makeup Tutorial. Have so much fun and Happy early Valentine's Day!