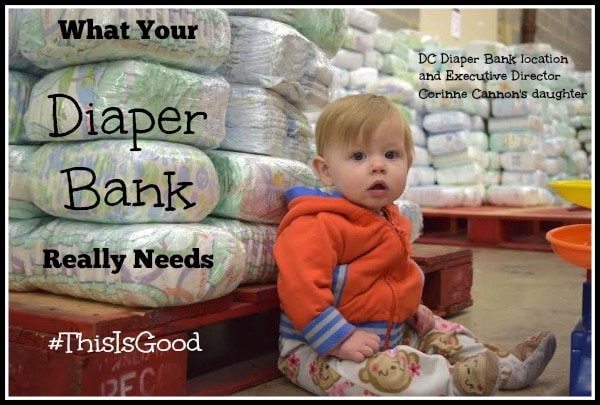 An unfathomable scenario: Choosing between feeding your child or changing her diaper.
In the United States, one in three mothers have had to make that choice.
This is why the work diaper banks are doing for their local communities is crucial. When diaper banks facilitate diaper donations, babies in need have access to clean diapers. However, diaper banks also ensure that a large expense is lessened for struggling families, which ensures those babies are fed, clothed and that their parents can get to work. (Sometimes parents have to miss work due to diaper need, as most day care facilities require a day's worth of diapers – thereby perpetuating the diaper need cycle.)
Here is how you  — and your children! — can support the important work being done by diaper banks across the country.
Donate Diapers…or Cash
The most basic way you help a diaper bank is by throwing a big box of diapers in your cart during your next grocery or wholesale store run. Go to the National Diaper Bank Network website, search for your nearest diaper bank and see if that diaper bank has a specific diaper size need. (If they do not, I always grab Size 4. My kids wore Size 4 diapers forever!) Then bring your diapers to your closest diaper bank drop-off location.
If you have unused diapers hanging out at home, check with your individual diaper bank if they accept opened packs (some allow this, others do not.)
If your schedule is crazed, consider a cash donation to your nearby diaper bank. Your contribution will go even further as the diaper banks have access to wholesale diaper prices and may have contributions matched by larger corporate sponsors. The DC Diaper bank states that a mere $12 enables them to buy almost 100 diapers through discount suppliers and keep a baby freshly pampered for two weeks.
Host a Diaper Drive
A diaper drive is one of the easiest social good goods-raisers that you will ever coordinate. You can host a diaper drive at your workplace, school or parent organization. You can even choose a diaper drive in lieu of or in addition to a baby shower! The National Diaper Bank Network has a toolkit to make your diaper drive a breeze. Simply put, you communicate to your group to bring in diapers at a specific date (or date range) and then the coordinator brings them to the diaper bank or organizes a pick-up.
A group event multiplies the diapers generated for children in need, sure. But just as importantly, a diaper drive greatly increases the awareness of this silent crisis.
Volunteer at a Diaper Bank
Diaper banks welcome — and depend on — volunteers to assist in counting, bundling, packaging and distributing the diapers delivered to their operations. Many hands are needed to get those diapers out the door and into the hands of families.
My local diaper bank, the DC Diaper Bank, welcomes playgroups, moms' clubs, scouting troops and other organizations to come in to lend a hand. Individual families can drop in to assist, too. One incredibly fun volunteer option they offer are evenings in which parents can bring in bottles of wine for a social good-focused moms' night out. What a fabulous way to connect with your friends and make new ones!
Serve as a Diaper Drop Off Location
Active on your neighborhood list serv? Have an office space in your city center? Then contact your local diaper bank about serving as a community drop-off location for others' diaper donations. Often diaper banks are located in warehouses a little off the beaten path, so you can increase diaper donations by offering your address as a drop site. You can coordinate with your diaper bank about regular pickups of the donations you receive.
Get the Kids Involved
My children love assisting with diaper drives or the simple, beautiful act of adding an extra box of diapers to our errands. They have a great time counting diapers for donation and making signs for diaper drives. Other charitable efforts may be tough to convey to children (matching funds? advisory boards? huh?) But putting their hands on brightly-decorated booty covers that someday soon help a sweet child like themselves stay comfy and dry? That is such a concrete way to communicate the concept of helping others.
After all these years of changing diapers (How long have you been at it? I just finished 9 years!), it feels really good to keep on diapering babies in our community.
It is also a whole lot neater.