I don't know what your mornings look like, but in my house, the chaos is real. Between getting the small people (and myself) out of bed, breakfast, helping with hair and uniforms and getting out the door for carpool, I often don't have too much time to dedicate to makeup….however, full disclosure, I feel better when I at least do something.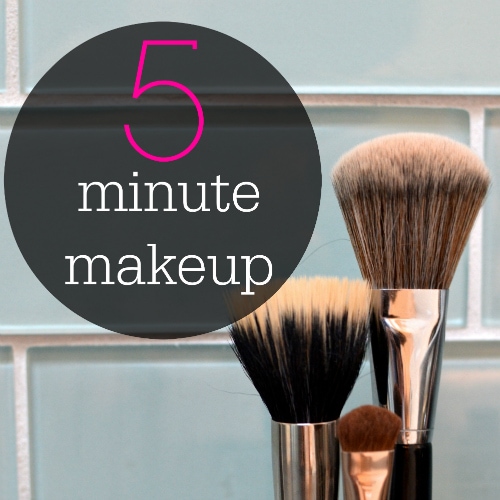 So, just for fun, here is a look at what and how I do my basic morning routine. Because it's me and I love the 'show-and-tell' aspect of video (and because I KNOW seeing me without any makeup to start must be at least vaguely entertaining), I put it all together for you here. Why is the video a little more than 5 minutes? Because I talked through the entire process instead of just doing it.
Here are a list of the products I mentioned (and love).
BareMinerals Concealer, Bare Minerals Broad Spectrum Powder, Mac Cream Colour Base Blush, Hourglass Arch Brow Sculpting Pencil, Bare Minerals EyeShadow, Cover Girl InkIt Eyeliner – Cocoa Ink , Younique Mascara and Buxom LipGloss in Dolly. As for Makeup Brushes…. you could do an entire set like this one from Sephora (many of mine are from there) or you could do the individuals. This slanted brush is what I use for blush and this is the one I use for powder.
What are you favorites and how do you look your best in the least amount of time? I'd love to hear your tips as well.
For more ideas… hop around to visit a few of my friends – all of whom wanted to share their very own 5 Minute Makeup Routines.
Ever curious about how other women are doing it? Check out these other 5 minute makeup routines:
Jodi from Mom's Favorite Stuff, Nicole from Momtrends, Kate from The Shopping Mama, Whitney from Mommies With Style,  Melissa from Married My Sugar Daddy, Jo-Lynne from Musings of a Housewife, and Laura from Hollywood Housewife.
So…come on, share your tips and tricks!