Now that we're in the heat of Summer, one of my major concerns is keeping my makeup fresh. There is nothing worse than devoting a solid ten minutes to applying makeup to only to sweat it all off in moments, right? So here are my top five tips for keeping melt free in the heat!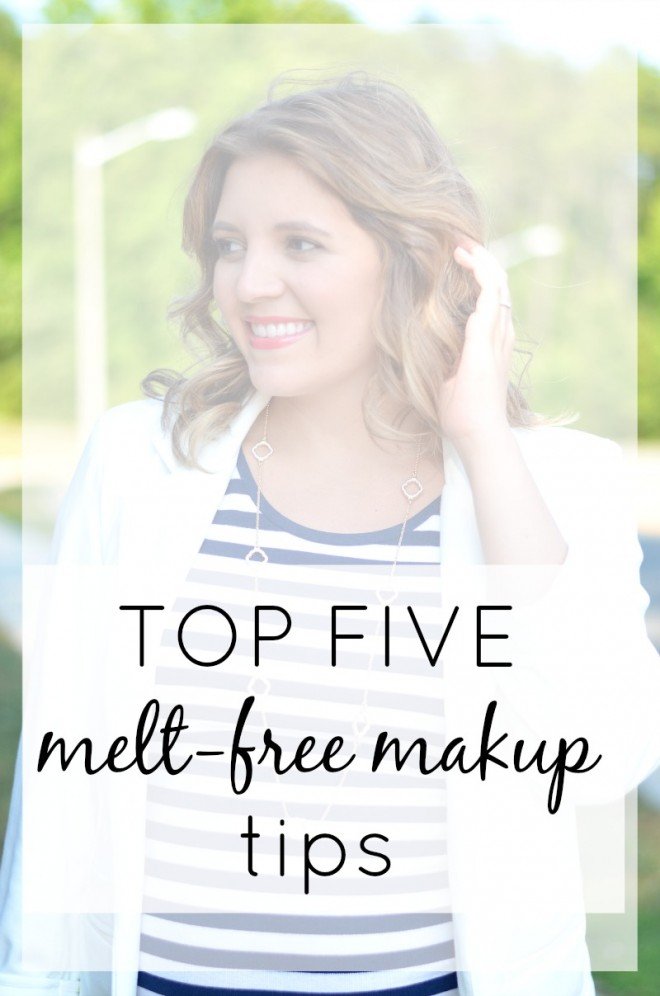 1. Go light!
My biggest tip is probably the most common sense. The reality is: sweat is inevitable. Keep your makeup light and don't worry about sweating off layers. Try a BB Cream, tinted moisturizer, or DIY your own tinted moisturizer by mixing lotion with SPF and a pump of your regular liquid foundation to lighten up.
2. Try waterproof!
There are so many waterproof options out there: mascara, eyeliner, and eyeshadow are the most commonly found options, but Tarte has recently released a line of Amazonian clay waterproof makeup including concealer, blush and bronzer. I've tried out the blush and can attest that it holds up in the heat.
3. Don't forget to prime!
Applying primer before your foundation is a great way to give your makeup extra staying power. My favorites include Smashbox's Photo Finish Light Primer and Urban Decay's Primer Potion.
4. Switch to stains.
Sticky glosses or cream blushes can feel like they slide right of your face in the heat and humidity. Try out a lip stain or stain blush for long-lasting color without the stickiness or goop.
5. Setting powder
Don't forget to set your makeup with a light finishing or setting powder to "seal" your finished look. It will prevent touch-ups throughout the day and soak up any excess oil. My favorites? Mary Kay's Translucent Loose Powder or inexpensive option,  Coastal Scent's Silica Powder Spheres!
How do you prevent your makeup from melting?