The Wizarding World Of Harry Potter is a dream trip for every Harry Potter fan. When you walk into Hogsmeade, you feel as though the books have come to life. It can bring tears to the eyes of a Harry Potter fan, so be prepared.
Even if you haven't read the series or seen the movies, you will be impressed by the authenticity of the buildings and experience. When you see the Hogwarts castle for the first time you will feel as though you just received your acceptance letter and are going on a grand adventure.
Like any theme park you can't truly do it all in one day. It truly would be best to spend a few days there and really explore everything. But if you are like most families and only have one day, you need to know which activities are a must. Below is a guide to 5 must-dos at Hogsmeade to help you plan your magical day!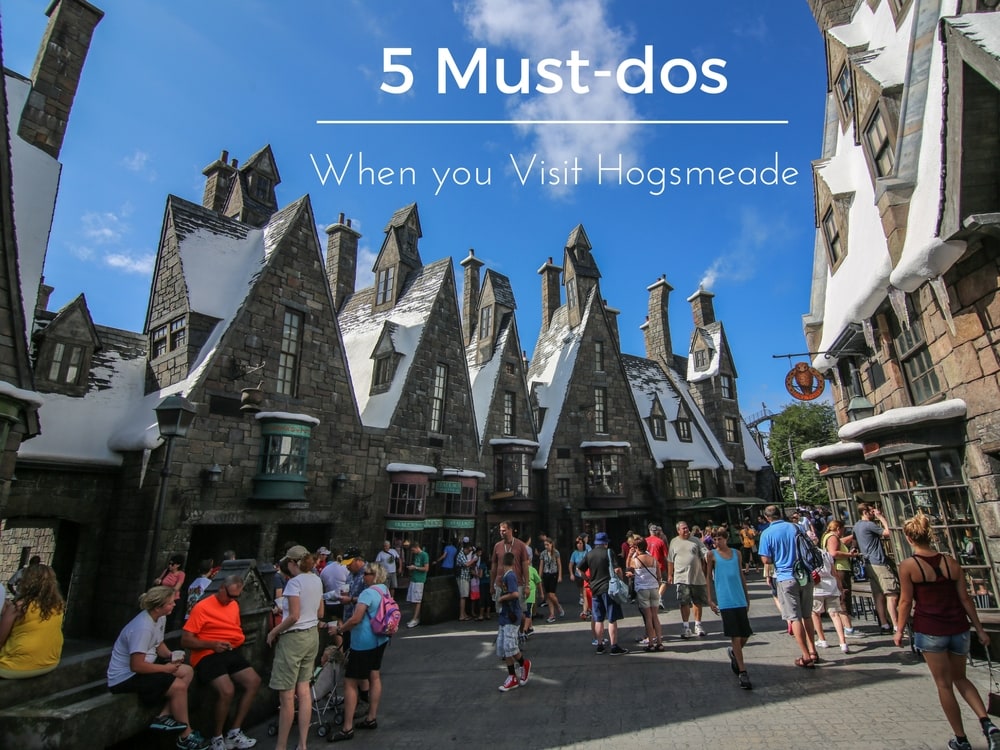 5 Must-Dos When You Visit Hogsmeade At The Wizarding World Of Harry Potter
Watch How The Wand Chooses The Wizard(or Witch)
When you are at Hogsmeade you have to stop by Ollivander's and see how the wand chooses the Wizard. A group of fans will go into a small room where Ollivander will choose a special wizard (or witch) to find their wand. Normally it is a kid dressed in a wizard robe, but adults have been known to be chosen. It just might be your lucky day. After Ollivander chooses the lucky participant, he guides them through spells to see if the wand chosen is their wand. If it isn't, special effects like the flowers wilting will let them know that nope, this isn't your wand. But when they pick the right one the magic is intense in the room! Even if you don't get chosen to be the wand searcher it is an experience that every Harry Potter fan must have at least once. (Please note, if your child is chosen they will try to sell you the wand when you leave the room. It can be really hard to tell a child no when they actually believe this wand has chosen them.)
Try Butterbeer
Butterbeer is served hot in the books but at Hogsmeade you can have it hot, iced, frozen, or as ice cream. I really didn't think it was going to be all that magical, but it is definitely a 'wow'. That first taste is out of this world. I don't know what kind of wands they are using to make it, but I would like to have one. It tastes like cream soda and butterscotch. It is fairly sweet but is a must do for any Harry Potter fan. Also, don't forget to check out the souvenir cup. You can't get the butterbeer anywhere else so don't leave without it!
Cast An Interactive Spell
When you get your wand (and it was an interactive one) at Ollivander's make sure you watch for places you can use it to cast "spells" They are located all over Hogsmeade and really fun to do. Look for the gold medallions in the concrete. That directs you to where you should stand to cast your spell. The best thing to do is grab a map on your way in. It tells you where they are. Also, be on the lookout for "hidden" spell locations. They are not on the map but usually you can find them by looking for 4 red dots of light. One tip for casting spells is not to move your whole arm. It can be hard if you want that dramatic flair, but the dramatics can make a spell fail. Just slightly move your wrist and your spell will work!
Eat A Meal At Three Broomsticks
A visit to Hogsmeade is not complete without a meal at the Three Broomsticks. Just like the book there are three broomsticks at the entrance. It feels so real you actually watch to see if Harry, Ron, and Hermione make an entrance! It has a rustic pub vibe and the food portions are quite large. The food has mixed reviews, but it is definitely worth the stop, even if it's for a Butterbeer in the shade!
Take A Forbidden Journey on the Harry Potter and The Forbidden Journey Ride
This interactive 3D roller coaster ride is a must do. Not only is it in the Hogwarts castle, but is easily the best ride in the park. While you are "flying", scenes from the movie play and there are realistic elements like fire-breathing dragons and dementors. I don't want to give to much away and spoil it,  but you really do feel like you are there. I will say it is not for the faint of heart. It can be a bit intense as it is similar to a rollercoaster with the speed, drops, twists, and turns. It is not a kiddie ride for sure. It is a very popular ride and wait times can be really long, so be prepared. It really is worth the wait though!
Even though it is not as big as Disney World, the Wizarding World of Harry Potter can be overwhelming for the first time visitor. The best thing can do is plan, plan, and plan some more. Download the maps from the website and map off your journey. The crowds can be intense, so as you are entering the park watch how the crowd moves. If they herd to the right, you go left. It will cut your wait times down and make it easier to move through the park. The busiest times to visit are during the holidays and spring break. If you must go during those times make sure to do some extra planning. With these must dos and your own plans, you can have a trip as magical as Hogwarts.