Spring Break is right around the corner for most of us. My children are off next week, and while our oldest gets to jet set to Costa Rica on a cultural exchange program with his school, the rest of us will be hunkering down here at home enjoying one another's company (and by that, you know that I obviously mean we will be trying not to drive each other crazy).
I've got a few things up my sleeve to keep the week from dragging by, and to keep my children from falling into an electronic based stupor. These little ideas have worked in the past to keep their imaginations engaged, while also giving them a focused activity that they can do together.
We're trying to save money so that we can enjoy a fun family vacation this summer, so most of my planned activities are cost effective. There are a few things built into the budget like a morning at the movies (We're all chomping at the bit to see A Wrinkle in Time as it's one of our favorite books), and and perhaps a morning at a trampoline facility to let them jump out the wiggles.
Otherwise, the plan is to stay home and relax – something most kids find to be a sort of punishment, while us grown ups see it as life's great blessing.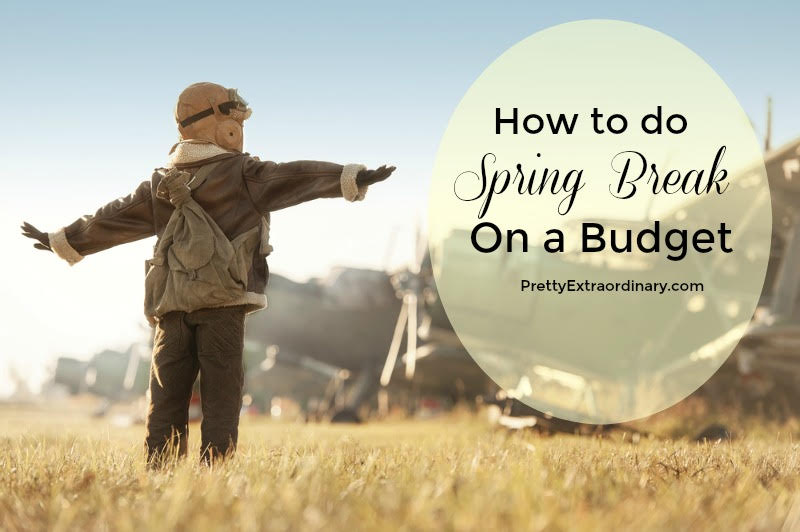 So if you, like me, are looking for ways to entertain your children on their week off but don't want to break the bank doing so, here are a few ideas to get you started:
How to do Spring Break on a Budget
1.) Build a Fort
Now if you have older children, this may not be quite as exciting as it is for the younger ones, although I will say my fourteen year old still finds great pleasure in crawling under a pile of blankets with his siblings.
If you work together as a family, you could contract a massive fort – you could make a whole fort city that stretches from the kitchen to the family room and have different rooms for different activities.
Is it a mess?
Yes, it really is.
But it will take them hours to construct, hours to enjoy, and it will create memories they will hold onto forever.
2.) Create a Scavenger Hunt
Scavenger hunts are great fun because they require your children to think outside the box. When they're younger, you can paste pictures throughout the house and make them look for the matching pictures. At the end of the hunt have a little treat ready.
When they're older, you can push them to think a little harder. Perhaps you include riddles that make them search around the perimeter of the house for the treasure. If they're old enough to walk around the block, you could send them packing and see if they can find all your clues.
There are resources online for how to put together the perfect scavenger hunt to get you started. The point is, this gets your kids moving and thinking in a way that's fun, and you'll get a kick out of watching them try to solve the clues.
3.) Go on a Nature Walk
Head to a local park and go on a long nature walk as a family. Look for different species of birds to identify, or gather up leaves and flowers and press them into a nature book together. Make sure you take pictures to put in your nature book as well!
4.) Have a Family Bake-Off
You can create your own version of Cupcake Wars right there in your own kitchen. Or you can have a cookie bake-off, or an Iron Chef competition. If you have older children, let them do all the baking themselves and see what they come up with.
If your kids are younger, set a tray of cupcake or cookies in front of them and let them decorate them. Come up with fun prizes for the best tasting, the best looking, and the most creative. (Word to the wise, make sure you have a prize for every kid. If your kids are anything like mine, then picking one winner will result in great weeping and gnashing of teeth).
5.) Have a Movie Day
What's more fun than closing the blinds and watching a movie in the middle of the morning? Pick out a movie everyone has been dying to see and pop up some popcorn, and all of you lounge on the floor in the middle of the day and enjoy the show together.
These are only a few ideas. I'm sure you all have many more ideas, so let us know in the comments! How do you enjoy Spring Break on a budget?