I get it. You are tired of the heat. (Is it really that bad?) No, 85% humidity +95 Degree temperatures isn't exactly a party, but when you compare it to 18 degrees with wind chill taking you sub zero – humidity begins to sound like the best thing ever..
So, let's be clear….despite your complaints, in a few months you will be LONGING for the warm temperatures to return and you will be happy to have a recipe that sings the song of Spring and Summer.
Good news – I have just the thing for you: a salad recipe that will impress your Summer BBQ guests, it will make your Labor Day family and friends stop and ask for the details and it will be the one you pull out over and over again while you count down the days until the tulips once again appear.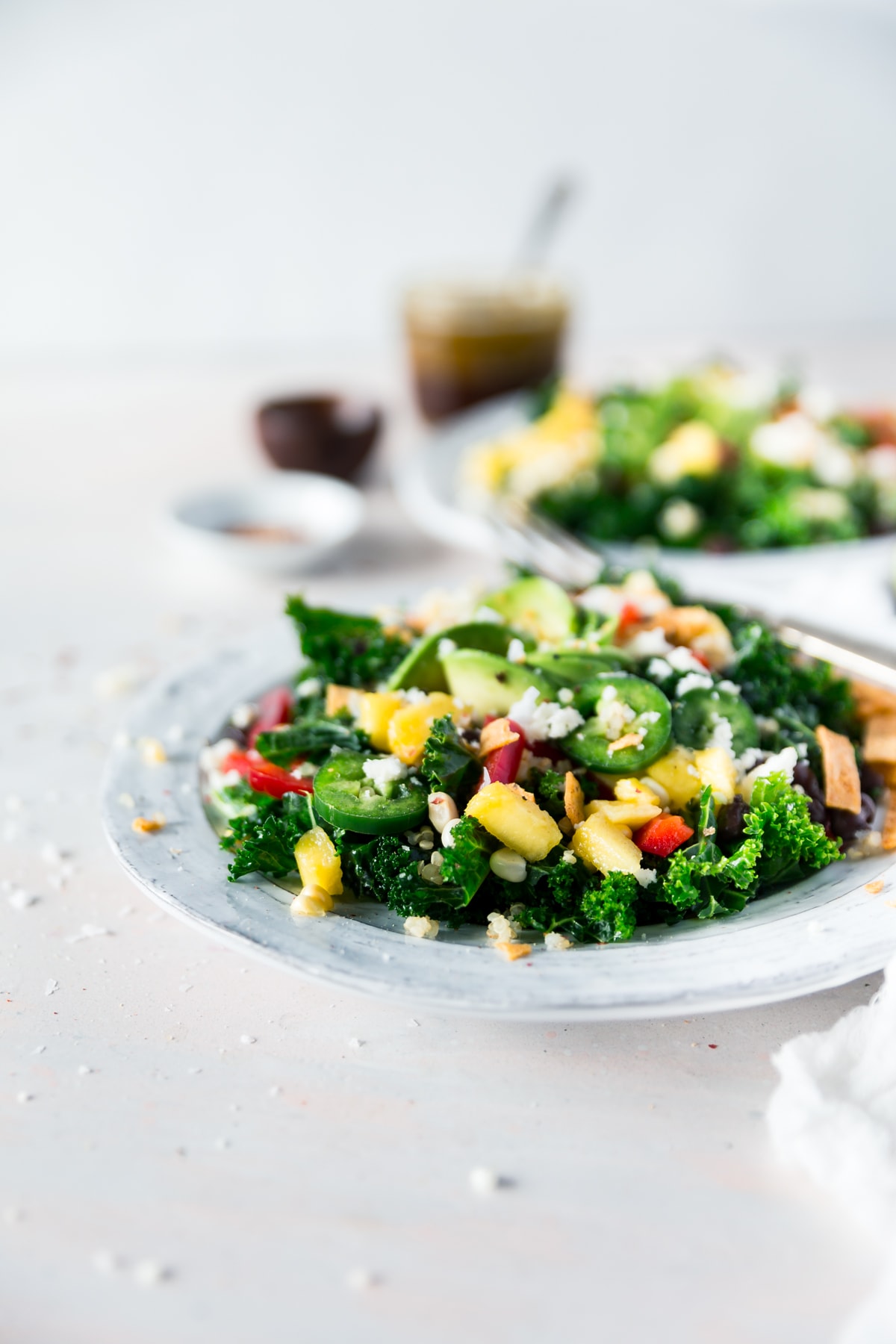 Are you ready?
It is The Perfect Salad: Mango Avocado Kale Salad

Mango Avocado Kale Salad
What do you need? Here we go!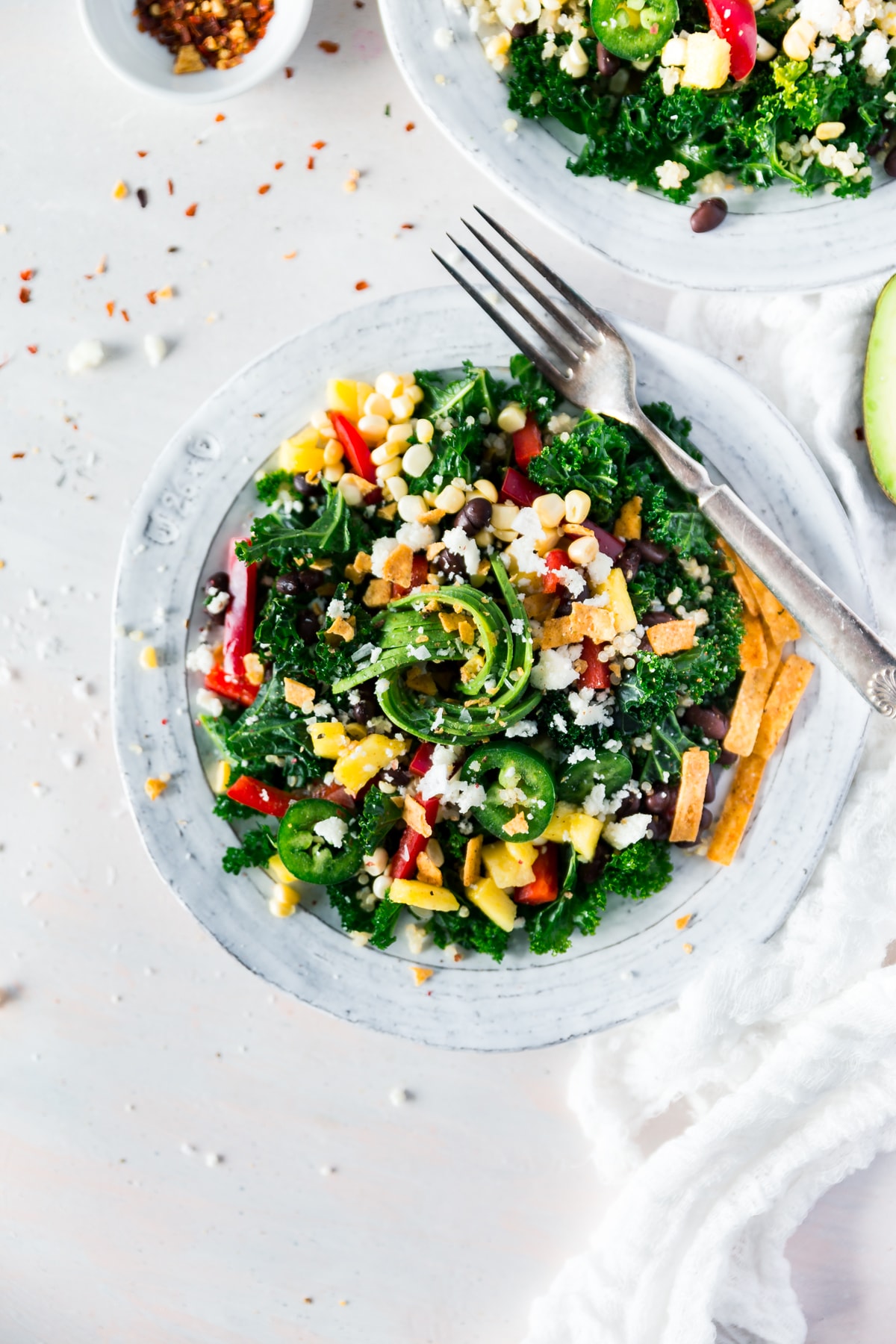 Ingredients
1 bunch kale, stems removed and roughly torn

1 tablespoons olive oil

1/2 cup cooked quinoa

1 red bell pepper, thinly sliced

1 corn cob, husked and kernels chopped off

1 mango, diced

1/2 jalapeño, sliced

1/2 cup canned black beans

1 avocado, thinly sliced

1/2 cup queso fresco, crumbled

½ cup tortilla strips
And naturally, there is homemade mouth-watering dressing to go with it. (we wouldn't expect you to head to the fridge to get the bottled version!)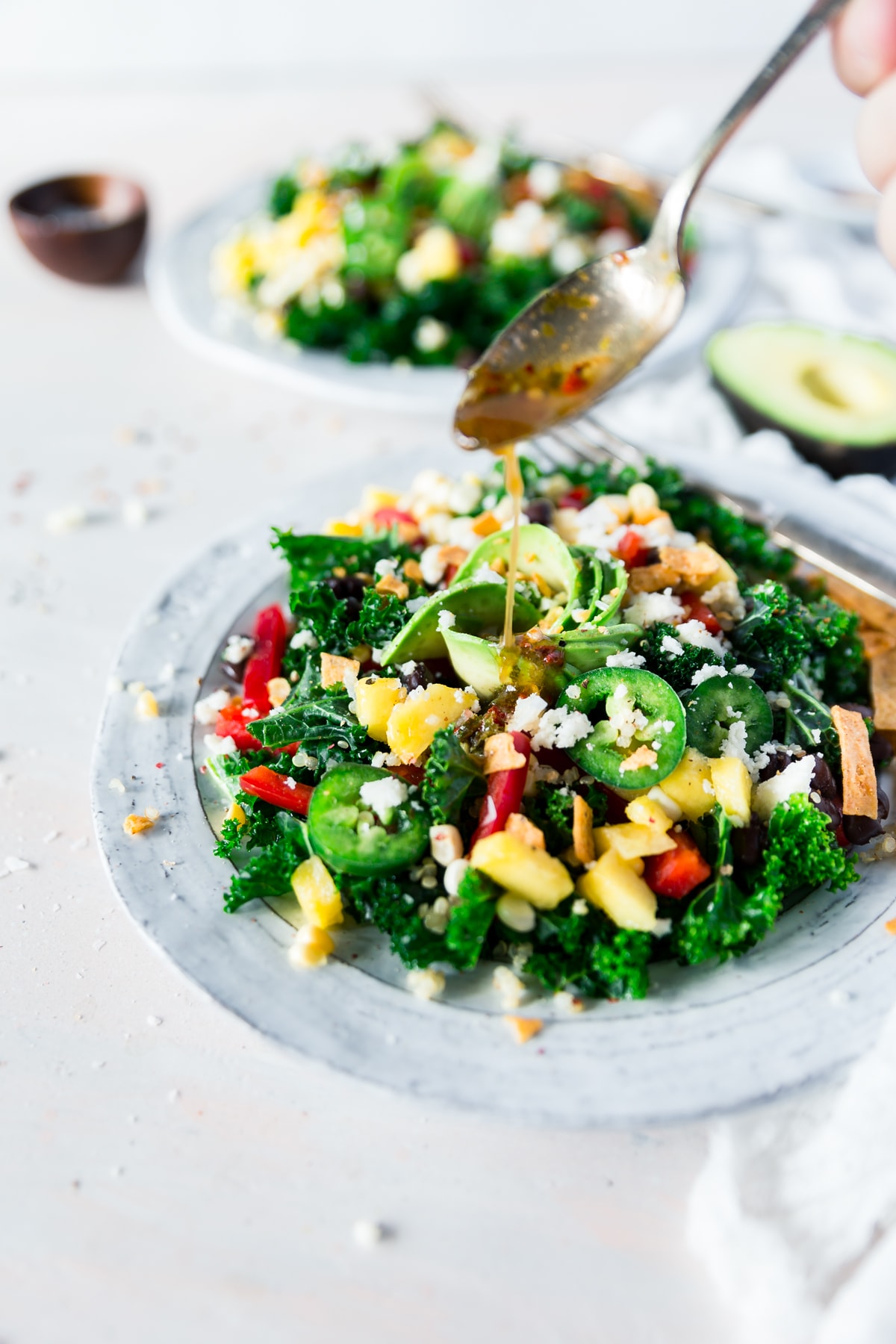 Chile Lime Dressing
1/4 cup fresh lime juice

3 tablespoons lime zest

1/4 cup red wine vinegar

1 tablespoon soy sauce

1 tablespoon honey

1/3 cup extra virgin olive oil

1 clove garlic, finely minced

1/2 teaspoon red pepper flakes

1 teaspoon ground cumin

1/2 teaspoon salt
It is the perfect version of sweet and spicy with honey and citrus, garlic and red pepper as its pillars.
Now for the easy part – putting it all together.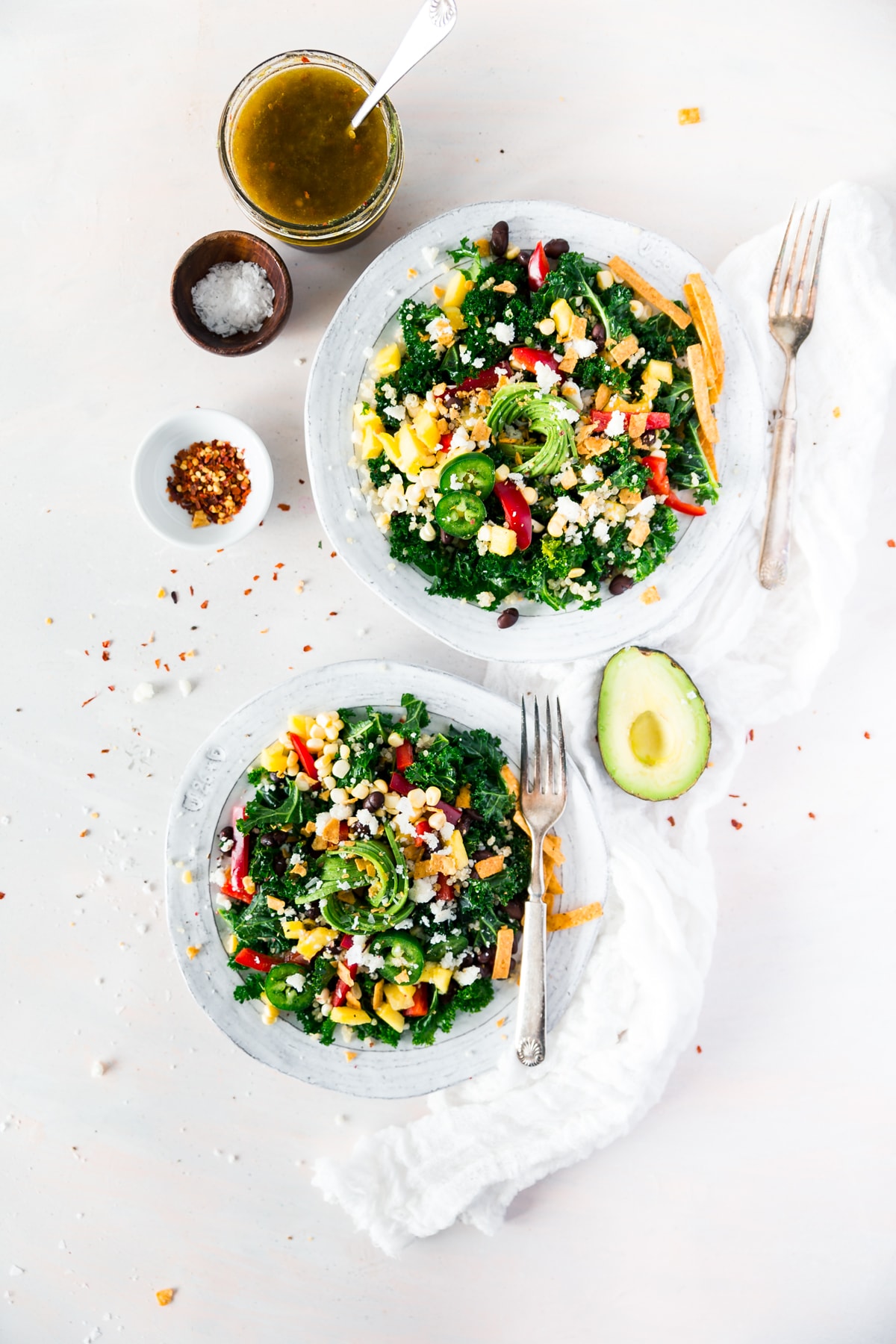 Instructions
In a small, airtight container, combine the dressing ingredients and shake vigorously to combine. Set aside.
In a large bowl, add the kale, 1 tablespoon olive oil and a pinch of salt. Massage the kale until it softens, around two minutes.
To the bowl add the quinoa, bell pepper, corn, mango, jalapeño, and black beans. Drizzle on a little of the dressing and toss. Add the avocado and cheese, then top with tortilla strips and enjoy!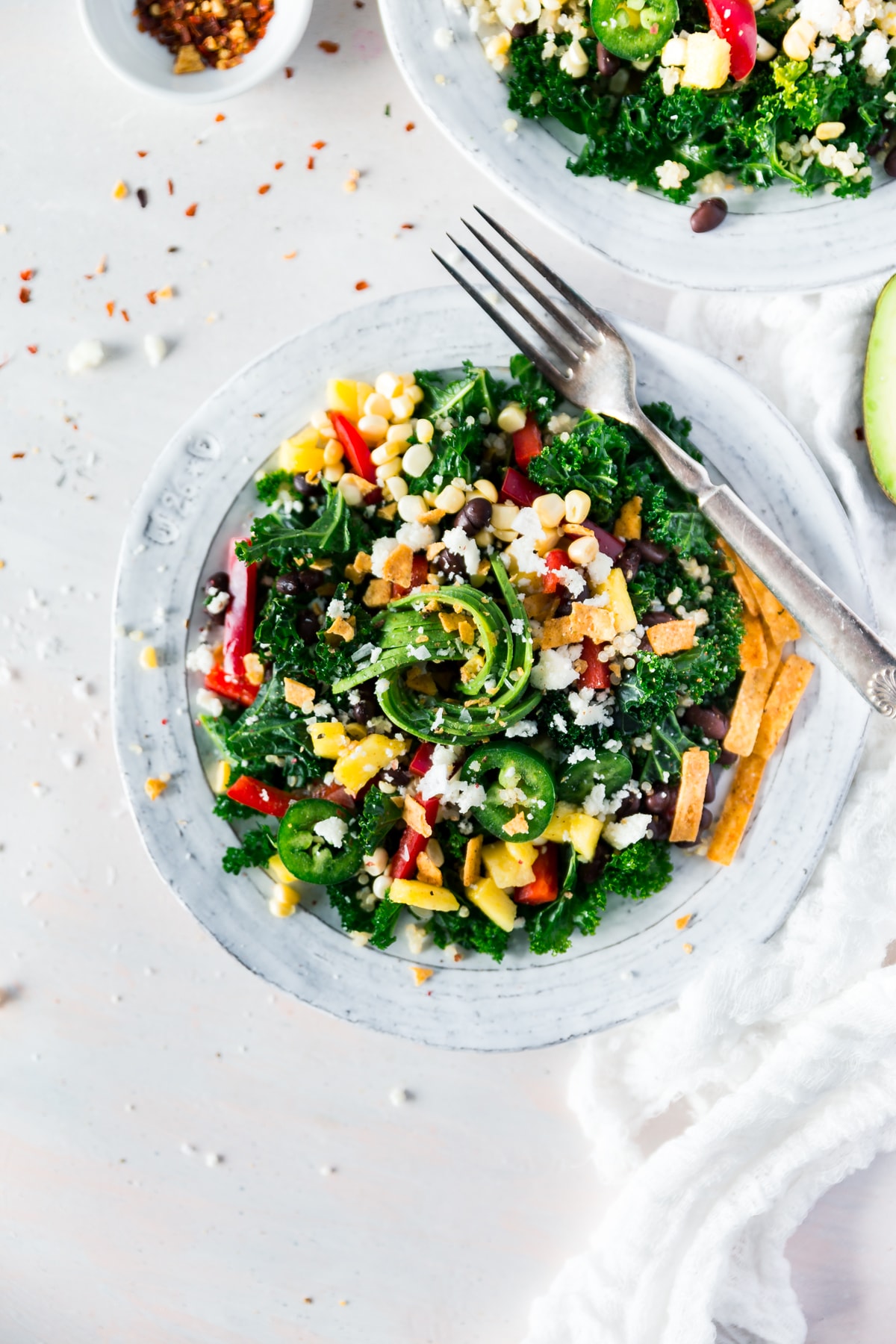 Prep Time: 10 minutes
Total Time: 10 minutes
Serves: 2
And be sure to come back and tell me what you think.
P.S. If you are ever in search of a few amazing appetizers to serve – we have you covered – French Dip Sliders and Caprese Cheese Tacos are our favorites.