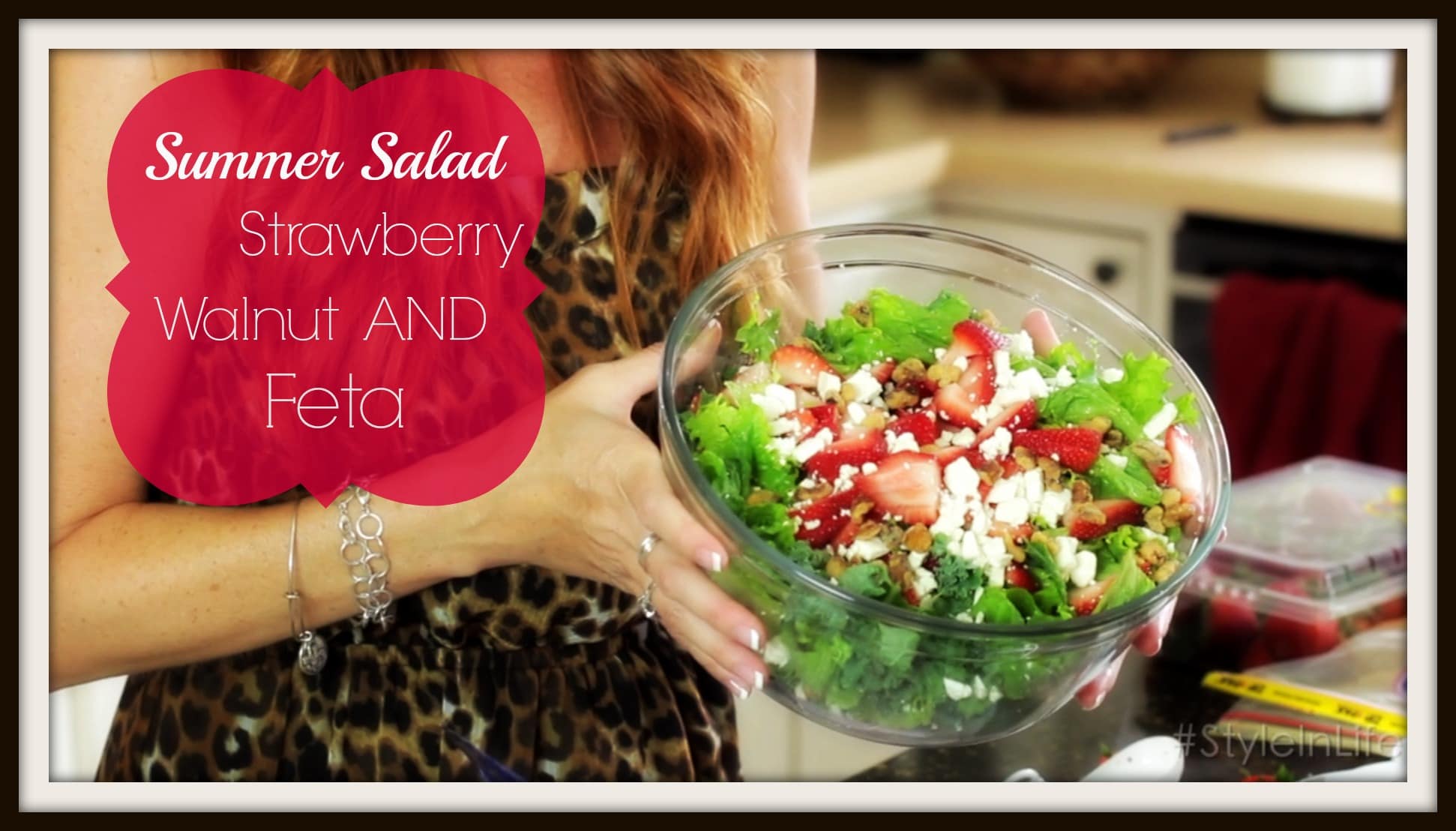 Now that Summer is actually here – and by actually, I mean the days are mainly warmer, I've been able to open the windows a few days and I've worn flip flops almost every day, I'm pulling out all of my favorite warm-weather recipes for BBQ's and fun-get-togethers. You know…. the ones everyone always requests when you come to a party?  I have friends who I beg to bring that amazing gooey butter cake or that to-die-for spinach artichoke dip (I best be careful or you might think I only go to parties for the food!).  When I go to events, I'm often asked to bring this certain Strawberry Salad – so I figured I might share the recipe with you.
Since 'Keeping Style in My Life' involves whipping things up in the kitchen, entertaining AND enjoying myself during these Summer months, here we go….
My no-longer-top-secret Strawberry Walnut Feta Salad Recipe:
Enjoy!
What are your favorite 'go-to' recipes for Summer? I'm always looking to try something new.
Thanks, as always, for watching.
If you are just looking for the recipe, this salad only takes only about 15 minutes to make.
You need:
1 cup of candied walnuts
2 cloves of minced garlic
1 teaspoon of honey
1 teaspoon of Dijon mustard
1/4 cup of raspberry or pomegranate vinegar
2 tablespoons of balsamic vinegar
2 tablespoons of brown sugar
1 cup of vegetable oil
1 to 1 1/2 heads of lettuce (I prefer romaine)
1 1/2 pints of sliced strawberries
1 1/2 cups crumbled feta
Whisk together all ingredients except lettuce, walnuts, strawberries and feta to create dressing. Toss remaining ingredients together to create salad…. sprinkle with dressing, toss and server. ENJOY!
This video is part of my 'Keeping Style in Your Life' Series…  I've loved focusing on everything from organization to favorite foods to easy hairstyles and wine.