During the Winter, family meals are mainly my territory.  I choose what we are having, I do the grocery shopping, I hit the kitchen and BAM – DINNER!  Or something like that.  But Summertime is a bit different in our home.  You see…. my husband loves to grill, so if I can come up with the recipe, I can do the 'indoor prep' and he can take care of the rest.  It becomes a team effort.
Even better, for the recipe I'm about to share with you, I actually had a hand in creating it. As I'm the furthest thing from Top Chef, this is especially exciting for me.  The dish is made up of ingredients my family loves AND ones you can easily find at your local farmer's market.  For this Summer, I have partnered with the National Pork Board to help create recipes that families can not only enjoy together, but also, ones that are truly affordable.
What is the dish, you ask?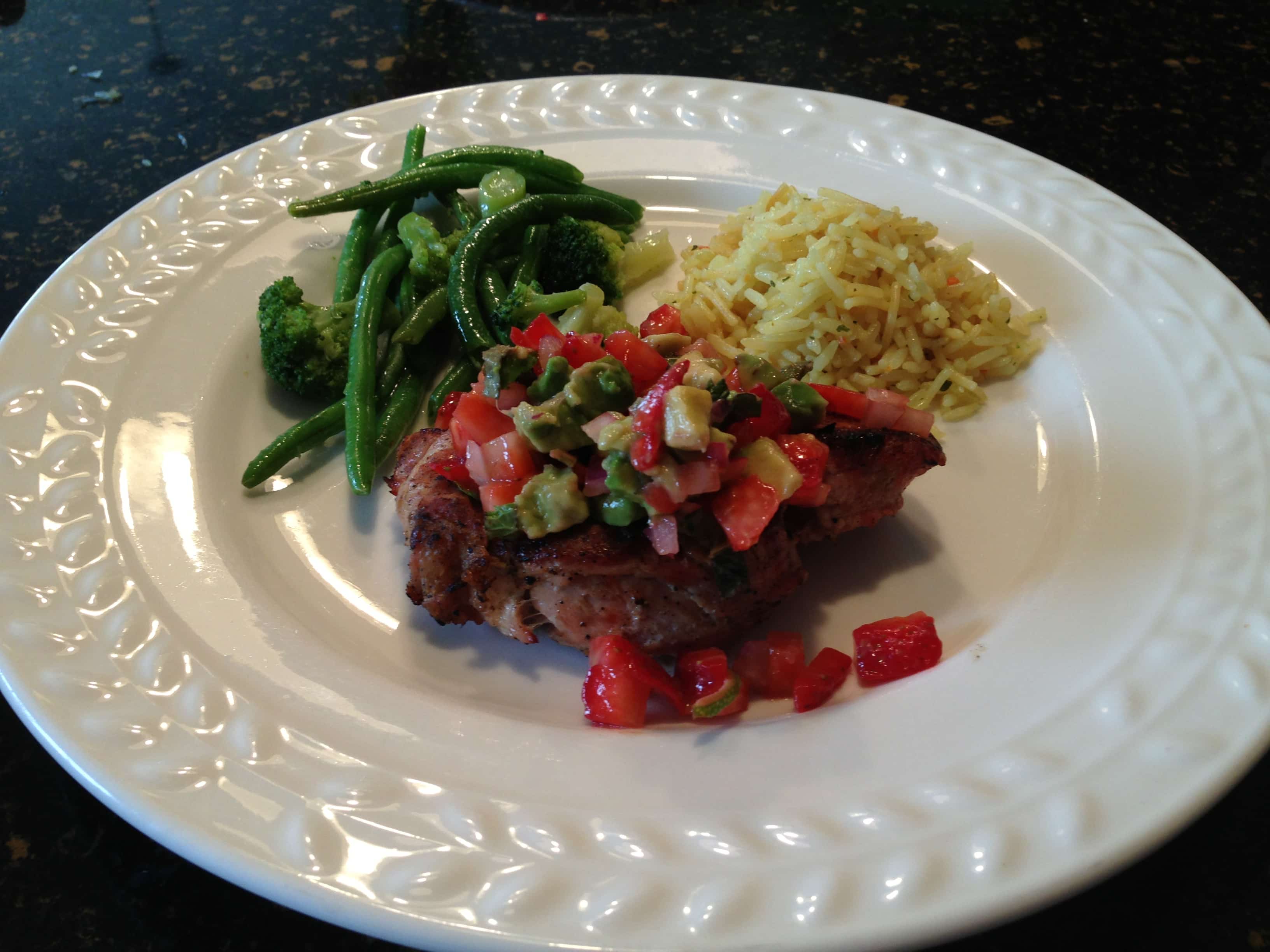 Grilled Pork Chops with Minted Strawberry Avocado Salsa
Cue: mouth watering.
We deliberately chose fresh, seasonal items for this dish to keep the cost down. Strawberries, avocado, mint and lime are all easy to find and inexpensive. According to the USDA this Summer, the New York Pork Chop is 62% less expensive than the New York Beef Strip Steak. (That's a huge savings for our family!) Now let's talk about 'New York Pork Chops'….beginning this Summer – the names of pork cuts will change at your local grocery store and butcher.  You will now see Pork Ribeye and Pork Porterhouse as well.  This is to help people like you and me easily identify and understand our favorite cuts as they will now match the same cuts we have always recognized with beef.
Additionally, we will also now know how to cook pork – as we will cook it as we have always cooked beef  – 145 degrees for medium rare and 160 for medium.
Are you ready for the recipe?
Grilled Pork Chops with Minted Strawberry Avocado Salsa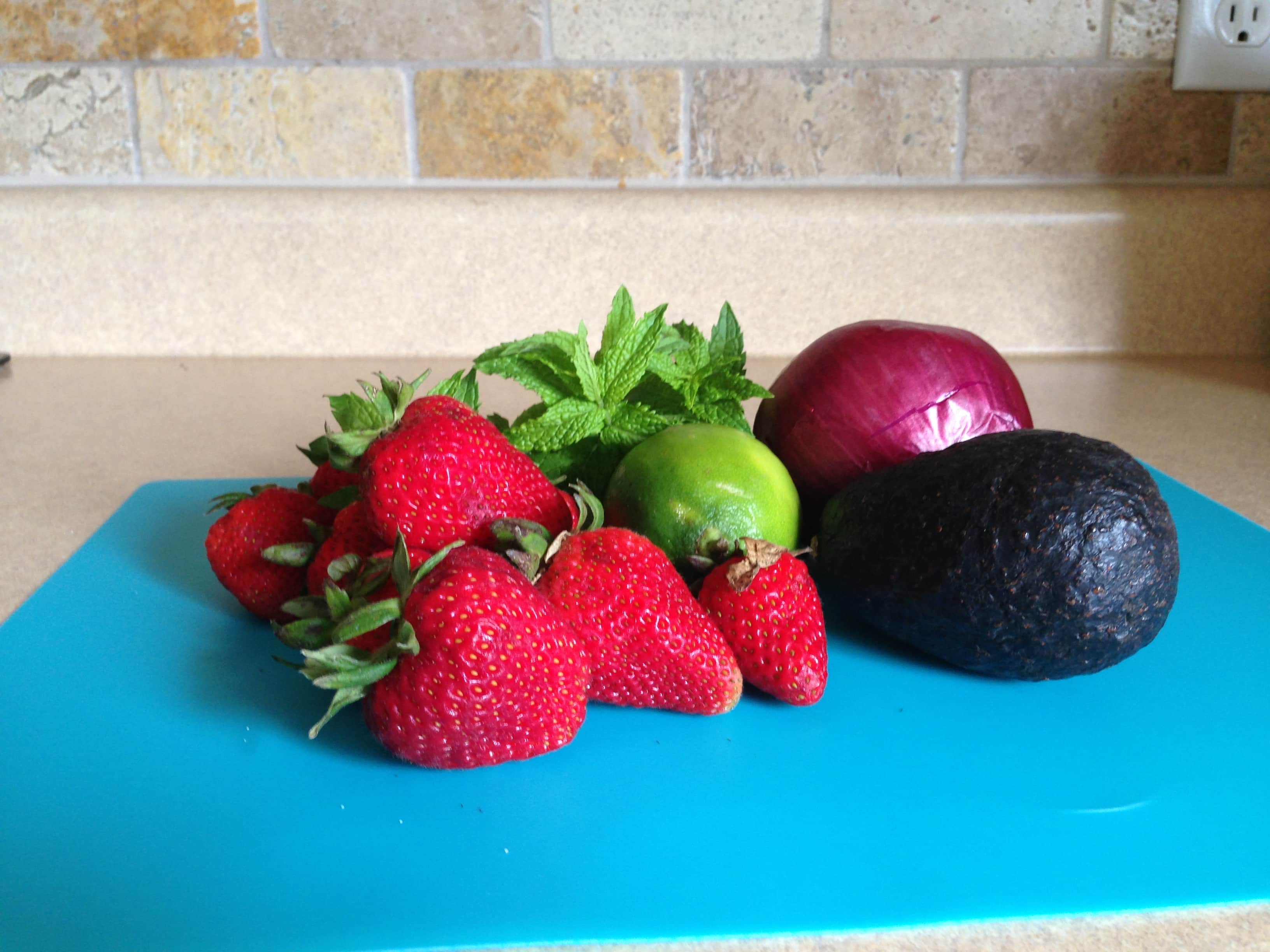 4 6-ounce boneless rib-eye or New York pork chops, about 3/4-inch thick
Salt and pepper
1 lime
1/2 avocado, peeled, pitted, and diced
4 ounces strawberries, diced
1/4 small red onion, diced
2 tablespoons chopped fresh mint
Prepare a grill to medium-high heat and lightly oil the grate. Season pork with salt and pepper and grill until internal temperature reaches 145 degrees F, about 4 minutes per side. Remove chops from grill and let rest 5 minutes. (I told you…. this was my husband's territory – and he did a phenomenal job!)
Meanwhile, zest lime. Juice lime to yield 1 tablespoon juice. In a medium bowl, combine zest, juice, avocado, strawberries, onion, and mint. Add salt to taste.
Serve chops with salsa on top.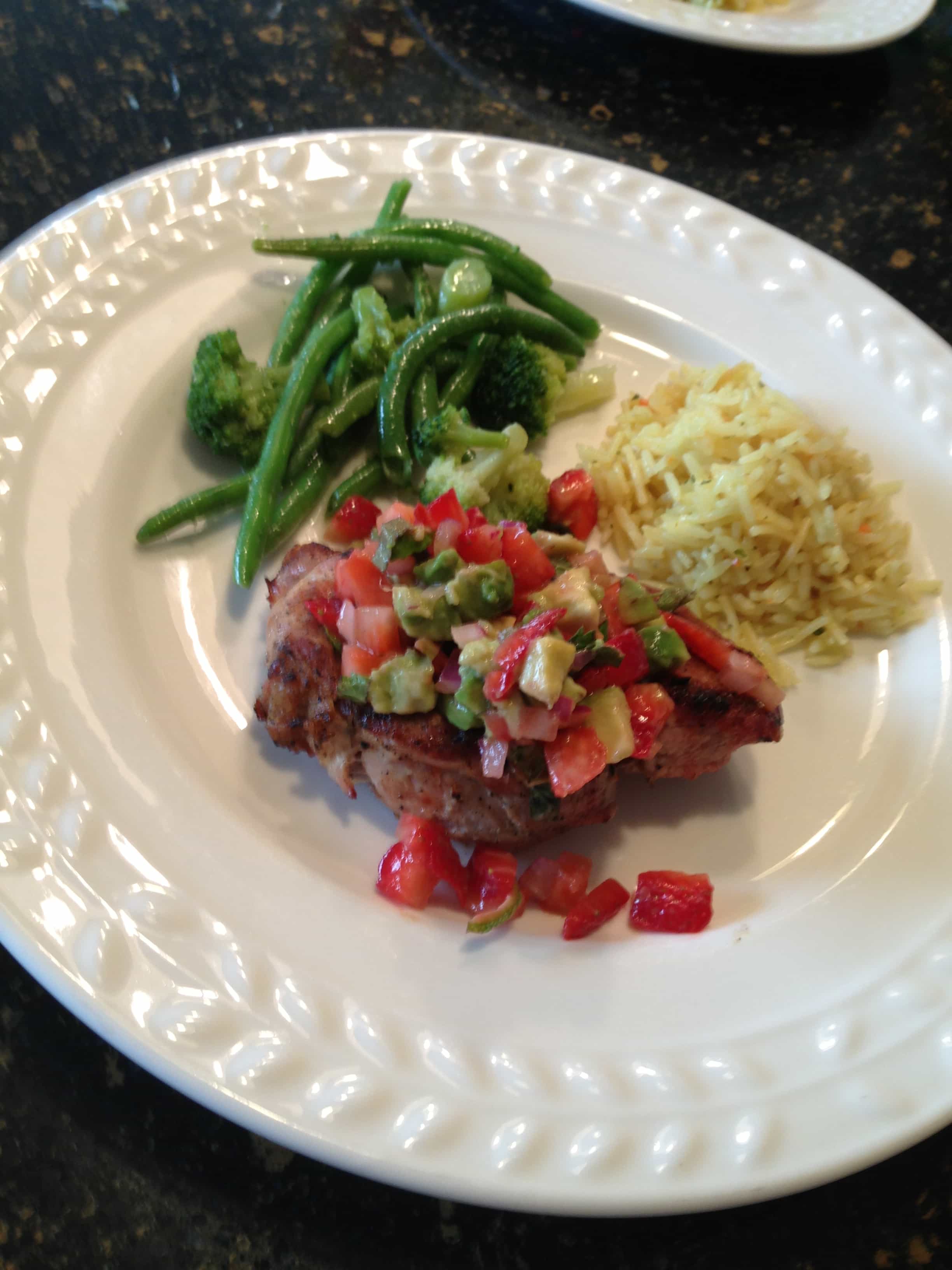 My favorite things about this meal included the fact that my small dude asked for me to make it again the same week and of course, that it is affordable. A few weeks ago, as a spokesperson for this project, I chatted with local TV and radio stations around the country, as well as a number of websites about a the name change for cuts of pork, I shared this recipe and we talked about other recipes like this one – as this Summer you can find '10 for $10′ on PorkBeInspired.com. That is 10 different recipes that can feed a family of 4 for $10 or less – all created by moms like me.
Disclosure: I am excited to have teamed up with the National Pork Board as a spokesperson for Summer Grilling Season and even more delighted to have helped to create this recipe (and another one I'll be sharing soon). Think Grilled Pork Wraps with Feta.