My head it spinning. In just a few weeks, I will have a small girl bound for her second year of high school and a buddy entering his last year BEFORE high school. How is that even possible?
The last weeks of this school year are packed. And by packed…I mean I have five out of town trips between now and her graduation, three weekend charity events, my parents visiting twice and parties to plan – I mean – this girl will be celebrating both her Confirmation AND her graduation from 8th grade (she has been at her current school for nine years). So, these milestones are cause for serious celebration.
To that end, I wanted to share a crowd-pleasing recipe you can serve for a family celebration (like ours) or even for the upcoming holiday parties I know you will have (think ahead for Memorial Day and the 4th of July). Can you tell I have Spring and Summer on the brain?
Let's hop to it – this is one you are going to LOVE. It serves up to 16 and will disappear before you know it.


Perfect Recipe for Entertaining – Mixed Slab Berry Pie
Ingredients
Pie Crust
5 cups flour

Pinch of salt

4 teaspoons sugar

2 cups cold butter, cut into cubes

1 cup cold water

1 cup ice

¼ cup apple cider vinegar
 Filling 
8 cups mixed berries, divided

½ cup honey

½ cup orange juice

5 tablespoons cornstarch

pinch of salt
Egg Wash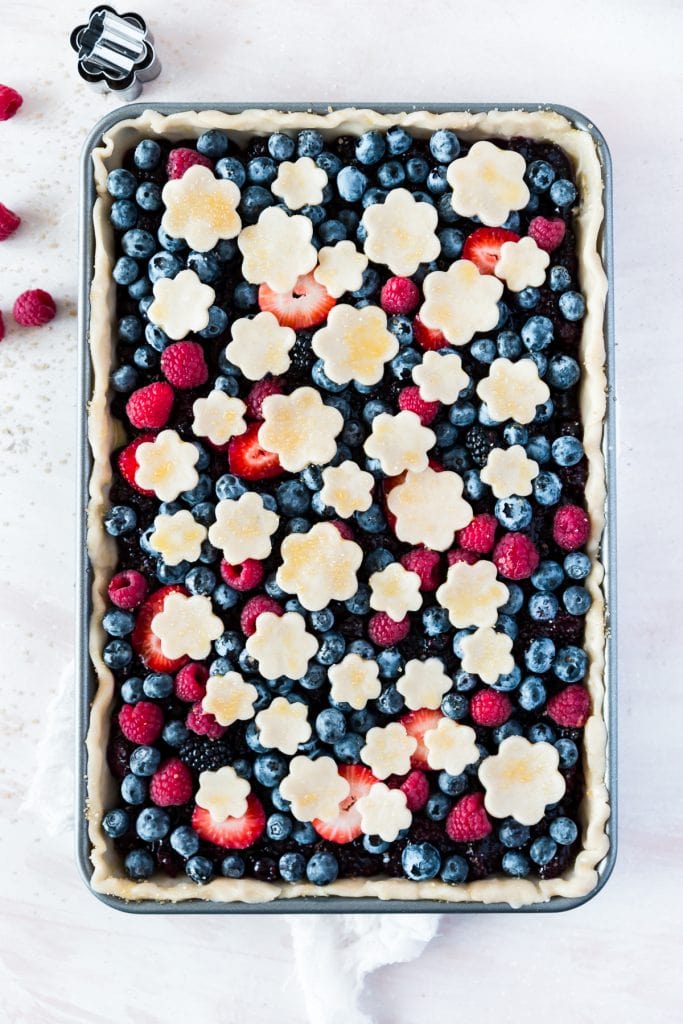 The Great How-To: Instructions
Pie Crust
Place flour, sugar, and salt into a large bowl (these are my favorite). Cut butter into chunks, and add to the flour. Toss lightly to coat. Working quickly, using a pastry blender or your fingers, cut the butter into the flour mixture until there are only pea-sized chunks left. You want a few lumps of butter remaining to keep the pastry nice and tender.
Combine ice, water, and cider vinegar in a bowl. Sprinkle a few tablespoons of the ice water into the flour and butter mixture, and using a stiff spatula or your hands, mix in well. Continue adding water a tablespoon at a time until you have a dough that holds together well, but is not too wet, roughly 16-20 tablespoons. Squeeze together with your fingertips to make a homogenous dough, then shape into a rectangle and wrap tightly in plastic wrap and refrigerate for at least 3 hours, preferably overnight.
Before rolling, remove dough from the fridge and let sit for 10-15 minutes on the counter. Take ½ of the dough and roll it between two pieces of parchment paper or plastic wrap to keep it from sticking to the pin. Roll it 2–3 inches larger than your pan, a 13×9 inch ¼ sheet pan, ⅛ inch thick rectangle. Retain leftover scraps and refrigerate pan and leftover dough while preparing the filling.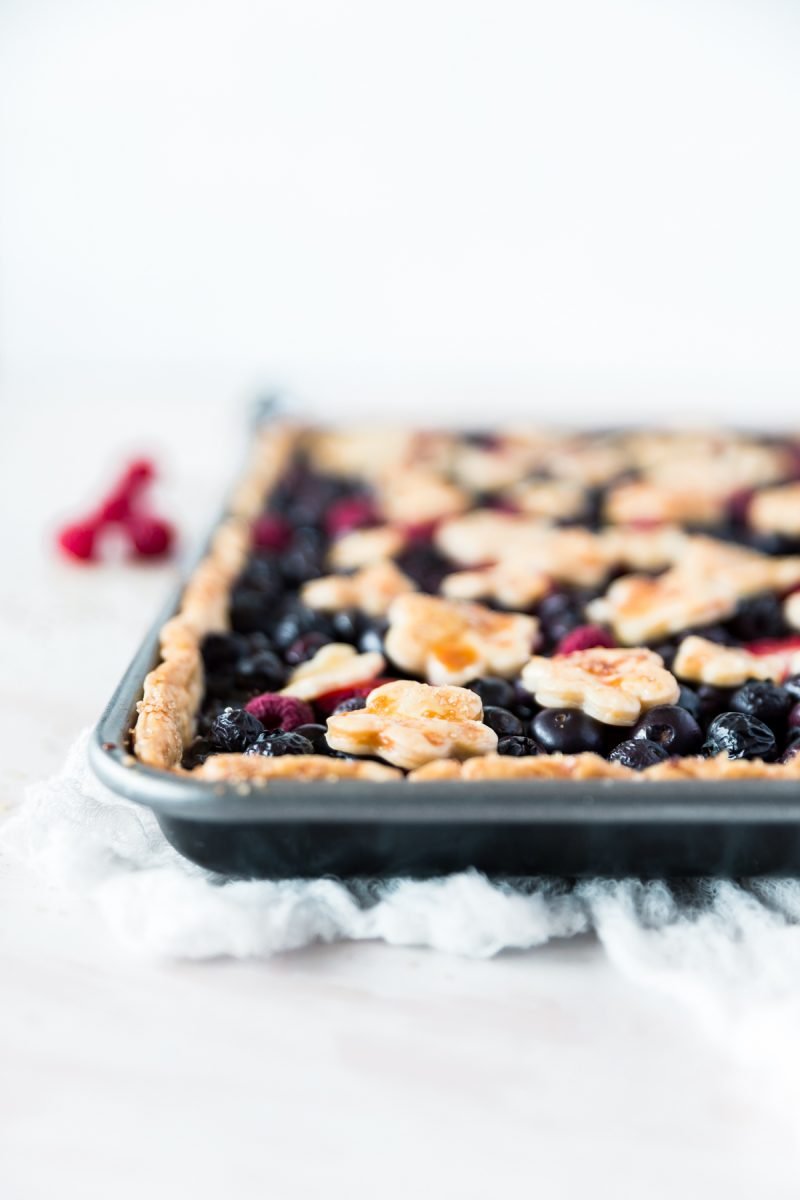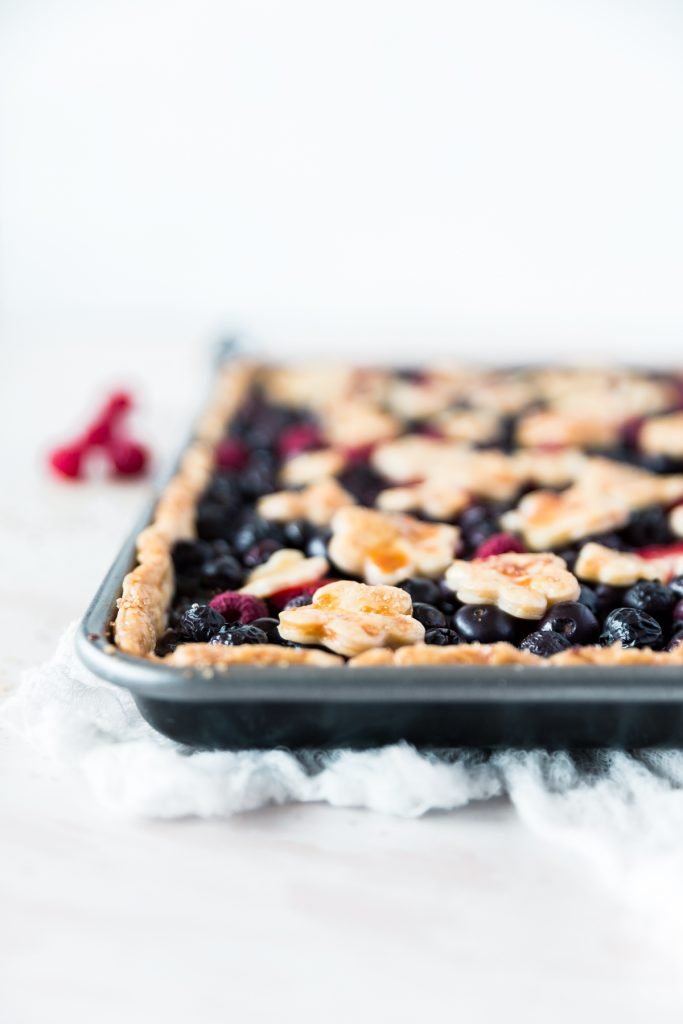 Filling 
Place 5 cups of the berries into a large saucepan along with the ½ cup honey. Whisk together the orange juice and cornstarch and a pinch of salt and stir into the berry mixture. Turn the heat up to medium and bring the mixture to a low simmer, stirring occasionally until the mixture begins to thicken, breaking some of the berries with the back of a wooden spoon to release their juices. Once thick and juicy, around 10 minutes, remove from heat and stir in remaining 3 cups of berries. Let the mixture cool while cutting out the shapes for the top. Add additional sweetener, if necessary, to suit your taste.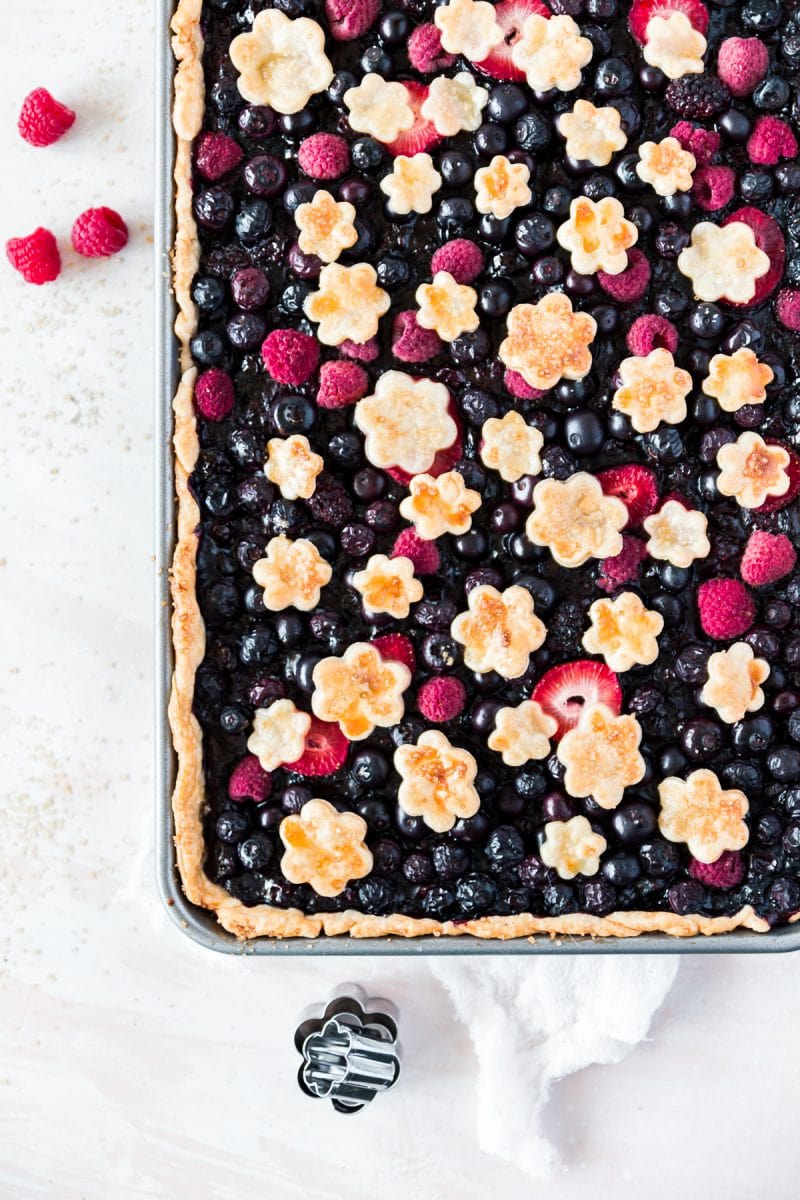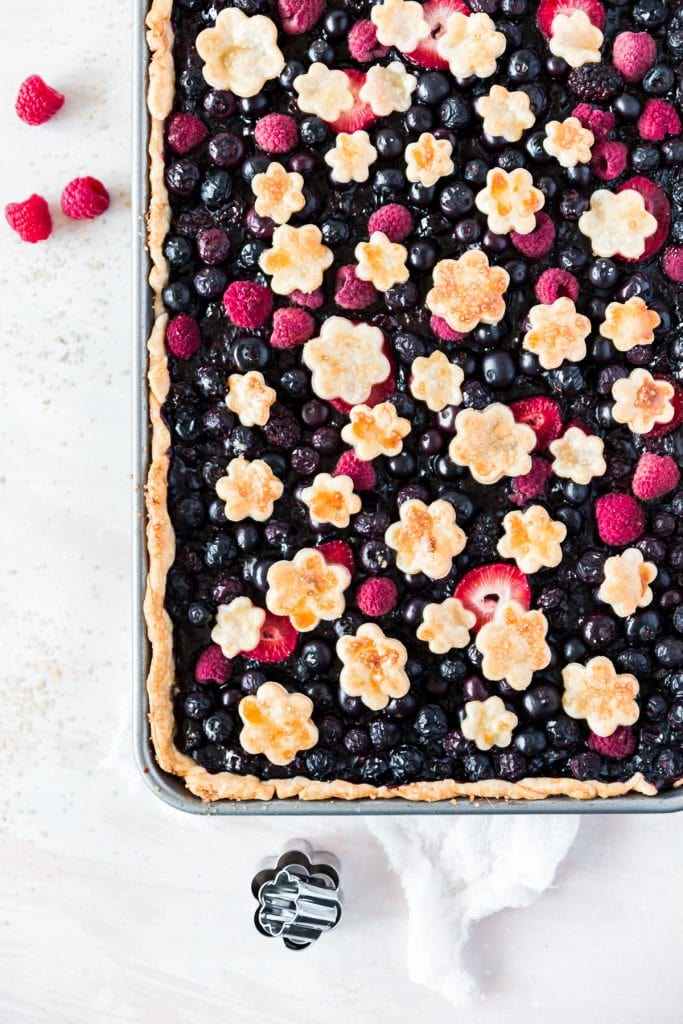 Preparing the Pie
Preheat oven to 375 degrees. Remove prepared pan from the fridge and gently add the berry mixture, spreading it out carefully in a uniform fashion. Place dough shapes over the top of the berry mixture, then whisk together the egg and water in a small bowl and gently brush over the dough shapes and the edge of the pie. Sprinkle with turbinado sugar, then place in the oven to bake for 30-40 minutes, checking around the 20 minute mark to see how the crust is browning. If the edges are getting too dark, gently cover with a small strip of aluminum foil. Bake just until the filling is bubbling and the crust is golden brown. Remove from oven and allow to cool completely before cutting into squares and serving.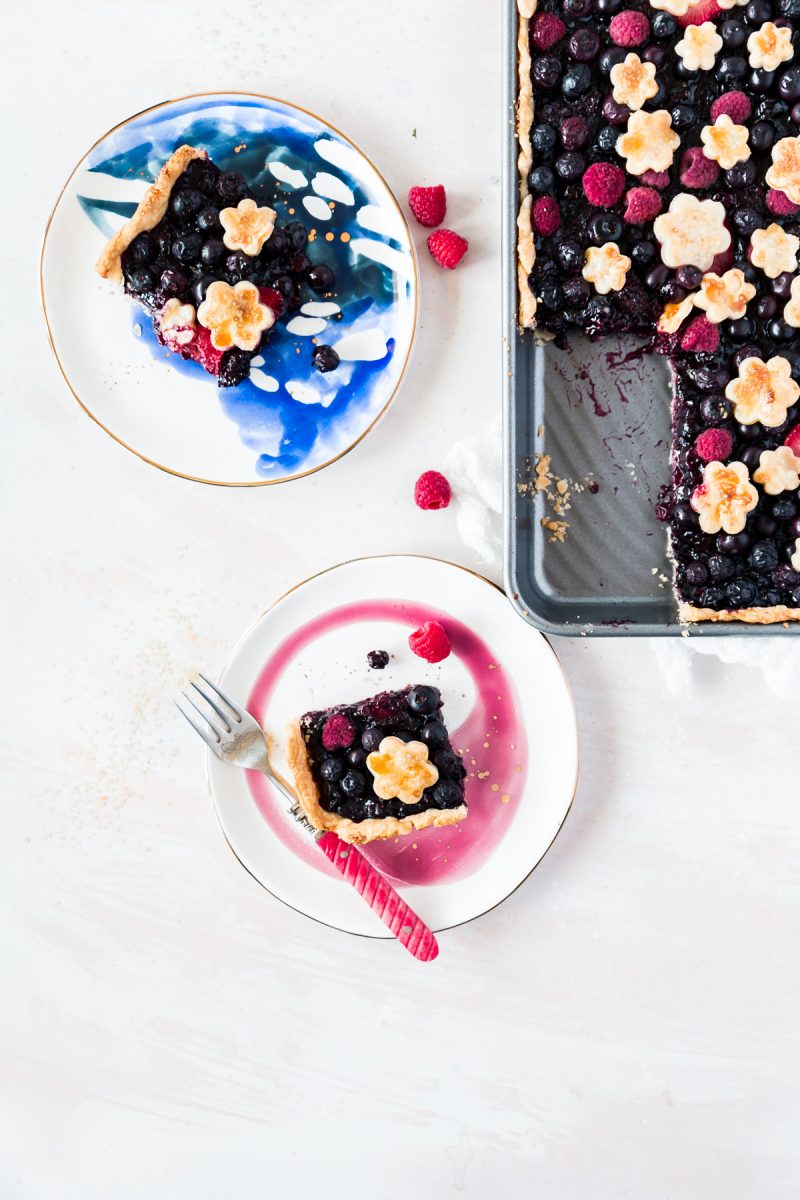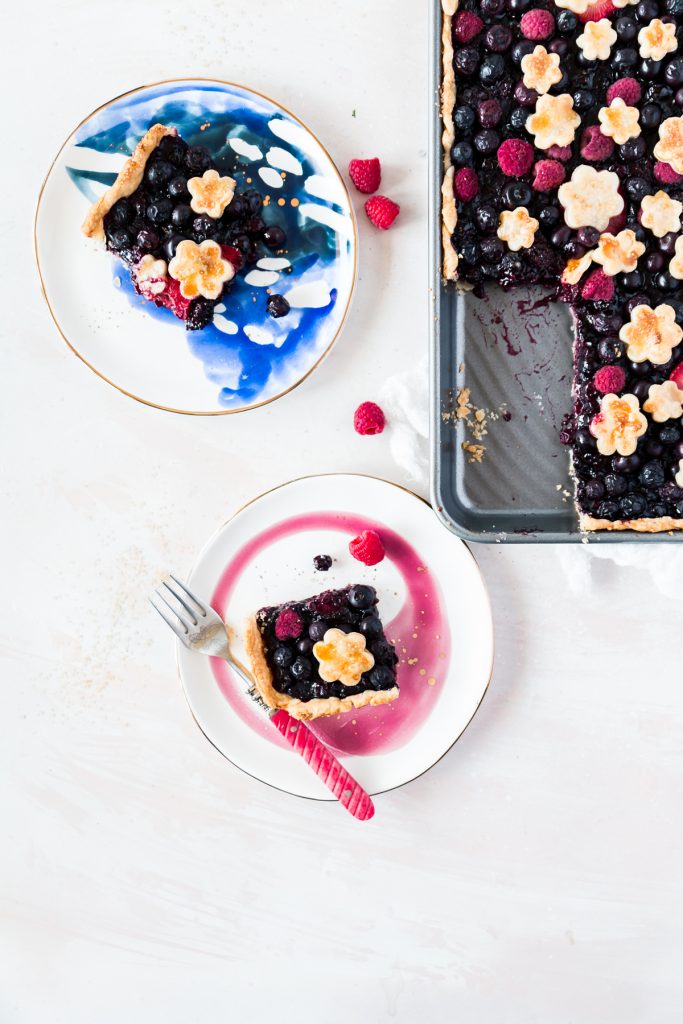 Final Notes:
Prep Time: 20 minutes

Passive Time: 3 hours

Cook Time: 40 minutes
Ohhhh….and enjoy!