I realize Fall temperatures have not officially arrived in most of the country just yet, but I promise you, they will come. They always do. And when the air chills, the sky greys, I long for warmth and comfort.
Yes, I do often find that comfort in food – most specifically the foods that provided me comfort when I was little. Or, at least some version of them.
One of the first dishes that comes to mind? One my grandmother always made – only when it was chilly outside and only when she could tell I needed it….grilled cheese and tomato soup. Since she passed a few years ago, that meal has taken on a new, nostalgic meaning.
The other comfort dish – one that I have passed on to my kids – mac and cheese. Yes, I started them early – and for them, I'd venture to say it is more that simply comfort food. It is a favorite. Since I'd hate for you to be bored with the basic dish, I thought I'd spice it up by combining it with a little 'Taco Tuesday' Action.
Allow me to tantalize you with the deliciousness and ease that is Turkey Taco Mac & Cheese.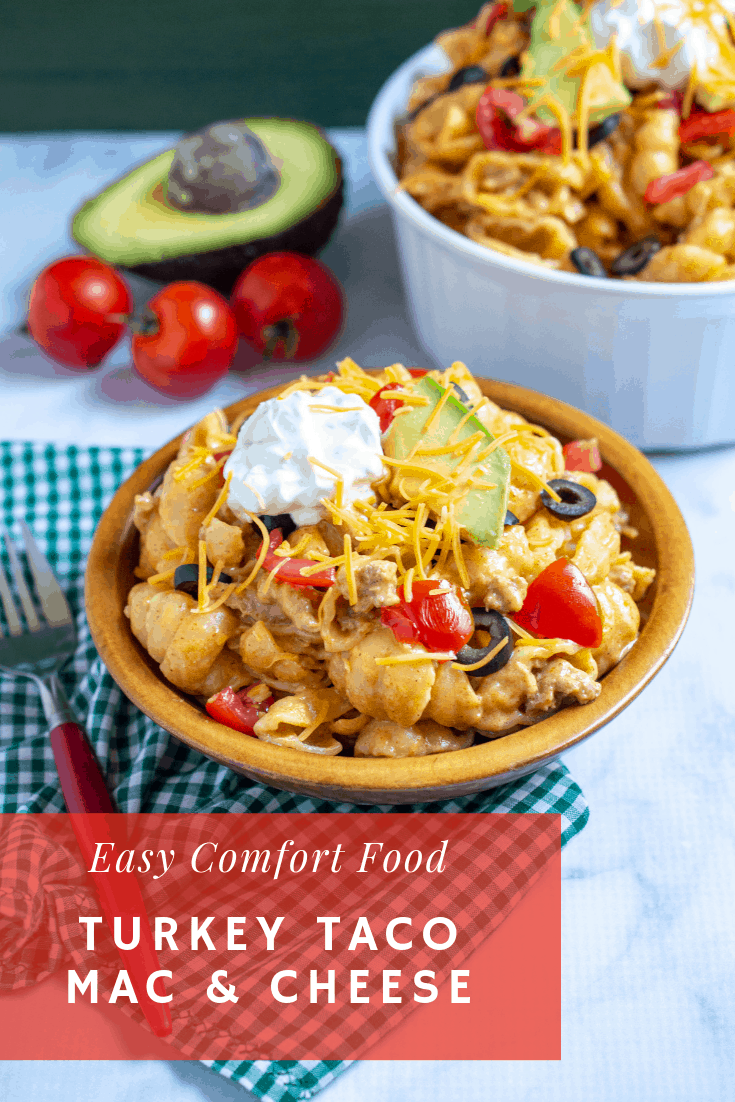 Turkey Taco Mac & Cheese
Is it easy to make? You bet. Will you love it? You bet? Will your kids love it? Of course they will.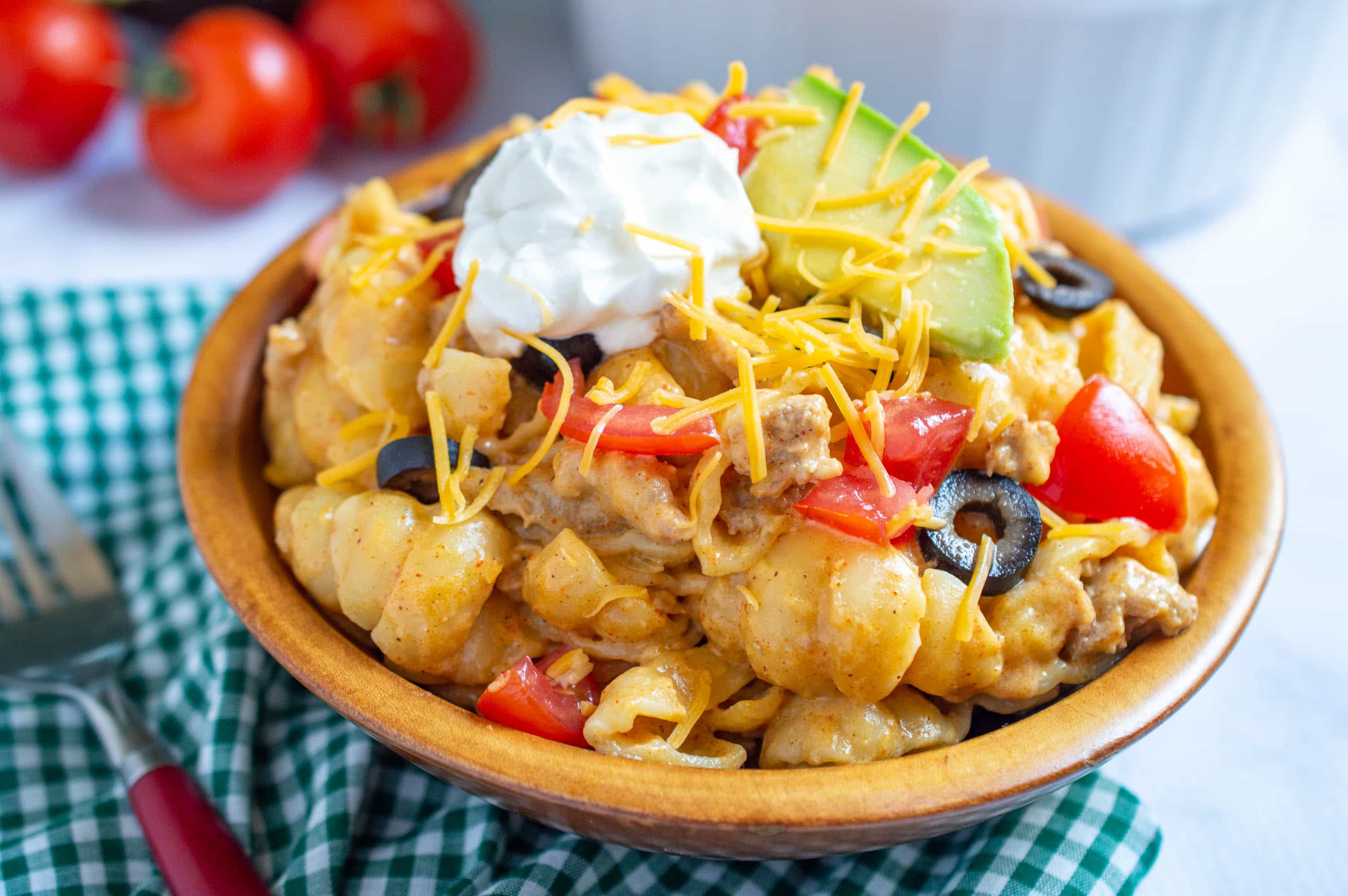 Let's get started. Here's what you need:
Ingredients:
1 lb pasta (I used gnocchi shaped pasta…not actually potato gnocchi)

1 ½ lbs ground lean turkey

3 tablespoons salted butter

1 small/medium onion, chopped

2 ½ cups whole milk

1 tablespoon cornstarch

2 tablespoons cold water

¼ teaspoon salt

½ teaspoon ground black pepper

2 teaspoons garlic powder

⅓ cup sour cream

1 pouch taco seasoning mix (1oz)

1 cup mild cheddar cheese

1 cup cheddar jack cheese

1 ½ cup 4 cheese mexican blend (Monterey Jack, Asadero, Queso and Cheddar)

For garnish: sliced black olives, chopped tomatoes, sour cream, avocado, shredded cheese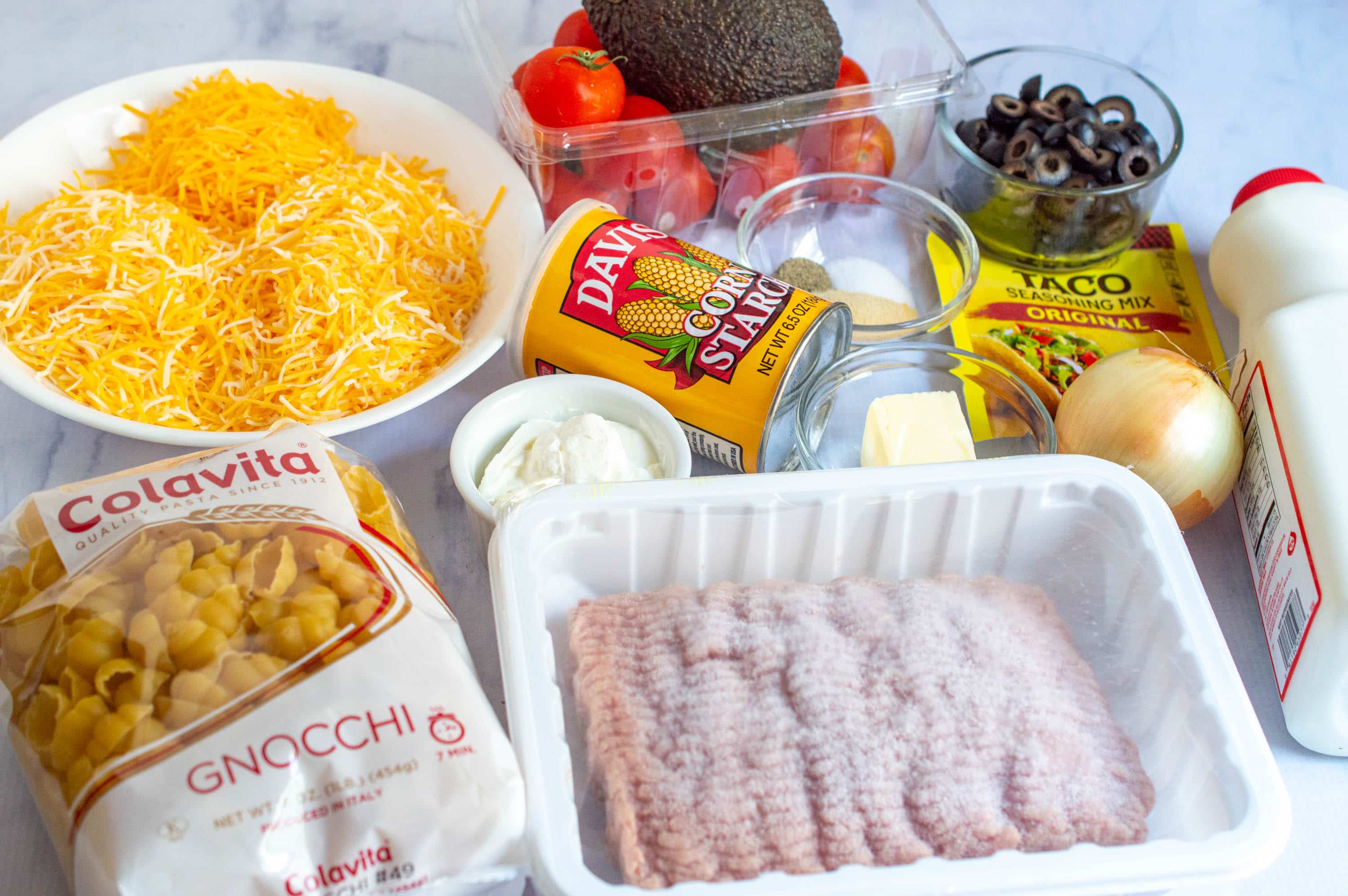 Directions:
In a large pot with salted water, cook pasta according to package directions until al dente.

While pasta is cooking, brown turkey in a pan and drain.

When pasta is done, drain.

In the same pot, melt butter over medium heat.

Add onions and cook until translucent, about 5 minutes.

Add milk.

Combine cornstarch and water in a small bowl and add to the pot, whisking, along with salt, pepper, and garlic.

Add sour cream and whisk until combined.

Add taco seasoning and whisk until you see no lumps.

Put in all of your cheese and whisk until smooth.

Return drained pasta to the pot along with drained turkey.

Stir with a large spoon until fully incorporated.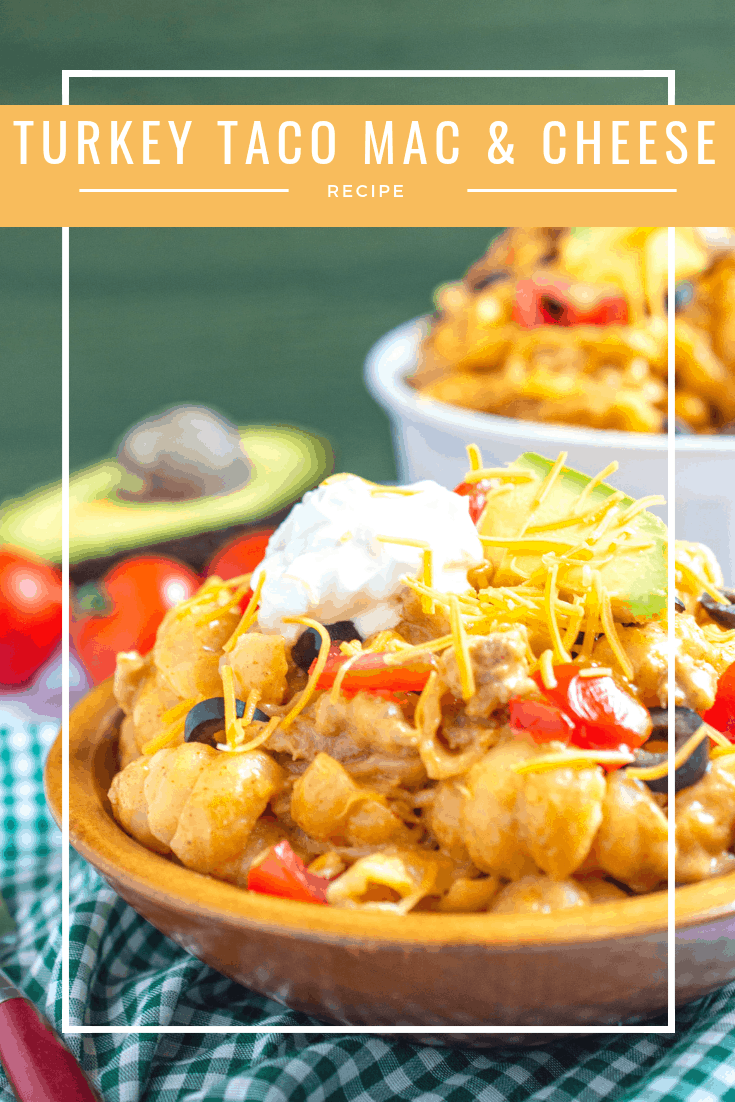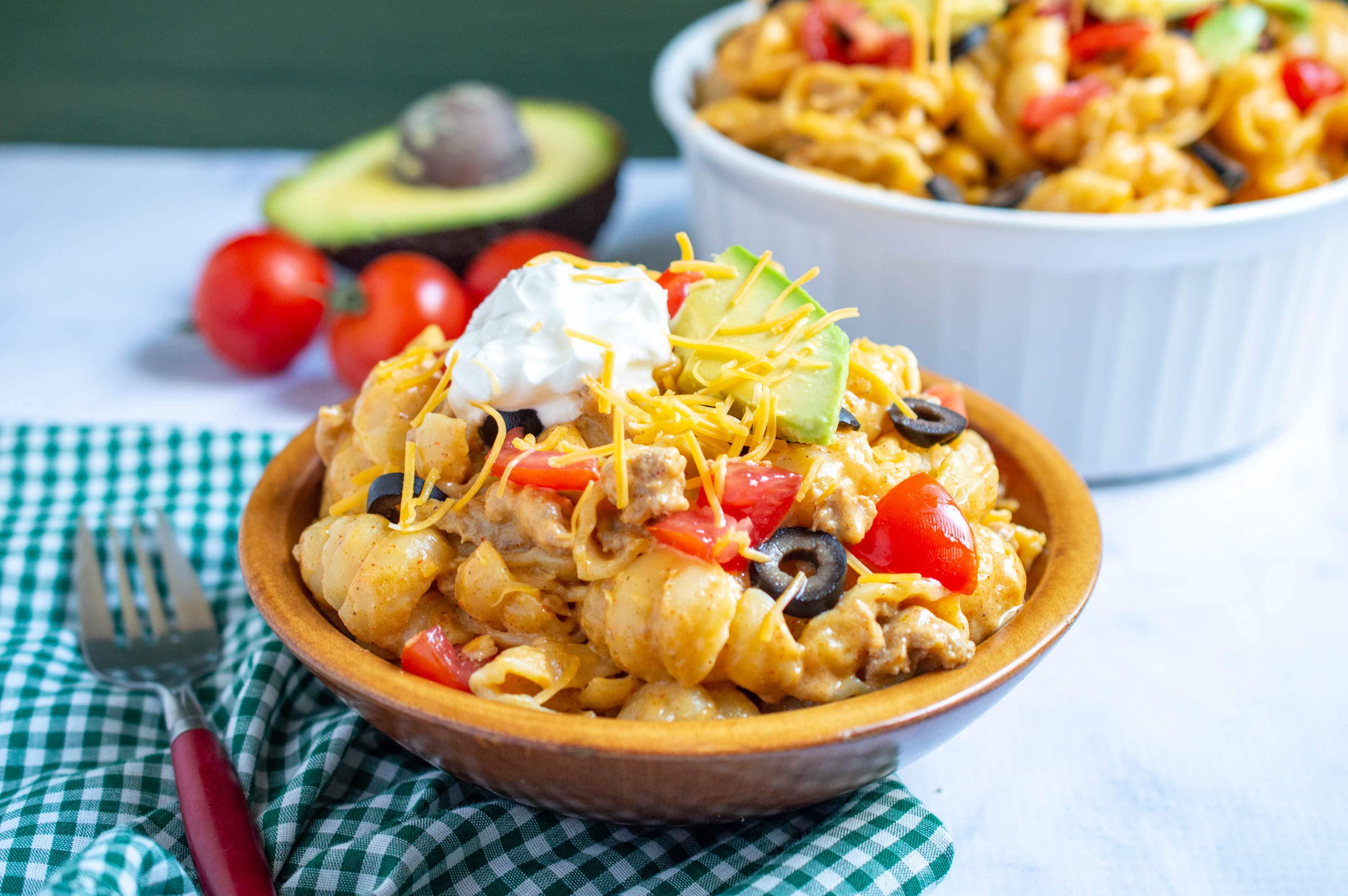 Garnish with your favorites (we LOVE fresh avocados, but you may also love cherry tomatoes, black olives and of course EXTRA CHEESE – you know you can't resist!) and enjoy.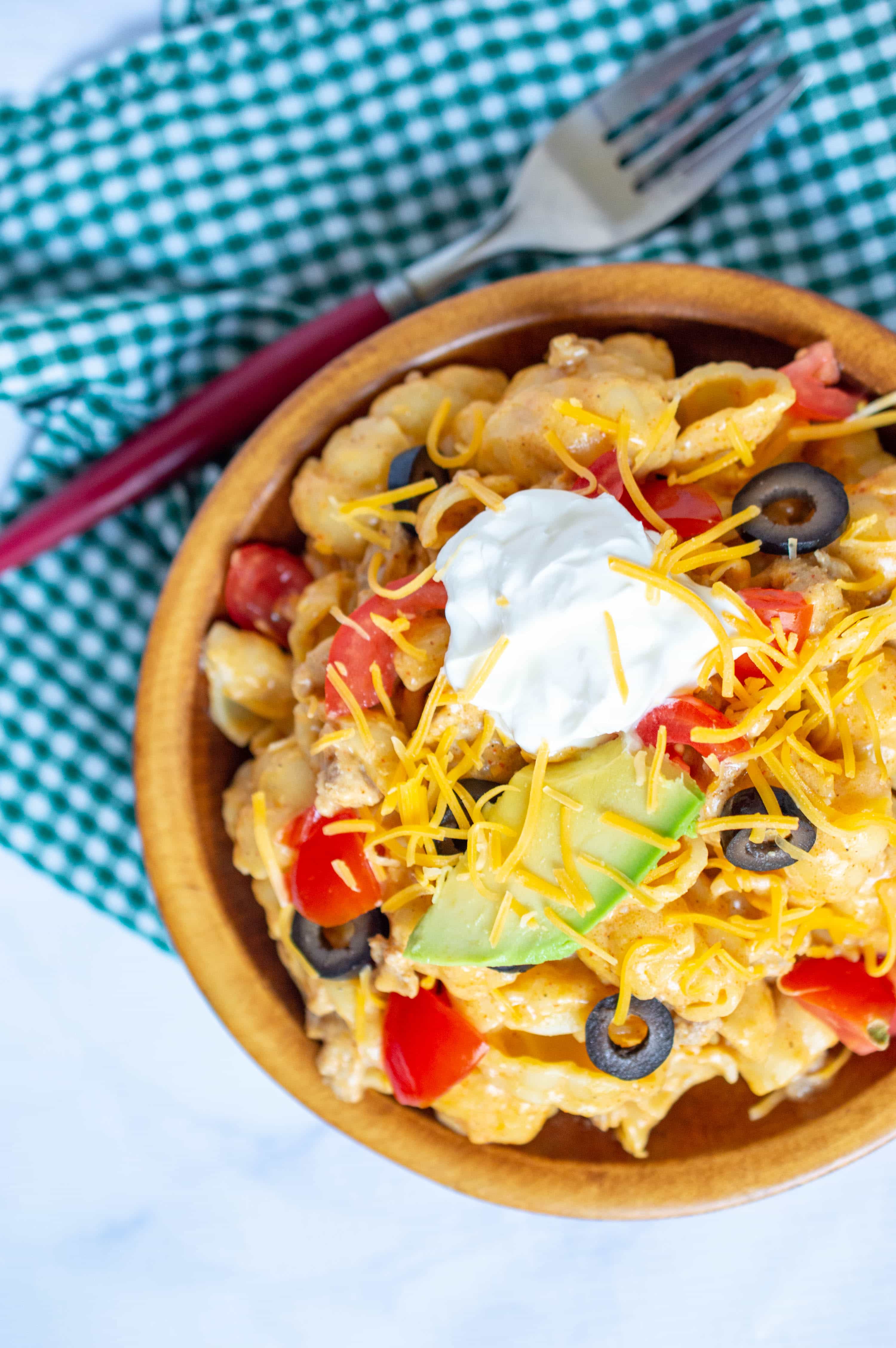 A few extra tips to help you in the kitchen:
I used frozen ground turkey. Un-frozen/thawed would work fine.
Use reduced sodium taco seasoning to reduce sodium.
Use your favorite cheese(s) instead of the ones listed to make it your own!
Looking for a healthier alternative – check this out: Cauliflower Mac 'n Cheese.