Raise your hand if you love the holidays.
Me too. Now put those hands back down because you and I have some baking to do. I promise you, this recipe (and photos!) will have you drooling.
Not only do I adore the joy and many celebrations that come with this time of year, I can't get enough of spoiling the people I love. Gift giving has long been my love language and *gifting* amazing food is so simple. It is a way of letting friends and family know you care. I love the tradition of having certain foods that help to create memories. My small people will grow up associating the aromas of baking with the holidays.
Here is a dessert recipe I'm confident you will want to add to your rotation. It combines two of my favorites: Cheesecake and Pumpkin Pie.


Pumpkin Pie Cheesecake
Cheesecake:
16 ounces full-fat cream cheese, softened to room temperature

3/4 cup granulated sugar

1/4 cup sour cream

1 teaspoon vanilla extract

1 tbsp all-purpose flour

3 large eggs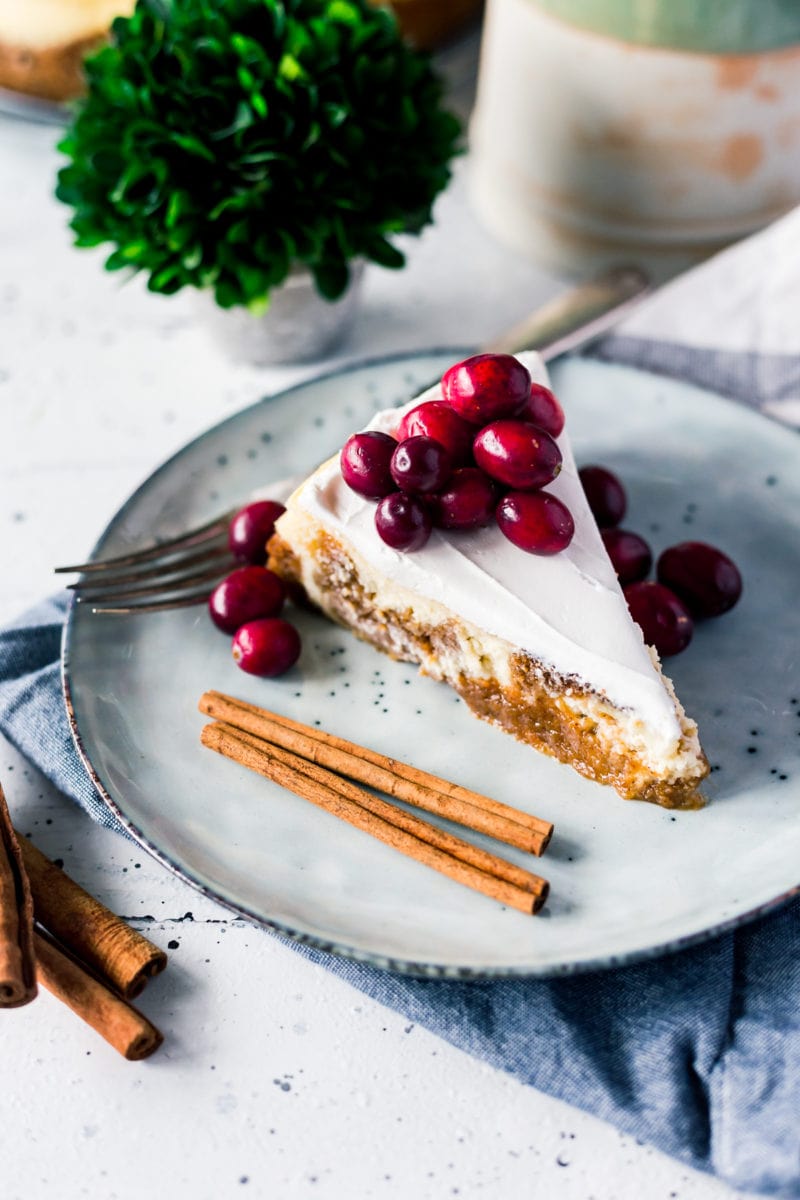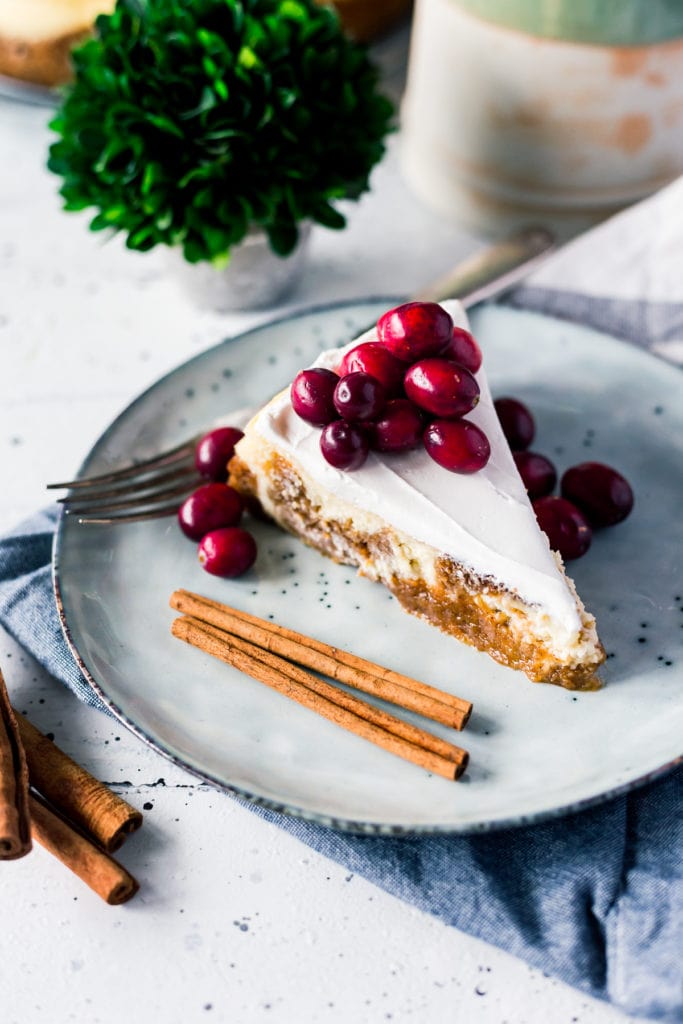 Pumpkin Pie:
3/4 cup canola oil

1 cup packed light brown sugar

2 large eggs

1 teaspoon vanilla extract

2/3 cup pumpkin puree

1 cup all-purpose flour, spooned and leveled

1 teaspoon baking soda

1 1/2 teaspoons ground cinnamon

1 teaspoon pumpkin pie spice

1/4 teaspoon salt
Adjust oven rack to the lower-third position and preheat the oven to 350 degrees. Spray a 9-inch springform pan with nonstick cooking spray, then wrap aluminum foil around the bottom and tightly around the outside walls of the springform pan. This will prevent water leaks.
Prepare the cheesecake first: Using a stand mixer fitted with a paddle attachment, beat the cream cheese and granulated sugar together on medium speed for about 3 full minutes or until the mixture is smooth and creamy. Add the sour cream, vanilla, and flour and beat until combined. On low speed, add the eggs one at a time, beating after each addition until just blended. Do not overmix the filling after adding the eggs. Set aside.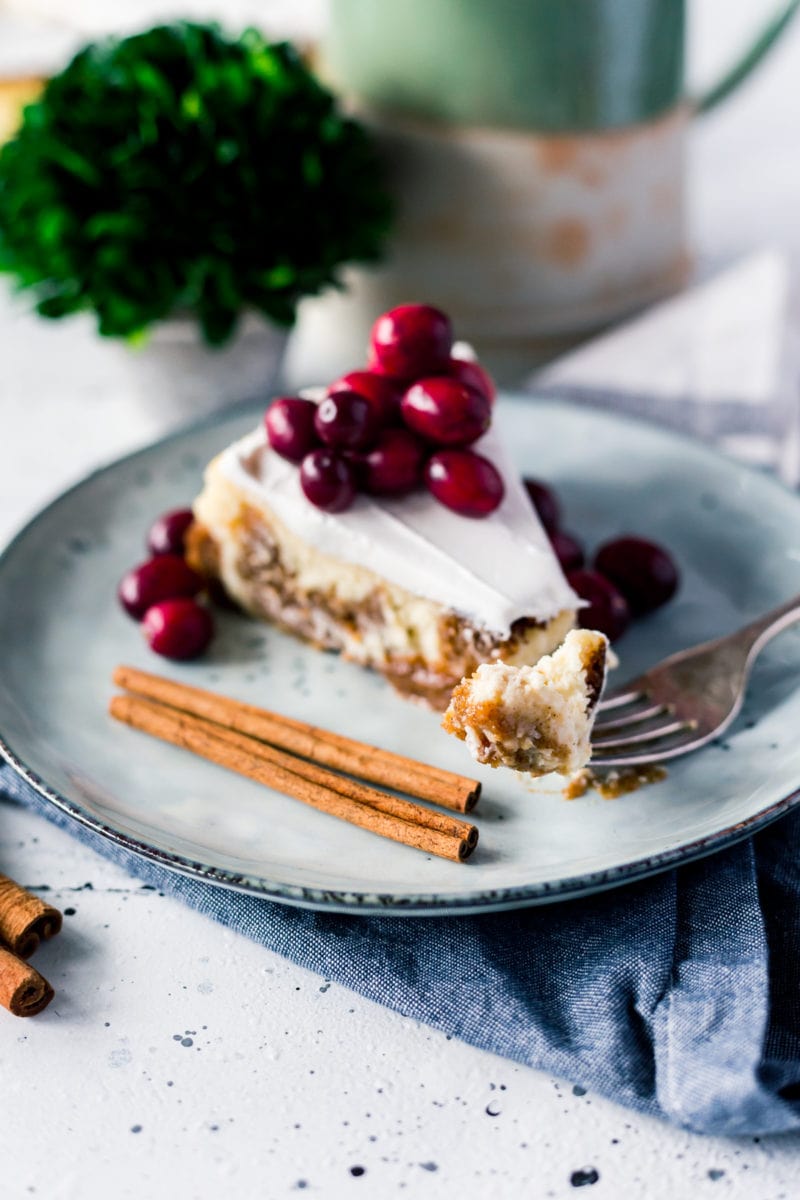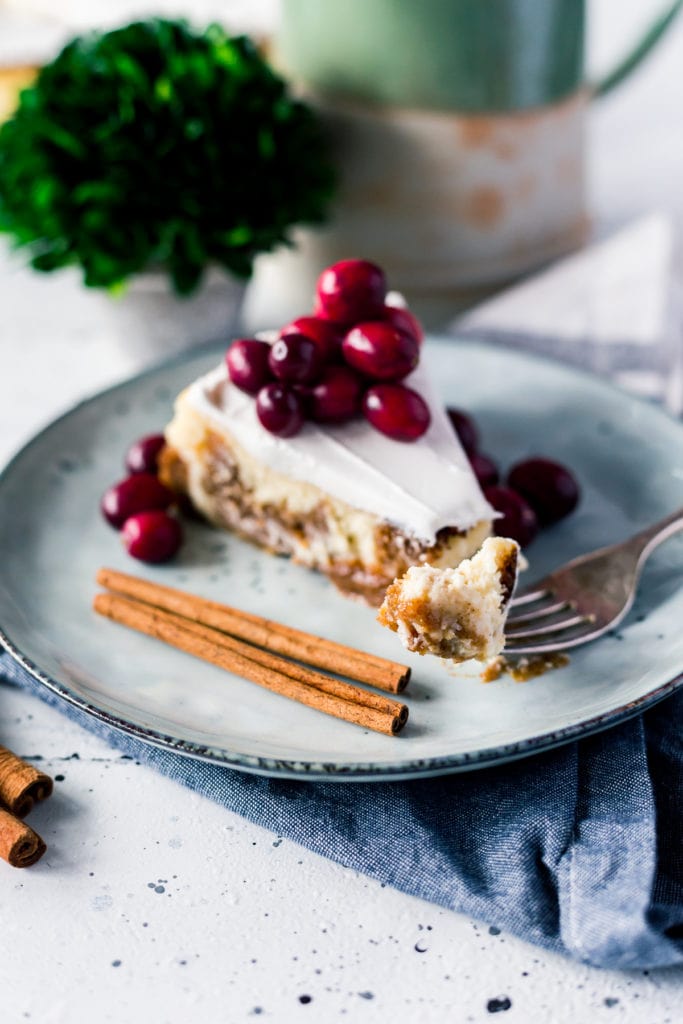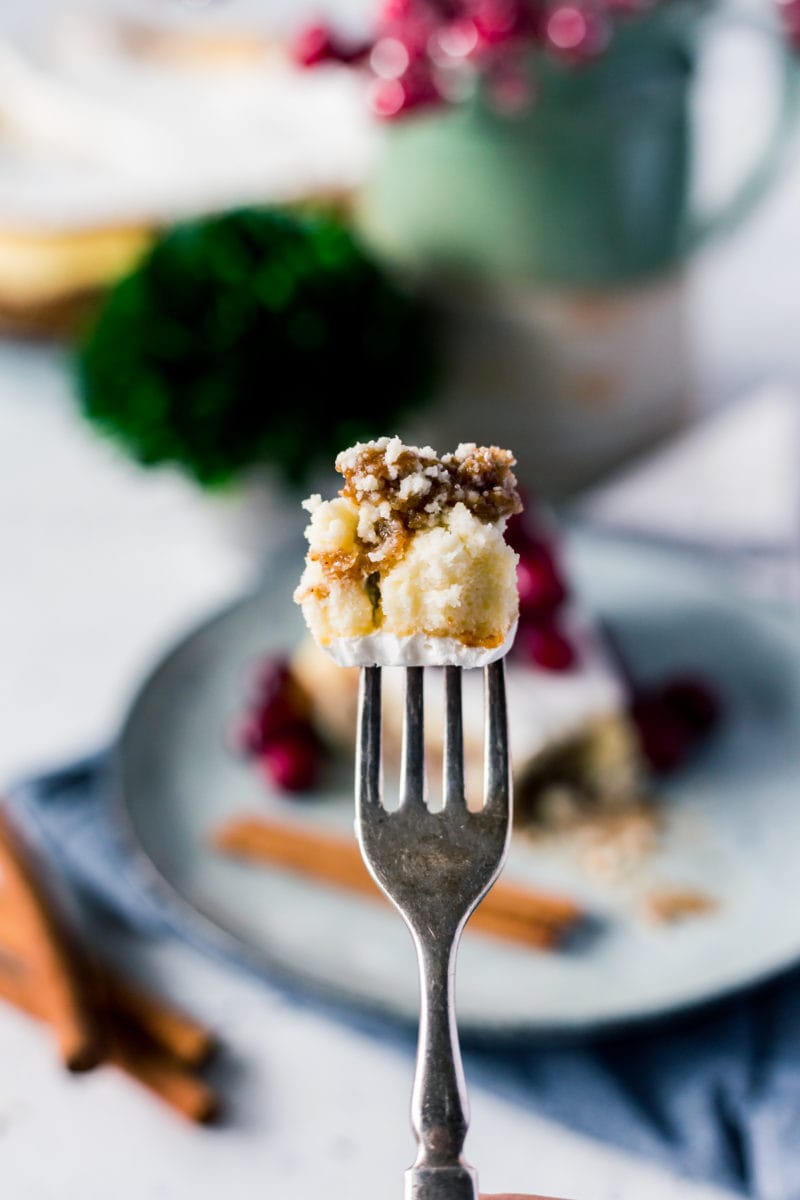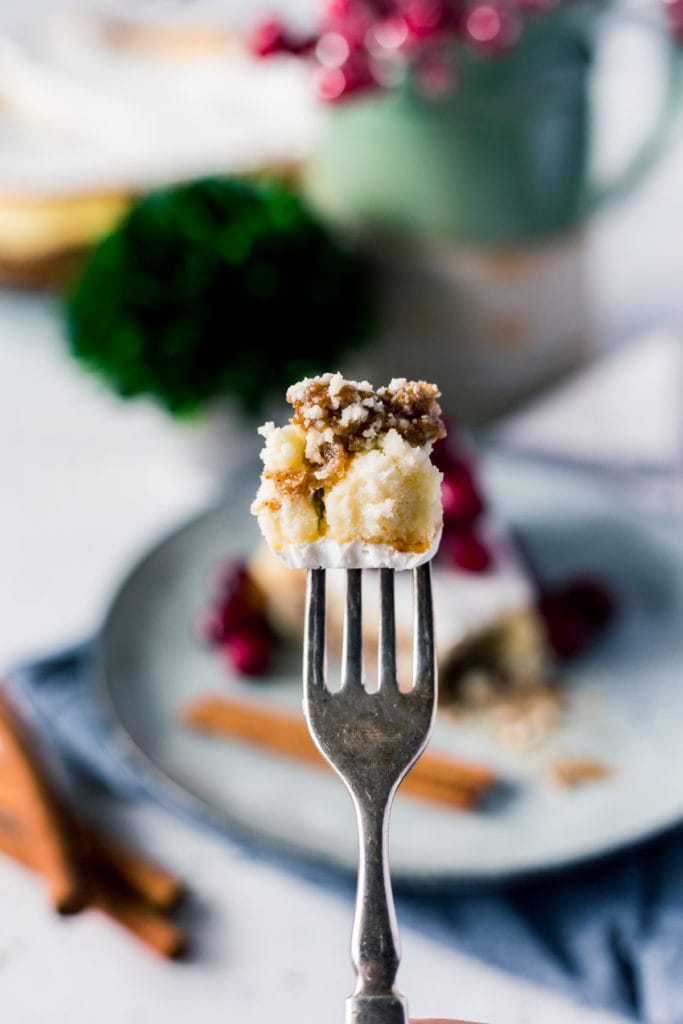 Prepare the pumpkin pie: In a medium bowl, whisk together the canola oil, brown sugar, eggs, vanilla, and pumpkin puree until combined and uniform in texture. In a large bowl, whisk the flour, baking soda, cinnamon, pumpkin pie spice, and salt together. Add the wet ingredients into the bowl with the dry ingredients and fold until no large lumps remain. Avoid overmixing the pumpkin pie batter.
Spread a thin layer of pumpkin pie batter over bottom of prepared pan. On top of the pumpkin batter, drizzle large spoonfuls of the cheesecake batter. Top with large spoonfuls of remaining pumpkin cake batter and repeat with remaining cream cheese batter. Do not swirl with a knife.
Place the springform pan into a large roasting pan and place into the oven. Fill with about 1 inch of hot water. The foil wrapped around the pan will prevent water from leaking inside.
Bake for 70-85 minutes or until the center is almost set. Loosely place a sheet of aluminum foil over the cake if the edges start to brown. Once done, turn the oven off and open the door slightly. Let the cheesecake sit in the oven for 1 hour. Remove from the oven and allow to cool completely at room temperature. Refrigerate for at least 6 hours or overnight. Loosen the cheesecake from the rim of the pan and remove the rim.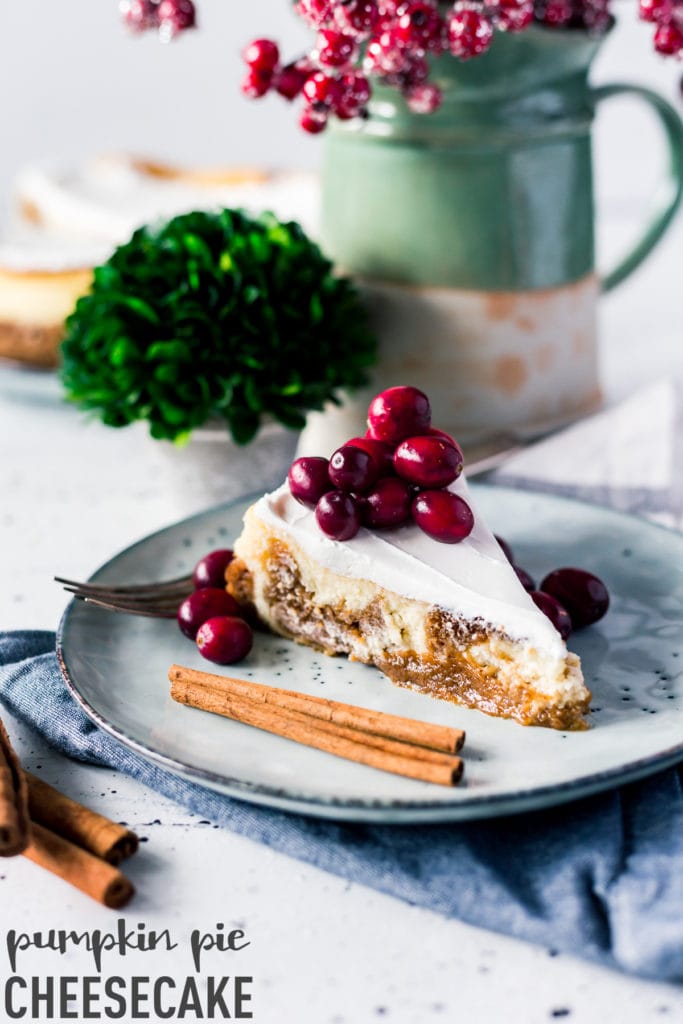 Serve with whipped cream, cream cheese frosting, or a drizzle of caramel.
And then call me to tell me how much you loved it!
(If you love pumpkin – here are a few other recipes to add to your rotation)