During the holiday season – giving seems to be on everyone's mind. Understandably so, right?  'Tis the season to share and care for one another.  We all get caught up in the "paying it forward" and the kindness that follows during the holidays by donating and volunteering, but what about the rest of the year?  What about the 11 other months of the year?   It is completely possible to donate or give of your time all year long. Let's talk about it.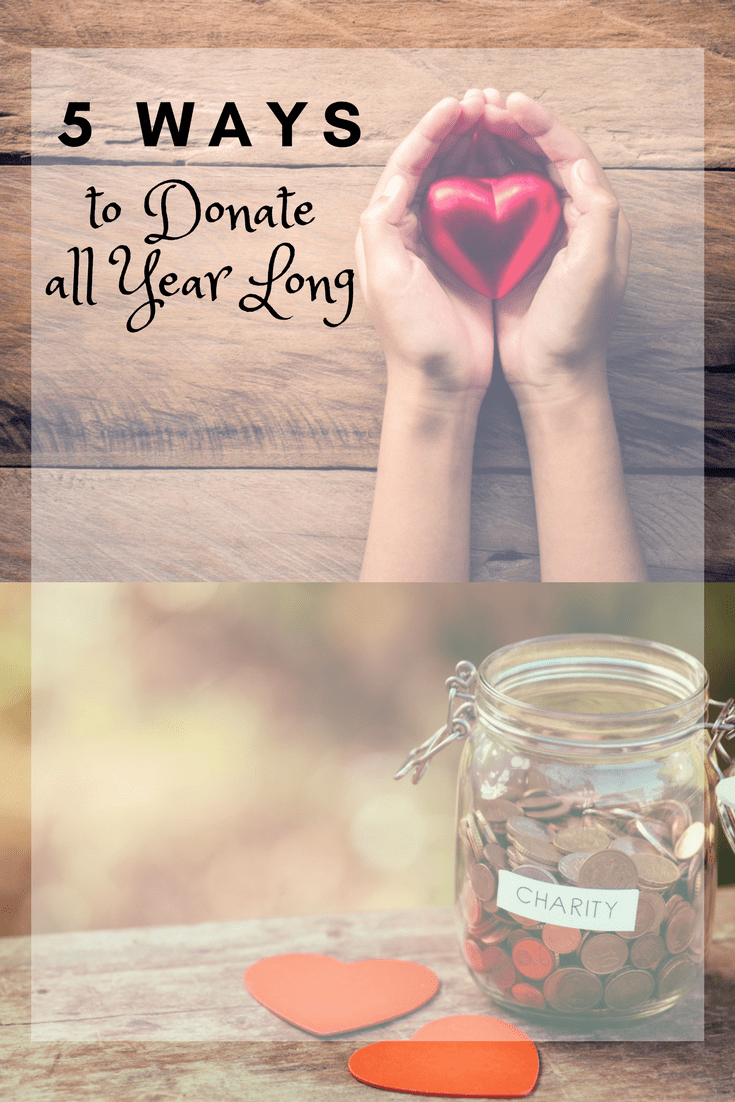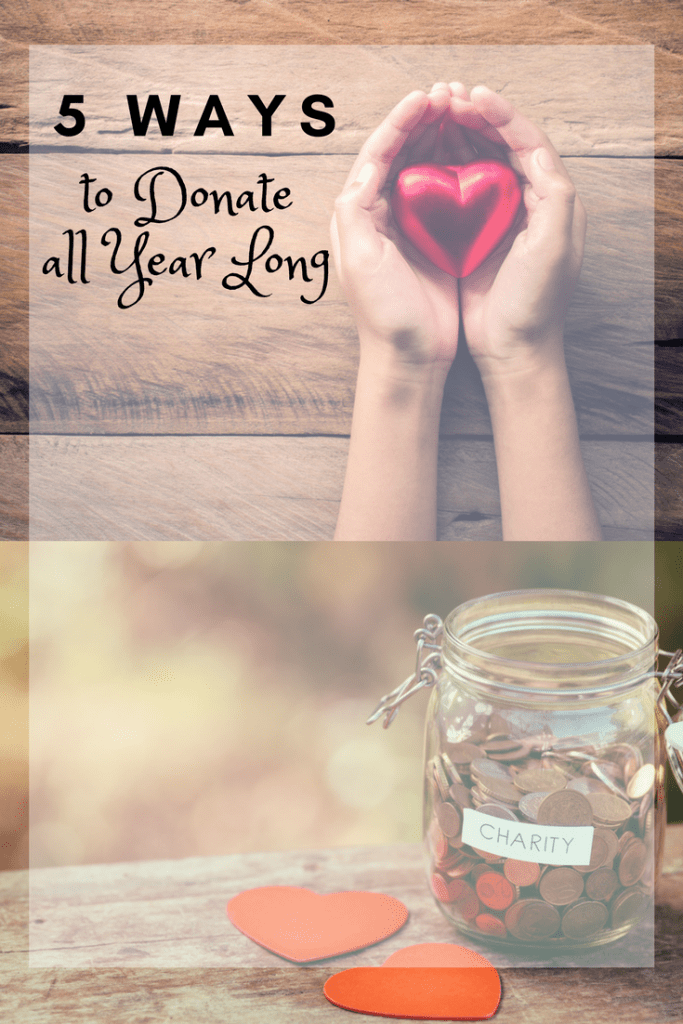 There are so many great resources to contact.  In your local community, reach out to churches, schools and individuals to see where the needs in your area are the most pronounced.  If you don't ask, you won't know.  Don't be afraid to extend a helping hand…the worst that can be told is "no", and the best that can be said is "thank you."
While there are many ways and places to volunteer year round, here are 5 that top the list and can be a think-tank for you to get started.
5 Ways to Donate All Year Long
1. Meals on Wheels.  Have you ever heard of this organization?  They operate in almost every community nationwide and provide support to the elderly by bringing them meals. These meals help them to continue to live in their homes, while getting the nourishment that they need to stay strong and healthy.  You can donate money to them to help provide food, or you can donate your time and actually help to deliver the meals to them at their home. They deliver meals on a daily/weekly basis and are an amazing organization to be a part of.  Find our more information here!
2. Operation Gratitude.  This organization has many different ways to give and donate. You can organize a collection drive for items most needed by members of the military – these items can then be shipped to those who made specific requests.  Monetary donations are welcome as well.  As you can imagine, our Armed Forces need our commitment all year long – not simply around the holidays.
3. Are you an animal lover and advocate?  Consider donating to the American Society for the Prevention of Cruelty to Animals (ASPCA).  Your donation helps with animal rescue, animal placement and animal protection. In 2016 alone, they rescued/assisted over 11,000 animals.  This was done with the help of the donations they receive.  Interested in donating (or volunteering)?  Check out their site and info here!
4.  Have an excess of clothing or home items that you want to donate?  Contact the Salvation Army nearest you and see if they are able to use any of your items in their stores to sell.  Some areas even have free pick-up. They will come to your home and collect the items from you.  Items are then sold in their stores where they use the money to fund rehab programs to heal addiction issues and help families.  If you are unable to donate tangible items, consider a monetary donation as well!
5.  Last but not least, think about donating your time and energy for something, or someone, this year.  Sounds easy, right?  It actually is.  Donating doesn't always have to involve money or items…it can be something as easy as picking up a piece of trash that someone dropped and throwing it in the trash can, putting a quarter in a random meter that is getting ready to expire soon…or smiling at each and every person that you pass on the street in the hopes of making their day. By actively choosing to donate your energy and your time, you will realize the options are truly endless.
It is easy to donate all year long. It just requires a small commitment on your part. While there are AMAZING organizations that would benefit from your monetary donation, don't sell yourself short with the ability to donate your time and energy as well.  Little donations of ANYTHING add up to BIG value for others. Embrace the gift of a generous heart and mind and offer that up to others.
Our family motto is 'Give Good, Get Good'….if you want to teach your kids (as I do) to be good citizens of the world – here are a few of my favorite tips.
Spread the joy and kindness of the world by donating your love to others.