I know I'm not alone in my wish for dinner time to be easier, to avoid the dreaded "Hey Mom, what's for dinner" and more than any winter I can remember, to have something that is warm and comforting.
The boys in my family keep me running – both my husband and my seven and four year old sons. From the moment I'm up on the morning, through school, activities and definitely the meals: breakfast, lunch and dinner. Enter Campbell's and their newest Crock-Pot® Slow Cooker Sauce meals.
To make it possible for me to have the full experience (and make the best choice for my family) Campbell's sent a full gift pack my way – complete with a variety of Crock-Pot® meals and a new crock pot (Spoiler! We're giving the very same gift pack away below, so read on!)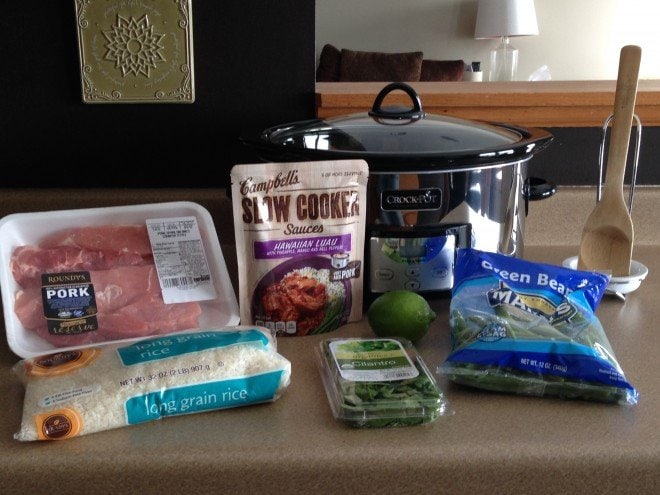 Crock-Pot® meals are designed to be the saving grace for busy moms….making it possible to create a dinner for your entire family with only a 5 minute prep time. You simply put everything in the slow cooker, cover, cook, shred and that is it!
There are six flavors of Campbell's® Slow Cooker Sauces.  The flavor I decided to prepare from the Campbell's® Slow Cooker Sauce line was Hawaiian Luau.  Since these last few months have been so cold, this sauce really spoke to me. I would much rather be on a beach in Hawaii and if I could go there, even if only mentally, while I ate this, so be it.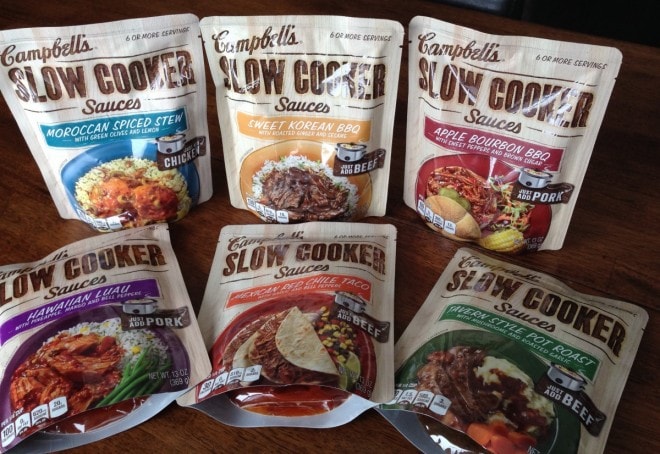 It was so easy to prepare – It only requires the sauce and pork.  My grocery store didn't have the boneless pork shoulder roast that the recipe calls for, so instead I picked up boneless pork spare ribs. I added those to the crock pot and and then poured the Campbell's® sauce packet over them.
Cover, set the timer for 8 hours on the low setting and head to work.  It was so simple. There was no need to add any extra seasonings, broth or water.   I came home to a sweet aroma filling my kitchen. I took the pork out of the Crock-Pot® and placed it in a bowl for shredding.  I have these amazing Pampered Chef® Salad Choppers that I use to shred and they make it so easy.
Once I was done shredding the pork, I returned it to the slow cooker so it could reabsorb some of the juices. I made long grain rice with cilantro and lime as a side, steamed some green beans and added our favorite King's Hawaiian® original sweet rolls. Done.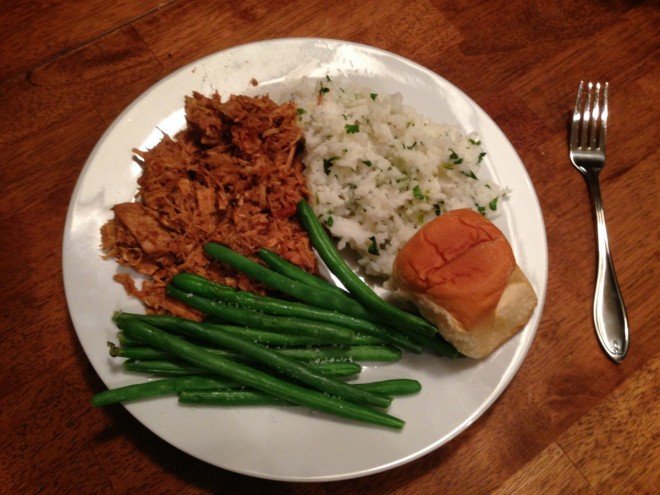 I really enjoyed the meal – I personally mixed the rice in with the shredded pork to marry the flavors together.  The pork had a nice, smoky flavor to it.  There are so many options to use the leftover meat but consider: quesadillas, sandwiches or tacos.  We ate the same meal for lunch the next day …  my husband loved it even more as leftovers.   Also, we took some of those King's Hawaiian® sweet rolls, cut them in half and made mini pork sandwiches which were amazing.
The Simple Process: Hawaiian Luau
Prep Time 5 minutes
Cook Time 8 hours
Total Time 8 hours, 5 minutes
Yield 6 servings
Amazingly tender, flavorful Hawaiian pork made right in the slow cooker with just 2 ingredients and 5 min prep – it doesn't get easier than that! Ingredients
2-3 pound boneless chuck roast
1 (13-ounce) package Campbell's® Slow Cooker Hawaiian Luau Sauce
Instructions
Place boneless pork roast into a slow cooker. Add Campbell's® Slow Cooker Hawaiian Luau Sauce. Cover and cook on low heat for 7-8 hours or high heat for 4-5 hours.
Remove boneless pork roast from the slow cooker and shred the beef before returning to the pot to absorb the juices. Cover and keep warm while you prepare your dinner table or additional sides.
Serve immediately and enjoy.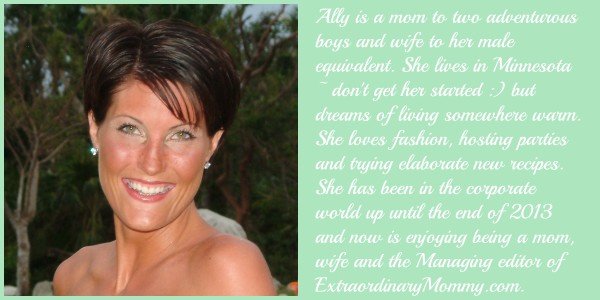 Disclosure: Campbell's provided both the Slow Cooker Sauces and the crock pot used in this post, however, as always, all thoughts and opinions shared are mine and mine alone.