One of the greatest things about Summer is all the fresh vegetables and fruits that are available. From the grocery store to the farmers market to your own backyard, there is an abundance of choices and the prices are just right! This year we decided to add raised vegetable beds to our back yard and planted a ton of vegetables – tomatoes, zucchini, squash, cucumbers and even corn.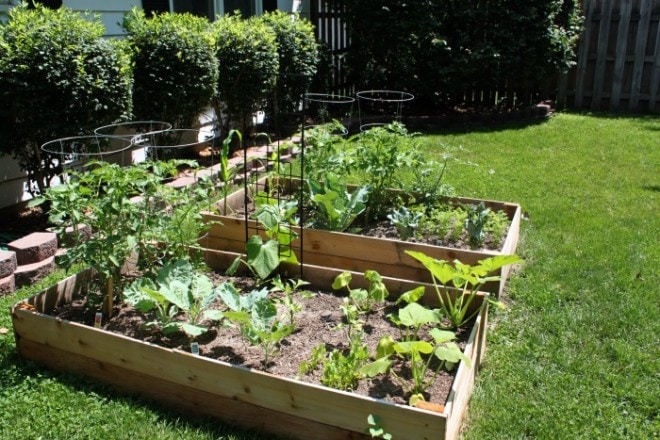 I am so excited to gather our bounty and make fresh meals for our family. I'm even more excited to share that bounty with family and friends! That's the main reason we built two raised beds instead of one this year. Along with our raised vegetable beds, we planted herbs. I have always wanted to have my own kitchen herb garden, but just never got around to doing it – until this year! I planted some of our favorite herbs right in my backyard!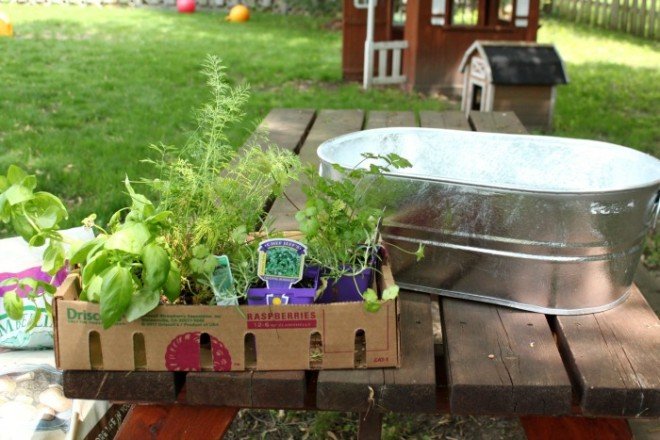 Planting your own kitchen herb garden is fairly easy and requires practically zero maintenance, so there's really no excuse for not planting your own! And, I'm going to tell you how!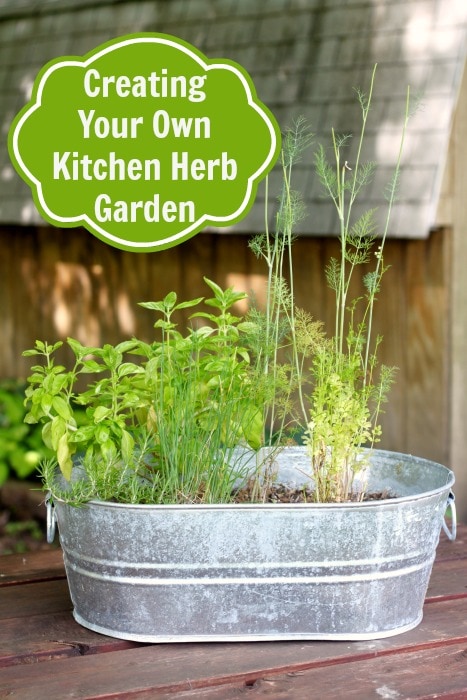 I decided to plant my herbs in their own container and keep them right outside my back door on the patio. I could have placed them in the raised beds, but I really wanted to see the pretty container garden out my window. So, I picked up a galvanized steel tub from Lowe's and had my husband drill some holes in the bottom for drainage.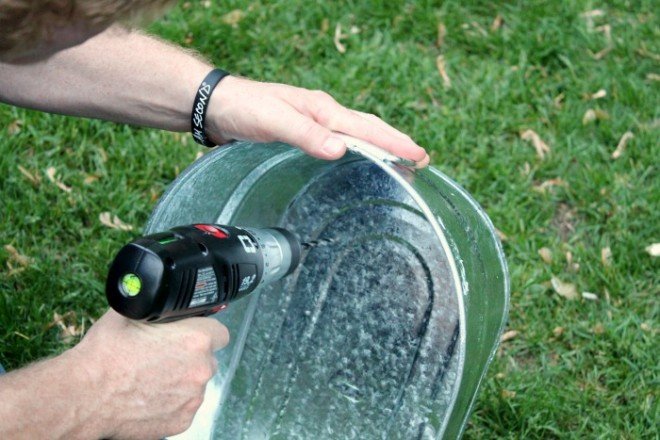 I then put a mixture of soil, compost and hummus in the bottom – just like I did in my garden beds. I could have used potting soil from the store, but I couldn't find an all organic one and didn't know what was in the mixes. And, since we would be eating it, I wanted as little chemicals as possible.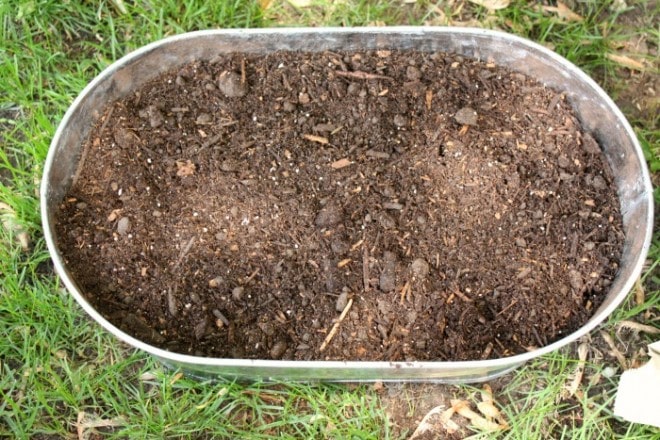 Then it was time for planting! I picked up several of our favorite herbs – basil, rosemary, dill, and cilantro – already in small containers from our local country market store. I love to support local businesses whenever possible. Plus – I love that the employees know their stuff – which plants are good for where and what and how to care for them – good stuff!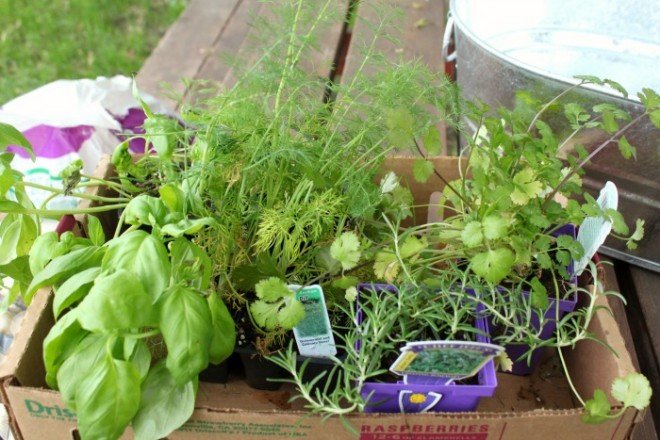 Pop the herbs into your soil depending on height – I put the tall ones in the back and shorter ones in the front. That's it! See! I told you it was easy!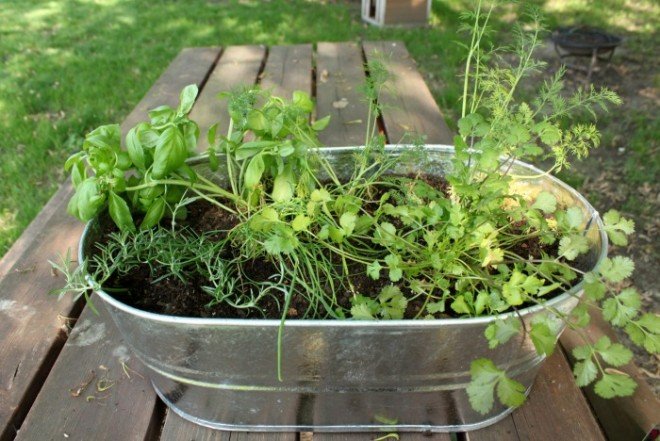 Place your herbs in a very sunny location and watch them grow! Herbs are very easy to care for because they need practically no care at all. They actually like dryer soil and don't like to be messed with. That's my type of garden!  With only a month of growing, here's how our herb garden looks now!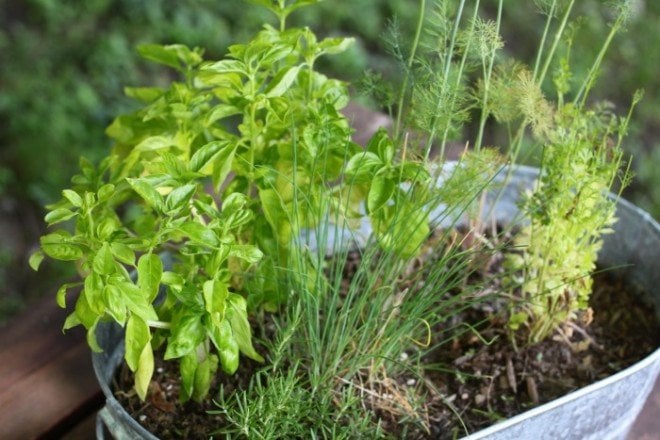 Make sure to snip off fresh herbs every chance you get! Put mint in your tea, cilantro on your tacos and on your pulled pork and basil on pasta and in sauces! You can also freeze your herbs – add herbs to the bottom or an ice cube tray and top off with a little water, oil or butter and freeze. The next time you need a little herbs in the winter, just pull out your labeled cubes and place in your soups, sauces or pan. They'll thaw in no time!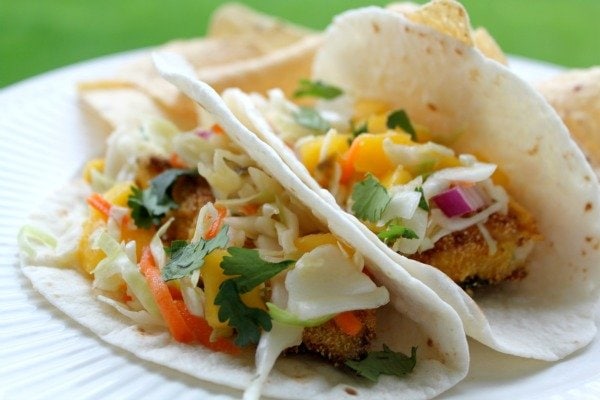 There you have it! A simple and no fail plan to plant your own kitchen herb garden this summer! What's your favorite herb and what's your favorite way to use it? I'd love some new ideas.