With fall in full effect, it's important to have a list of ideas for some family fun days. Whether you're looking to spend a weekend enjoying quality time with your family and want to know what fall activities for families you can enjoy after work, you'll enjoy this extensive list of fall activities for families that I'm sharing today.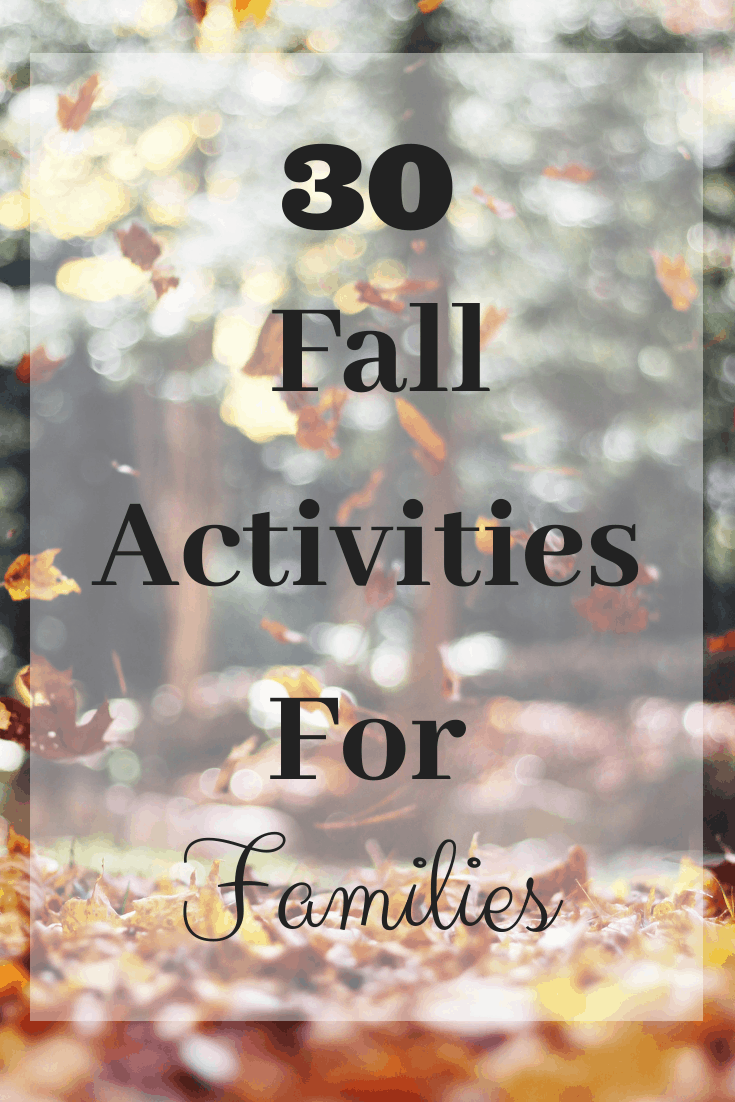 30 Fall Activities for Families
Go On a Nature Hike – get outside and plan a nature hike on a local nature trail.
Have a Picnic – go to a local park to enjoy a lunch or dinner picnic.
Take a Bike Ride – rent a bike or get your bikes out for a family bike ride.
Visit a Pumpkin Patch – find a local pumpkin patch and go pick out some pumpkins.
Carve Pumpkins – pick out pumpkins and templates to care beautiful pumpkins together.
Play Laser Tag – find a local laser tag facility to enjoy some competitive gameplay.
Host a BBQ – it's still warm enough outside to host a family BBQ event during the fall season.
Pick Apples – fall is the best time of year to go pick some apples.
Host a Movie Marathon – during a cold fall day spend time binge-watching your favorite movies.
Attend a Festival – look up local festivals happening in your area and attend a few.
Make Apple Cobbler – use those apples you picked to make up a delicious apple cobbler together.
Tell Ghost Stories – make a backyard campfire and tell ghost stories after dark.
Make Smores – you can still make smores inside or outside during the fall season.
Plant Bulbs – get your flower garden ready by planting flower bulbs not so they sprout up in the spring season.
Go Camping – enjoy the cooler temperatures of the fall season with a family camping trip.
Go Bowling – venture out and go bowling together for a fun-filled family day.
Jump in Leaves – rack up the leaves in the yard and jump in leaves together.
Take a Fall Foliage Drive – New England has some of the best fall foliage drives, plan a route and enjoy looking at fall foliage together.
Go on a Boat Ride – get out there and enjoy the river or ocean together on a boat ride with your family.
Play Board Games – gather up those old board games and host a family board game night for lots of fun and laughter.
Make Apple Cider – get those apples together and make your own apple cider and apple cider donuts together.
Visit a State Park or National Park – there are so many state and national parks out there, so why not make a list and plan to visit as many as you can during the fall season.
Take a Graveyard Tour – the fall season is when Halloween arrives and with that comes many graveyard tours in the local area, find one to go to with your family this fall.
Visit a Sunflower Farm – find a sunflower farm and spend a day admiring the beauty of these large flowers.
Host a Bonfire – gather up all of those extra pieces of wood that may have fallen during windy days this spring and summer to plan a bonfire in your backyard with family.
Visit a Haunted House – look up local haunted house tours and venture out of your comfort zone with a haunted house tour.
Fly a Kite – build your own kite or buy one and fly kites together as a family this fall season.
Learn a New Hobby – have a family meeting to find a new hobby that you all will try together this fall season.
Make Soup – get the family together to make your own new family soup recipe and taste test it together on a cool fall day.
Take Holiday Photos – get out the camera and plan for some fun, festive holiday family photos now that you can use during the holiday season to send to family.
Now, what are you waiting for? Use this list of fall activities for families as a means to get out there and enjoy the cooler fall season right now. You'll be able to enjoy quality time together with your whole family when you opt to create a fall bucket list using my extensive list of fall activities shared here today.