It's finally getting a little cooler in many areas and it's only going to be colder by the time Christmas comes. Now doesn't a warm cup of coffee with a rather large helping of Panettone french toast casserole sound absolutely tasty? That's a no brainer!
(And set this one aside to wow any guests you may have staying with you for the holidays!)
Now this isn't your typical French toast, but it's totally easy to make, and unlike regular French toast, you don't have to waste time flipping slices all morning, because it's a casserole! You can make this for Christmas breakfast or any morning and your entire family will love it, (and you!) for making it. Just make sure to bring a big spoon so everyone can help themselves to a big piece. Here's what you'll need to create the perfect Panettone French toast casserole.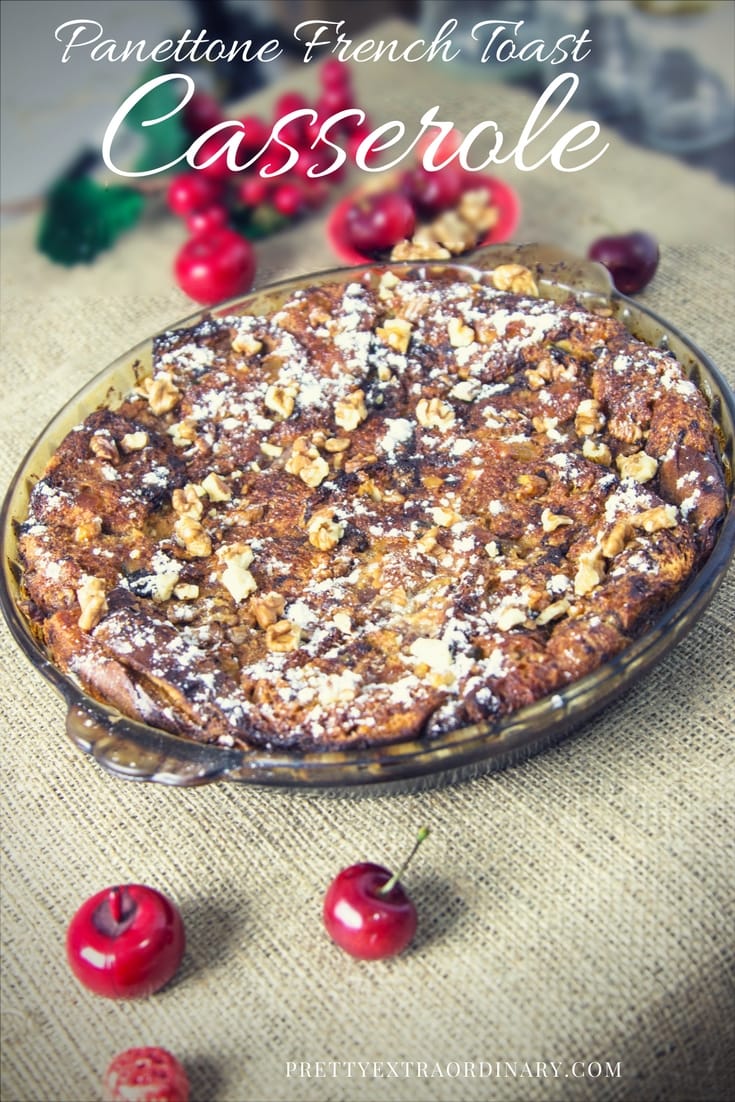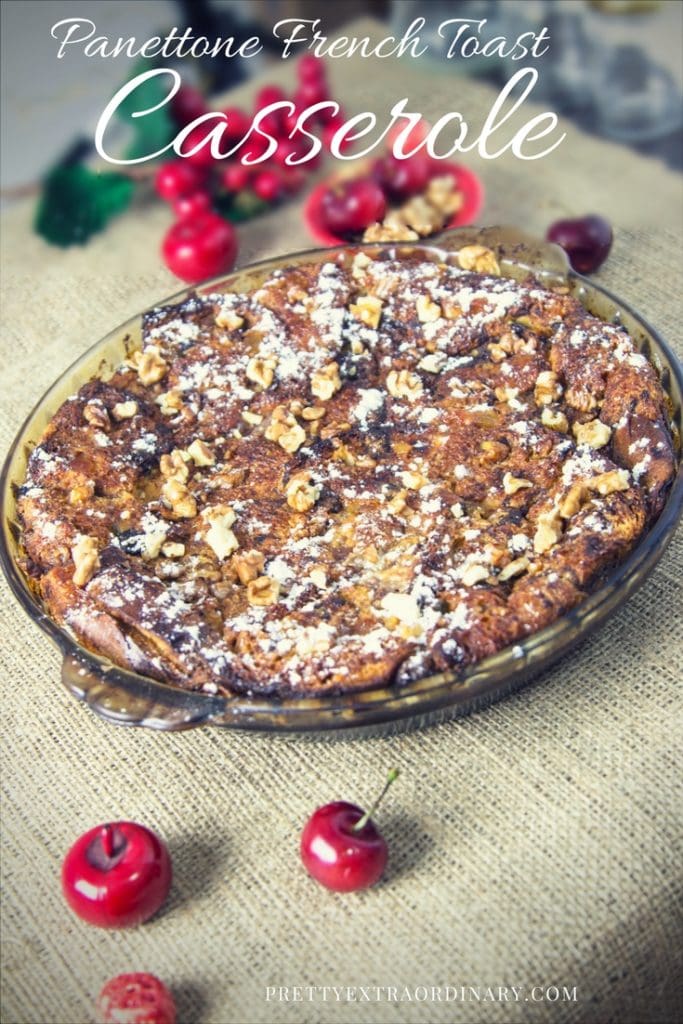 Ingredients
Butter or vegetable oil to grease your dish
1 medium panettone
1 cup milk (any kind will do)
8 tablespoons of cream cheese
6 large eggs
1 cup of cherry jam
1/4 cup granulated sugar which can be substituted by liquid stevia
1 teaspoon vanilla extract
1 teaspoon ground cinnamon
1 teaspoon ginger
1/4 teaspoon salt
1/3 cup nuts (substitute for almonds if you like!)
Confectioners' sugar for dusting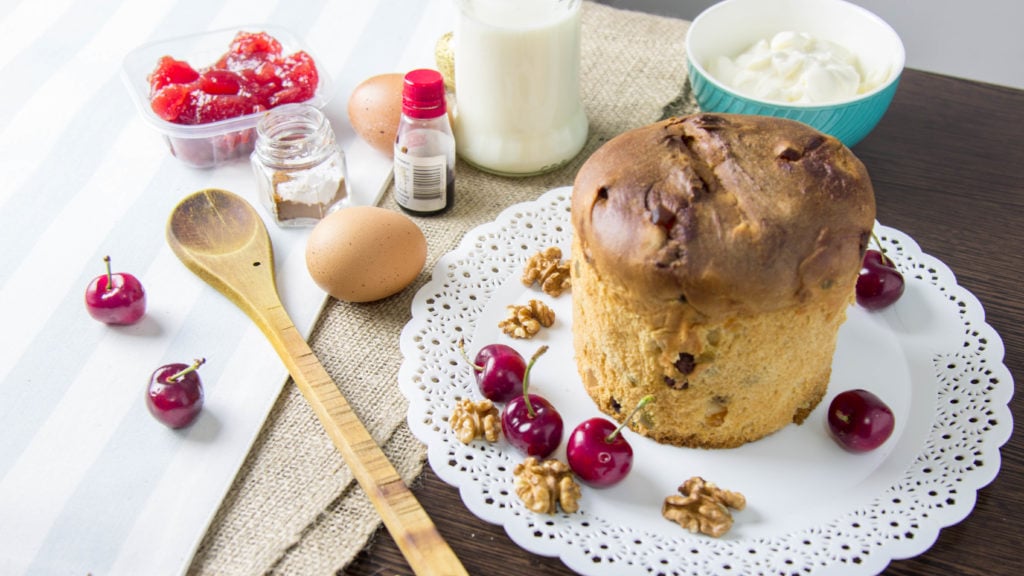 Directions
Begin by greasing a 3-quart casserole dish with butter or vegetable oil, (they both work great!) and afterwards, put it aside. Now, cut the Panettone into 5 or 6 semi thick slices, (1-inch or so).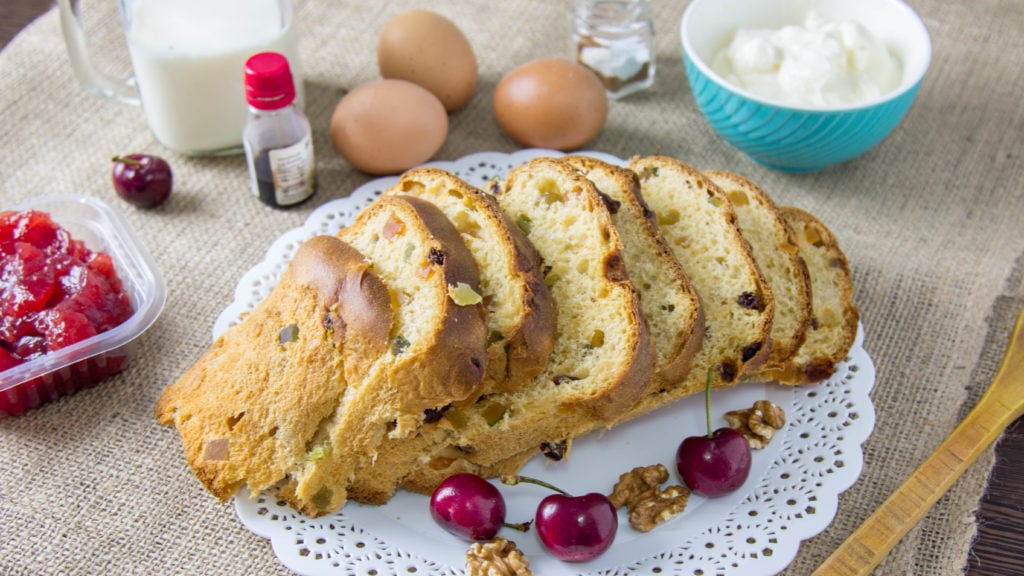 Try to get an even number of slices, as you will be turning these into sandwiches. Spread the cherry jelly on one of the slices. Then spread the cream cheese on the other half.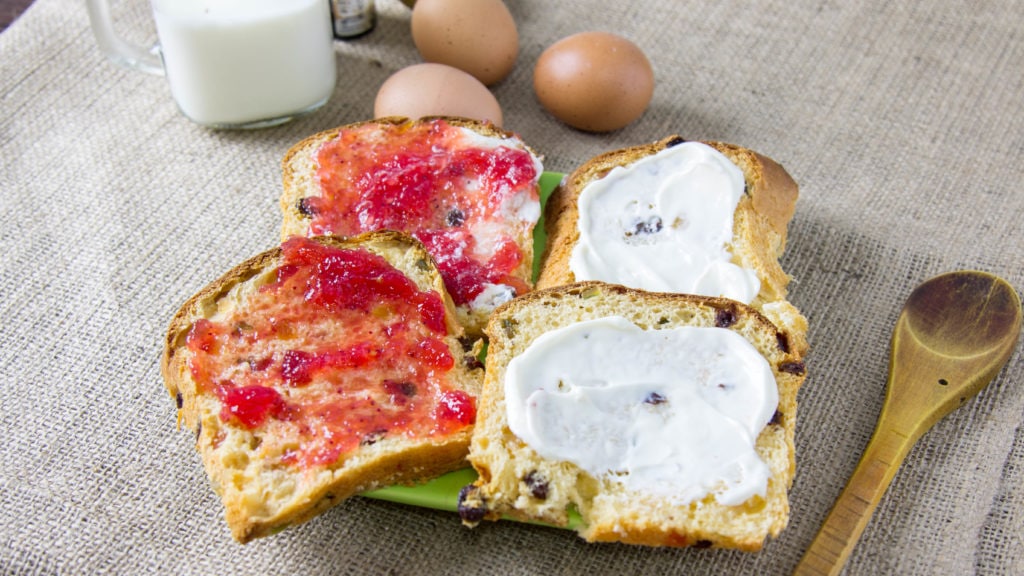 Now put them together to create a jelly cream cheese Panettone sandwich. Then cut the sandwiches into 1-inch squares, and place them in the readied dish. Don't worry if they're not even!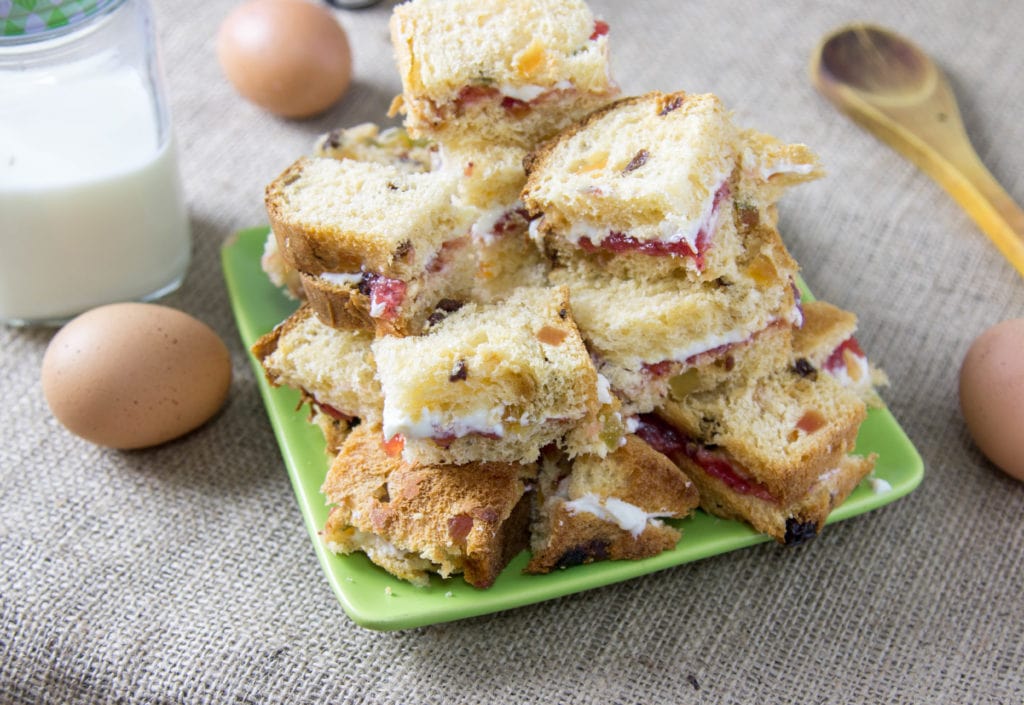 Whisk together the milk, eggs, granulated sugar, vanilla, cinnamon and salt in a huge bowl until it's all mixed in perfectly. Then pour the mix over the panettone and cover with plastic wrap, and refrigerate for at least 5 hours.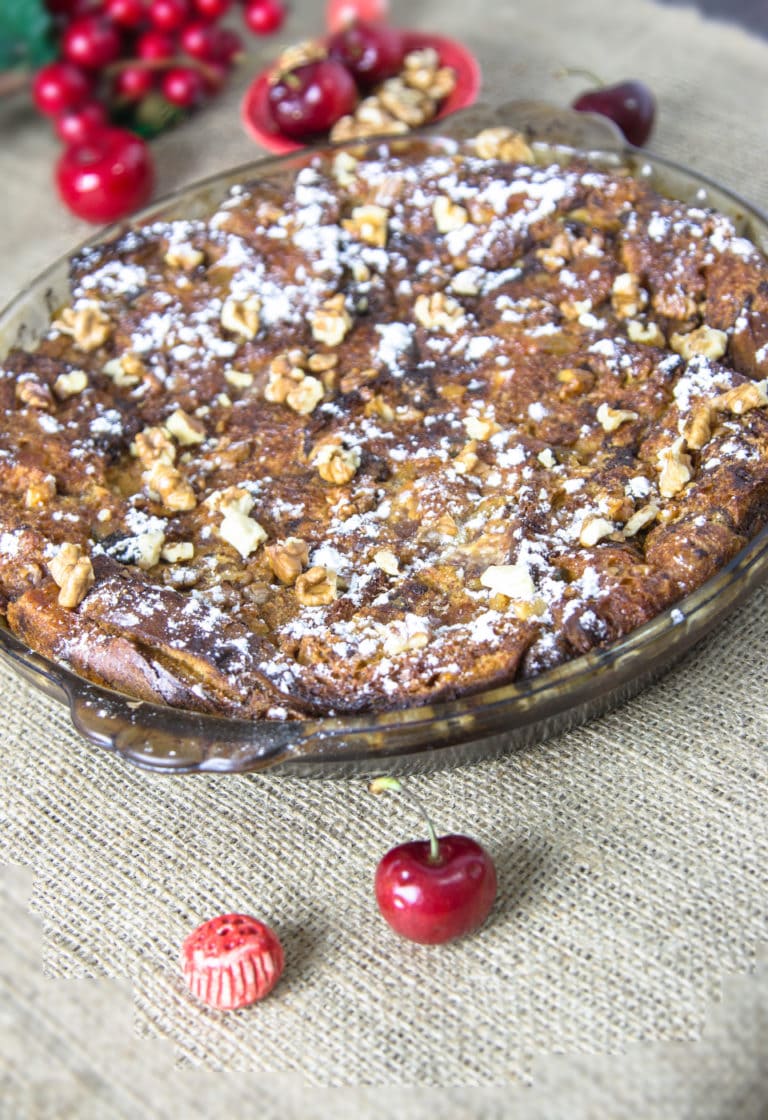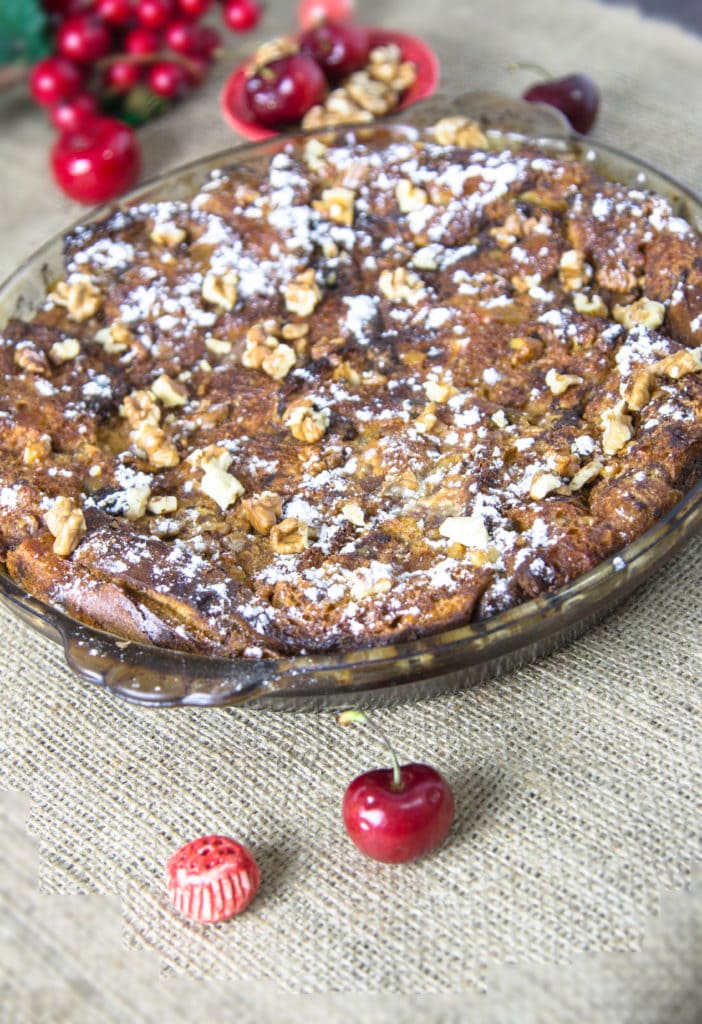 Preheat the oven to 350 degrees F, (medium to moderate oven) Then remove the plastic wrap from the dish, and push down on the casserole. Sprinkle the nuts to finish everything. At this point, bake until it's puffed and golden brown-colored and the custard is set. Keep in mind that the focal point of the meal should feel firm when touched. This should take around 50 minutes but keep an eye on it. If it turns brown way too fast, then that means your oven is too strong. Slow down the process by covering with the foil. After it's removed from the oven, let it cool for 20 minutes before serving it warm. But don't forget to add some confectioner's sugar, chocolate chips, cherries, strawberries, or maple syrup on top. I also love serving it with crisp strawberries and blackberries and some whipped cream on the side.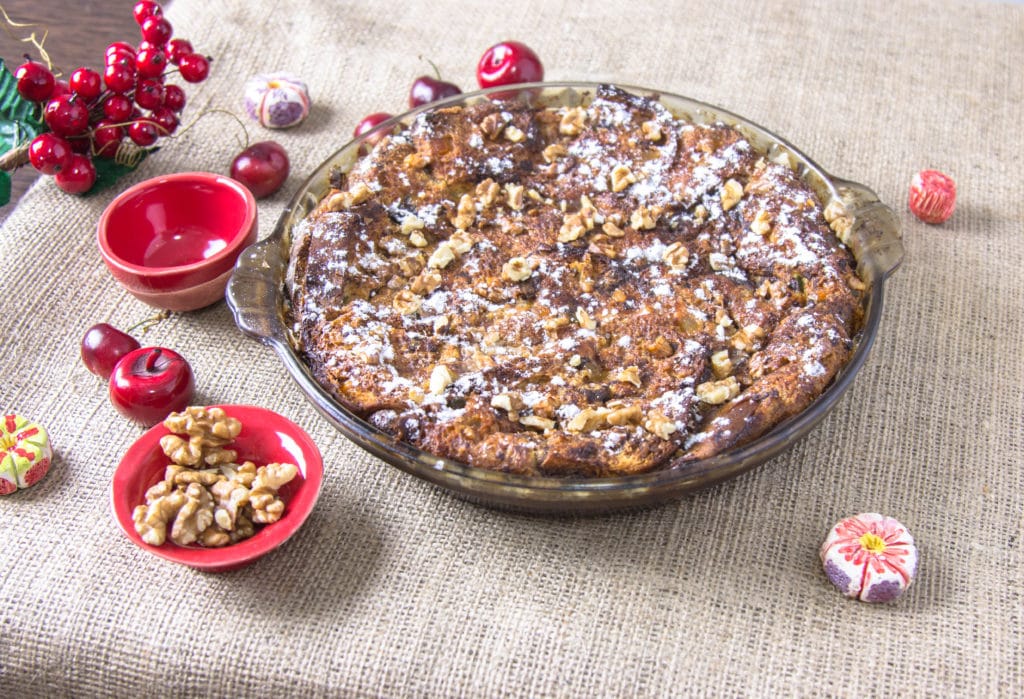 The dish will turn out magnificent! It's also very good and easy to make. Just follow this recipe first thing in the morning to start off your Christmas just right. Your family will be begging you to make it again. But if you can't wait, find an excuse to make it sooner like…maybe even this Sunday, because, why wait? Am I Right?
If you are looking for other delightful holiday recipes – allow me to help: Sour Cream and Apple Crumb Cake, Caramel Apple Casserole, No Bake Cookies for Santa and of course, the Perfect Sugar Cookie.